There is no one-size-fits-all solution to moving! Every single scenario requires special attention to details, and that's why there are many different moving services that are available for different requirements of movers. Sometimes, you may need to avail full moving services because you're moving your entire house and all your furniture, and then there will be times when you just require to relocate or move one specific furniture. Maybe you're moving across town and a five bedroom house, or you're moving right across the street or moving to a different floor! This is why there are many different moving services to choose from.
Are you moving your whole house and all your furniture to a different place? If you are, then you will require full service movers and maybe additional packing services. Are you moving just one piece of item? If you are, then you will require single-item movers! Moving one piece of furniture is referred to as a small scale move, otherwise known as a 'mini-move,' and requires special moving services who are known as single item movers. There are many moving companies who do offer a multitude of services like packing and unpacking, but it may be slightly tougher to find specific single item movers who are appropriate for you in terms of what you need, and fit right into your budget. So it's best to do some research into small scale movers before planning your move, and we are here to help you out with that!
Why Would You Need Single-Item Movers?
Even though moving sounds easy in theory, there are many challenges that you may face during the move, and there are many circumstances that would require you to hire single item movers.
If the item is fragile, like a large glass vase or a porcelain show-piece, and you are afraid it may break during the journey
The piece of furniture may require special supplies for packing that you don't have
Maybe the belonging is very heavy and impossible to move without help, like a pool table or a large bookshelf
For specialty items like valuable paintings or expensive musical instruments
You may need to move your furniture across any of the following distances:
Relocation within the same building, or inside the same house
Moving local distances, which are less than 100 miles
Moving greater than 100 miles, to a different town or a city
Moving across state lines, to a different part of the country
If any of these scenarios is similar to your situation, then you require a mini mover. Mini movers or single item movers consist of professional movers who specialize in moving one piece of furniture across various distances. They can help you move one piece of furniture within the same building if you are having trouble doing the heavy lifting, or maybe because your furniture doesn't fit inside the elevator, or your hallways are too narrow. They also do local moves, which are distances of about 100 miles, and long-distance and cross country moves, which are larger distances that can even cross state lines.
They help package your furniture to ensure that it will survive the journey and won't be damaged, and many single item movers drive your furniture to the required location. Additionally, single item movers can also help during the relocation of furniture! If you have just settled in but would like your bookcase to be moved from your living room upstairs to the bedroom, you can call in professional movers to do the heavy lifting for you, so that you can sit back and relax
Moving One Piece of Furniture Locally
There may be many different reasons behind requiring professional movers to move one piece of furniture as we have already covered, but sometimes the problem is completely different. Individuals may not have enough space in their vehicles for a large piece of furniture and turn to professional movers for help!
Any moves that are less than 100 miles can be thought of as a local move. They are usually much simpler to plan due to the small distance. Single item moving services do help with local moves. If you're wondering about prices, local movers charge an hourly rate and often have minimum weight requirements. Additionally, it is customary to tip your movers! Usually, this is 10% of the total relocation cost. This will of course vary from company to company. Upon getting in touch with a professional moving company, movers will come to your house to survey the piece of furniture that you need moving.
This is why it's important to give them full information beforehand, about the height, weight and special requirements of the furniture. After examining your belongings, they will bring the special packaging material to help seal the piece of furniture, and they will pack it up for you, unload it in their vehicle and then move it to your new home so that you can be completely stress-free.
It is important to note that because local movers charge an hourly rate, you may have to pay them more than the amount of time that you avail of their service. For instance, if their minimum hour requirement is two hours but your move only took an hour, you will still have to pay them for the two hours, which means that you will incur additional costs during your move.
Moving furniture within the same building is also considered to be a local move, and the costs incurred may either be hourly or weight dependent.
Moving One Piece of Furniture Long Distance
Long-distance moves are distances that are above 100 miles and aren't confined to the same state, this means cross-country moves are also categorized as long-distance moves. Finding cross-country movers is very easy! This is because they do bulk transport of many different pieces of furniture inside large vehicles, so your specific item may be just one of the many belongings that they are delivering alongside that specific route.
This is because they carry the goods inside large trailers or other vehicles like trucks, and to maximize efficiency, they deliver multiple shipments at once. This is why cross country movers are not difficult to find, and are often very affordable, because you are only paying for your furniture, and this also ensures that your belonging is safe inside their truck because it is unlikely that anything will move around and break since there are many different items inside the vehicle.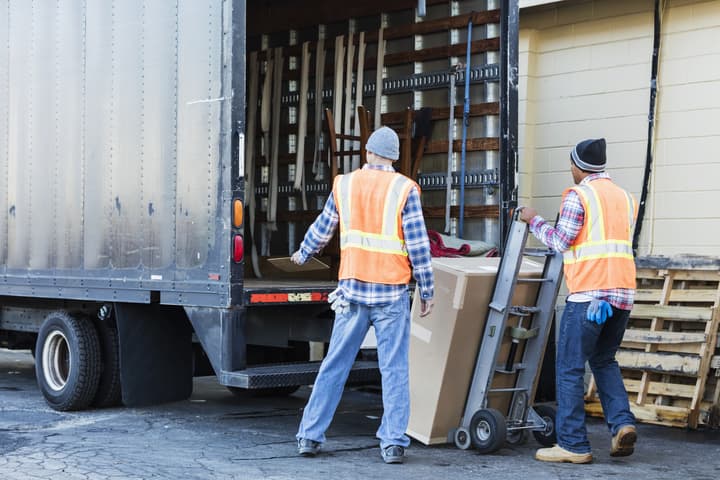 Long-distance furniture movers often charge a flat rate per lb, so the total cost will be dependent upon the weight of the furniture. However, it is also important to note that the further apart your new home is, the more it may cost for you to move the furniture across. This isn't true for all moving companies, but mileage is also a factor upon which some moving companies base their prices, and upon receiving your furniture it is customary to tip your mover as well. So the total cost will be dependent upon distance, tips, and any other additional cost that was incurred, like paying for specialty packing equipment. To know the full rates, you will have to directly contact the moving service you want to hire.
The best way to make the most informed decision is by looking at reviews online and comparing prices between companies. This can be tedious especially because all online reviews can't be trusted, and we understand how difficult this whole process is, and that's why we are here to help with that! If you want free quotes from different single-item movers, fill out our quick and easy form, and get your free quote today!
DIY & Moving Labour Moving One Piece of Furniture
If you are thinking of moving one piece of furniture by yourself, there are also options available for you. Have you considered hiring moving labor professionals? Moving labor professionals are licensed moving service providers who help individuals out if they are planning on moving by themselves, but may need help for specific tasks. If you need help loading or unloading your heavy piece of furniture onto your vehicle, or you need help with packing one specific specialty item that you own but are unsure about how to pack, moving labor may be the option for you!
They are incredibly flexible in their services, and will help you with whatever you need; whether it's packing, unpacking, loading, unloading, or just taking care of one piece of furniture, whatever you need, they will help you out! And it's a very cost-effective option as well because full-time movers may cost thousands of dollars, but moving labor professionals are more flexible with their pricing and you only have to pay specifically for the service that you are availing of.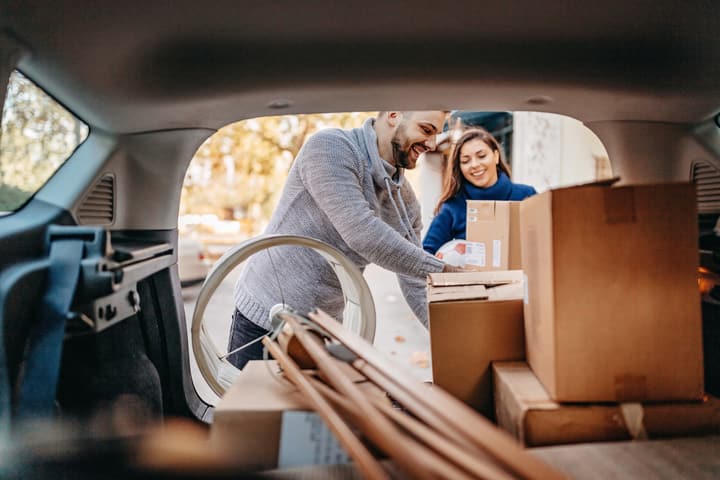 The second option that you may avail, is rental cars! Maybe your difficulty isn't with packing, loading, or unloading, but with the fact that your single piece of furniture won't fit into your vehicle! If that sounds like your issue, then you should consider hiring a rental car! Rental services are provided by professional moving companies as well, they drive to your location, if you need help loading and unloading your furniture into their vehicle they will gladly help with that as well!
They will drive your specialty furniture to your new home and will help you with any other issues that you have. But if you don't need assistance with anything, and you just require a vehicle, they will be happy to provide that as well! Furthermore, there are additional options available where moving companies provide you with storage units to store your furniture in, this can be very useful if your furniture is very heavy and takes up a lot of space, and then on the day of your move, they can help drive the unit to your new home.
There are plenty of options available for you, you just have to ask yourself the right questions before hiring single item movers: what kind of service do you require? If you are moving in the same state, and the distance is less than 100 miles, you should hire local single item movers, and if you are moving across state lines then cross country movers are the right decision for you! If your problem is with vehicles and lack of space, then maybe moving labor or rental cars will be the correct option for you! It's all about knowing specifically what you require and making the best judgment call based on that.
There is no one-size-fits-all solution to moving, you will have to note specifically the kind of services that you require so that you can come to the best decision about the kind of professional mover that you should hire! There are plenty of resources online that you can avail yourself that can help you out with your decision.
How Do You Find Single-Item Movers for Moving 1 Piece of Furniture?
There are many ways to find the most appropriate single item mover for you.
You can ask around in your neighborhood or the neighborhood that you are moving into
Your local circle of friends and family may be able to help you out
There are large amounts of information available online, and most companies even have quotes on their website that can let you know about their prices
You can look at multiple reviews on the internet!
Conclusion
We know that moving is extremely difficult, and this may be very stress-inducing for you. There are a lot of factors to consider, and it can seem very tedious, but it doesn't have to be! If you are wondering which reviews to trust or how to properly estimate the costs of moving, you can avail a no-strings-attached free quote from us after filling up a short form! Upon getting a free moving quote from us, you can better gauge the different price ranges of companies to know which specific professional moving service you should hire! Our network of companies which consist of licensed professionals can help you with all your moving-related issues. Have a great move!