It's always challenging to move. When people move from one state to another, things become even more difficult in no time. The long journey only makes things harder for you. Even if you have a lot on it already, that's why we're here. BuzzMoving will help you find the best interstate movers in Iowa. Every single step. 365 days a year. And all you have to do is call us, and we'll set up a time for you to meet with one of Iowa's best national movers. They'll take care of everything else.
Our Top Pick Best Interstate Movers In Iowa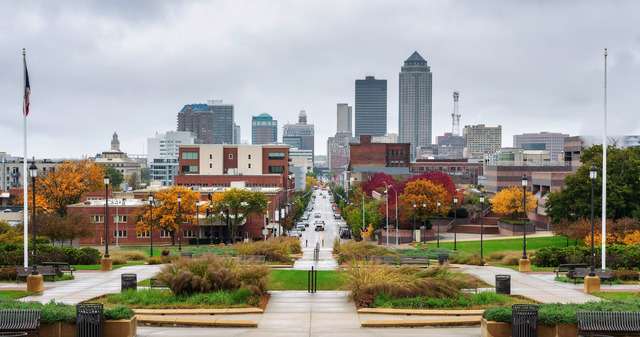 Getting help from a professional will make this process much easier, faster, and less stressful. And BuzzMoving is here to help you choose the best moving company. We can also help you find the best interstate movers in Iowa, so check out our website to find reliable moving companies in the Hawkeye State.
International Van Lines (IVL) is a moving company that has been in business for more than 20 years and offers a full range of services. The company provides full and partial moving services and extras like short-term and long-term storage and shipping of vehicles.
IVL specializes in long-distance moves, but they also make local moves, so you can count on them whether you're moving across the country or from one place in Iowa to another. Every action comes with free liability protection, but if you want more peace of mind, you can add IVL's full-value content security plan.
Service:
Full-service

Fragile-only packing services

Short- and long-term storage

Loading

Unloading

Basic furniture disassembly and reassembly

Specialty relocation services
A customer must pay a 25% fee to hold a moving date. But you can get your money back if you cancel at least 48 hours ahead. Half of the remaining amount is due when you pick up the item, and the other half is due when the item is delivered.
IVL doesn't give legally binding estimates, but your free price will include gasoline, mileage, tolls, and taxes. The company charges extra for lifts, long distances to carry items, and more than two flights of stairs. Get your personalized IVL price.

Pros
Has moving deals that can be customized
Offers a plan that covers the total value of the goods
Is offered all over the country and the world
Cons
American Van Lines
The highly skilled people who work for American Van Lines (AVL) make it stand out from other moving companies. All of its movers are full-time workers who have had their backgrounds checked. On average, they have been in business for ten years. The family-run business also has qualified antique movers and people who know how to take pianos apart and move them carefully.
Service:
Local moving

long-distance moving

Interstate moves within the 48 contiguous states

International Moving

Full packing and crating

Storage service
To book your move with AVL, you must use a credit card to pay a 10%–50% fee. In some places, you can also pay with a personal check. Your remaining amount can be paid in cash, a cashier's check, a money order, or a credit card. All fees will be due when you get your things back.
AVL gives binding and non-binding estimates, but you must set up a virtual or in-home meeting to get a locked-in price. Instant online rates are not available. Get your personalized AVL price.
Pros
Has movers who are trained
Employs qualified antique and piano movers
Offers binding quotes
Cons
Only available in the United States that are joined together
Moving APT
Moving APT is the best interstate mover in Iowa. It has helped more than 500,000 people move and has more than 500 local agents in the United States. As a broker, it won't directly take care of your move. Instead, the company's experts will compare the rates of its many partners to find you the best deal. It can help you find a mover that fits your needs, like if you need finance or need to move quickly. Its partners have liability protection, employees they can trust, and services that are unique to them.
Service:
Packing and unpacking

Appliance disconnection and reconnection

Auto Transport

Cleaning services

Even paper shredding

Furniture Repair

Disassembly and reassembly
Tell your moving expert if you need special services, like moving a piano or an antique. Your counselor can also help you with any questions about moving.
To book your move, Moving APT requires payment. You can get your deposit back if you cancel at least a week ahead. There are savings for booking early and moving a short distance, as well as for senior citizens, people in the military, and people with disabilities. You can also talk to your moving expert about matching prices and getting loans.
Pros
Has a wide range of partners
Price-matching and deals are available
Provides 24/7 customer help
Cons
Does not directly offer moving services
U-Pack
You can get a move that fits your needs and budget with flexible service choices like door-to-door delivery, storage, and guaranteed transit. You can also do as much or as little as you want online.
The U-Pack team comprises knowledgeable consultants ready to help you with anything. The U-Pack team will talk you through each step of the move and answer any questions over the phone or online.
Service:
Military moves

Cross country 

Student moves

Senior moving

Small moves

Job relocation
With U-Pack, you can move across a long distance quickly and easily. You only pay for the space you use, so you know exactly how much it will cost as you load. There are no surprises, and there are no secret fees. Get a price from U-Pack today to see how they compare to full-service movers, rental truck companies, and other portable storage services.
Pros
Door-to-door delivery
No hidden fees
Prompt, pleasant, and reasonably priced
Cons
Fuel cost will be included as an additional charge
Quick and Qualified Moving
With Quick & Qualified Moving, you will find them experienced and professional. All of their movers have expert-level training. When choosing the best interstate movers in Iowa, you can breathe easy knowing you're in good hands.
Quick and Qualified Moving is an Independent Moving Helper Service run by people in the area. Fast and Qualified Moving has a small group of well-trained, driven workers who work quickly, safely, and dependably. Quick & Qualified Moving has all the moving equipment, including blankets/pads, stretch wrap, hand trucks, furniture dollies, plastic cushion covers, securement straps, and essential tools. Their local business area includes Iowa City and the 50 miles around it.
Service:
Commercial services

Long distance moving

Furniture assembly

Large and heavy items moving

Month-to-Month rentals

Boxes and moving supplies

Storage Services

Furniture moving

Local moving

Packing, unpacking, and crating
Only labor rate
$90 an hour for two movers, a minimum of two hours. Extra workers will cost $30 an hour each. 
LABOR-ONLY MOVE, with only a few pieces of equipment
$110 an hour for two movers, a minimum of two hours. Extra workers will cost $30 an hour.
If you need more blankets, you will have to pay extra. They can also offer plastic wrap and tie-down straps for an additional fee.
Pros
Offer an online quote
No hidden charge
24/7 customer service
Cons
Charge extra for extra service
Things to think about before moving to Iowa
It makes sense to want to move to Iowa because it has a low cost of living, many job opportunities, a high standard of education, no traffic, and beautiful scenery. Here are some things to think about to make sure your move to the Hawkeye State goes smoothly:
Weather:
The weather in Iowa is muggy and continental all over the state. Iowa gets a lot of snow. Spring is the start of the bad weather season. Iowa has a tornado season and about 50 days a year of storms. The summers in Iowa are known for being hot and sticky. Before you move, especially in the spring, you should check the weather.
HOA Rules:
Many local communities have rules about moving. Make sure you know what they are ahead of time so you can quickly move into your new home.
Call a meeting:
If you're moving into a building with a lift, there may be things you need to know beforehand, like how to use a service lift, if there are time limits, or if you want to set up a meeting.
Permits to park:
Some places have rules about where big cars can be parked. Check with your new city beforehand to ensure you have everything you need.
State licenses:
If you are moving within Iowa, hire a company licensed by the Iowa Department of Transportation. Every state mover should have an Iowa Motor Carrier (IOWAMC) Number. This shows that they have met the minimum insurance and road safety standards. Every mover on our list has a valid license.
State Regulator:
On the official site of the state regulator, you can check the status of a moving license in Iowa.
Change of Address
You should give USPS your form to change your address at least a week before you move. On the paper, you can write down an official moving date. This way, all of your mail will be sent correctly to Iowa.
Mover's insurance:
When it comes to insurance, each state has its own rules. The least expensive choice is Release Value Protection, which costs nothing. Movers give it for free, but it only offers a little protection. With this choice, the mover pays at most 60 cents per pound per item. For instance, if your mover lost or broke a 25-pound, 50-inch TV, you would only get $15 (60 cents times 25 pounds). If you need the total value of your things covered, talk to the moving company you're hiring or a third-party insurance provider about other choices.
Our Final Thought
Choosing the best interstate movers in Iowa is now easier than ever. You need a state-to-state moving company to help you move within Iowa. We've picked the best interstate movers in Iowa for you. Based on what people say, the best national and cross-country movers and the most affordable Iowa movers. Fill out the free moving quote to understand how much it will cost to move to Iowa and how much you can save.
We suggest listing everything in your home and getting free quotes from several companies.
You may read our reviews and check out the best interstate movers in Iowa from our list.