Moving Checklist
Are you getting ready to move? Whether you are moving long-distance or Locally, moving is a daunting and stressful task. Moving every single organized item from your old house to a new one is a very challenging task. Only carefully planned labor will allow us to complete this task methodically. Check out the thorough moving checklist we compiled after considering every aspect of the moving process.
If you don't have enough time to read, fill up our FREE moving quote form and Get phone calls directly from 100% Verified Movers near you. (Free of Cost)
We advise ensuring you have adequate time to do the task properly. If you want everything to go smoothly on moving day, start planning at least eight weeks in advance. So, read on and get started.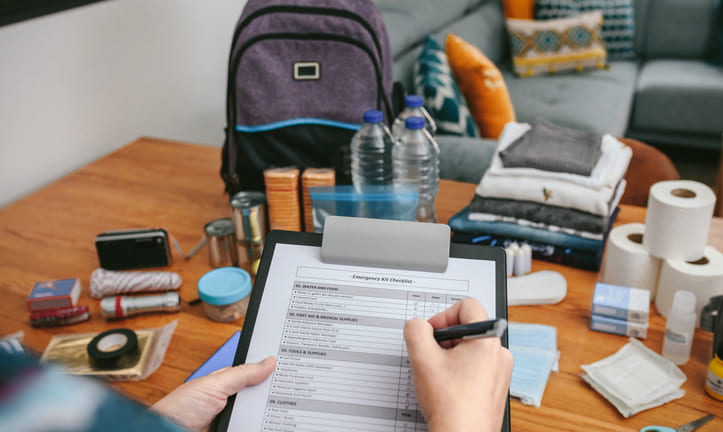 8 Weeks Before Your Move
Research Moving Companies & Their Services

First, you need to decide whether you are moving alone or hiring professional help. Weigh the pros and cons before deciding what best suits your needs and budget. If you choose to move with the help of a moving company, start researching various firms and get quotes from at least three different companies.

We have the largest moving network across the nation. The moving companies in our network are Licensed, Insured, Reputable & Top Rated movers. You can relax when you give the burden of the move to the hands of the professionals. To learn more about the benefits of hiring professional movers, you can research from Buzzmoving.

Consider Your Budget & Get Moving Estimates

According to your decision, whether you are moving with a moving company or doing it yourself (DIY), you should plan your moving budget properly. Try to know about the services of the moving companies and find out what moving services you may require. If you are on a tight budget, look for ways to save money on the move.

You can get free moving quotes for cost estimates from the top movers when you fill out our simple form within 2 minutes. Compare the moving quotes carefully and negotiate with the movers. Also, you can use the moving cost calculator to estimate your move. Finally, list your upcoming moving expenses and ensure you have some wiggle room for unexpected costs. This will help you to get rid of unexpected costs during the process.

Create A List Of Inquiries To Make With Movers

It is very important to have enough inquiries from them. There may be many hidden expenses that you should talk about. For example, the cancellation policy, insurance policy & compensation policy, you need to know about everything before you make the final deal.

Drop By Your New Neighborhood:

Before moving into your new home, it would be a good idea to take a walk through the neighborhood to familiarize yourself with your surroundings. This is a chance for you to check out potential schools, parks, and other places of interest in the area.

Also, you might check the moving routes/ streets, traffic, parking position, elevator system, etc. This information will help you a lot during the moving day.

Find Out About New Schools And Transfer Records From The Old School:

If you have school-aged kids, you should start researching schools for your kids in your new area. Also, you must inform their old school about your move and arrange the transfer of their records to the new school.

Notify Your Landlord:

Talk with your landlord if you are a tenant. Must check the lease agreement. Notify your landlord according to the agreement.

7 Weeks Before Your Move
Ask For The Assistance Of Friends And Family For A Diy Move:

If you are planning to move without professional help, start recruiting friends and family members who can lend a hand on moving day. The more people you have helping you, the easier the move will be. Don't wait for the last time to ask for their help, as they might have prior commitments.

Reserve A Moving Truck:

If you decide to move by yourself, you might need a Rental truck or a moving van. So, start researching seven weeks before your move to reserve a moving truck. The good thing is you will find the best moving truck rental service from Buzzmoving. Also, you will get free quotes for truck rental, and you can choose the suitable option for you.

Book A Storage Unit In Advance:

If you cannot take all your belongings with you when you move, consider renting storage units. Start looking for a storage facility near your new home and reserve a unit as soon as possible. This will ensure you have a place to store your belongings until you are ready.

Another thing is if you want to store your items for the time being while you are purging & decluttering your belongings, consider hiring a storage facility. Just submit our form with your little contact information and get free quotes to rent a storage unit.

6 Weeks Before Your Move
Coordinate The Movers:

If you are using a professional moving company, it is time to book their services. Work with the mover to schedule a moving date and time for them to come. Most moving companies will require you to schedule your move at least 2-4 weeks in advance. If you book them at the last point for urgent work, you have to pay more than the normal price. So, it is ideal to book and schedule them several weeks before.

Additionally, you have to consider the time of the move. During the peak season (May to September), movers remain very busy. At this time of the year, they will charge you more. So, schedule their off-season to get the best movers at low prices.

Collect Moving Supplies:

If you are packing the whole house in boxes by yourself, you must start very early. First, go room by room to estimate how many boxes and packing supplies you may need. Then, start collecting free boxes or buying them and other moving supplies you will need. You can find free moving boxes from local grocery stores and liquor stores or order them from a moving company. If you order from a moving company, do it in advance so they can deliver the boxes to you on time.

You might need some special supplies for some of your items, such as wardrobe boxes for your clothes or dish packs for your dishes. So, make sure to get all the necessary supplies before you start packing. Here is a list of the essential packing supplies that you need to collect:

Moving Boxes
Bubble Wrap
Packing Tape
Packing Paper
Scissors
Box Cutter
Permanent Markers
Moving Blankets
Mattress Bag

Organize Your Trip:

If you are moving long distances, don't waste time waiting until the last minute to make travel arrangements. Instead, book your airline ticket/ train ticket/ car and make a reservation for a hotel if you need to stay as early as possible. Doing this early will save you a lot of money.

Contact Your Medical Insurance Provider:

If you have health insurance, contact your provider and let them know that you will be moving to a new location. Find out if your current plan will cover you in your new location or if you need to sign up for a new plan. If you have a corporate move and have to move to multiple locations for official purposes, then your insurance policy might remain the same. You must talk about it clearly with the provider.

Confirm Your Car And Homeowners Insurance:

If you have car insurance, contact your provider and let them know about your upcoming move. Find out if your current policy will cover you in your new location or if you need to sign up for a new policy. The same goes for homeowner's insurance. You will need to get renter's insurance in your new location if you rent. And if you are buying a new home, you will need to get homeowner's insurance. Make sure to get quotes for all of your insurance needs to compare rates and coverage before you make a decision.

5 Weeks Before Your Move
Utilize Quickly Dissolving Commodities Now:

It's a good idea to start using food and other products that dissolve quickly. You can also donate leftover food to a local food bank. This way, you will make the best use of them before the moving day, and you won't lose anything.

Plan Your Packing Strategy:

First, you must start packing the items you don't use daily. These can be items such as winter clothes, seasonal decor, books, photo albums, etc. Next, start packing the toys they don't play with regularly if you have kids. Finally, pack all the essential items, like toiletries, bedding, towels, kitchen utensils, etc. This way, you will get a head start on the packing, and you won't have to pack everything at the last minute.

Put On A Yard Sale:

If you have a lot of stuff you don't use and want to get rid of it, then having a yard sale or garage sale is a great way to do it. This is also a great way to make extra money for your move. Advertise your yard sale in the local newspaper or online, and start pricing your items.

Donate Your Belongings:

The less you move with, the less it will cost you. So, if you have clothes, furniture, or other belongings that you don't want to move, consider donating them to a local charity or thrift store. This is also a great way to get a tax deduction. It is also a great way to get rid of stuff that you don't want, and it's also a great way to help others.

Schedule An Appliance Service Company:

If you have any large appliances, you might need to prepare them just before the moving day. It's a good idea to schedule a service company to disassemble and reassemble them for you. This will save you a lot of time and hassle.

Change All Memberships:

If you have any memberships or subscriptions, be sure to change the address with them. This includes things like the gym, library, magazine subscriptions, etc. Normally, subscriptions like this require at least 30 days of notice to change the address.

4 Weeks Before Your Move
Get The Automobile Checked Out:

If you are moving to your new location with your own vehicle, then you must get the vehicle checked. Even if you are not moving with it, it is a good idea to get it checked before the move. This is because you will need to ship it to your new location, and you don't want any surprises after the move.

Get Started Packing:

Now is the time to begin packing. You should start with seasonal items that you don't use on a daily basis. Take extra care when packing fragile items, so they don't break during the move. Label all the boxes so that you know what is in each one. Pack important documents, such as birth certificates, social security cards, passports, etc., in a separate box and keep them with you during the move.

Get Rid Of Dangerous Items:

If you have any dangerous or flammable items, then now is the time to properly dispose of them. You don't want to move with any potentially harmful items.

Contact The Moving Company To Confirm The Time And Date:

Contact the moving company to confirm the time and date of your move. Be sure to give them your new address and phone number so they can reach you if there are any problems on a moving day. Also, don't forget to advise them on the location's parking, routes, elevator system, etc.

Make A Car Shipping Arrangement:

If you are moving your car to your new location, you must make arrangements with a car shipping company. They offer a service where they will come get your automobile and bring it to your new place. Make sure that you have all the details & paperwork ready for them when they come to pick up the car. You must do it at least one month before your move.

Notify Relatives And Close Associates Of Your Move:

It's important to let your close relatives and associates know about your move. Share your new contact details with them, including your new home address and phone number. If you can't tell them in person, then give them a quick phone call or send an email. In addition, you may wish to publish a statement on a social media platform. There is no better or faster method.

3 Weeks Before Your Move
Let Service & Utility Providers Know:

You need to contact all your service providers, such as pool maintenance, housekeeping, etc., and let them know about your move. Also, notify other utility providers like the phone company, satellite company, electricity, cable and internet, security system, etc. Make arrangements to have the services disconnected on the day of your relocation and provide them with your new address. Also, don't forget to set up the services at your new home so that they are up and running when you arrive.

Mailing Address Forward:

You need to set up your mailing address forward so you can still receive your mail after moving. You can change your address from your local post office or online. If you are doing it online, just go to usps.com. This is important because it will take some time for your new address to be updated with all the organizations that you are associated with. If you face any problem, it's ideal to get suggestions or help from the neighbors.

Plan For Child Care On The Day Of The Move:

If you have children, then you need to plan for their care on the day of the move. This is because it will be a hectic day and you won't be able to take care of them. Instead, you can ask a friend or relative to take care of them for the day or hire a babysitter.

Make A Plant Care Strategy:

Plants are important in life and at home. If you have plants, you must make a care strategy for them. You have to have the knowledge of how to pack plants for a move. Some plants cannot accept moving, and they will die if you try to transfer them. The plants you will take with you will need a special packing process.

Settle Any Overdue Parking Fines:

Check if you have any unpaid parking tickets. If you have any overdue parking fines, then it is time to settle them. If you don't settle them, they will be transferred to your new address. Pay all your fines, so you don't have to deal with them at your new home. You can do it online, also.

Transfer Your Medicare And Social Security Benefits To The New Address:

If you are receiving any government benefits, you need to transfer them to your new address. This is because you will stop receiving the benefits if you don't do it. You can do it online or visit the office in person.

2 Weeks Before Your Move
Contact Your Doctors & Transfer Medical Records:

You need to contact your doctors and give them your new address. If you are moving to a new state, you need to find new doctors. You can ask for referrals from your present doctors. In addition, you need to get all your medical records transferred to your new home. This is important so that you have all your records with you in case of an emergency.

Consult The Blueprint For The New House With Family & Plan Along:

This is the time when you should consult the blueprint for your new house with your family. You need to make a plan along with them about what will go where. Let the movers know about the plan so that they can help you with it. Your relocation will go more quickly and easily if you do this.

Find & Secure A Parking Spot For The Moving Vehicle:

You need to find a parking spot for the moving vehicle. This is important because you need to have a place to park the vehicle when it arrives at your new home. You can ask the neighbors, or you can look online for a parking spot. Be sure to let the movers know about the parking spot, so they can park the vehicle there.

Arrange For House Painters Before Moving In:

If you are not painting by yourself, you might want to hire a professional house painter for your new house. However, you must do it a couple of weeks before you move in. This is important because you don't want to move in and then have to deal with the painting.

Visit The Vet With Your Pet:

Pets are family too. If you have a pet, then you need to visit the vet and get them checked up. This is important because you want to make sure that they are healthy and don't have any diseases. You also want to get their records so that you can have them with you when you move.

Update The Addresses For Your Credit Card And Bank Accounts:

This is important because you don't want your credit card bills or bank statements going to your old address. You can do it online or visit the office in person. It will be done in no time if you do it online.

Request A Leave Of Absence From Work:

If you are working, you must request time off. If you wait, you might not be able to obtain the day off in time. This is important because you don't want to have to worry about work while you are moving. If you can't manage the day off, you have to get help from family or friends to meet with the movers and handle work on a moving day.

Assemble All Warranty Information And User Guides:

This is important because you want to have all the information with you when you move. You don't want to lose any of it in the move. Be sure to put it in a safe place so that you can find it when you need it.

You should also collect the appliance warranties you are leaving behind and leave them in an accessible location. This information will be crucial for those who move into your old house after you.

1 Week Before Your Move
Cleaning Old House:

This is the time when you need to start cleaning your old house. You need to make sure that everything is clean before you leave. Avoid making a mess for the person who comes after you. It is possible to prevent cleaning fees and possibly security deposit deductions with a little bit of work.

Complete Any Last-Minute Tasks:

You don't want to leave anything undone. However, you have a lot of errands to run, such as picking up clean clothes, refilling medications, clearing out your gym locker, returning borrowed items to friends, etc.

Get Ready For Your Landlord's Final Inspection:

This is important because you want to ensure everything is in order before leaving. In addition, you don't want to have any deductions from your security deposit. Finally, remember that it is better to solve any issues face-to-face rather than over the phone.

Pack Kitchen Utensils And Other Necessities:

Now is the time to pack the things you will need on the first day but have to pack last. This includes pots, pans, plates, silverware, towels, etc. You don't want to have to go through all your boxes to find these things. So, put clear labels on these containers.

Ensure Recycling & Garbage Removal:

Remove trash and recyclables from your previous residence. If you are going to miss the garbage pickup day, you should probably contact a neighbor for assistance. They can just leave your garbage cans where they are when they are empty. You can also take the garbage to a dumpster or disposal center.

The Day Before Your Move
Get The Freezer Defrosted:

If you have to take the freezer with you, you must defrost and clean it. You must do it at least 24 hours before your move.

Make Sure Everything On The Moving Checklist Is Done:

Contact again with the movers and Re-confirm their arrival time. You should double-check the completion of the remaining items on the moving checklist.

Withdraw Cash For Tipping & Other Expenses On The Road:

You will need some cash for tipping the movers and other expenses on a moving day. Again, it is better to have cash in hand rather than having to make a stop at an ATM.

Check The Weather Forecast:

You should check the weather forecast for the moving day. If it is going to be hot, ensure you have plenty of water. If it is going to be cold, make sure you have warm clothes packed. Rain is a big factor. So, take the weather into consideration and be ready.

Pending Delivery Cancellations And Reroutes:

If you have any pending deliveries, you should cancel or reroute them. You don't want to worry about them on a moving day.

Moving Day
Ask For Official Documents From Movers:

Finally, it's "Moving Day." Before the movers start loading your belongings, be sure to get an inventory sheet from them. This will list all of your belongings and their condition. Once you sign it, the movers are responsible for your belongings. Also, check the papers like insurance, license & others.

Be Available To Answer Questions From The Movers:

The movers will have questions. So, you need to be available to answer them. They will probably ask you where things go and how you want to load things onto the truck.

Take Essentials For The Journey:

You should pack a bag with the things you will need. This includes water bottles, clothes, toiletries, medications, snacks, drinks, etc.

Do A Final Walk-Through Of Your Old House:

Once the movers finish loading the truck, you should do a final walk-through of your old house. Make sure that everything is how you want it to be and that nothing is left behind.

Return Or Handover The Keys:

Once you are sure everything is in order, you can return the keys to your landlord or handover to the new owner. If you have any issues with the property, discuss them face-to-face.

After Arriving At The New Home
Receive The Movers At The Specified Location:

The movers will probably call you when they are close to your new home. To meet them, make sure to arrive early. They will need your help in unloading and unpacking the truck.

Check The Inventory Sheet:

Once the movers have unloaded everything, go through the inventory sheet with them. Check off each thing as it comes off the truck. This will make it easier for you to keep track of your possessions.

Check For Any Damages:

As you check off each item, check for any damages. If there are any, make sure to note them on the inventory sheet. The movers are responsible for any damages that they cause.

Don't Forget To Tip The Mover:

After they unload everything and you are happy with the service, don't forget to tip the movers. They will appreciate it.

Give The Moving Company A Rating And Review:

After the move, give the moving company a rating and review. This will help other people know whether they are a good company.

Clean The New House:

Start cleaning the new house. This includes sweeping, mopping, and dusting. You will also want to wash the windows and scrub the toilets. Good for you if you've already taken the jump.

Unpack All The Boxes:

Once the house is clean, you can start unpacking all the boxes. Be sure to unpack the essentials first. This includes things like bedding, clothing, toiletries, and kitchen supplies. The unpacking process may be lengthy. Don't lose your cool, and organize everything properly.

Set Up Furniture:

After unpacking all the boxes, you can start setting up your furniture. First, look at the plan or diagram you've been discussing, and make sure everything is where it should be.

Be Concerned About The Security Systems:

Changing the locks on the entire house is a good idea. Because nobody can say for sure what went on within the house throughout the years. The first few nights in a new home can be scary. So, be sure to set up the security systems that you have. This includes alarm systems, motion sensor lights, and security cameras.

Familiarize Yourself With The New Area:

Once you have settled into your new home, it's time to start familiarizing yourself with the new area. This includes finding the nearest grocery store, gas station, and post office. You should also scope out the best places to eat and shop. Get to know your new neighbors and community.

Confirm That Every Significant Contact Has Received Your Updated Address:

After you have moved, confirm that your address has changed with every important contact. This includes your employer, the IRS, your bank, and your insurance company. You should also notify the post office of your change of address.

Collect Important New Documents:

After you've moved, be sure to collect any important new documents. This includes your new lease, car registration, and driver's license. You will also need to get your utilities turned on in your name.
That's it! You're officially moved into your new home. Congratulations!