Need an excellent moving company in Illinois to help you move across state lines? We've put together a list of the best interstate movers in Illinois.
BuzzMoving is the best place to find information about moving to or from Windy City. We list reputable, well-known moving companies dedicated to ensuring their customers are happy. All movers offer a wide range of high-quality moving services, such as Packing, wrapping, boxing, putting together furniture, and installing appliances. We also have a list of movers specializing in moving things like pianos and hot tubs. Many long-distance moving and storage companies also have places to store your items if you need a place to stay while you figure out how to move.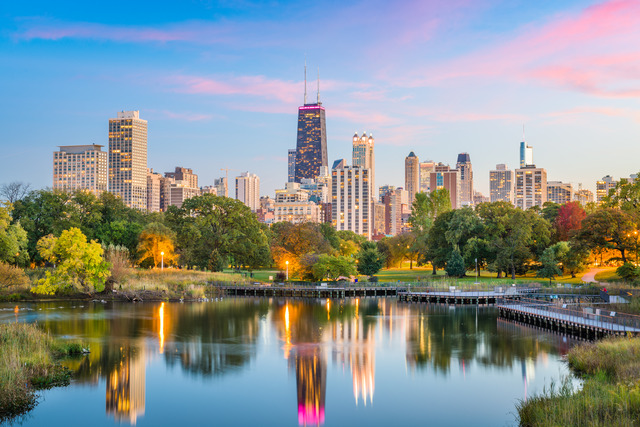 Our Top Pick: The 5 Best Interstate Movers In Illinois
With our help, you can find movers who will move you from one state to another and do a good job. From the first day, you'll feel like part of the family. If you want to move across Illinois soon, BuzzMoving can help you find the best interstate movers in Illinois. Just click a few times to get a price right now!
As a broker, Moving APT links customers with professional movers in their area from a network of more than 2,500 providers across the United States. Even though Moving APT doesn't do the actual moving for you, it works as a coordinator and ensures everything goes smoothly.
Moving APT stands out because it has many ways to pay. The company accepts various payment methods, including personal checks, and has a way to pay over time. Moving APT is a good choice if you need help moving but need more money to pay for it all at once: Depending on your credit, you may be able to pay for your move in installments.
Moving APT's website offers a quick price, but it's just a rough estimate. Contact the company to discuss the details of your move and get a more accurate price information or, in many cases, a binding quote. Moving APT has lower prices for planned activities that are 50 miles or less. The company also discounts people with disabilities, people over 60, people in the military, and soldiers.
Moving APT can provide:
Appliance disconnection and reconnection

Contents protection plans

Fragile-only packing

Full-service Packing and unpacking

Furniture disassembly and reassembly 

Loading and unloading

Short- and long-term storage

Transport

Vehicle shipping
Pros
No secret fees
Packing, insurance, and 30 days of FREE storage
Over 20 years of moving experience
Cons
You must pay a deposit to book your move
International Van Lines
Suppose you are most worried about protecting your belongings during your Illinois move. International Van Lines (IVL) might be a good fit. International Van Lines offers all-risk and total-loss insurance, which can give you peace of mind when moving high-value things or family heirlooms, especially over a long distance.
All-risk insurance bases reimbursement on the estimated value of your belongings, not their weight, so you will be better compensated if any of them are damaged or lost in transit. Total-loss insurance also covers the total value of your belongings. Still, it only applies if your entire moving shipment is damaged or destroyed.
The total weight of your things and the distance and date of your move will determine your overall cost with International Van Lines. IVL needs an up-front deposit of 25% of your package price. A 10–15% discount on the total cost of your move is offered to military members. The company takes credit cards and cash.
International Van Lines is clear about its moving fees; its website lists the cost of each payment and how often it needs to be made. For example, IVL has industry-standard lift and stair fees that apply when crews use either or both to transport items from your home or apartment. The elevator fee is a one-time charge of $75, whereas the stair fee is $75 per flight of stairs.
International Van Lines' services include:
Custom crating

Fragile-only packing

Full and partial Packing

Furniture disassembly and reassembly

GPS shipment tracking

Moving calculator

Moving Checklist

Optional temporary storage

Packing and moving supplies

Special handling of pianos, antiques, fitness equipment, and other high-value items

Vehicle relocation
Pros
Widely available
Takes care of about 10,000 moves a year on average
U.S. Department of Transportation-approved
Cons
North American Van Lines
In the list of our best interstate movers in Illinois, North American Van Lines is one of them. North American Van Lines is an excellent company to look into if you have expensive things that you want fully covered. This full-service mover offers customized full-value release coverage, which protects your items based on their actual value instead of a set amount based on weight. In addition to this perk, the company has a clear and thorough claims process with forms that are easy to fill out and understand.
North American Van Lines told us it would cost between $3,831 and $4,357 to move a two-bedroom house or flat from Chicago to St. Louis. The company also gives legally binding estimates through online and in-person polls. North American Van Lines also has a helpful mobile app that lets customers make a detailed digital inventory and do virtual surveys.
North American Van Lines' services are below:
Advice and assistance for DIY packers

Fragile-only packing

GPS tracking

House cleaning

International Moving

Loading and unloading

Local moving

Long-distance moving

Mobile app for logging inventory

Moving calculator

Moving checklists

Short- and long-term storage

Vehicle relocation
Pros
Provides custom contents safety plans
The claims process for content security is clear and well-thought-out
Gives you your own moving helper to help you move
Cons
Depending on where you are, there may not be many agents available.
Moovers Chicago
Are you searching for the best interstate movers in Illinois? What if you need help packing, a place to store your things for a while? And then delivery to a state where it doesn't get cold enough in the winter to wear gloves! MOOvers Chicago took care of everything. You don't want to throw away card boxes because you care about the environment. They've got to! Moovers Chicago lets you rent green bins you can use more than once. Is there anything else you want? They have every
If you hire this business through "Request a Quote," you can get up to $2,500 in coverage for your job.
Moovers Chicago's services include:
Packing, Unpacking, and Crating

Furniture Moving

Commercial Services

Long moving

Moving Container Rentals

Interstate moving

Virtual Consultations

Furniture Assembly

Storage Services

Local Moving

Senior Moving

Full Packing Services

Unpacking Services
Pros
Provides emergency service
Offer free estimates
Online quotes are available
Cons
Charge extra for some extra time
New City Moving
New City Moving started in August 2009 with a single moving truck and a plan to help people moving within Illinois get better customer service. Since then, New City Moving has grown into a 130-truck business with more than 400 employees, but the quality of service has stayed the same. They are cheap, trustworthy, and always ready to help! New City Moving has grown to become the best interstate movers in Illinois.
The company with the best reviews in Chicago is New City Moving. Their well-trained movers focus on local and long-distance moves, Packing, and short-term and long-term storage. Whether you're moving across the street or the country, they can help you get there safely and within your budget.
New City Moving Services are listed below:
Packing, Unpacking, and Craft

Commercial Services

Large and Heavy Item Moving

Long moving

Storage Services

Furniture Assembly

Local Moving

Piano Moving
Pros
Free moving estimates
Reasonable price
Satisfaction guaranteed
Cons
Do not provide an online quote
How to Choose The Best Interstate Movers In Illinois
Pricing should be one of many things you consider when looking for the best moving company to help you move in or out of Illinois. This list of other things will help you choose the best interstate movers in Illinois and make Packing and moving less stressful overall.
Rules and Permissions
All moving companies in Illinois are required by law to have a valid USDOT number from the Department of Transportation. The company must also be listed with the Federal Motor Carrier Safety Administration (FMCSA) if it helps people move out of state. Forbes Home also suggests ensuring the company is licensed and protected to protect your investment. You can check online to make sure this is true.
Known for something
Ratings and reviews should be a big part of choosing a moving company, just like they are for most things and services we buy. How long a moving company has been in business and how customers have rated them can tell you a lot about them. Before choosing a company, check review sites like the Better Business Bureau (BBB), Google, Facebook, and Yelp to see how the company is rated and how well it does.
Where service is available
A local mover can help if you only need to move within the Chicago metro area. But suppose you are moving to or from Chicago across the state or country. In that case, you must choose a mover with an extended service area to hire only one company.
Services Out There
There are a lot of moving companies that provide more than just essential services. For extra fees, the right team can also help carry and unpack, transport pianos and cars, and even store things. If these extras could make your move easier, be careful when choosing a moving company.
Estimates and insurance valuations of the property
Money and finances are essential when choosing the right movers for your job. Get quotes from at least three different moving companies before you choose one.
Most companies will ask for a detailed list of every item you plan to move, and some may even want to see your things in person before giving you a quote. Regardless of which company you choose, ensure they are clear about their prices and don't have any secret fees.
Also, make sure to look over each company's insurance choices and make sure you're happy with the amount of coverage. If you plan to move many things or ones that are especially valuable, choose a company with a higher-value and more complete insurance plan. Use our moving calculator to determine how much room you'll need in the moving truck.
Size of Company
Even though it may seem less important than other things when looking for a mover in Illinois, the company's size can give you an idea of what kind of moving experience you might have. For instance, a smaller moving business might not be as available as a bigger one. You must book your move before choosing your first choice of moving company.
Also, more prominent moving companies are more likely to be able to handle more significant moves, and they generally have more insurance options.
How to Find Moving Companies in Illinois That Serve
It doesn't have to feel like finding a needle in a haystack to find the best moving companies in Illinois. Use these tips to find an excellent company to make your move go smoothly.
Check out what people are saying about places.
Customer reviews are one of the best ways to learn about a business. By reading reviews on sites like Google and Facebook, you can find out what people who have used this company have to say about their experiences. Take the time to read several reviews about each company you're thinking about. Be bold and ask the company for customer feedback to help you choose the right one.
Pick a business that knows Illinois.
Since the area around Illinois is very big and has much traffic, finding a moving company that knows the site can be helpful. A local company, in particular, is the only one who knows the best ways to cut through the noise, especially in busy places and at peak moving times, to make your move faster and less stressful.
Watch for red flags.
Unfortunately, there are many scams in the moving business. Make sure you find any red flags by asking the right questions about the moving company you're considering. Always get a written contract before you pay a deposit. Also, ensure you're working with a reputable company by reading reviews and checking the Better Business Bureau for any complaints, violations, or other red flags. Lastly, write everything down.
Conclusion
We try to find the best interstate movers in Illinois. Each person will have different needs. Which company is best for you will depend on the size and weight of your things, how far you are moving, how much money you have, and how much help you need.
We suggest listing everything in your home and getting free quotes from several companies.
You may read our reviews and check out the best interstate movers in Illinois from our list.