Thinking of moving to Hawaii from California? If you're looking to move to an ethereal place that will make you feel energized and like you're vacationing all year long, Hawaii is the correct choice. Numerous individuals move annually to Hawaii from California.
Hawaii is a beautiful state. Additionally, it's the only state to have 2 official languages: English and Hawaiian. With its beaches, warm weather, and casual clothes, moving to Hawaii is like taking a permanent vacation.
There are multiple reasons to move to Hawaii. Maybe you want the peace and quiet of an isolated state. Maybe you're looking to retire, or live quietly with your family. Hawaii has some fantastic educational institutions, job opportunities, and places where you can play outdoor sports. There are some cons to moving to Hawaii. It can be very expensive to live there and the weather may not be appealing for everyone.
Regardless, there are lots of practical considerations which go into moving. In this article, we are going to take you through the pros and cons of moving to Hawaii. Additionally, we will give an estimate of how much it costs, and how you can prepare.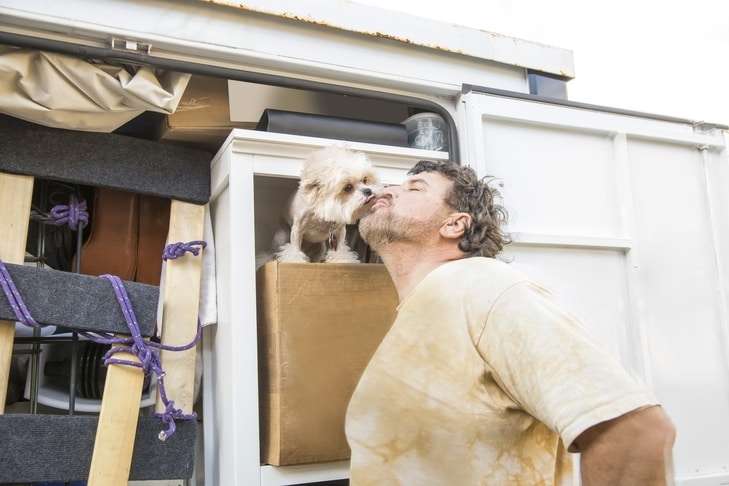 Why Move To Hawaii From California?
Hawaii is known amongst its residents as an overwhelmingly peaceful state. The crime rate is exceedingly low, the population is very amicable. Additionally, there are many excellent schools and after-school education programs. Not to mention, the cool weather of Hawaii will be a nice escape from the hot Californian summer.
In terms of scenic beauty, Hawaii is second to none other. Yes, there are plenty of beaches in California as well, but Hawaii's beaches are built differently. Since Hawaii is a string of islands, you'll find yourself surrounded by the ocean waves no matter where in the state you live.
California is a state known for opportunities in terms of outdoor activities. You don't need to fret, because Hawaii also offers a plethora of outdoor activities for you to do. There are many different national parks and surging sites. Furthermore, there are hundreds of botanical gardens for you to get lost in.
If you're looking for an escape from your busy Californian life, Hawaii is the state for you. The traffic isn't as bad, the weather is much cooler, and in general, Hawaii offers a peaceful escape.
Real estate prices in Hawaii and California are similar. Buying a home will cost you roughly $1.1 million in both places. Sales tax in Hawaii is 4%, which is much less than California's 7.25%. Property taxes in Hawaii are the lowest in the country. It is 0.28% in Hawaii and 0.73% in California.
What Are The Cons Of Moving To Hawaii From California?
Firstly you should note that living in Hawaii is expensive. Renting is almost equally expensive as California. In Honolulu, renting will cost you about $2000, which is almost the same as LA's $2300. Living costs in general average at about $4600 in Hawaii, compared to California's $4500. In terms of expenses, the states are matched fairly evenly. This means that Hawaii is not exactly a very affordable place to live in.
Additionally, it rains a lot in Hawaii. Although the weather is much cooler than in the Sunshine State, it rains almost throughout the year. The waste management system is also not as developed in Hawaii as in California. Not to mention, sometimes you will face heavy traffic because large amounts of people live in a small area.
Regardless, Hawaii is a safe and beautiful state to move to. If you are going to move, you will need to hire long-distance movers.
Hiring Long-distance Movers Before Moving To Hawaii From California
The distance between Hawaii and California is roughly 2400 miles. A lot of planning goes into interstate moves, especially ones so far away. Most of the time, you will need help when planning your move. Additionally, you may require help with moving your car or a boat if you own one.
Long-distance movers offer a multitude of services to make your life easier. These range from packing services to moving heavy appliances to rental and storage services. They also offer to load and unload services for individuals who need help carrying their furniture.
If you require help with packing all of your furniture, you can hire them for a full packing service. They will inspect your belongings and then carefully pack all your furniture with their special packing equipment. Additionally, you may require help with only a select few pieces of furniture. If that's the case, you can hire their partial packing services.
If you need help with moving your washing machine or your dishwasher, you don't need to worry. Long-distance movers will also uninstall, move and reinstall all your heavy appliances. For proud owners of rare art, pool tables, or grand pianos, you can move a single piece of furniture through long-distance movers as well. If you own expensive paintings and would like extra care taken of them long-distance movers can also arrange that. From gun safes to pool tables, you can move everything you want.
Many individuals who are moving lack storage space. This is especially true if you live in an apartment. Maybe your apartment complex doesn't have a garage. Or maybe your vehicle cannot fit all your furniture in it. Long-distance movers can provide storage units too. You can put all your furniture in your storage unit. After that, the professionals will come and drive your unit to your home in Hawaii from your home in California.
How Much Will It Cost Me To Move To Hawaii From California?
It will cost you anywhere between $1000 to $4000 to move to Hawaii from California. The costs can be higher depending on many external variables.
The cities you are moving between will play a part in your total cost. This is because long-distance movers charge a flat rate based on the mileage and the cubic weight of your furniture. Hence, moving to Honolulu from Los Angeles will cost different than moving to Hilo from San Francisco. This also means the size of your apartment will play a role in your total cost. For instance, moving to a two-bedroom apartment will always be more affordable than moving to a four-bedroom apartment.
The total number of services you avail of will also play a role in your cost. If you require multiple services your move will be more expensive than if you require one service. For instance, a full packing service will be more expensive than a personal packing service.
Other miscellaneous factors like the specific moving company you choose or the time of the year during which you are moving will also drive your prices up or down. Moving is generally more expensive during the summer because that's when most people move. As a result, prices go up. Not to mention, you should budget for tipping your movers 15% as well. Sometimes the specific route that you are using will also drive your prices up or down.
There are ways to cut your costs. For instance, if you pack most of your furniture yourself, you will not have to pay for a full packing service. Or if you have a very large vehicle you can drive your furniture to your new home yourself. However, we only recommend you take these steps if you are sure that you will be able to take care of your furniture properly. Long-distance Movers exist to make your life easier. Hence, it will always be a better bet to count on the professionals to get the work done smoothly.
The best way to estimate your total cost is to call up your moving company directly. You can tell them exactly how many services you require and they will be able to tell you their flat rates. Additionally, you can also go through their websites. All information regarding cost is usually available on the websites of the long-distance moving companies.
Another way of figuring out costs is by getting instant quotes online. We can help you with that. If you have 2 minutes please confirm filling out our form. You can get access to instant free moving quotes which come with no strings attached.
Can You Recommend Some Affordable Movers For Me?
We know that affordability is a huge concern for individuals who are moving. As a result of this, we have compiled a list of a few trustworthy and affordable moving companies. Please note that this is not an exhaustive list. You have to do plenty of research to figure out which moving company is the best bet for you.
However, we also understand that moving to Hawaii from California is a tall order. In order to help you fast track your research we have compiled a few names which we have listed below. We hope you find our list useful.
| | | | |
| --- | --- | --- | --- |
| Name | Rating | US DOT | ICC MC |
| Whitaker and Sons | 5 | | |
| Alliance Movers Inc | 5 | 2398933 | 824939 |
| Infinity Van Lines | 5 | 1443732 | 545673 |
| Direct Relocation Services LLC | 5 | 3000931 | 24036 |
| Finest Movers Inc | 5 | 1896009 | 681911 |
Insurance In Hawaii
If you own a vehicle it is imperative to get car insurance when moving between states. Car insurance in Hawaii is cheaper than in most other states averaging at $1079. Please make sure that you budget appropriately for car insurance.
Property insurance is not mandatory in Hawaii. However, it is useful to have property insurance in places like Hawaii because Hawaii is often affected by natural disasters and floods. If your property is mortgaged by a lender, the company may oblige you to get property insurance to make sure that you will be able to pay back the loan. In any case, it is useful to get home insurance.
Getting health insurance is also an important factor that you should consider. The state of Hawaii has a website that can give you access to health insurance. all you have to do is go to the website and select Hawaii as your state. Subsequently, create an account in order to get your insurance.
Dmv Change Of Address In Hawaii
You have to notify the Hawai DMV within 30 days of your move. You also need to notify the California DMV within 10 days of your move. Please note that you can only register your vehicle and apply for a driver's license in person at the Hawaii DMV. You need to bring your social security card as proof of identity and you also need 2 proofs of residency. Some individuals may be required to take a vision test. Don't forget you also have to bring your out-of-state license with you. if you don't have your out-of-state license or if it has expired, you will need to take a written and road test.
Don't forget to change your actual address when moving. If you're changing your address with USPS it takes about 7-10 business days for mail forwarding to start to your new address. There are two ways to change your address with USPS, you can either do it online or in person.
Home Services In Hawaii
Hawaii has various electricity providers. Please note that Hawaii has the highest electricity bill in all of the United States. In order to set up electricity, you have to get in touch with your local electricity supplier. You can do this by asking your neighbors or by getting in touch with them through the number listed on their website. For setting up your water supply you can get in touch with the Board of Water Supply. Hawaii's Gas Company Website has instructions on how to set up gas.
Hawaii boasts good internet with reasonable prices. You may need satellite internet if you live far away from the cities. It's always a good idea to bundle your internet service with your cell phone provider. Most internet providers also offer lucrative internet bundles.
What Are Some Good Places To Live In Hawaii?
There are many factors you must consider when you are moving to a different state. If you're looking to live in Hawaii we have made a list of some places that you find suitable.
Honolulu gives you the high-end city life, and plenty of jobs and educational opportunities
Kailua is considered one of the best suburbs to live in, with plenty of good schools and safe neighborhoods
Hilo has a friendly population and plenty of residential spaces.
If you are looking to retire in Hawaii you may find the following options to be the best choice for you.

Hilo costs 18% less than the rest of Hawaii and has plenty of fun activities for you to do
Kailua-Kona is the perfect paradise if you're a golf-lover
Lihue is a small town and a perfect place to settle in if you love hiking

If you are moving with your children and are looking for cities with good schools in them, you may consider the options listed below
Mililani Mauka has the best schools and safest neighborhoods
Kailua has many residential areas and excellent schools
Honolulu may be expensive, but it boasts access to the finest opportunities in the state
Can You Give Me Some Advice About Moving To Hawaii From California?
The first piece of advice that we will give you would be to research as much as possible. You need to look at real estate prices, suitable apartments, etc. You also need to budget very well.If you don't own a vehicle please look at public transportation costs.
How much will the commute from your work to home cost you? How much will groceries cost you? It's important to have a very thorough budget when moving to Hawaii from California. As we have stated before, Hawaii is a very expensive state to live in.
If you have sinus, asthma, or allergy-related problems please be prepared. There is a lot of volcanic smog in Hawaii which may cause health problems for you. This is not a constant problem merely an occasional one however it is still best to be prepared.
Additionally, don't expect the fun places to be empty. Hawai boasts numerous tourists every year. Hence it is very possible that your favorite attraction site will always be crowded. You should also remember that Hawaii is a small island. This means groceries and toiletries may not always be available and are usually bought at the store.
Conclusion
Moving to Hawaii from California is a tall order. It will require months of meticulous planning. we often like to say there is no one size fits all solution for everybody is moving problems. That is true. However, hiring long-distance movers is as close a solution as there will ever be to all your moving problems.

While figuring out exact costs can also be a problem, you can easily get cost estimates by filling out our form. If you obtain an instant quote from us, you will be able to compare rates between multiple trusted moving companies. This will allow you to make the best decision for yourself when it comes to moving.

Have a fantastic move!