Do you need to move your pool table somewhere? If you do, you should consider hiring professional pool table movers to move the pool table! Moving a pool table is quite different from moving other pieces of furniture. Pool tables are made from weighty slates, which can weigh up to 1000 pounds! The table itself is covered with wool which can be damaged easily. There are different moving parts to a pool table that can be irreparably harmed during the move.

Before hiring professional pool table movers, there are factors you need to consider. Rates of movers, additional services you require, and where you are moving the table will all factor into your final cost. We are here to guide you so that you can make the most well-informed decision when you hire pool table movers.
What Should I Expect When Hiring Professionals Pool Table Movers?
There are off course benefits of hiring professional billiards movers. They have specialized equipment to make sure the different parts of your pool table will be safe during the journey. They are also licensed and have the proper supply for disassembling and reassembling different parts of your table.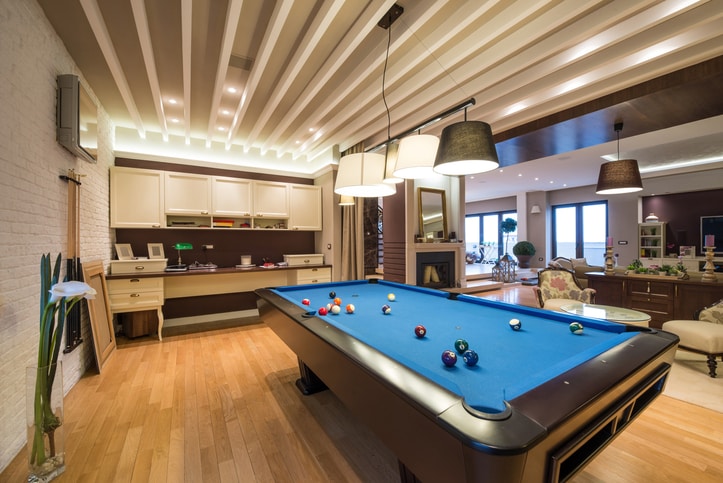 Before deciding to hire pool table movers, you must have a checklist of questions they are going to ask. They would want to know about the weight of your table, the distance of your move, the model, and what kind of slates it has. This is because your costs will depend upon how many movers the table will require. If the slate can be moved by 1-2 movers, then your cost will be on the lower end of the spectrum, but if 3-5 movers are required, and the prices can go up! So make sure you have a few preliminary details ready before hiring professionals.
How Much Will it Cost Me to Move A Pool Table?
This will of course depend on whether your move is local or interstate. Local movers usually charge somewhere between $400-$600, and the final cost depends upon several factors.
-The type of play surface of the table, whether it is a 3-piece slate or a 1-piece slate
-The model of the table
-The distance between the current and new location of the table
-The size of the table
If you are moving locally, then it's common for the movers to charge a flat hourly rate, so the total cost will depend upon distance. If your move is intrastate or interstate, then the movers usually charge by both the weight and the distance of the move. Additional determinants of your total costs include:
-The manufacturer of the table
-How the table is positioned in the moving truck (this is particularly true for long-distance moves where your pool table is one of the many pieces of furniture being transported)
-Type of ball return systems and pockets in the table
-Whether or not you require any additional services such as assembling the table
If you haven't planned properly, then there can be additional fees on top of the flat rates charged by the pool table movers. The best way to get estimates from professional movers is to get free instant quotes online so that you can compare prices between multiple companies. You can fill up our quick form to avail a no-strings-attached free quote to compare rates of different pool table movers. Additionally, you can also directly call the companies after shortlisting companies you are thinking of working with so that they can answer any further questions you may have about moving your pool table.
What are the kinds of pool table moving services that I can avail of?
1) Disassembling the table
Very small pool tables can usually be moved in one piece, without the need for disassembling the different parts. However, if your table has 3 slates, then the professionals may need to disassemble your table, which will factor into the total cost.
If you are wondering how the professionals disassemble your pool table, here are a few guidelines:
-They remove the table ball pockets. This is done by removing the staples and holding the pockets in place.
-They loosen the bolts on the side rails of the table and keep the nuts and bolts safely away.
– They will likely use a stapler remover to take out the staples that hold down the felt. The felt should come off in one piece.
-They'll use a power drill to remove the slates. This has to be carefully done because slates are very heavy.
-After the pockets, rails and staples have been removed, they detach the legs.
2) Packing and loading the table
After your table has been disassembled the movers will pack and load your table. They will wrap each disassembled table part in blankets or other packing material. Then they'll gently load the slates onto the vehicles. They'll also keep the nuts, bolts, and rails separately on the truck.
3) Moving the table across distances
Regardless of whether you are moving your pool table from your living room to your bedroom, or halfway across the country, it is imperative to move it with utmost caution since the slates of the table can be easily damaged. Maybe you don't have enough space in your vehicle for your pool table. Maybe you just don't have the proper packing supplies. Regardless, once you hire professional billiard movers, you won't have to worry about a thing! Moving companies have large vehicles like trucks or storage units that they use to transport pieces of furniture across the country. This also ensures that your table doesn't move around inside the truck during the journey, since there are also other pieces of furniture acting as buffers. Licensed movers also have special packaging supplies. That will ensure that the constituent pool table parts will damage during the move.
4) Reassembling the table
So you have relocated your table, and it has survived the journey. But now your pool table is all separated and you are confused about how to put all the pieces back together. Don't worry at all, because professional movers can take care of the reassembly for you as well! Proper installation will ensure that you can continue to play pool without any hindrance in your new location.
-The movers attach the legs of the table first
-Then they place the slates and rails on top
-Lastly, they attach rails and pockets
If you think you can disassemble and reassemble your pool table by yourself, you can use the aforementioned guidelines, and only hire professional movers to pack and move your table!
Moving a pool table is of course a difficult task, and several factors will play into your ultimate cost. This is why it's incredibly important to hire trusted professional pool table movers whom you can rely on for a smooth move. If you are confused about where to look for such licensed professionals, you can avail free quotes by filling up our form. Our network consists of licensed professionals who have a lot of experience with local and cross-country moves. We will ensure that your precious pool table is in perfect condition once it arrives at its new location. We hope your move goes well!