One of the most crucial questions to answer while moving is the following: how much do movers cost for a 2-bedroom apartment? For a local move that's under 100 miles, movers charge an average rate of $100 an hour, which can total up to $500-$800 depending on the distance. For a long-distance move that's over 100 miles, professional movers charge based on mileage, and costs can range between $2000-$8000, sometimes even as much as $12000.
With 30 years of experience in the moving sector, We are connected with the best movers in the industry. We served 955,897 (and counting) happy customers and professional movers that provide moving services. We are connected with more than 200+ moving companies nationwide. Save your precious time and money by submitting the form. We promise you have to do nothing. Our movers will do all the work for you once you hire them.
Just submit the simple form, our system will broadcast your information to our best relocators. And they will get back to you within 60 seconds (Approx) with your moving quotes. Then you choose the best suitable relocators for you.
To help you make your decision, we have broken down a list of factors that contribute to the average cost of moving so that you can make the most informed and best decision for yourself.
Local Moves for 2 Bedroom Apartment
Any distance that's below 100 miles can be considered a local move, and movers charge a flat rate of $100 per hour for 2-bedroom apartments. Given that local moves usually take between five to eight hours, the final cost adds up anywhere between $500-$800, for two movers and a truck. Local moves are applicable for the same state only, and additional charges can incur depending on the requirement. These include but are not limited to:
-Requiring the movers to move your goods up and down the stairs
-Elevator service
-Shuttle service
-Carrying your goods across long distances (like big hallways, etc.)
-Packaging or temporary storage services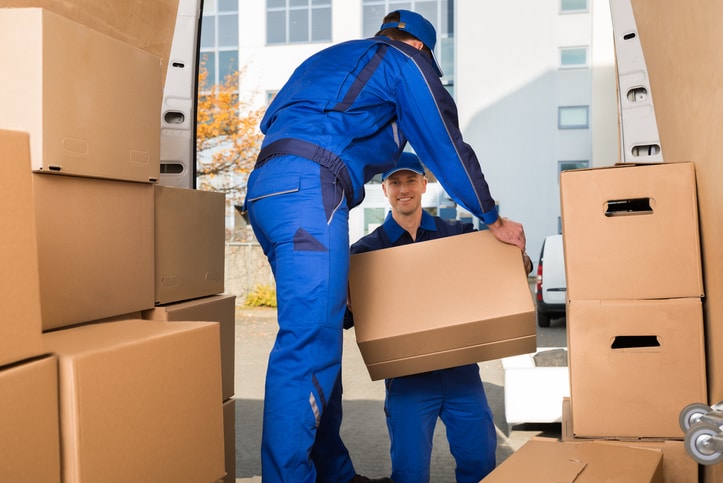 When you call a moving company and hire professional movers, they will often inspect your 2-bedroom apartment and let you know the final cost, depending on how far you are moving, how many objects you are moving, and if you require any additional services from the movers.
Long-distance moves for 2 Bedroom Apartment
Long-distance moves are distances that are above 100 miles, and there are additional factors that come into the average cost of professional movers. For instance, the weight of your belongings, whether or not you need packing services, how far you are moving, and the mileage, insurance, and other factors as well such as any additional services you may require. When moving long distances, we would recommend that you look into the flat rates of moving services that are closer to you to get a more proper estimate! It is important to ask your movers about the detailed cost breakdown as well. Thus, you will know what additional services you will require and what the total potential cost will be.
Below is a cost breakdown of the average rate charged by professional movers, so that you can have a better understanding!
| | | | |
| --- | --- | --- | --- |
| Two-Bedroom Apartment (about 5000 pounds) | 500 miles | 1000 miles | 3000 miles |
| Standard costs for moving only | $2000- $3000 | $2600- $3600 | $5000-$6000 |
| Costs for moving and insurance | $2400-$3400 | $3000-$4000 | $5400-$6400 |
| Costs for moving and full packing service | $3300- $4300 | $3900-$4900 | $6300-$7300 |
| Costs for moving, insurance, and packing service | $3800- $4800 | $4200-$5400 | $6800-7800 |
It is important to remember that the prices illustrated here for professional movers for a 2-bedroom apartment are just estimates, and the total price will completely depend upon the specific mover that you hired, and external factors! Depending on the floor of your present or prospective 2-bedroom apartment, whether you require full or partial packing, which moving company you use, and which state you live in can all affect the pricing. So contact the moving company you hired and describe your needs to get the most economical choice.
You pack, and we drive to 2 Bedroom Apartment
A brilliant way to cut costs and save money is by hiring "You Pack, We Drive" moving services. This would require you to pack up all your belongings yourself, the moving company will deliver a trailer to your place, and you can pack your belongings yourself at your own time! After you are ready, the movers will arrive at your place and take the trailer full of your belongings to the new location. It is important to note that you pack, we drive services are mostly applicable for long-distance moves. Before hiring these specific movers, there are some things to consider. Many apartment complexes don't have parking spaces or any available space for keeping a trailer.
2 Bedroom Apartment Moving Cost Using A Trailer
Does your 2-bedroom apartment complex have enough storage space to keep the trailer? Or are there any restrictions? Will your landlord allow for there to be a trailer kept at the complex? These are important questions that need answering before you hire movers. The best way to decide this is to have a detailed conversation with your landlord to ensure that there aren't going to be any problems with the trailer. If you think this is the best possible moving service for you, the table below provides an average cost breakdown:
| | | | |
| --- | --- | --- | --- |
| Two-Bedroom Apartment (about 5000 pounds) | 500 miles | 1000 miles | 3000 miles |
| Transportation | $2000- $3000 | $2600- $3600 | $5000-$6000 |
| Unloading service | $2300-$3300 | $2900-$3900 | $5300-$6300 |
| Storage service | $2300-$3300 | $2900-$3900 | $5300-$6300 |
| Both unloading and storage service | $2800-$3800 | $3400-$5000 | $5800-$6800 |
Again, it is important to remember all these prices are rough estimates based on a lot of available data on the cost of movers for 2-bedroom apartments, prices can vary a lot depending upon the amount of time you avail the storage service, the distance of transportation, and your location.
Furniture costs for 2 Bedroom Apartment
So you may be wondering, how much will it cost to move one piece of furniture? We also have prepared a cost breakdown for you for that!
| | |
| --- | --- |
| Average Cost Range | $150-$200 |
| Low-End Cost | $90-$100 |
| High-End Cost | $400-$500 |
For a 2-bedroom apartment, the cost of moving furniture varies depending upon the weight of the furniture and the hourly rate that's charged by the specific moving company that you hired! These estimates show an average cost breakdown, however, prices can vary depending on how many pieces of furniture you have and how heavy they are; for instance, moving a piano can cost as much as $600, while moving an armchair may cost $90!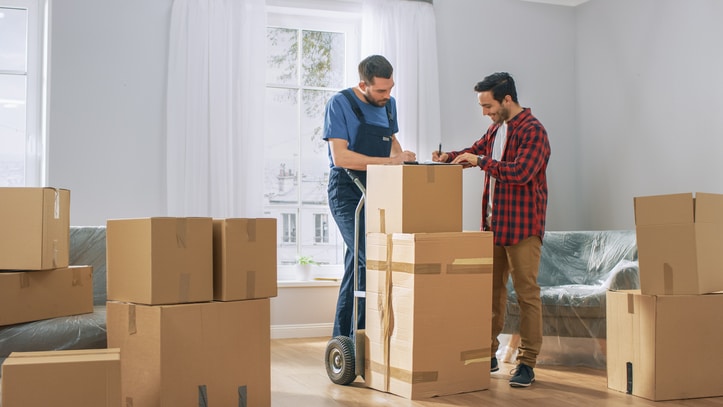 Factors That Impact Moving Costs
Distance of the move: The farther you are moving, the more it will generally cost. Moving a short distance within the same city or town may cost less than moving to a new state or country.
Size of the home or apartment: Moving a larger home or apartment will typically cost more than moving a smaller one, as there will be more items to transport and more space required on the moving truck.
Number and type of items: The more items you have to move, the higher the cost will be. Additionally, certain items, such as pianos and other large, heavy, or fragile items, may require special handling and equipment, which can add to the cost of the move.
Time of year: The demand for moving services can vary depending on the time of year. Moving during the peak season (summer) may cost more than moving during the off-season (winter).
Additional services: Packing and unpacking services, as well as assembly and disassembly of furniture, can add to the cost of a move.
Use of a professional moving company: Hiring a professional moving company can cost more than doing the move yourself, but it can also save you time and effort and reduce the risk of damage to your belongings.
Hiring a team of movers: Depending on the size of your move, you may need to hire a team of movers to help you. This can add to the cost of the move, but can also make the process more efficient and less stressful.
How To Be Prepared and Cut Costs
There are available ways to cut costs on movers:
Moving during the off season is a best way to reduce cost. From mid-September to mid-April is the ideal time to move in a low cost.
Get multiple quotes from different moving companies and compare prices for the best deal.
Ask for discount offers.
You can pack up your things without needing packing services.
Do you know the distance from the ground to your floor? Measure it! This will help you to estimate how much movers will cost, or you can even volunteer to carry all your belongings across those long distances like elevators or hallways.
The cost will go down if your belongings don't weigh much! There are many different resources on the internet that can give you places to find cheap or free moving supplies so that those additional costs are also cut for you.
Sell items you you will no longer use. This way you can earn some extra cash.
The route you choose for moving is also an important factor to reduce cost. So, choose your moving route wisely before you start moving.
Conclusion
We understand that moving is difficult. You need a clear comparison between prices. Sometimes additional services like packaging, unloading, and storage services are required. BuzzMoving can help with that! We are here to help you find professional and reliable moving companies anywhere in the USA, adjusted to your specific needs. Fill out our form to get a no-strings-attached FREE quote today, so that you are able to get the best possible deal for yourself after comparing price ranges.
Upon filling out our form, you can obtain quotes from a variety of moving companies: BuzzMoving network consists of licensed and experienced moving companies from all across the USA, to help you make the best decision for yourself.
FAQ's
Q: How are moving costs calculated?
A: For a local local move the cost calculating formula is (Hourly Rate x Number of hours to complete the move x Number of movers). Also, you might need to pay some extra money for tips and packing supplies. And for a long-distance move the cost is calculated based on the weight, mileage, amount of items and additional moving services you acquire.
Q: What will movers not take?
A: There are a few items that most movers will not take, such as hazardous materials, explosives, and flammable liquids. Other items that may not be accepted include perishable food, plants, and pets. Be sure to check with your mover ahead of time to find out what items they will not transport.
Q: Do you pay movers before or after?
A: It is typically expected that you will pay your movers after they have completed their work. This is because you will generally have a better idea of the final cost once the job is done. There are times when you might have to pay a deposit up front, but that's not always the case. But in most cases, you will simply pay the total cost after the job is complete.
Q: How far in advance should I book movers?
A: It is generally recommended to book movers at least Six to Eight weeks before your moving day, if possible.
Q: Do movers require cash?
A: It is not common for movers to require payment in cash. Most moving companies will accept payment by credit card, check, or money order. Some may also accept payment by debit card or cash, but this is less common. It is important to discuss the payment options with the moving company before the move to ensure that you are prepared to pay on the day of the move. If you are unsure about the company's payment policies, it is always a good idea to ask.
Q: What is considered a long-distance move?
A: Usually, a long-distance move is one that goes more than 100 miles from one place to another.