Thinking of hiring professional packing and unpacking services for your move?
Well, you don't need to look any further. BuzzMoving is your one-stop shop to help you out with all your moving-related needs.
We understand that the mere thought of packing all your belongings can be extremely stressful, especially if your moving date is right around the corner! That's why it's important to budget accordingly and prepare for hiring packing and unpacking services that you can find near you, so that professional packing services can take some of the stress off you. Our network of companies comprises licensed and reliable professionals, who have all the expertise needed to meet all your demands!

It's important to note that packing is more than organizing and putting all your belongings in safe places. Electronics will need to be packaged differently than furniture, and glassware will need to be handled with caution. Before making your decision, ask yourself what kind of packing company is best suited for your needs.
Full Packing Service
Full Packing Services mean that the professionals will help pack and organize all your belongings! If you hire a full packing service, they will be telling you what particular packing materials you'll require for specific goods. They will buy the required materials, organize all of your belongings properly, and ensure that they remain safe during the journey.
To sum it up, a full-service mover will provide the following:
-Materials required
-Will pack and load all your belongings
-Transportation
-Will unload all your belongings
Partial Packing Service
Partial Packing Services mean that the professionals will only help you with packing and organizing specific belongings if you have decided that you can pack most of your other goods by yourself. You only have to pay for the belongings that they pack, but you are responsible for packing everything else! This can be cost-effective, however, this must be done after considering other things. Do you have the specific materials needed to pack by yourself? Can you organize and seal the boxes to ensure that no damage occurs to them during the move? If you answered yes, then you may be good to go!
Unpacking services
So you have arrived at your new place but now all of your homes are packed up in a box that you will need to unpack and reorganize. If this seems tedious- don't worry! Unpacking services can help you take all your belongings out of neatly organized packages and help you put them in place in your new home.
When deciding which company to hire, make sure you look into their prices, and reviews, and reach and compare thoroughly to make the best decision. There is another kind of packing option available for you if you are confident you can do it yourself!
DIY Packing
This form of packing is exactly what it sounds like- you do it yourself! You pack up all your belongings, and the professional movers help you to seal your boxes and wrap your furniture so that it stays protected during transit. They will help ensure that everything you own survives the long journey. Additionally, such packing services also help you buy packing supplies which are widely available on their website, and if you are in need of any assistance they have a team of experts who help you and guide you through the whole process!
If you are wondering which specific service will be the best suited for you, look no further, here are a few recommendations for Packing and Unpacking services:
United Van Line Moving Companies
They offer many different services, including full packing service, partial and custom packing, and unpacking services! They also are incredibly convenient and help their clients through local, long-distance, and international moves, and have a nationwide reach. Furthermore, they have a transparent pricing system and will work with you to best understand your needs.
Atlas Van Lines Moving Companies
They also offer full packing and unpacking services and have transparent rates. Furthermore, they have professional movers who will work completely with you to guide you through every step of the moving process. When it's time for you to move, Atlas Movers will ensure they are over at your place with all the necessary moving materials, so that you don't have to stress about anything!
College HUNKS Hauling and Junk
College Hunk is unique in the way that they also offer services of removing unwanted items from your belongings that you aren't planning on taking to your new home, termed: 'junk removal.' They have many different kinds of packing services as well, offering customized packing services tailor-made for your specific need. They are incredibly committed to ensuring that you have a smooth move, and they are an eco-friendly option! This is because all the items they help to remove are either disposed of safely or recycled.
The three companies that we have listed above are all trustworthy professionals with reasonable prices and excellent service, which can help packing and unpacking seem like a breeze so that you can have the best possible move.
Things to Remember Before Hiring Moving Companies
When deciding which specific packing service is the best for you, it's important to keep note of a lot of different factors. You must ensure that the company has transparent price ranges and that they are qualified, licensed professionals who can deliver what they promise. You also must evaluate how comfortable you are with packing your own belongings! If you are aware of the packing supplies you may need and you have already ordered them, maybe DIY packing or partial packing services is the best option for you! If not, then maybe what you need is a full packing service.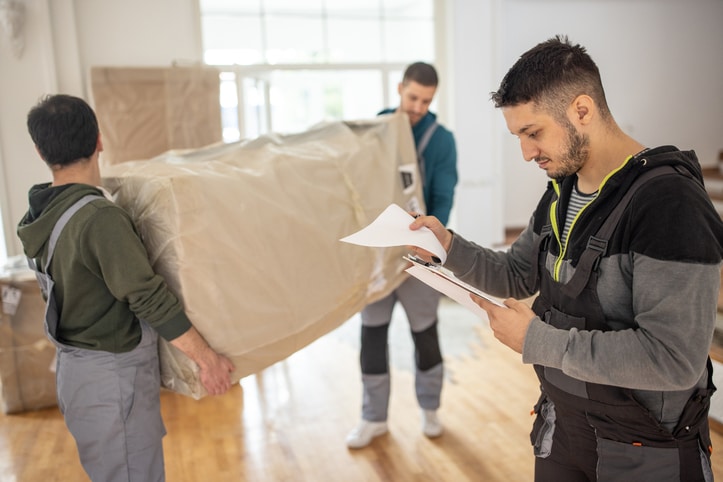 Looking at reviews is an important part of this whole process. Oftentimes this is done through available reviews on the internet. But we understand that it can be difficult to know which review is legitimate and which is not- but you don't have to worry about that anymore, because BuzzMoving can help you make the best decision for yourself. Wondering how?
Well, we can help you compare prices of different companies, by helping you get quotes from a range of qualified, experienced, and trusted moving companies. We know that filling in huge forms can be an incredibly tedious task, and it's exhausting to keep looking for reliable professionals who can help make packing and unpacking easier for you, that's why we have a network of trustworthy companies who can help you make the process easier.
Why Choose Us
Since packing services are an extra service that moving companies also provide, and charges can depend on several factors, it's crucial to have a reliable source of information about such packing and unpacking services. BuzzMoving is here to ensure that your move goes smoothly without any difficulties, so please fill out our form to get a no-strings-attached FREE quote, so that you can compare all price ranges of companies and get the best deal available for yourself! The benefits of getting a quote from BuzzMoving are as follows:
-Our quotes are free moving and easy and have helped out multiple clients in the past
-You can obtain quotes from a variety of moving companies!
-The movers we suggest have a lot of experience, they will ensure your experience is as smooth as possible!
Filling out our form will ensure you have a stress-free move, assisted by capable professionals. Happy Moving!