It's always best to have some competent and adequately qualified hands taking care of things while dealing with furniture, whether it's a whole house full of furniture or just a single grand piano. Don't worry; Buzzmoving is here to assist you in locating the right licensed furniture movers for your needs. There's no need to worry about hurting your back trying to wrangle the sofa down the stairs or raise the bed frame by yourself.
We have a network of highly skilled and competent movers at Buzzmoving who specialize in moving all forms of furniture. All you have to do is fill out our form to get your free quote, whether you're shifting a single piece of furniture from one floor to another or a whole house full of furniture across the state. After that, you can sit back and relax, knowing that the competent furniture movers can take care of the rest.
Only highly skilled and certified workers with all of the tools required to complete the job are employed by the specialist furniture moving companies in our network. These professional furniture movers are well-versed in all aspects of the moving process. They will not only disassemble all types of bulky household furniture, but they will also make sure to secure them in the appropriate safety padding and move them safely to your new place.
Please complete the form to begin receiving your free quote and comparing prices in your area to find the best moving company for the job.
Professional Furniture Movers Provide a Variety of Services.
Are you looking for fast and dependable furniture moving assistance, whether it's across the country or just across the house? Let Buzzmoving's network of seasoned and reliable moving companies assist you in finding the best furniture movers in your region.
Trained furniture movers in our network have the skills and tools to properly prepare and execute your move while minimizing the chance of harm to your belongings. The following are some of the services provided by furniture moving companies:
Rearranging Furniture in the Home
Do you have an overwhelming desire to rearrange the furniture in your home? If you try to move a king-size bed up the stairs or even the dining table to the other side of the house on your own, it can be a challenging job.
So why not make it easier on yourself by hiring the skilled furniture movers you need and deserve. When you hire in-house furniture movers, the company will send a team of professional and experienced movers who are ready to manage all of your home re-arrangement needs safely and efficiently.
Move Over a Short Distance
A short-distance transfer is the most cost-effective and easy option for relocating your furniture within the same neighborhood or area. You can hire any furniture moving company you want and choose the short distance move option. This eliminates the hassle of renting trucks, purchasing packaging, and enlisting the aid of family and friends to transfer your belongings.
Local furniture movers usually charge by the hour and will help you move your whole house full of furniture to a new location or deliver the double bed you found on eBay to your front door.
State-to-State Transfers
You should quickly abandon all plans of hiring your own moving truck and winging it if your moving plans include moving from one state to another. Buzzmoving will assist you in locating licensed interstate furniture movers in the United States who are inexpensive enough for you to avoid taking such drastic steps.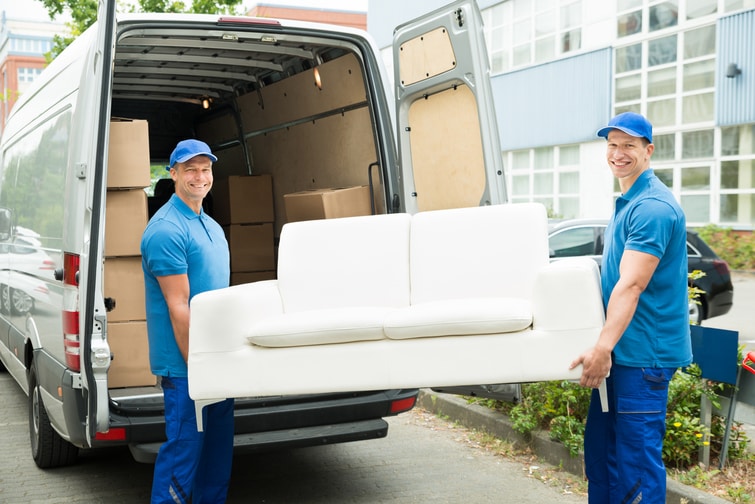 Employees who work for professional furniture moving firms that provide long-distance moving services are explicitly trained for the job. These experienced movers are experts at hauling furniture, whether you want to move all of your belongings or just a single sofa-bed around the state.
Furniture Transport Over Long Distances
If you don't want to spend your whole cross-country moving across the United States riding on the back of a moving truck, you should look into cross-country furniture shipping services. Buzzmoving collaborates with experienced furniture movers who specialize in cross-country logistics and shipping.
They have a number of unique ways to ship your couch, chair, bed, or any other piece of furniture from one part of the country to another without you having to raise a finger. So, instead of spending days on the road rattling along highways, hire skilled furniture movers to transport your furniture safely and efficiently to your desired location.
Relocation of a Gun Safe
Any responsible gun owner would almost certainly have a safe dedicated to storing and protecting weapons. No matter what kind of gun you have – revolvers, shotguns, or even rifles – the massive weight and scale of a solid steel gun-safe significantly deter any robbery or infringement of your weapons.
The characteristics that make gun safes such a convenient place to store your valuable firearms also make them difficult to transport. Without the proper training and supplies, moving a large metal box weighing at least two to three hundred pounds by yourself or with friends is nearly impossible.
But don't worry, experienced movers from furniture moving firms are on hand to complete this mission without a hitch. Most moving companies would consider your safety as an ordinary piece of furniture if it weighs less than 200 pounds. However, if your safe is larger, a customized moving plan (i.e., more men, more equipment, a larger truck) might be needed to ensure the safe and timely relocation of your safe. To get a quote for moving your gun safe, please fill out our form right now!
Getting a Single Piece of Furniture to Its Destination
Were you looking for a way to transport a single piece of furniture across a state or even across the country? It might be a priceless antique heirloom passed down from your grandmother across town or a fantastic bargain found on eBay or Craigslist on the other side of the world.
Buzzmoving will help you find specialist furniture moving companies that do "piggybacking" services all over the United States to ensure your item is transported safely and efficiently at a reasonable price, regardless of the item or the distance!
Sofa and Couch Removers
Without the sofa in the middle of the room, the American living room will feel hollow. It's where the family gathers after a long day to watch prime-time television and eat dinner together. In the United States, no living room is full without a comfortable sofa in the middle.
If you don't want to risk straining both your back and your relationships, we recommend enlisting the aid of a friend to raise and carry your couch out of your home and into a truck or something similar. Buzzmoving will connect you with couch movers who are qualified and ready to handle a variety of sofas and transport them to your new location with ease. To compare and find the best deal for you, get a quote from us today!
Furniture that is unusual or bulky
Buzzmoving will assist you in locating the best movers to assist you in moving any unusual, bulky, or delicate objects. To get help moving pool tables, valuable paintings, antique china, and other tiny or one-item moving loads, please fill out our form.
Furniture Storage Facilities
If required, the furniture movers in our network can also help with storage. You don't need to rent separate storage for your belongings. The majority of skilled furniture movers have safe, temperature-controlled storage for your belongings. They can store anything from a few extra items to your entire home's furniture in a safe warehouse or self-storage facility. To make your transfer more convenient, ask about the company's pickup and drop-off services.
Office or Commercial Furniture
When it comes to offices and other commercial areas of operation, we suggest checking out the Buzzmoving network of experienced office movers. Regardless, there are also firms that specialize in transporting office furniture.
Rather than putting your interns to work dismantling, packaging, and organizing your workstations (or attempting to move the office conference table onto a truck), employ skilled support to ensure a smooth and hassle-free transfer of your valuables.
Antiques and priceless items
Antiques are highly important in terms of both financial and emotional value. To the untrained eye, an old pocket watch from your great grandfather may seem insignificant, but we recognize its significance to you. This is why Buzzmoving hires professionals who are familiar with handling antique and vintage items while relocating them.
Staff from a reputable antique moving company are trained and equipped to perform any tedious disassembly, packing, and boxing of your valuables. Our expert antique relocation services guarantee that your priceless heirlooms will look as good as they did before shipment and will continue to look great in the future.
What are the advantages of working with us to hire a specialist furniture moving company?
BuzzMoving is a one-stop for all of your furniture relocation needs. We have a specialist moving company that can best meet your needs, whether you're moving furniture locally, long-distance, state to state, or even nationally. The following are some of the benefits of having a quote from us:
Anything you'll need to move your furniture:
These movers have specialized equipment that allows them to lift, move, package, and transport any furniture. This ensures that all of your belongings make a smooth and damage-free transition from your pickup location to your final destination.
Professionally skilled movers with years of experience:
The BuzzMoving network is made up of experienced and licensed moving companies. Employees are trained and equipped to manage various types of furniture and have the requisite expertise to deal with any irregularities.
Up-to-date licenses and insurance:
We have screened all of the companies in our network to provide you with a curated experience when evaluating offers. Buzzmoving goes to great lengths to ensure that they are legitimate companies with all of the required licenses and insurance to transport furniture professionally across the United States.
Compare rates from various companies:
Not only can we ensure that the moving companies who approach you specialize in moving furniture, but you will also be able to compare rates from various companies to find the one that best fits your needs.
To find a reputable and competent furniture moving company, please begin by filling out the form on BuzzMoving.com. We'll put you in touch with a local moving company that specializes in furniture relocation. When you get a moving quote from us, you'll be able to compare offers from different companies to find the best deal for you.