If you're moving from California to Texas, you will need to hire movers from California to Texas. Interstate moves are called long-distance movers. Hence, you will need to look into professional long-distance movers.
There are plenty of individuals who make this particular interstate move every year. As a result of this high demand, there is severe competition between plenty of interstate movers in order to attract clients. Movers from California to Texas will help you make your move smooth by providing you with a multitude of services that can ease your burden. There are a lot of considerations to make before you finalize on a mover. We will try to make the decision as simple for you as possible.
In this article, we are going to discuss the potential services that you can avail of, in great detail. Additionally, we will break down how much movers from California to Texas can cost you. On top of that, we will give you a list of reliable moving companies that you can look into to fast-track your research. Keep reading to know an easy hack to get free, instant moving quotes!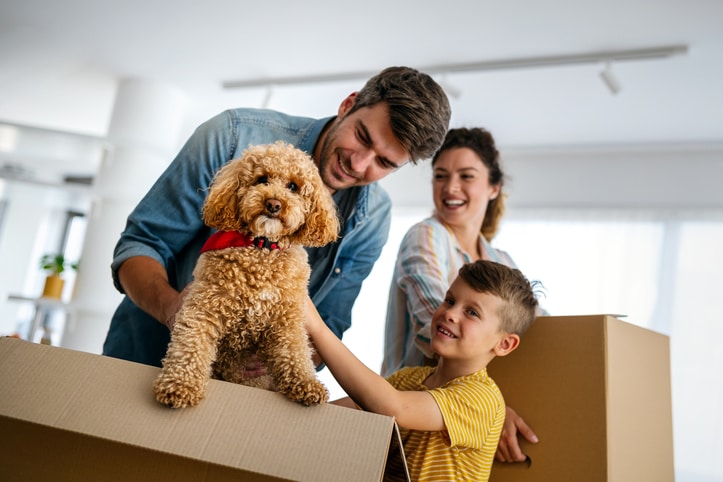 Services Provided By Movers From California To Texas
You will definitely require assistance when moving from California to Texas. The best way to get the help that you need is by hiring professional movers. These movers can handle most of the heavy lifting for you. The biggest selling point of movers who move from California to Texas is the fact that they offer a plethora of specialized moving services that you can avail of. All of these services will be catered to your needs.
Packing and Unpacking Services
Moving not only requires you to relocate, but it also means you will have to pack all of your belongings properly. When packing, you need to take a lot of factors into consideration. You must have adequate wrapping material. Additionally, these materials should be able to protect the furniture from damage without damaging it themselves.
Moving services have such specialized packing material. From cardboard to styrofoam to soft blankets, they can offer a range of packing equipment. You can either avail of a full packing service or a partial one, depending on what you require.
If you need full packing service, the movers will pack all of your furniture for you. If you need partial packing service, they will only pack the furniture you want them to pack. You will need to pack the rest of your furniture by yourself!
Movers also simultaneously provide unpacking services. After you have relocated, they will unpack all of your furniture for you.
Storage and Rental Services
Storing your furniture in appropriate places is essential when you're moving. However, not everyone has adequate storage space. Not to mention, not everyone owns a large vehicle that you can use to drive all your furniture to your new home!
Companies which move from California to Texas are aware of this problem. Hence, they provide both rental and storage services. If you require storage services, they will provide you with a large storage unit. You can keep all your belongings there. On the day of the move, they will drive the storage unit from your home in California to your new home in Texas.
If you require rental services, they will provide you with a large rental vehicle. The movers will also drive the vehicle to your new home.
Moving Heavy Appliances
Moving your washing machines, dishwashers and dryers can be a huge hassle. Not to mention, learning to install and uninstall these appliances is also troublesome. Thankfully, long-distance movers provide these services as well. They will uninstall, move and reinstall your heavy appliances for you.
Shipping Services
If you own a car but you are not driving the car to your new home, you will need to ship the vehicle across state lines. In order to help facilitate this shipping, movers will provide you with shipping services themselves! Movers who move from California to Texas are well known for helping you move your vehicles across state lines with ease.
Junk Removal
When moving, you may need to throw a lot of your belongings away. If that sounds like your case, you should consider availing of junk removal services. You will need to instruct the movers which of your belongings aren't going to make a move. They will promptly remove all of that furniture for you. Oftentimes, junk removers are known to recycle such material; hence you are helping to contribute to a good cause!
Moving Single Pieces of Furniture
There are plenty of individuals who move across state lines which are afraid of damaging one specific piece of furniture. Whether it's an expensive art piece, a grand piano, or a pool table, there are plenty of reasons to be cautious. Either that furniture is too rare, too expensive, or too fragile.
If this is your case, you need not worry. Moving companies who make a move from California to Texas offer you the option of moving a single piece of furniture long-distance. You don't need to worry about your furniture being damaged! They will be in safe hands.
How Much Do Movers From California To Texas Cost?
Movers from California to Texas can cost anywhere between $5000 to $7000. You need to note that your total cost will be dependent on a bunch of external factors.
Mileage
The first point to remember is that long-distance movers such as these actually charge a flat rate based on mileage and the cubic weight of your furniture. Hence, the cities you are moving between will alter the flat rate since the mileage will be different. Therefore, if you are moving from Los Angeles to Houston, your cost will be different than if you are moving from San Francisco to Austin.
Cubic Weight of Furniture and the Size of your Home
Additionally, the total cubic weight of your furniture will also be dependent upon how large your home is. Since a one-bedroom apartment typically has less furniture, it's also less expensive to move. Therefore, the corollary is if you are moving from a three-bedroom apartment, your flat rate will be higher. Hence, your move will be more expensive.
Moving Services
Another thing to keep in mind is the fact that the total number of services you need will play a role in your final cost. The higher the number of services you avail of, the higher your final cost. Additionally, movers from California to Texas have different rates for different services. Not to mention, even within the same service, there is a spectrum of options available, which also has different rates. Hence, full-packing services cost more than partial-packing services.
Season, Festivals, and Holidays
There are plenty of other external factors which go into hiking prices up. The season you are moving during will also play a role in increasing costs. The thing to note is that moving is especially popular during the summer. This is because schools and universities are closed, and there are plenty of opportunities for people to move during the summer holidays.
Movers from California to Texas know this. Hence, in order to keep up with the demand to make a profit, they drive their prices up. Hence, you may rethink a summer move if that's what you were planning! Additionally, moving during holidays like the 4th of July, for instance, will also make your move very expensive. This is for the same reason as mentioned. Hence, try not to move during a holiday, during summer, or in the middle of any popular festivals such as International Comic-Con, or similar ones.
Inbound and Outbound Movers
Whether your move is inbound or outbound will also alter your cost. Inbound moves are moves of the state you are moving into, and outbound moves mean moving out of a state. If you are moving into a state that most people are moving out of, then your move is likely to cost a lot more!
Route
Another important factor to mention is the route you are taking. If the route has no stops along the way and no place to rest, that would be an inconvenience for the movers. Hence, they are likely to charge more. Additionally, please don't forget to tip your movers! It's customary to tip each mover about 15%. Please factor that into your budget as well.
Moving Quotes
If you are looking for an exact cost to know the rate of California-to-Texas movers, there are plenty of ways to get quotes. The first and obvious way is to get in touch with the movers directly. Their quotes are often listed on their website. You can also call the movers up to get to know a cost estimate.
An easy way to get rates is by accessing free quotes online. If you're looking for no-obligation, free moving quotes, we can help you with that! If you have a few minutes, consider filling out our form. BuzzMoving has access to plenty of licensed, reliable movers who can help you move from California to Texas. Upon filling out our form, you will get access to instant free no-strings-attached moving quotes! This can help you compare rates between reliable movers easily.
What To Look For When You're Searching Movers From California To Texas
When looking for movers from California to Texas, you must look for a few key things. The first is to ensure the mover is licensed. When pursuing through websites, you will come across the ICC-MC and US DOT numbers on their websites. If these numbers are absent, your mover may not be registered. So best to do some further research on that front.
Secondly, you should ensure that the mover has a good rating. Usually, we go for movers with a rating of 5. This rating suggests that the mover has had lots of past happy clients who have deemed this mover to be reliable. The best way to find reliable movers is to honestly ask people who have moved with movers from California to Texas. You can join various social media moving groups where people talk about their moving experiences. Additionally, you can also just ask your friends and family who have hired movers to move from California to Texas.
Furthermore, an additional plus side has a mover who has an accessible helpline. Some movers have direct helpline numbers that you can call. Others have a 24/7 live chat that you can access. Regardless of the medium of that helpline, it's imperative that the helpline itself exists. This goes without saying, but please make sure that the mover also has friendly customer service!
Can You Recommend Some Affordable And Reliable Movers From California To Texas?
Budgeting is a very important factor when it comes to moving. It's important to be able to budget according to your own needs. For this, you need to know that the mover you are hiring is both reliable and affordable.
The issue here is that there are a lot of movers from California to Texas regularly and are also affordable and reliable. However, there are a lot of scam movers as well. It's difficult to discern the two often, especially if you are new to research. In order to help you circumvent some of these issues, we have compiled a list of 5 reliable and affordable movers.
Please note that this is, of course, not a complete list by any means. This is merely a list that can help to point you in the right direction.
There are also movers who specialize in different services. Some movers specialize in packing and shipping services, while others specialize in junk removal. There are movers who specialize in providing you with full-service moves as well. Our list has a mix of all kinds of movers. However, the correct mover for you will be the mover who corresponds with your particular requirements. So please make sure you research accordingly!
| | | | |
| --- | --- | --- | --- |
| Name | Rating | US DOT | ICC MC |
| International Van Lines | 5 | 2247789 | 729978 |
| United Van Lines | 5 | 614506 | 294798 |
| Allied Van Lines | 5 | 076235 | 15735 |
| American Van Lines | 5 | 614506 | 294798 |
| Allstate Moving | 5 | 3200864 | 171991 |
Additional Moving Notes
While hiring long-distance movers from California to Texas is a huge part of your moving process, it isn't the entirety of it. You will need to make sure to research plenty of additional factors. Firstly, you will need to cut ties with your previous state when you are moving to a new one. This means you need to look into not just moving your house but also your business if you own one. This is because you will need to reopen that business in Texas.
Not to mention, you will need to change your mail forwarding address. You will also need to get a Texas license and register your vehicle with the Texas DMV. Note that you will need to let the California DMV know of your change of address within 30 days of your move. The same goes for the Texas DMV. There are many individuals who need to sit for a vision and road test after applying for their Texas driving license.
There are some moving companies that are covered by insurance. However, you may need to look into which movers are insured and which aren't. This is because you will need to budget differently depending on which mover you choose. Not to mention, you will need to look at different insurance companies once you've moved.
The three major types of insurance companies to research are health, car, and home. If you are thinking of buying a home, the real estate company may obligate you to get home insurance. They do this to ensure that you can pay back your mortgage. If you own a car, you should look into Texas car insurance as soon as possible. Not to mention, registering for health insurance is actually a very easy process. All you need to do is register on a website and select Texas as your state.
Additional things to research would be looking at gas, water, and electricity companies. Not to mention, you need to look at internet providers as well. You should look into public transportation costs if you haven't already. The first step, however, should be to make sure you have a job before moving. This is because you may need to provide proof of employment in order to become a citizen of Texas.
Conclusion
While moving is not an easy task by any means, there are certain decisions you can take for yourself which will make it easier. Hiring long-distance movers that can move from California to Texas is one such decision. Please make sure to do plenty of research beforehand before committing to a particular company. This is because you will be working with them long-term. Hence, it's crucial for you to hire a company that you can have a successful working relationship with.
If you are looking for easy ways to calculate your cost, please consider filling out the form we had mentioned previously. You can get instant access to free moving quotes from us. The best part? The quotes come with no strings attached. You can easily make the best decision for yourself by availing of our quotes.
We hope your move goes smoothly!