Hello, guys! How is your time going? Sometimes we are getting over panicked while transferring or moving our apartment or home. It could be a hassle. So we have a hectic life then. Some of our visitors have mailed us to recommend solving this problem. For making it easy and smooth, I can suggest some moving estimate apps that will help you solve this awkward problem quickly. Let's talk about the best moving estimate app to save your money, and we will discuss it in detail.
#1. Move Advisor
Do you need an experienced and reliable & experienced mover? Are you searching for relieving hectic moving stress? Then, this app can help you a lot. Move Advisor is considered as a reliable brand new state-of-the-art moving checklist app that can give you complete control over the organizational or house relocation. By installing this device on your personalized device, you will no longer waste your entire day searching for a moving helper.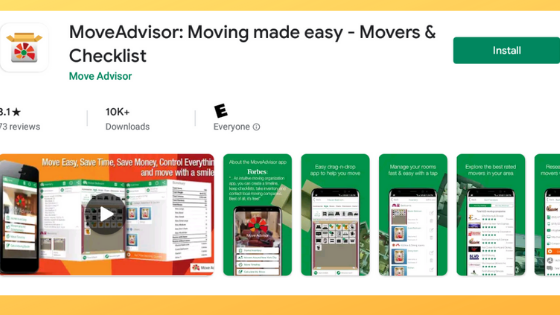 So, now you can execute your perfect move with a moving advisor. Google play store has now become one of the most popular moving apps. It can help you to calculate your moving cost before starting the journey.
Let's talk about some of its important features:
Details timeline for house moving week by week.
Super easy moving cost calculation, and it will offer you the best possible price.
100% free to download, use, and install. It is really easy now.
No annoying advertising banners are available here that will make you frustrated.
A complete virtual room-by-room inventory plan is available here.
The most attractive thing here is you will get the best movers around you. It is highly needed for us.
You will receive various ratings and comments from the clients to get a clear idea about it.
#2. Offer Up
In our list Offer Up remains in the second position. It is a renowned moving mobile application that will help you with house relocation and cost estimation. So if you are looking for a moving estimate app to save on your moving cost; it might be a smart choice.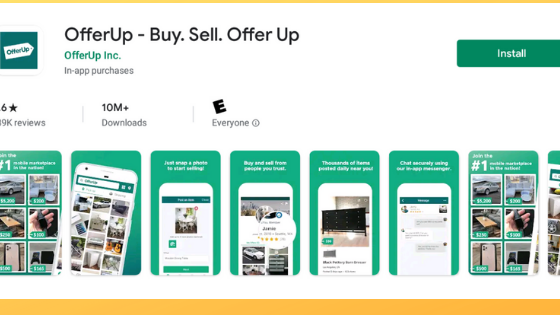 It is really great to get all the benefits from a single app that contains moving information, cost, best movers near you, and at the same time you might get some really great discount offers.
#3. Unpakt
It is another top-listed moving app in recent times, and the good news for you guys is you can download it completely free. I feel really impressed by the functionality and easiness of this moving app. The hectic moving job will become easier for you guys. We can use this app for planning, moving, and managing to move online. So, if you are tired of searching for a renowned moving company, it will help you a lot. After that, you can build your own home inventory.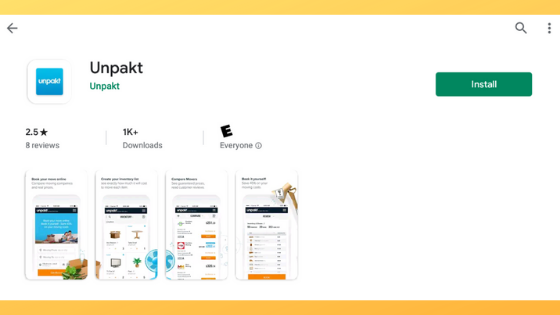 Lately, based on your inventory and by adding some extra details the app will provide you the mover and the best possible guaranteed price. Now, what do you think? Is it a tough job at all? The moving process is straightforward and straightforward for the users.
Let me tell you the list that you need to provide here.
Initial Moving Details for the customers
Make a complete inventory list.
Some extra information is related to moving details
After that, you will receive the verified movers and the guaranteed price.
How will you be benefited from here?
There is good flexibility for the users to edit them back f you make any mistakes, So don't worry! In the end, you can review the entire move and verify the mover's profile. It will save you cost up to 30 percent more than the normal procedure.
#4. Wunderlist
We put them at the number 4th position on this list. This app is extremely rich in features and functionality. You can use it for a personal moving checklist through a move. This app will help you to make all the lists from your computer, smartphone, or tab. It is a great to-do list creator app that will be helpful for making your moving plan. You can set a step-by-step plan and set it through this app. It will certainly save all your money and effort.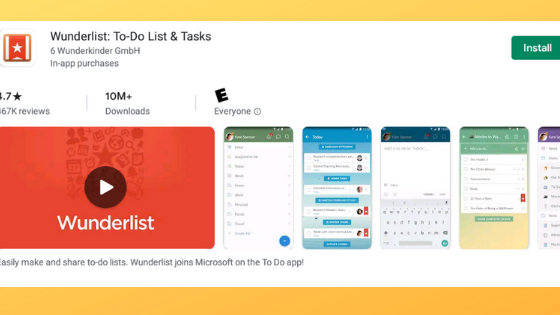 #5. Lugg – Moving & Delivery
Lugg will help you to connect with professional movers anytime you might need it. It could be the perfect alternative to traditional movers. So, do you like to move to your apartment? It could be the fast, affordable & easy way to move around within your reasonable budget. It could be a fine moving estimate app for a new home relocation.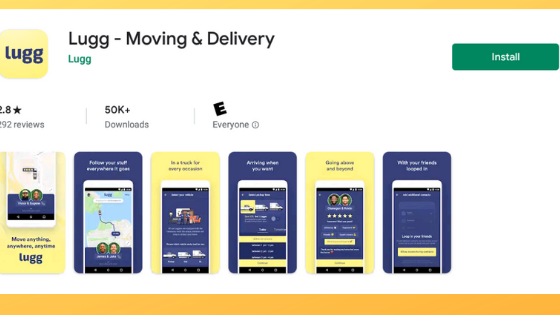 Why should you use this app?
This mobile application will save you time & headaches in the case of moving.
You can take some rest; it is straightforward.
No high price, it is very much affordable.
It is really safe. Here all the movers are verified, so you do not have to be panicked about your goods' safety.
This app will help you a lot, especially for a small apartment move.
Conclusion
I confirmed believe these moving estimate apps will help you a lot in case of an apartment or luggage moving. We have done a lot of research and finally made this list for you. We like to hear from you. Please let us know your precious opinion by commenting.