Comparing moving quotes, negotiating with the movers, and choosing the best deal is the cheapest way to move from California to Texas. There are also other cheapest ways to move from CA to TX, and we will discuss them here. Whether you move house, office, or car, we've got you covered because when movers compete, you will always be the winner!
With 30 years of experience in the moving sector, We are connected with the best movers in the industry. We served 955,897 (and counting) happy customers and professional movers that provide moving services from California to Texas. We are connected with more than 200+ moving companies nationwide. Save your precious time and money by submitting the form. We promise you to have to do nothing. Our movers will do all the work for you once you hire them.
Just submit the simple form, and our system will broadcast your information to our best relocators. They analyze your moving solution and get back to you within 60 seconds (Approx) with your moving quote. Then you choose the best suitable relocators for you.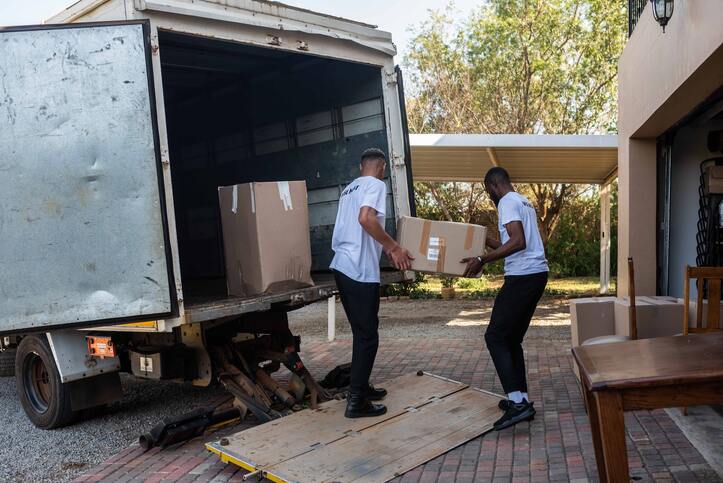 The Cost Of Moving From California To Texas
Moving from California to Texas will cost you an average of $1040-$6850. However, the cost varies on several factors. This includes the number of items, distance, time of the year, and the moving company you choose.
| | | | |
| --- | --- | --- | --- |
| Distance | 1 Bedroom | 2-3 Bedroom | 4-5 Bedroom |
| <50 miles | $595-$1,020 | $1760-$3,190 | $1,920-$6,530 |
| 250 miles | $1,100-$2,250 | $2,300-$4,300 | $4,250-$5,700 |
| 1000 miles+ | $1,500-$3,000 | $3,140-$5,960 | $6,380-$10,010 |
| 2500 miles+ | $1,925-$4,275 | $4,240-$8,550 | $9,550-$14,100 |
Cost-Effective Methods For Moving From California To Texas
Moving From CA To TX By Hiring Movers
Moving a studio/ one-bedroom apartment will cost around $1300 to $5000. Moving a house with 2 or 3 bedrooms will cost about $3000 to $ 6900. And moving to a house with 4 or more bedrooms. Getting multiple quotes from different movers and comparing them to choose the best deal is the cheapest way to move with movers. Also, moving with professional movers is the easiest way to move from CA to TX.
Moving Containers For Moving From CA To TX
Renting a moving container for moving a studio apartment will cost around $1300 to $2500. A 2-3 bedroom house may cost from $2550 to $3700. And moving a house with 4 or more bedrooms may cost from $3300 to $4600.
Renting a moving container is a cost-effective option for moving from CA to TX. In this process, you have to do all the packing and loading. After you finish loading your items into the container, the movers will transport the container to your new place. The advantage is that you can use the container for as long as you want.
Renting A Moving Truck For Moving From CA To TX
Moving with a rental truck is always one of the cheapest options. But you must do all the packing, loading, and driving yourself. Also, you have to pay for the fuel cost.
Moving a studio or 1-bedroom apartment with a rental truck will cost around $1050 to $1500. A house of 2-3 bedrooms might cost from $1200 to $1800. And a house with 4 or more bedrooms will cost from $1450 to $2200. 
Factors That Impact Moving Costs
The actual moving cost depends on some factors. Such as:
Move size: The size of your move affects the moving cost. Moving a one-bedroom apartment will cost less than moving a four-bedroom house.
Distance: The distance you are moving is a big factor in determining the cost. The far you move, the more it will cost.
Time of the move: The time of year you are moving can also impact the cost. Moving during the peak summer season or on holiday may be more expensive. From mid-September to mid-April is the ideal time to move in cheaply.
Special Item: There will be an additional charge if you need to relocate any particular items, such as a grand piano or expensive artwork. Because transferring these items requires special caution.
Services: The cost of your move will also depend on the specific services you require, such as packing, loading, unloading, storage, and recycling.
Some Recommended Best Moving Companies
It's difficult to track down a reliable and reasonably priced moving company. You have to do a lot of research to find one. To help you with that, we have narrowed down top California to Texas moving companies. Remember that this is not all; we are connected with more than 200 moving companies across the country. And they are all licensed and reputed moving companies.
| | | | |
| --- | --- | --- | --- |
| Atlas Van Lines | 4.9 | US DOT- 3464872 | ICC MC- 1132206 |
| American Van Lines | 4.7 | US DOT- 614506 | ICC MC- 294798 |
| Allied Van Lines | 4.6 | US DOT- 076235 | ICC MC- 15735 |
| International Van Lines | 4.5 | US DOT- 2293832 | ICC MC- 796971 |
| United Van Lines | 4.5 | US DOT- 77949 | ICC MC- 67234 |
Tips For Saving Money When Moving From California To Texas
Get multiple moving quotes: Get multiple quotes from different moving companies and compare them to choose the best deal according to your budget.
Pack by yourself: Pack your belongings by yourself using sturdy boxes and other packing materials. You can avoid paying for packing services by doing this.
Donate or sell items: You can sell the items you no longer need. This way, you can earn some extra cash. Additionally, you can donate items to a nearby charity or a person in need. This will help you to downsize your belongings and cut your moving expenses.
Move during the off-season: A great strategy to save money while moving is to do it off-season. A move should be made between September and April. If you can time your relocation during this period, you can save money compared to relocating in the busiest season (summer).
Ask for discounts: Ask the movers you speak with whether they have any special offers available. On special occasions, many movers provide discounts.
Is It Worth Moving From California To Texas?
The best thing about living in Texas is that it has no income tax. The cost of living is much lower than in California. Also, the housing costs in TX are 60% lower than in CA.
Benefits Of Moving To Texas
Warm Weather
Temperatures in Texas are warm year-round, averaging in the 60s during the winter and the 90s during the summer. Those who want to spend time outside but dislike cold weather may find this interesting.
Lower Cost Of Living
Texas has a lower cost of living compared to the other states. The housing costs are much lower than the national average. 
Great Job Opportunities
Texas's economy is growing, and there are plenty of job possibilities in various sectors, including oil, healthcare, and technology. Austin is home to many major tech companies, such as Dell, IBM, and Apple, and a thriving startup scene. The city is known for its strong tech talent and has been ranked as one of the top cities for tech jobs in the U.S.
No State Income Tax
Texas does not have a state income tax, so residents can keep more of their earnings.
Excellent Education
K–12 and higher education institutions in Texas are among the best in the nation. More than 1,000 school districts in the state educate more than 5 million pupils, making up a sizable and varied public education system.
Texas also features many top-ranked universities in the field of higher education, including:
So Many Things To Do
There are so many things to do and enjoy in Texas. Like as:
Visiting museums and galleries in Austin
Exploring the city's many parks and green spaces
Exploring the Hill Country
Touring the Space Center Houston
A historic mission The Almo, located in San Antonio
Houston Livestock Show and Rodeo
Things To Consider Before Moving To Texas
Before you fix your moving date, check out the weather forecast. September or October is the ideal month to move to Texas. During this time, you can avoid bad weather conditions and move safely.
If you are moving to an upper floor of a building, you must check out the elevator reservation system of that building and make a reservation before you move there.
Parking permits are an important issue. Some cities have parking rules of their own. So, find out the parking rules of the new area you are moving in.
Moving companies need licenses to provide moving services out of state. Make sure the moving company you are moving with has the license to move out of state.
Ask the movers whether they have moving insurance policies. Three different insurance options are available to you. The least expensive option is the released value. There are no additional fees associated with this policy. However, there won't be much coverage. Third-party insurance and full-value protection are further alternatives, both of which demand payment coverage. With the movers you choose, go over the insurance system.
Another essential step in the moving process is updating your address with the post office. By doing this, you can be sure that your mail will still get to your new home.
Best Cities To Live In Texas
What Is The Cheapest Way To Move From California To Texas? – Our Final Verdict
Hiring professional movers is the cheapest way to move from California to Texas. Because you can compare the prices charged by various moving companies. Additionally, moving companies frequently offer discounts. This is also the best way to move from CA to TX because you don't have to do anything when you hire movers. The professionals will handle all the hard work for you. Thus, you won't risk hurting yourself by carrying big objects or damaging them.
Conclusion
Moving From California to Texas is a stressful and costly task. So, we have given you the best ideas for the cheapest way to move from California to Texas. The best way to move with movers is by comparing moving quote prices. And we are professional at providing quotes. Simply fill out our little form, and you will get free quotes from multiple moving companies. Then you can compare them easily and find the best deal for you.
FAQ's
Q: How much money can you save by moving to Texas from California?
A: The cost of living in California is 50% higher than the national average. While in Texas, the cost of living is 10% lower than the national average. You can save over 60% if you move to Texas from California.
Q: Where in Texas do most Californians move to?
A: Research shows that most Californians are moving to Texas's four large metro areas – Houston, San Antonio, Austin, and Dallas-Fort Worth.
Q: Why are people moving to Texas?
A: The primary reason people are moving to Texas is economic. Texas has a thriving economy, and there are great job opportunities. Also, the cost of living in Texas is 10% lower than the national average. 
Q: Is Texas cheaper than California?
A: Texas is 20% cheaper than California. The living index of CA is 151.7, while Texas has a living index of only 91.5.
Related Content: