Are you thinking of moving into or out of Texas? If you are preparing for an interstate move, that is considered a long-distance move. To be more specific, most moves greater than 100 miles long are considered long-distance. To have a stress-free long-distance move, you need to hire long-distance movers in Texas. You should look into hiring Texas-based long-distance movers!
In this article, we will take you through the services that different professional movers in Texas provide. We will also go through how much hiring movers may cost you. If you are looking for some good recommendations for affordable movers, you should keep reading till our last section. Read till the end to find out how to get access to free moving quotes!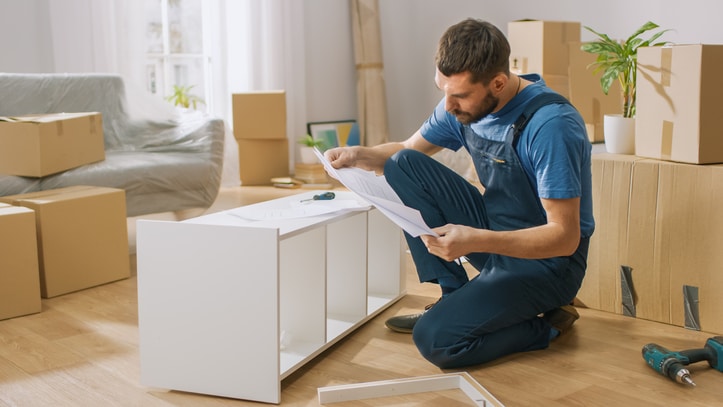 Why Hire Long Distance Movers In Texas?
Hiring long-distance movers in Texas is a necessity because of the range of services such movers provide. These services will help you ease most of the burden on your shoulders.
Packing and Unpacking Services
When moving between states, you need to put your whole life in a box and pack away your furniture. Packing and unpacking furniture is a tedious task. This is why long-distance movers in Texas offer a range of packing and unpacking services.
If you need them to pack and unpack all of your belongings, you should avail yourself of a full packing service. However, if you can pack most of your furniture by yourself and only require help with specific belongings, movers can also provide partial packing services!
Loading and Unloading Services
Pieces of furniture come in all shapes and sizes. Individuals moving often try to carry their furniture down the stairs by themselves. This can often cause injury if you are not careful. To ensure you are safe, long-distance movers in Texas also provide loading and unloading services.
This means the movers will carry all your furniture down and up the stairs and load them into your vehicle.
Moving Heavy Appliances
While we're on the subject of heavy objects, we must not forget your washing machines, dishwashers, and dryers. Moving, uninstalling, and reinstalling such appliances can be a huge stressor.
These licensed long-distance movers can also move your heavy appliances for you.
Moving A Single Piece of Furniture
Sometimes clients don't need help moving all their furniture. Sometimes, they just need help with moving one special piece of furniture. This could be because you collect rare artwork and hence don't want them to be damaged. You could also own a pool table, a grand piano, or a gun safe. Regardless, professional movers can provide services to only help you move one piece of furniture across state lines.
Shipping Vehicles
If you're not driving your vehicle during your move, you will need to ship your car through a service provider. Long-distance movers in Texas also provide services to ship your vehicles across the states.
Rental and Storage Services
There are a lot of individuals who move in and out of Texas but don't have enough garages with enough capacity to fit their furniture in. Don't worry if this is your situation! Furniture requires a lot of space. Luckily, movers provide you with rental and storage services as well. They will provide you with storage units that can store all your furniture. On your moving day, they will drive the storage unit to your new home for you.
Junk Removal
If you need help getting rid of some of your belongings that you won't be keeping, you will be happy to know that Texas-based long-distance movers also offer junk removal services.
HOW MUCH WILL HIRING LONG-DISTANCE MOVERS IN TEXAS COST ME?
Hiring long-distance Texas movers can cost you anywhere between $2500 and upwards of $5500.
Long-distance movers in Texas charge a flat rate depending on the mileage and cubic weight of your furniture. This flat rate itself also differs between movers. Additionally, since mileage is a factor, it means the cities you are moving between will drive your costs up or down.
Not to mention, the amount of furniture you are moving will also drive prices up. The size of your apartment is also a factor in cost determination. Smaller apartments are cheaper to move into. Hence, if you are moving to a one-bedroom apartment, your cost will be relatively affordable. However, if you are moving to a house, your move will be more expensive.
This may be surprising, but the time of the year you are moving during can actually also affect your costs! Movers are in high demand during the summer. This is because most people have their vacations during that time, and it's easier to move. If you're planning a summer move, you should know that your rates will be much higher during that time.
The date on which you are moving is also a factor. If you are thinking of moving during the time of a festival or during a national holiday, your move may cost a lot more. Not to mention, you should tip your movers 15%! Please factor that into your budget as well.
An additional consideration to make would be the number and type of services you require. If you need a lot of services, your total moving cost will be quite high. However, if you only require one or two, your move will be more affordable.
If you want a fast way of calculating costs, you should consider filling out our form! It will take you just two minutes. In return, you will be able to avail of no-strings-attached FREE moving quotes. Our moving quotes can help you easily compare prices between reliable moving companies. This will help you make the best decision for yourself when choosing a Texas-based long-distance mover!
Can You Recommend Some Reliable And Affordable Long Distance Movers In Texas?
Researching Texas movers can be a strenuous activity. This is particularly true if you are just starting out researching and aren't sure of where to start. In order to help you fast-track your research, we have compiled a very small list of a few reliable and affordable long-distance Texas-based movers.
Please note that this is not a full list. These are only five companies from a sea of reliable movers. You will need to do a lot more research in order to settle on the mover that's perfect for you. You should ensure that the mover you are choosing has a reliable website. Most movers list their registration numbers and their US-DOT and ICC-MC numbers on their websites. Additionally, most reliable movers also have an approachable, easy-to-access customer service hotline.
You should also note that there are different movers who have different specializations. There are some movers like Allied who are known to have the best relocation services for vehicles. Additionally, there are some like American Van Lines who are known to be experienced overall full-service move. There are also movers who specialize in other services such as junk removal, packing, or storage.
Choosing the correct mover for yourself will require a lot of research. Please use our list below as a guideline and do further research depending on your specifications. If you are interested in getting a more comprehensive list of reliable movers, we can help you with that as well. If you fill out this specific form, you can get access to a large list of the best long-distance Texas movers! Please consider filling that in if you are interested.
| | | | |
| --- | --- | --- | --- |
| Name | Rating | US DOT | ICC MC |
| Finest Movers Inc | 5 | 1896009 | 681911 |
| Texas Top Movers | 5 | 2872214 | 963279 |
| ATX Movers | 5 | 1938615 |   |
| Allied Van Lines | 5 | 076235 | 15735 |
| American Van Lines | 5 | 070851 | 107012 |
Conclusion
There are plenty of reliable long-distance movers in Texas to choose from. You need to plan your move months in advance. This is to ensure your move doesn't coincide with holidays or other important events. Additionally, it's best to avoid moving during the summer.
When looking for movers, please ensure that they have their US DOT and ICC MC numbers listed on their websites. Additionally, if you are looking for a quick way to get access to free moving quotes, don't forget to fill out our form!
Good luck with your move!