Phoenix Van Lines is a locally owned and operated moving & storage company. They provide a wide variety of relocation services, including long-distance and international removals, corporate relocations, and storage options. For the past 19 years, the firm has served the market. It has expanded to serve customers all around the United States. Except for Alaska and Hawaii, the corporation serves 48 of the 50 U.S. states. Their reliability and high level of professionalism have earned their customers' trust. Today we are going to give you a detailed Phoenix Van Lines Review
Below, you'll find an analysis of Phoenix Van Lines, including information on the company's services, pricing, and any potential drawbacks you may encounter throughout your move. Keep reading if you're interested in finding out more about them.
Services Offered By PVL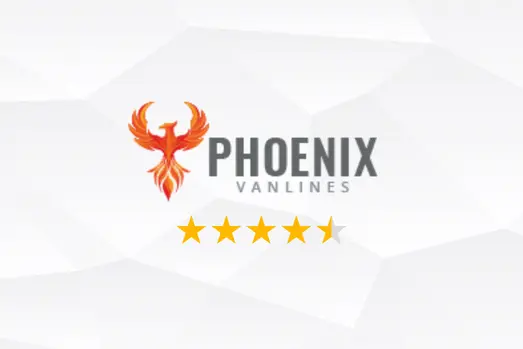 Residential Moving: Phoenix Van Lines offers comprehensive residential moving services. From packing to loading to transporting to unloading and unpacking they do everything.
Commercial Moving: The organization also offers commercial moving services to facilitate the smooth relocation of places of business and the associated machinery and furniture.
Local Moving: At Phoenix Van Lines, you can hire movers to help you relocate locally. Their costs depend on the number of hours you need their help.
Long-Distance Moving: Phoenix Van Lines is a long-distance moving company that helps people relocate across the country.
Storage Solutions: The company offers secure temporary storage for customers.
Packing Services: Professional packing services are available at Phoenix Van Lines. So, you can rest assured that your belongings will arrive safely at their destination.
Loading and Unloading Services: For a smooth move, the company offers loading and unloading.
Senior Moving: Phoenix Van Lines has designed services to satisfy the needs of the elderly when moving. During moving, employees must be extra kind to older customers.
Furniture Moving: Phoenix Van Lines can deliver heavy furniture safely and effectively. Your furniture will arrive in perfect condition after the movers disassemble and reassemble it.
Interstate Moving: Interstate moving is offered by Phoenix Van Lines to clients moving across state lines. The organization has the people, places, and resources to do a long-distance move quickly, on time, and under budget.
Pros & Cons Of Phoenix Van Lines
To provide a clearer picture, we have compiled a list of this company's advantages and disadvantages.
Pros
Instant Free Moving Quotes
Full-Service Relocation
24/7 Assistants
Cons
Received a few complaints
Provides service in 48 states
Prices are slightly higher than average
The Cost Of Using Phoenix Van Lines
If you go to their website, you can fill out a quote request form. You need to fill out the form with some basic relocation details and submit it. A service agent will get back to you as soon as you do that. They might prefer an in-person consultation or an online survey. Your transfer cost can thus be estimated more precisely. They help customers avoid unpleasant surprises by providing a quote for the move in advance.
Factors that impact PVL Cost
The moving cost or the pricing of Phoenix Van Lines depends on various factors. Here they are:
Move size

Distance
Amount of furniture
Weight of the Move
Additional Services
Time of the move
Customer Service & Quality Of Service
Customers have spoken highly of Phoenix Van Lines and the kind of service they received. Due to its careful handling of customers' belongings during relocation, the company has a wide fanbase. You'll work with a friendly, professional crew when you employ this company.
Just like any other company, Phoenix Van Lines has had some unsatisfied clients. It is important to weigh these concerns against the company's overall track record and the many successful transfers they have done.
While Phoenix Van Lines has received some criticism, the vast majority of its clients have had excellent experiences. Many customers have praised the company's attention to detail and the care they take to protect customers' things during the move, helping the company acquire a reputation for delivering speedy, competent, and reasonably priced moving services.
Recommendation On Using Phoenix Van Lines
Phoenix Van Lines is among the best among the many long-distance moving companies available. Although their prices are a little higher than average, the quality of their services more than makes up for it. For major office relocations, you can rely on their expertise.
Make use of their online consulting service, too. The final cost of your relocation can then be determined with confidence. Therefore, you will be able to build a well-defined moving budget.
Conclusion
Phoenix Van Lines has earned a solid reputation among its clients as a reputable, licensed, and insured moving company. For local and long-distance moves of any size, you can trust PVL. They currently cover 48 states with their service. And they offer a wide range of relocation options. We're confident that working with them to relocate will go smoothly.