There are many reasons behind moving to Florida from PA (Pennsylvania). Florida, known as the "sunshine state" of the USA, boasts numerous beaches and has a thriving entertainment industry. Additionally, it has incredibly affordable real estate and no income tax. Not to mention, Florida is accommodating regardless of what kind of lifestyle you want. Florida has skyrise buildings and plenty of job opportunities in fast-moving job industries if you wish to the fast-paced city life. However, if you are looking for a relaxed suburban life, you can of course avail of that here as well. This flexibility of the job market coupled with the warm, sunny weather makes Florida the ideal place to live in.
However, you may want to consider some additional factors as well. Florida is more humid than Pennsylvania, but it also suffers from semi-frequent thunderstorms. Additionally, while Pennsylvania has a vast array of different landscapes, Florida is flat in topography and has many insects, so beware of mosquitoes and roaches.
Regardless, if you will be moving to Florida from PA, you will need to hire long-distance moving companies for a smooth move!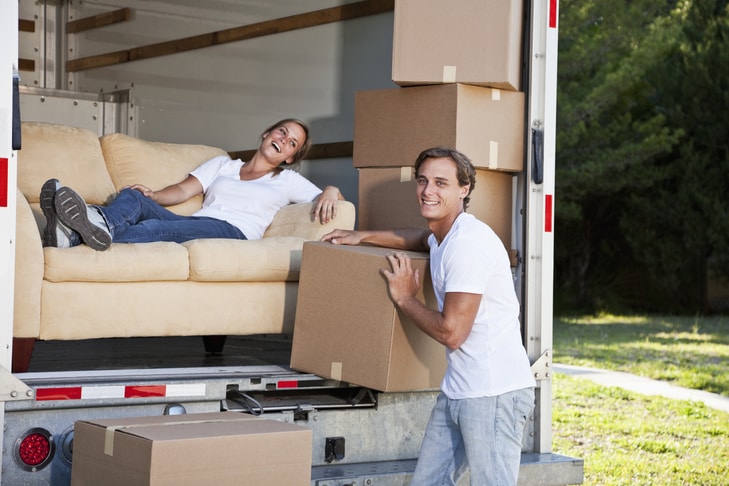 Hire A Long-Distance Company When Moving to Florida?
Professional long-distance moving services can provide a wide range of services to make your move from Pennsylvania to Florida a breeze. We will give you a brief run-through of these services in the subsequent paragraphs.
One of the primary services is packing services. If you have availed of a full packing service, then the movers will pack all your belongings and move them from your home in Pennsylvania to your new residence in Florida. If you instead ask for a partial packing service, they will only pack specific pieces of furniture for you. There are also loading and unloading services which you can avail of.
If you are worried about your apartment complex's lack of storage facilities, you can also get their storage services. Professional long-distance movers provide storage units where you can temporarily store all your belongings. On the day of your move, the movers will drive the storage unit to your new residence. There are also services for moving heavy appliances like your washing machine, dishwasher, or drier.
Any service that you can think of, long-distance movers will be able to provide for you. If you have one or two pieces of expensive furniture that you need to move from your home in Pennsylvania to Florida, don't worry! Long-distance movers also have services for carrying a single piece of furniture.
How Much Will Moving to Florida Cost Me?
We mentioned the vast array of services you can avail of from Pennsylvania-to-Florida movers. Your total cost will depend on the number of services you choose to help with. For instance, a full packing service coupled with loading and unloading services will cost you a lot more than a partial packing service. Long-distance movers charge based on weight, cubic meter, or mileage, so the volume of furniture you are moving will also play a role.
Additionally, which company you chose, and the specific routes they used, alongside added costs like customs and taxes, will play a huge role in determining your final price. Don't forget it's also customary to tip all your movers about 15% of your total cost. On average, moving to Florida from PA can cost anywhere between $2100 to $4100, considering other factors.
The most popular cities in Florida are Tampa, Orlando, and Miami, mainly due to the many beaches and tourist spots available in those cities. However, even if you aren't moving to any of those cities, you will still be able to avail a vast network of long-distance movers.
If you want an exact estimate of costs, you can always peruse the movers' websites you are planning on hiring. However, if you require free instant moving quotes, you can always fill up our form. It will only take you about 2 minutes, and once you've filled it up, you can avail yourself of a no-strings-attached free moving quote!
Save Costs While Moving to Florida?
If you are looking to cut costs during your move, one easy way to do that is by getting as much help from your friends and family and doing some of the heavy liftings yourself. For instance, if you are confident, maybe you can pack some of your belongings. You can ask for help from your loved ones to help load and unload your furniture. You can even drive some of your belongings directly to your new home in Pennsylvania!
Please note all of these are optional, you don't need to do it yourself, but if you are confident that you can, it will help you cut costs.
How do I Prepare Before Moving to Florida from PA?
Do your research! Before moving to Florida from PA, the most important thing to realize is that everyone's moving process will be different. This will depend on a variety of factors; the neighborhood you are moving from and to, your specific requirements, and your budget.
You must first ask yourself if moving to Florida from PA is the correct decision for you, and plan ahead. You will need to look into the job market, Florida's economy, real estate prices, taxes, etc. Best to plan all this out beforehand.
Additionally, before getting in touch with a moving company, you must have a list of questions you wish to ask them. Hence, it is useful to research the kinds of services you wish to avail of, the routes you prefer, and whether or not there are expensive pieces of furniture that you own that will require special care!
Reliable Moving Companies?
The first step to finding reliable moving companies is to ask your friends and family who may have moved from Pennsylvania to Florida. They can always point you in the right direction. Additionally, the internet is chock-full of resources that you can use. You can browse through multiple websites of long-distance moving companies and look through their reviews. You should also call them up and have a direct conversation with them. Once you tell them specifically about the kind of services you need and where exactly you are moving to, they will be able to give you exact cost estimates.
To make your search easier, we have compiled a list of affordable and reliable Pennsylvania-to-Florida movers. Please note that our list is not exhaustive. We just hope that it will help you get started with your research.


| | | | |
| --- | --- | --- | --- |
| Name | Rating | US DOT | ICC MC |
| Allied Van Lines | 5 | 076235 | 15735 |
| International Van Lines | 5 | 2247789 | 729978 |
| Alliance Movers | 5 | 2398933 | 824939 |
| Trinity Relocation Group | 5 | 3218709 |   |
| Gateway Moving and Storage | 5 |   |   |
| American Van Lines | 5 | 614506 | 294798 |
| Infinity Van Lines | 5 | 1443732 | 545673 |


The process of moving is long and grueling and is different for everybody. However, to help you with your move and make it as smooth as possible, long-distance movers are here to help you out. As stated before, if you are in a deadlock you can always turn to us! We have a network of trusted and licensed professional movers and you can avail of free moving quotes by filling up our form.

We hope your move from Pennsylvania to Florida is smooth!