Moving to Oregon from California may seem like a tall order but that's why hiring long-distance moving companies is a must. They will make your transition much smoother. If you're looking for a smaller state with plenty of job opportunities, Oregon is the state for you. Oregon is a quieter state compared to California, with a population of 4 million. This is ten times less than California's population size! 
Additionally, you will notice Oregon has a much slower-paced lifestyle. Don't let this deter you! There are plenty of people who move from California to Oregon. One-fifth of Oregon's population is filled with people who were born in California. Oregon is a beautiful state with many well-known universities and a competitive job market. However, there are some downsides to moving here.
If you're not used to a lot of rain, Oregon will come as a shock! Not to mention, there's an ongoing housing shortage in cities like Portland. This shouldn't be an issue if you've lived in California though, because Oregon is much more affordable. Regardless, if you are looking to move and you're confused about where to start- let us help you.
Why Hire A Long-distance Mover When Moving To Oregon From California?
Long-distance movers are licensed professionals and are used to moving between states. When moving to Oregon from California, you will need to avail yourself of a large number of services that only long-distance movers can provide. These services will make your move feel like a breeze.
The services can include but are not limited to packing services, heavy appliance moving services, and rental and storage services.
Packing services can be both full and partial. If you require a full-service move from California to Oregon, the movers will take care of everything. This means they will pack all your belongings and drive the fully loaded furniture to your new home in Oregon. Once you've reached your new destination they will also unpack all your furniture.
Taking the opposite path? With our Moving from Oregon to California guide, we've got you covered.
Partial packing services mean that the movers will help you pack and organize specific belongings. You just have to pay for the belongings that they fill, but you are responsible for packing everything else!
When moving across state lines you would need to carry heavy appliances. California to Oregon long-distance movers can help with that as well. From your washing machines to dishwashers, the movers will help install and uninstall all your heavy appliances.
Additionally, you can also avail of services that require them to move a single piece of furniture. If you have a piano or an expensive painting you don't want to damage- then you can ask specifically for that piece of furniture to be moved to your new home. Professional movers can also provide storage units for you. This is particularly useful if you live in an apartment complex. Once you load all your furniture into the team, the movers will drive it to your new home!
How To Prepare For Moving To Oregon From California?
It is very crucial to research moving across states. When moving to Oregon from California and trying to find the right mover for you, you must consider some key factors. For instance, which city are you moving to? What is the neighborhood like? Are you moving into a house or an apartment complex? Many of these things will factor into which company you end up hiring.
Additionally, it would help if you asked your friends and family who have moved from California to Oregon for mover recommendations. Furthermore, don't forget to do plenty of research on Oregon! Do you know what the job market is like? Have you already applied for a job? Is the weather suited for you? If you have already used and gotten a job, then look into means of transportation. You need to know how to commute between your career and your new home.
HOW MUCH WILL IT COST ME TO MOVE FROM CALIFORNIA TO OREGON?
We have analyzed the different services you can avail of from professional movers. Your total cost when moving to Oregon from California will be dependent on a lot of external factors. Firstly, the city you are moving to. Some of the most popular Oregon cities are Portland, Salem, Eugene, and Springfield. Of course, you may not be moving to any of those locations. The city you are moving from and to will play a huge factor in your total cost.
Secondly, the services you avail of will play a role. For instance, if you need a full packing service that will cost you a lot more than a partial packing service. For every service you add to your move, there will be additional charges. Not to mention different companies have different flat rates.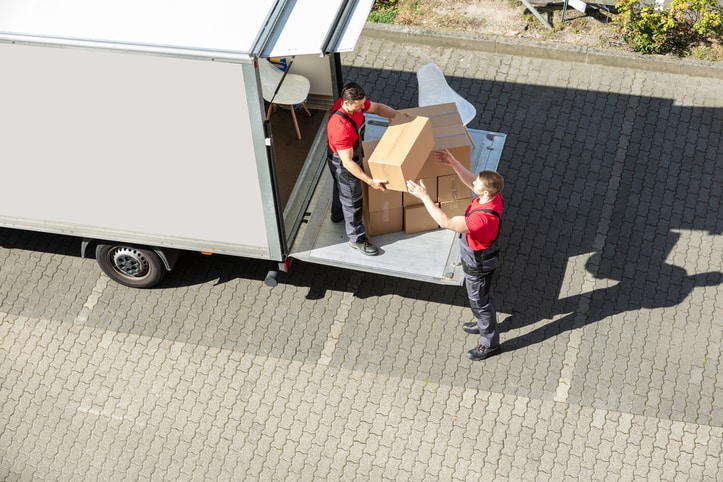 Professional California to Oregon movers usually charges a flat rate based on mileage, weight, and volume of your furniture. So the more furniture you move, the more your total cost. Lastly, it is customary to tip your movers 10-15% of your total cost!
On average, to Oregon moving from California costs about $3000-$4000. The best way to know estimates is to call up the company directly you are thinking of hiring. However, if you would be interested in a free moving quote, you can also fill in our form. This will take you only two minutes. Upon filling out our form we will provide you with instant, no-strings-attached, free-moving quotes! This will help you compare rates between companies and come to a decision.
How Can I Save Costs When Moving To Oregon From California?
If you want to save money you can always cut down on some services. Note you should only do this if you are confident that you won't require said services. For instance, you may avail of a partial packing service. If you pack most of your belongings by yourself, you won't need to pay for a full packing service. Additionally, if you have a large enough vehicle, you can drive your furniture from California to Oregon yourself!
There are other ways of cost-cutting. You can ask your friends and family to help you pack. They can also help you load and unload all your furniture. If you know how to install and uninstall heavy appliances, you can do that yourself as well. Please note, you should only do this if you are confident you won't damage any of your furniture or hurt yourself in the process.
Where Can I Find Reliable Movers While Moving To Oregon From California?
As we have mentioned before, you should start by asking your friends and family who have moved from California to Oregon! Additionally, you can look at the websites of different moving companies. Those websites are full of reviews from past clients which may prove to be helpful. We have compiled a list below of affordable moving companies. Note that this is not an exhaustive list, but it is a good place to start!
| | | | |
| --- | --- | --- | --- |
| Name | Rating | US DOT | ICC MC |
| International Van Lines | 5 | 2247789 | 729978 |
| Direct Relocation Services | 5 | 3000931 | 24036 |
| Whittaker and Sons | 5 |   |   |
| Infinity Van Lines | 5 | 1443732 | 545673 |
| Alliance Movers | 5 | 2398933 | 824939 |
CONCLUSION
Oregon is a beautiful state to move to if you are looking for a relatively quiet life. We understand that California can sometimes be too busy and fast-paced. Regardless of why you are moving, you should note that moving doesn't have to be a tedious process. To make your move as smooth as possible you should hire reliable long distance movers. Please do a lot of research before settling on a mover, and remember to fill up our form for a quick instant quote! Happy moving.