Thinking about moving from Ohio to Texas? We get entirely why! The warmer weather, the unique mix of Southern and Hispanic American culture, and the buzz around the abundance of jobs all make Texas a desirable destination. Not to mention that everything's super-sized in the Lone Star State- the vibrant cities, the food, and of course the massive geographical expanse of Texas itself, from the Gulf Coast to the Great Plains.
However, moving from Ohio to Texas has its downsides too. Though you'll hardly face as many snow days as you would in Ohio, temperatures in parts of Texas will often hit a sweltering 100 degrees. Living costs in the state are also higher in Texas- the median price of a home is $70,000 more expensive than in Ohio, so even a smaller home in one of its bigger cities will set you back by quite a bit.
Regardless of where you are planning to move to in Texas, you are pretty likely to hire the services of a long distance moving company. With a plethora of options to consider when making the move, we are here to help guide you through the big move.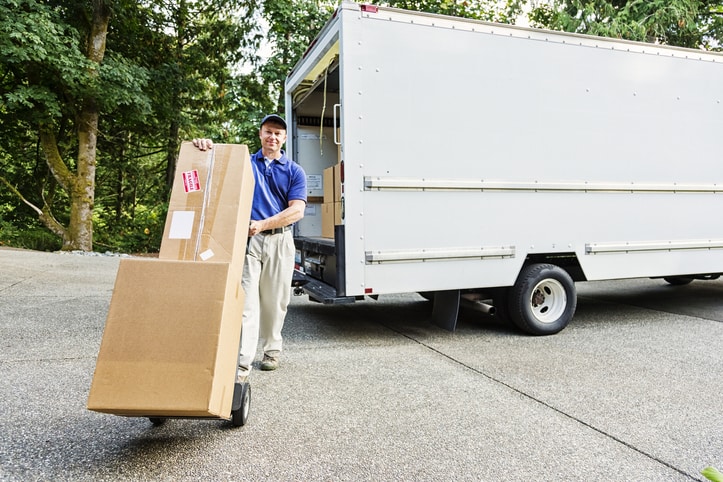 Why Should I Hire Long Distance Movers When Moving From Ohio To Texas?
Moving to a new state that's so far away is no minor deal and long distance movers are here to provide a variety of services to choose from, tailored to meet all your specific needs.

Full packing services will involve professional movers helping to pack and unpack everything in your old home in Ohio to your new abode in Texas. This will require very little work from your end and you can rest assured knowing that your movers will do all the heavy-duty work for you. But if you would much instead prefer packing most of your things on your own, you can opt for partial packing services whereby movers are put in charge of packing up only specific pieces of furniture.

If you especially feel comfortable packing everything else on your own but would much rather let sensitive heavy appliances such as your washing machines, dryers, dishwashers etc. be handled by people with professional moving experience, then you might be pleased to know that moving companies can be contracted to do just that. Rest assured that they will help you uninstall the appliances from your old home and help reinstall them again in your new with utmost care.
If there's anything else in your home you would feel more reassured entrusting to a professional, including your grand pianos, the pool table, a family heirloom such as a painting or a grandfather clock, or even your gun-safe, then you can also hire the services of professional movers to transport your precious cargo so that no harm may come to them. This way, your movers can take charge of the sensitive things at home while you are able to pack up the rest yourself.
In case your own vehicle can't accommodate all your belongings during the move, most professional movers will also offer you the option of renting out long haul trucks that safely carry your things to your new home in Texas once it's been all packed up. For those that live in an apartment complex in a city, not having adequate storage space in addition to the safety of all those belongings can make one a little anxious. Don't worry though! Long distance movers also rent out storage units to their customers so that you can rest easy knowing that your big move to the new city will be a safe one.
How Much Will Moving From Ohio To Texas Cost Me?
A lot of factors will end up determining how much you may end up getting charged for moving from Ohio to Texas. Long distance moving companies typically charge a flat rate based on mileage. You are likely to be charged a specific flat rate for every 100 miles but we would highly encourage you to compare prices as you might be able to find a mover who charges less and you might be able to find a more suitable pricing model that is more in line with your budget.

Your ultimate bill will end up being determined by which city in Texas you are planning to move to- costs may vary drastically for moving to a place like Dallas vs San Antonio, Austin or Houston, both of which are further south for instance. It also depends on where in Ohio you might be moving from- moving from someplace up north like Cleveland will cost a lot more than moving from somewhere as south as Cincinnati.
You will also rack up a bit more depending on what sort of services you chose to hire the movers for full packing services will cost more than procuring a mover for moving your heavy appliances for instance. The average cost of moving from Texas to Ohio will range between $1200 to $3600 depending on a mixture of all these factors. Also to be noted is that you will have to tip your mover anywhere between 10% to 15% of the total cost.
If you want to figure out actual costs, we recommend going through their website or directly calling them up on their business number and you can always avail the services of instant online quotes. If you take a few minutes to fill up this form, we will be able to give you free instant quotes that help you compare rates between different moving companies and choose whatever plan suits you best. Buzzmoving has established a sizable list of trustworthy and licensed professional long distance moving service providers who have received positive reviews from past clients.

Can You Recommend Some Affordable Ohio-to-texas Movers?
There are a number of options available to anyone looking to make the move from Ohio to Texas but we highly recommend that you try and do your own research online by looking at reviews left by people who have hired a mover before or by talking to family and friends who may have availed the services of a particularly long distance mover in the past. We also recommend you speak to the movers you are looking to hire extensively to ink out the nitty-gritty of all the different pricing options and to get as precise a quotation as possible for you to make a well-informed choice.
We leave you with a list of names for some affordable movers below. This list may not be complete or detailed for each and every moving company out there, but it is an excellent place to kick off your research!
| | | | |
| --- | --- | --- | --- |
| Name | Rating | US DOT | ICC MC |
| Moving of America | 5 | 1601312 | 59237 |
| Infinity Van Lines | 5 | 1443732 | 545673 |
| Alliance Movers Inc. | 5 | 2398933 | 824939 |
| Gateway Moving and Storage | 5 | | |
| Allstates Moving and Storage LLC | 5 | 3151940 | 105399 |
Conclusion
Regardless of your reason for wanting to make the big move to Texas, we strongly believe that you should be equipped with all the information necessary to make the best decision for yourself with respect to your budget. You should remember that something that may have worked for someone else, may not work for you. Therefore, it is best to chart your own course and decide what makes the most sense for you. Please do your own research to make sure you are comfortable with the decision you make and also consider filling out our survey to get an instant quote to help you kick off your research work!