Moving from California to Pennsylvania is not a little thing for all. It is a life-changing decision. Tired of the one-note California weather and looking to move out of the bay area? Looking to move to a city with lower living costs? PA latter offers everything that you would need for a high-quality life.
When you decide to move, you will need long distance movers. There are many reasons to move to the state. At first glance, no PA city will seem as glamorous as cities like Los Angeles. Yet, you will soon realize that's not true. Philadelphia and Pittsburgh have some of the fastest-growing economies in the country. They also have some of the most available jobs. PA has a low crime rate also.

We know Silicon Valley is appealing. It has incredible food scenery, top-notch state parks, and some of the best snowy winters in the country. Nothing can match the great outdoors of this keystone state.
PA also has plenty of job opportunities. It also has the added benefit of not being as competitive as California.
There are some cons though. For instance, Pennsylvania's winter is cold! You will definitely miss the warm California summer. But you will receive lower rent, lower taxes, hiking opportunities, and beautiful mountains. The slight chill and plenty of snow are worth it!
Get in touch with professional relocators. They provide moving services. Make sure their moving permits are legitimate! Check their US DOT and ICC MC numbers for verification.
How Much Does It Cost To Move to Pennsylvania From California?
The average cost to move from California to Pennsylvania is about $4000. But, this is dependent on many external factors. Take note of the number of items you carry with you, the location of your move, the company you chose, where you are living, and which city you are relocating from.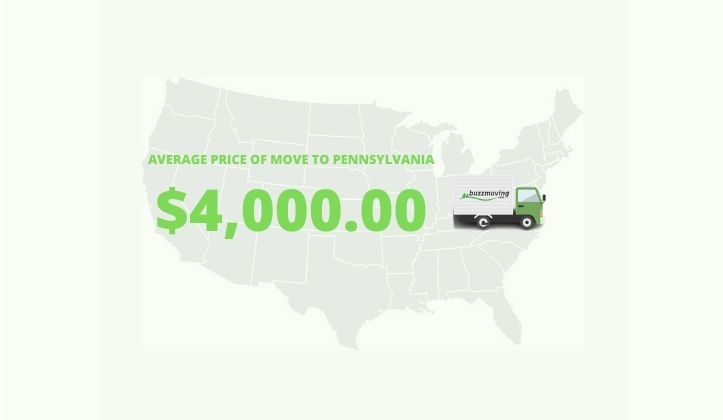 Moving a 1 bedroom apartment that will be cheaper than moving to a 4 bedroom apartment. Additionally, most relocators charge by mileage and cubic weight. The more furniture you move, the higher your total cost!
However, below is a list of the average moving cost. Note that this is not an exact list.
| | | | |
| --- | --- | --- | --- |
| Distance | 1 Bedroom | 2-3 Bedroom | 4-5 Bedroom |
| <50 miles | $595-$1,020 | $1760-$3,190 | $1,920-$6,530 |
| 250 miles | $1,100-$2,250 | $2,300-$4,300 | $4,250-$5,700 |
| 1000 miles+ | $1,500-$3,000 | $3,140-$5,960 | $6,380-$10,010 |
| 2500 miles+ | $1,925-$4,275 | $4,240-$8,550 | $9,550-$14,100 |
Factors That May Increase Your Cost
Though the cost will increase depending on the size of your move, there are also several factors that can increase your cost. These are:
The Route You Choose
The city you are relocating to will play a role in your cost. This is because the distance is a factor that increases the price of your long-distance move. This is applicable when relocating from your state to another state. It is important to note that different moving companies cost different. Hence, your total cost will vary depending on which movers you are working with.
Move Date
Your moving date will also play a role in how much your move will be. If your moving week falls in the middle of the hot summer, you will need to pay higher. An answer to this will be to make sure your date falls in the winter instead.
Additional services
Furthermore, we talked about the different services provided by relocators. When relocating between California and Pennsylvania, you are going to need such services. The number of services you choose will also factor into your total cost.
Please remember to tip your relocator as well. You should also factor this matter into your budget.
Get Moving Cost By Using Cost Calculator
One of the easiest ways to know your total price is to contact the moving company. If you tell them your requirements they can give you a price estimate. But, we understand this may not always be possible, so you may wonder about alternatives.
You could also look through the websites of different companies. A professional mover will always have reviews from satisfied former clients. Most websites also state the costs of different services that the company offers.
If you want to know the cost of moving, try to get online quotes. If you have a few minutes, consider filling out our form. We provide free, no-strings-attached moving quotes. This will help you compare prices.
Then you can make the best decision for yourself, with regards to which relocator is the right choice for you. Also, you can use the mover's cost calculator to get an accurate cost.
BuzzMoving has a network of reliable professionals with stellar reviews from clients. Our movers have years of experience in this sector. So if you are in a pinch and are looking for instant quotes, we can help you with that! Please fill out the form to get a free quote right now.
What Are Some Ways To Cut Movers Costs When Relocating to Pennsylvania?
We understand relocating may be expensive between states, like moving from CA and PA. Hence, we are here to suggest some ways to cut your cost.
As we have mentioned before, an effective way is to use fewer services. You could also recruit a company that charges less. Additionally, if you are confident you can pack most of your furniture, then do it.
We would still suggest hiring professionals. So many people hurt themselves when relocating across the country. You can also cut costs by driving your belongings to your new home.
You could also get your friends and family to help you load and unload your furniture. Many customers who contact relocation companies to move to other parts of the world cut costs this way.
At the end of the day, there won't be a one-size-fits-all solution for your move. Please do plenty of research beforehand! Look into insurance, license, and how to buy vehicles in PA, etc.
Can You Recommend Affordable California To Pennsylvania Movers?
When it is time to move, you should start looking for the best movers early. We recommend starting months in advance. That is why thorough research is of the essence. We understand that you may be looking for options.
To speed up your research process, we have compiled a list of a few affordable and best California to Pennsylvania movers. Please note that this is not an exhaustive list. You need to pick the company which suits you the best. Make sure you have also looked into insurance, utility bills, and internet prices.
| | | | |
| --- | --- | --- | --- |
| Name | Rating | US DOT | ICC MC |
| International Van Lines | 5 | 2247789 | 729978 |
| Trinity Relocation Group | 5 | 3218709 |   |
| American Van Lines | 5 | 614506 | 294798 |
| Gateway Moving and Storage | 5 |   |   |
| Allied Van Lines | 5 | 076235 | 15735 |
| Infinity Van Lines | 5 | 1443732 | 545673 |
Should I Hire Long-distance Moving Companies When Moving From California To Pennsylvania?
Moving is a big deal. Interstate moves, like the one from CA to PA, are even more so. There are so many details to plan out.
You will need to juggle many things, like transport and insurance. Remember to also get in touch with the public utility commission. The world of relocating can seem daunting to navigate.
We are here to help, to help give you an idea of how to make your move as smooth as possible. The first thing you should do is get in touch with companies. There is a myriad of services that top California to Pennsylvania moving companies can provide. Each person will focus on different services.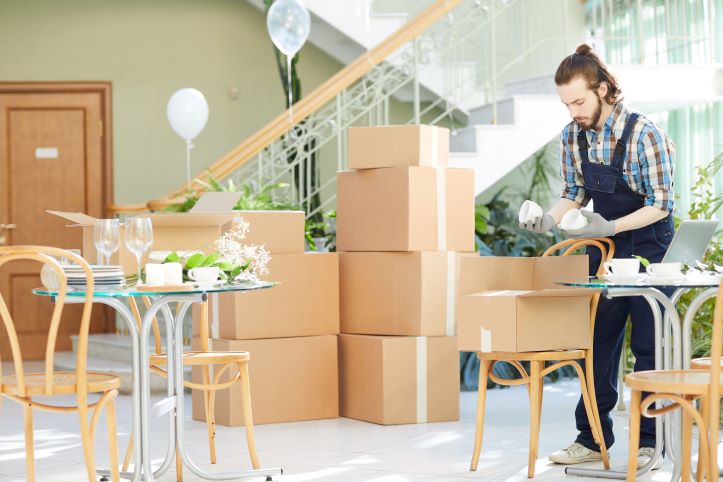 PA relocators can offer you a range of relocation services. These will make your move stress-free. You can avail of packing services. Both partial and full packing services are available, depending on your particular needs.
You will also need to move heavy appliances. This is applicable to all inter-state moves. 
To make your life easier, you can avail of heavy appliance moving services as well. If you own expensive artwork or heavy pool tables, you can also contact relocators to move one piece of furniture for you!
Furthermore, if you don't have a large enough car, you need to hire rental trucks. If you live in an apartment complex or don't have enough storage, you can avail of storage units.
The best course of action is to check what services you would need beforehand. This will allow you to budget better.
Long Distance Moving Process Which you need to follow
Relocating can be challenging and stressful, but with a few helpful hints, it can be simple. Here are 5 considerations prior to your move that should boast the process:
Make a checklist

Research your area of town and find an apartment or house to rent

Arrive early and pre pack your belongings

Have a friend or family member help you load your bags onto the moving truck

Make a checklist of everything you will need to bring with you (i.e. your furniture, clothes, or stuff)
Why Living In Pennsylvania?
Overall Cost Of Living In Pennsylvania
PA is a state in the northeastern United States, and the fifth most populous. The state has a population of 10 million people and is home to over half of the country's manufacturing capacity. In addition to its economic importance, PA also has a rich history and culture. The state is known for its Cheese production, Lancaster County's horse racing industry, and the PA Turnpike. The most famous of these is the world-famous Philadelphia Eagles, whose fans are known as "Philly Phanatics."
PA was admitted as a state on April 15, 1818, and became the fifth state to ratify the United States Constitution. The state motto is "E PLURIBUS UNUM" (Latin for "Out of many, one"). The phrase was the motto of the United States Marine Corps. The median home price in Pennsylvania is around 2,40,000$.
Climate in Pennsylvania
Climate change is a reality in PA. Pennsylvania experiences an increase in extreme weather events, such as a tornado, hurricanes and floods, in recent years. The severe weather has taken its toll on human health and property, causing extensive damage and loss of life. In addition, the state's economic stability is at risk due to the increased cost of weather-related disasters. As a result, the Pennsylvania General Assembly passed a bill on June 16, 2016, establishing a new climate Resilient Commission to help address climate change in the state.
The climate in PA is generally colder than in California. The hot and humid weather is different from California. The average temperature in PA is about 10 degrees Fahrenheit colder than the average temperature in California. This difference is due to a variety of factors, including the latitude of the two states, the prevailing winds, and the proximity of large bodies of water.
Job Opportunity
Pennsylvania state has a variety of job sectors where you can find a job easily. Also, it has a business environment that can help you to start and grow your business. The state also has many colleges and universities where you can get jobs. However, here are some of the popular job sectors for those who want a job in PA:
Senior Director of Engineering

Classification Specialist

Industrial Engineer

Electronic Technician – Component – Manufacturing

Medical

Education

Dental

Tourism
Natural Beauty
Pennsylvania is a place of natural beauty. It has many attractions to see. If I give an example of Gettysburg National Military Park or Phipps Conservatory and Botanical Gardens, it would be the best. Moreover, it has some beaches. Kohler Beach, Palmyra Township Public Beach, etc are one of the most beautiful beaches.
Outdoor Activities
Pennsylvania has great opportunities for outdoor activities like California. There are some parks where you can enjoy hiking, swimming, biking, etc. If you're moving to PA, you will enjoy the view of the coastline. There are many amusement parks like Disneyland. You can enjoy many festivals here in PA.
Transportation
The transportation system in Pennsylvania is slightly better than in CA. In PA, there is an extensive network of highways and railways, which makes it much easier and faster. There are also many public transport options available, such as buses and trains. In contrast, California's transit system is very limited, with few highways and railways. This makes it difficult to get around, especially if you don't have a car. There are also few public transport options available, which can be very expensive.
Economy
Pennsylvania has a strong economy. The state's GDP is the sixth largest in the United States. The economy is driven by manufacturing, agriculture, and mining. PA is home to many large corporations, including Comcast, PNC Financial Services, and Hershey. Some companies here are on the fortune 500 companies list. The state has a highly educated workforce and is a leader in research and development. PA is also a major tourist destination, with attractions such as Philadelphia, Pittsburgh, and the Pocono Mountains.
Major Cities In Pennsylvania For Living
There are some major cities that are affordable and very popular. These are: 
Philadelphia

Pittsburgh

Allentown

Reading

Upper Darby
Conclusion
Moving is a complicated procedure. This is why it is imperative to start researching as early as possible. The most important tip we can provide you is as follows: do your research!
There are a plethora of fantastic long distance moving companies. To choose the right one, you will need to do plenty of research.
Buzzmoving has a network of movers in the moving industry. Our movers will help you with the moving solution. We provide services in varieties locations across the country. Additionally, if you have a few minutes, do consider filling out our form.
You can get moving quotes and compare prices between companies! 
Happy moving.
FAQ's
Q: Is it cheaper to live in California or Pennsylvania?
A: Yes! PA is 12.8% cheaper than California.
Q: Is Pennsylvania worth moving to?
A:  PA has a lower state income tax and a good lifestyle. The income tax here is lower than the national average. It has many outdoor activities to do. You can feel the nightlife of PA.
Q: What do I need to know about moving to Pennsylvania?
A: The first thing you need to know about relocating to PA is its pros and cons. Then find a reliable mover. Ask about their cost of services before starting the relocation process.