Moving from California to Pennsylvania is not a little thing for all. It is a life-changing decision. Pennsylvania, a state with unique charm and beauty, beckons those who seek an exciting and life-changing experience, a journey that entails leaving California's sunny beaches, palm trees, and warm climate. The move is a significant adjustment, yet the allure of Pennsylvania is strong enough to make it worthwhile, whether you're relocating for work, scenery, or to be closer to loved ones. This blog post aims to assist in your transition from California to Pennsylvania by examining various factors, from the cost of living and housing to the climate and culture, and prepare you for your new life in the Keystone State.

We know Silicon Valley is appealing. It has incredible food scenery, top-notch state parks, and some of the best snowy winters in the country. Nothing can match the great outdoors of this keystone state.
PA also has plenty of job opportunities. It also has the added benefit of not being as competitive as California.
There are some cons though. For instance, Pennsylvania's winter is cold! You will definitely miss the warm California summer. But you will receive lower rent, lower taxes, hiking opportunities, and beautiful mountains. The slight chill and plenty of snow are worth it!
Get in touch with professional relocators. They provide moving services. Make sure their moving permits are legitimate! Check their US DOT and ICC MC numbers for verification.
How Much Does It Cost To Move to Pennsylvania From California?
The average cost to move from California to Pennsylvania is about $4000. But, this is dependent on many external factors. Take note of the number of items you carry with you, the location of your move, the company you chose, where you are living, and which city you are relocating from.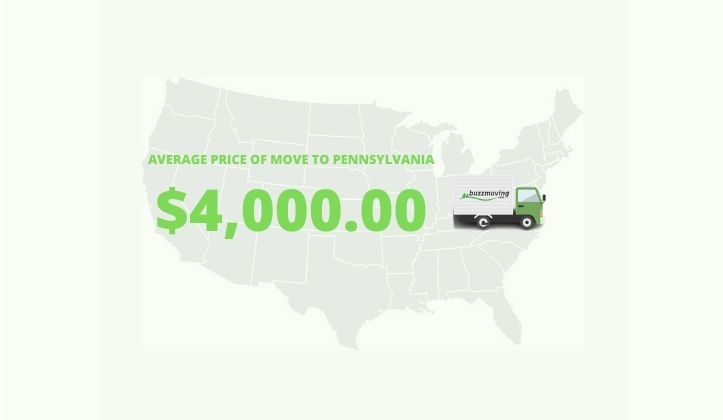 Moving to a 1 bedroom apartment will be cheaper than moving to a 4 bedroom apartment. Additionally, most relocators charge by mileage and cubic weight. The more furniture you move, the higher your total cost!
However, below is a list of the average moving cost. Note that this is not an exact list.
| | | | |
| --- | --- | --- | --- |
| Distance | 1 Bedroom | 2-3 Bedroom | 4-5 Bedroom |
| <50 miles | $595-$1,020 | $1760-$3,190 | $1,920-$6,530 |
| 250 miles | $1,100-$2,250 | $2,300-$4,300 | $4,250-$5,700 |
| 1000 miles+ | $1,500-$3,000 | $3,140-$5,960 | $6,380-$10,010 |
| 2500 miles+ | $1,925-$4,275 | $4,240-$8,550 | $9,550-$14,100 |
Factors That May Increase Your Cost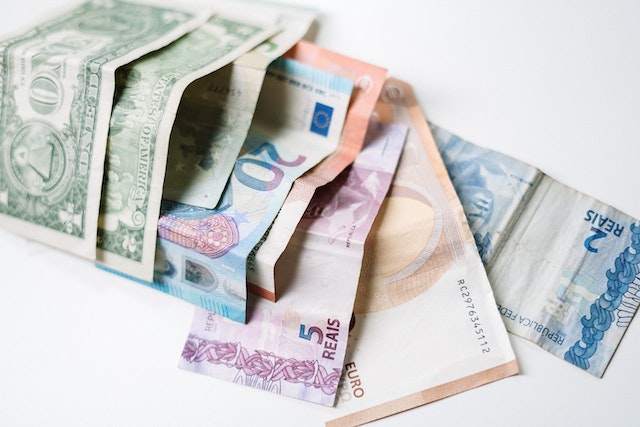 Though the cost will increase depending on the size of your move, there are also several factors that can increase your cost. These are:
The Route You Choose
The city you are relocating to will play a role in your cost. This is because distance is a factor that increases the price of your long-distance move. This is applicable when relocating from your state to another state. It is important to note that different moving companies cost different. Hence, your total cost will vary depending on which movers you are working with.
Move Date
Your moving date will also play a role in how much your move will be. If your moving week falls in the middle of the hot summer, you will need to pay higher. An answer to this will be to make sure your date falls in the winter instead.
Additional services
Furthermore, we talked about the different services provided by relocators. When relocating between California and Pennsylvania, you are going to need such services. The number of services you choose will also factor into your total cost.
Please remember to tip your relocator as well. You should also factor this matter into your budget.
Planning Your Move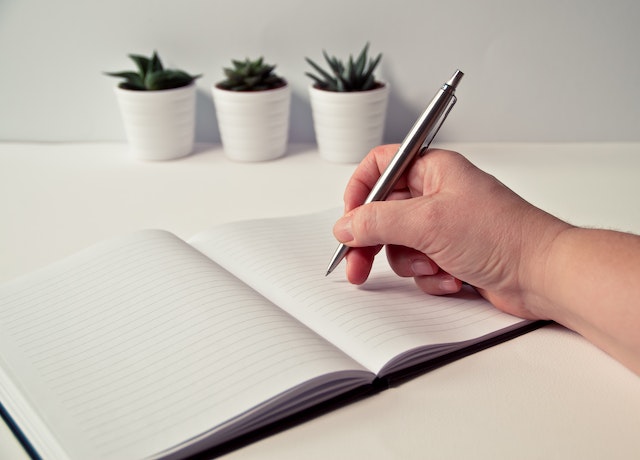 To ensure a successful move from California to Pennsylvania, careful consideration and preparation are crucial. Thorough research on logistics, including transportation options, moving companies, and timelines, must be conducted before packing. It's also necessary to take into account the cost of living in Pennsylvania, covering housing, utilities, and taxes. 
Understanding the climate and culture of your new location is equally important, allowing you to prepare and know what to expect. Creating a checklist of tasks to accomplish before the move, such as updating your address, canceling or transferring utilities, and notifying your employer or school of your new address, can help make the process smoother. With proper planning and preparation, your relocation can be a successful transition.
Research Pennsylvania Before The Move
To guarantee a seamless adjustment upon relocation to Pennsylvania, it's crucial to conduct research on the state. This includes gaining knowledge of the state's geography, climate, and culture, as well as the cost of living and job market. Pennsylvania boasts stunning countryside, a rich history, and diverse urban areas, such as Philadelphia and Pittsburgh.
The state experiences all four seasons, with cold winters and hot summers. Additionally, Pennsylvania has a distinct culture and dialect that distinguishes it from other states. By investing time in research and understanding your new home, you'll be better equipped to adapt to your new surroundings and settle into your new life in Pennsylvania.
Differences Between California Vs Pennsylvania
Here we create a differentiated table between California and Pennsylvania. We have shown various factors: Housing costs, Cost of living, and Climate.
| | | |
| --- | --- | --- |
| Factors | California | Pennsylvania |
| Housing Costs | Median home value: $720,000 | Median home value: $190,000 |
|   | Varies greatly by location | Higher housing costs in urban areas |
| Cost of Living | Overall index: 100 | Overall index: 86 |
|   | Higher housing and tax costs | Lower housing and tax costs |
| Climate | Mild and sunny | All four seasons |
|   | Warm summers, mild winters | Hot summers, cold winters |
|   |   | Varies by location |
Unique Features and Attractions of Pennsylvania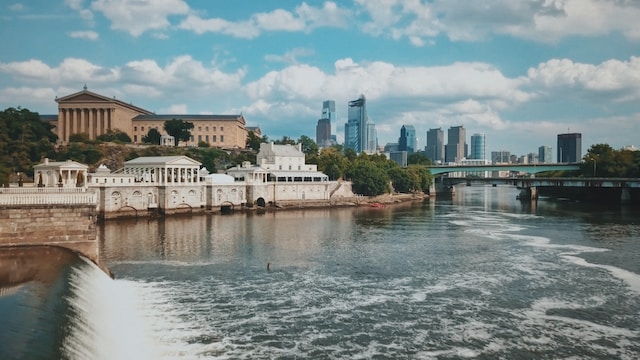 Pennsylvania is a state with a wealthy chronicle, assorted topography, and unparalleled sights. Some of the state's most distinctive characteristics and attractions include:
Philadelphia: The metropolis where America was established, Philadelphia has various historical locations, such as Independence Hall and the Liberty Bell.
Pittsburgh: Referred to as the "Steel City," Pittsburgh is a dynamic city center with a lively artistic and cultural domain.
Hershey: The sweetest realm on earth, Hershey is a community devoted to chocolate, presenting Hershey's Chocolate World, Hersheypark, and the Hershey Gardens.
Amish Country: Located in Lancaster County, Amish Country is a picturesque region well-known for its idyllic farms, handcrafted goods, and delectable Pennsylvania Dutch fare.
Gettysburg: The site of the notorious Civil War altercation, Gettysburg is a historical township with various museums and attractions dedicated to the battle.
Pocono Mountains: A favored destination for outdoor enthusiasts, the Pocono Mountains offer hiking, skiing, fishing, and other outdoor pursuits.
The Philadelphia Museum of Art: One of the most extensive art museums in the country, the Philadelphia Museum of Art houses over 240,000 pieces of artwork from around the world.
Pennsylvania's unparalleled combination of chronicles, civilization, and natural charm make it an exhilarating and engrossing place to explore.
Choosing The Right Moving Date
Choosing the right moving date is an important part of planning your move from California to Pennsylvania. It's essential to consider the time of year, weather patterns, and your personal schedule when selecting a date. Moving during peak season, which is typically between May and September, can be more expensive due to the higher demand for moving services. 
Additionally, extreme weather conditions such as heavy snow or rain can make moving more difficult and even dangerous. It's also important to consider any personal commitments or events, such as work schedules or school calendars, that may impact your ability to move. By taking these factors into account, you can choose a moving date that is both convenient and cost-effective. Be sure to book your moving services well in advance to secure your preferred date and avoid any last-minute surprises.
Follow The Moving Checklist
By following the moving checklist, you can move safely without making any mistakes. We have researched and created this list for you.
| | |
| --- | --- |
| Task | Timeline |
| Research moving companies | 3 months before move |
| Get moving quotes and compare prices | 3 months before move |
| Choose a moving company and book | 2-3 months before move |
| Sort and declutter belongings | 2 months before move |
| Hold a garage sale or donate items | 1-2 months before move |
| Notify utility companies of move | 1-2 months before move |
| Request time off from work/school | 1-2 months before move |
| Get new driver's license and plates | 1-2 months before move |
| Secure housing in Pennsylvania | 1-2 months before move |
| Schedule move-out cleaning | 2 weeks before move |
| Pack non-essential items | 1-2 weeks before move |
| Pack essential items | 1 week before move |
| Confirm moving details with company | 1 week before move |
| Take apart furniture and disconnect appliances | 1-2 days before move |
| Pack a bag of essentials for moving day | 1 day before move |
| Complete a final walkthrough | On moving day |
| Say goodbye to friends and neighbors | Before moving day |
Finding A Reputable Moving Company
Finding a reliable and trustworthy moving company is an indispensable factor for a successful and stress-free move from California to Pennsylvania. Due to the plethora of moving companies available in the market, it can be challenging to determine where to begin. Therefore, below are some strategies that will aid you in selecting the right moving company:
Conduct extensive research: Initiate the selection process by conducting thorough research on moving companies online and perusing reviews from previous customers. In addition, search for companies that have received high ratings and positive reviews. Moreover, you can ask for referrals from individuals, such as friends and family members who have recently relocated.
Verify the company's credentials: Ensure that the moving company has a license, insurance, and registration with the Federal Motor Carrier Safety Administration (FMCSA). Moreover, verify the company's credentials on the FMCSA website.
Obtain multiple quotes: Contact at least three moving companies and request written quotes. Make sure the quotes encompass all relevant fees and charges, such as packing materials and transportation costs.
Beware of scams: Be cautious of moving companies that request a substantial deposit or offer an exceptionally low price, as these could be red flags indicating a moving scam. Furthermore, confirm that the company has a physical address and a local phone number.
Inquire about the company's services: Do not hesitate to inquire about the moving company's services, such as their expertise in long-distance moves and their approach to handling delicate or valuable items.
Get Moving Quotes from Different Moving Companies
When it comes to relocating from California to Pennsylvania, securing moving estimates from various providers is a critical move. However, there are several factors to consider when requesting these quotes:
Be detailed: Provide comprehensive information regarding your move, including the size of your residence, the number of chambers, and any exceptional objects requiring relocation. Doing so will assist in obtaining an accurate quote from the moving company.
Insist on written estimates: Ensure that the cost estimate is provided in writing and covers all expenses, such as packing materials and transportation fees.
Compare estimates: Do not hastily accept the initial offer you receive. Instead, contact no less than three moving businesses and compare their quotes to determine the best value for your budget.
Inquire about additional services: Certain moving companies may offer supplementary services, such as packing and unpacking, which may simplify your move. Make inquiries regarding these services and their corresponding costs when obtaining an estimate.
Be wary of hidden fees: Verify that there are no concealed costs or charges that are not included in the estimate. If something appears too good to be true, it probably is.
Get Moving Cost By Using Cost Calculator
One of the easiest ways to know your total price is to contact the moving company. If you tell them your requirements they can give you a price estimate. But, we understand this may not always be possible, so you may wonder about alternatives.
You could also look through the websites of different companies. A professional mover will always have reviews from satisfied former clients. Most websites also state the costs of different services that the company offers.
If you want to know the cost of moving, try to get online quotes. If you have a few minutes, consider filling out our form. We provide free, no-strings-attached moving quotes. This will help you compare prices.
Then you can make the best decision for yourself, with regards to which relocator is the right choice for you. Also, you can use the mover's cost calculator to get an accurate cost.
BuzzMoving has a network of reliable professionals with stellar reviews from clients. Our movers have years of experience in this sector. So if you are in a pinch and are looking for instant quotes, we can help you with that! Please fill out the form to get a free quote right now.
What Are Some Ways To Cut Movers Costs When Relocating to Pennsylvania?
We understand relocating may be expensive between states, like moving from CA and PA. Hence, we are here to suggest some ways to cut your cost.
As we have mentioned before, an effective way is to use fewer services. You could also recruit a company that charges less. Additionally, if you are confident you can pack most of your furniture, then do it.
We would still suggest hiring professionals. So many people hurt themselves when relocating across the country. You can also cut costs by driving your belongings to your new home.
You could also get your friends and family to help you load and unload your furniture. Many customers who contact relocation companies to move to other parts of the world cut costs this way.
At the end of the day, there won't be a one-size-fits-all solution for your move. Please do plenty of research beforehand! Look into insurance, license, and how to buy vehicles in PA, etc.
Can You Recommend Affordable California To Pennsylvania Movers?
When it is time to move, you should start looking for the best movers early. We recommend starting months in advance. That is why thorough research is of the essence. We understand that you may be looking for options. To speed up your research process, we have compiled a list of a few affordable and best California to Pennsylvania movers. Please note that this is not an exhaustive list. You need to pick the company which suits you the best. Make sure you have also looked into insurance, utility bills, and internet prices.
| | | | |
| --- | --- | --- | --- |
| Name | Rating | US DOT | ICC MC |
| International Van Lines | 5 | 2247789 | 729978 |
| Trinity Relocation Group | 5 | 3218709 |   |
| American Van Lines | 5 | 614506 | 294798 |
| Gateway Moving and Storage | 5 |   |   |
| Allied Van Lines | 5 | 076235 | 15735 |
| Infinity Van Lines | 5 | 1443732 | 545673 |
Taking the opposite path? With our Moving from Pennsylvania to California guide, we've got you covered.
Preparing for Your Move
Preparing for your relocation can be an arduous and formidable task, but with meticulous planning and astute organization, it can be transformed into a seamless process. Here are a few cogent recommendations to aid you in your move from California to Pennsylvania:
Decluttering and organizing your belongings
Prior to initiating the packing process, allocate some time to declutter and systematize your possessions. Sort your belongings into distinct categories such as retain, donate, and sell. This methodology can significantly curtail the number of items that require packing and hence make the process smoother.
Packing tips and tricks
While packaging, it is wise to commence with items that are utilized less frequently and carefully mark each box with its contents and corresponding room. Employ packing materials such as bubble wrap and packing paper to safeguard fragile items. Consider utilizing vacuum-sealed bags for clothes to economize space.
Choosing the right moving boxes and supplies
Ensure that you opt for sturdy and robust moving containers and packing materials. Consider employing plastic receptacles for items that mandate additional protection. It is imperative to label each container with its corresponding contents and allocated room.
Preparing your automobile for the journey
If you intend to drive to Pennsylvania, ascertain that your vehicle is in impeccable condition for the long and demanding expedition. Check the oil, brakes, and tires, and contemplate getting a tune-up prior to your move.
Moving insurance and safeguards
It is prudent to contemplate purchasing moving insurance or safeguards to protect your possessions during transit. It is crucial to peruse the minute details and apprehend what is covered and what is not.
The Moving Day
Moving Day can bring about a multitude of emotions that can be overwhelming and exhilarating all at once. If you find yourself in the midst of a move from California to Pennsylvania, these helpful tips can help you navigate the process with ease.
What to Anticipate on Moving Day
On the day of the move, you can expect the arrival of the moving company at your residence, where they will commence the loading of your belongings onto the truck. It is crucial that you keep important documents and valuable items in your possession rather than entrusting them to the movers. As a precautionary measure, conduct a final inspection of your former abode to ensure nothing is left behind.
Relocating with pets
Moving with your furry friends can be stressful for both you and your pets. It is advisable to have a contingency plan in place to cater to your pets' needs on moving day. One option is to hire a pet sitter or have a trusted individual such as a friend or family member take care of your pets during the move. If you opt to take your pets with you on the journey to Pennsylvania, be sure to make frequent stops and provide them with ample water and bathroom breaks.
Loading and unloading the moving truck
While loading your belongings onto the moving truck, it is important to stack your boxes and furniture in a secure manner to minimize any potential damages during transit. To make the unloading process seamless, label each box with its contents and corresponding room. When it is time to unload, double-check that all of your boxes and furniture are accounted for and in excellent condition.
Setting up your new residence
Upon arriving at your new Pennsylvania home, take a moment to acquaint yourself with your new surroundings by conducting a walk-through of your new space. Commence unpacking and setting up your furniture and other possessions starting with the essentials such as the bed and kitchen items. If you find yourself in need of assistance, do not hesitate to seek help from your friends or family members.
What to do if things go awry during the move
Despite meticulous planning, unforeseen complications can arise during the move. In the event of any challenges, it is essential to reach out to the moving company and communicate any concerns. If the situation calls for it, consider filing a claim for any damaged items. Keep in mind that maintaining a calm demeanor and clear communication can facilitate the swift resolution of any issues.
Should I Hire Long-distance Moving Companies When Moving From California To Pennsylvania?
Moving is a big deal. Interstate moves, like the one from CA to PA, are even more so. There are so many details to plan out.
You will need to juggle many things, like transport and insurance. Remember to also get in touch with the public utility commission. The world of relocating can seem daunting to navigate.
We are here to help, to help give you an idea of how to make your move as smooth as possible. The first thing you should do is get in touch with companies. There is a myriad of services that top California to Pennsylvania moving companies can provide. Each person will focus on different services.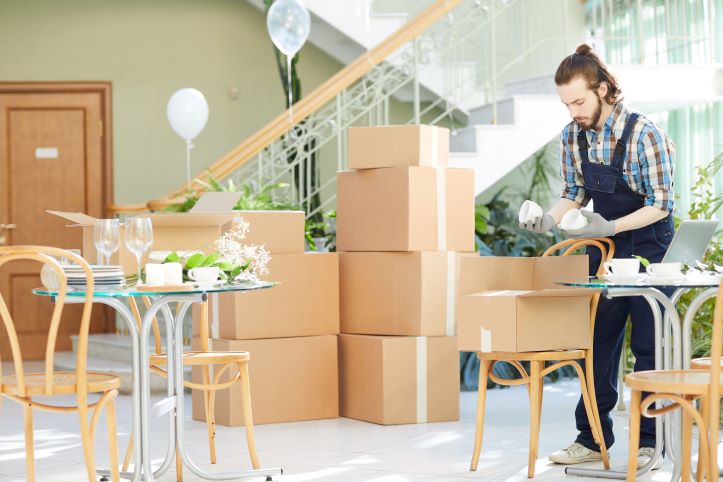 PA relocators can offer you a range of relocation services. These will make your move stress-free. You can avail of packing services. Both partial and full packing services are available, depending on your particular needs.
You will also need to move heavy appliances. This is applicable to all inter-state moves. 
To make your life easier, you can avail of heavy appliance moving services as well. If you own expensive artwork or heavy pool tables, you can also contact relocators to move one piece of furniture for you!
Furthermore, if you don't have a large enough car, you need to hire rental trucks. If you live in an apartment complex or don't have enough storage, you can avail of storage units.
The best course of action is to check what services you would need beforehand. This will allow you to budget better.
Long Distance Moving Process Which you need to follow
Relocating can be challenging and stressful, but with a few helpful hints, it can be simple. Here are 5 considerations prior to your move that should boast the process:
Follow the checklist

Research your area of town and find an apartment or house to rent

Arrive early and pre-pack your belongings

Have a friend or family member help you load your bags onto the moving truck

Make a checklist of everything you will need to bring with you (i.e. your furniture, clothes, or stuff)
Why Living In Pennsylvania?
Overall Cost Of Living In Pennsylvania
PA is a state in the northeastern United States, and the fifth most populous. The state has a population of 10 million people and is home to over half of the country's manufacturing capacity. In addition to its economic importance, PA also has a rich history and culture. The state is known for its Cheese production, Lancaster County's horse racing industry, and the PA Turnpike. The most famous of these is the world-famous Philadelphia Eagles, whose fans are known as "Philly Phanatics."
PA was admitted as a state on April 15, 1818, and became the fifth state to ratify the United States Constitution. The state motto is "E PLURIBUS UNUM" (Latin for "Out of many, one"). The phrase was the motto of the United States Marine Corps. The median home price in Pennsylvania is around 2,40,000$.
Climate in Pennsylvania
Climate change is a reality in PA. Pennsylvania experiences an increase in extreme weather events, such as a tornado, hurricanes, and floods, in recent years. The severe weather has taken its toll on human health and property, causing extensive damage and loss of life. In addition, the state's economic stability is at risk due to the increased cost of weather-related disasters. As a result, the Pennsylvania General Assembly passed a bill on June 16, 2016, establishing a new Climate Resilient Commission to help address climate change in the state.
The climate in PA is generally colder than in California. The hot and humid weather is different from California. The average temperature in PA is about 10 degrees Fahrenheit colder than the average temperature in California. This difference is due to a variety of factors, including the latitude of the two states, the prevailing winds, and the proximity of large bodies of water.
Job Opportunity
Pennsylvania state has a variety of job sectors where you can find a job easily. Also, it has a business environment that can help you to start and grow your business. The state also has many colleges and universities where you can get jobs. However, here are some of the popular job sectors for those who want a job in PA:
Senior Director of Engineering

Classification Specialist

Industrial Engineer

Electronic Technician – Component – Manufacturing

Medical

Education

Dental

Tourism
Natural Beauty
Pennsylvania is a place of natural beauty. It has many attractions to see. If I give an example of Gettysburg National Military Park or Phipps Conservatory and Botanical Gardens, it would be the best. Moreover, it has some beaches. Kohler Beach, Palmyra Township Public Beach, etc are one of the most beautiful beaches.
Outdoor Activities
Pennsylvania has great opportunities for outdoor activities like California. There are some parks where you can enjoy hiking, swimming, biking, etc. If you're moving to PA, you will enjoy the view of the coastline. There are many amusement parks like Disneyland. You can enjoy many festivals here in PA.
Transportation
The transportation system in Pennsylvania is slightly better than in CA. In PA, there is an extensive network of highways and railways, which makes it much easier and faster. There are also many public transport options available, such as buses and trains. In contrast, California's transit system is very limited, with few highways and railways. This makes it difficult to get around, especially if you don't have a car. There are also few public transport options available, which can be very expensive.
Economy
Pennsylvania has a strong economy. The state's GDP is the sixth largest in the United States. The economy is driven by manufacturing, agriculture, and mining. PA is home to many large corporations, including Comcast, PNC Financial Services, and Hershey. Some companies here are on the Fortune 500 companies list. The state has a highly educated workforce and is a leader in research and development. PA is also a major tourist destination, with attractions such as Philadelphia, Pittsburgh, and the Pocono Mountains.
Adjusting to Your New State: Tips for Settling In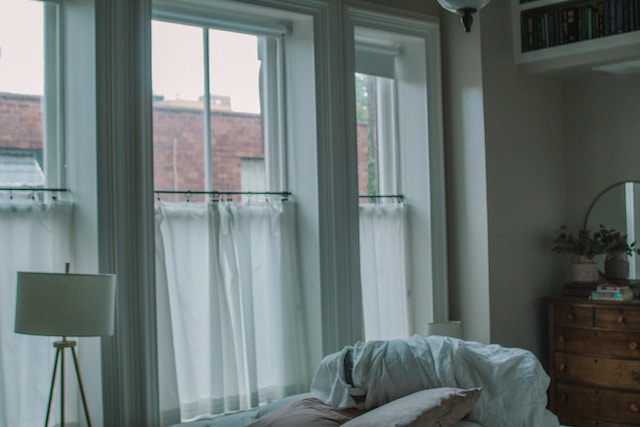 After you've moved from California to Pennsylvania, it's time to start settling into your new state. Here are some tips to help you adjust and make your new home feel like home:
Adjusting to a new state and community
Moving to a new state can be a big adjustment. Take some time to explore your new community and get familiar with your surroundings. Make an effort to meet your neighbors and get involved in local activities.
Finding new friends and getting involved in the community
One of the best ways to feel at home in a new state is to make new friends and get involved in the community. Consider joining local clubs or organizations that interest you, such as a sports team, book club, or volunteer group.
Discovering local attractions and events
Pennsylvania has plenty of unique attractions and events to discover. Take some time to explore local museums, parks, and historical sites. Check out local festivals and events to get a taste of the local culture.
Tips for exploring your new state
When exploring your new state, consider taking a road trip or a day trip to nearby towns or cities. Use resources such as travel guides and online reviews to plan your adventures.
Making your new house feel like a home
Finally, take some time to personalize your new home and make it feel like your own. Hang up photos and decorations, plant a garden, or try out new recipes in the kitchen. By making your new house feel like a home, you'll be able to settle into your new state with ease.
Remember, adjusting to a new state takes time and patience. By taking small steps to get involved in your community and explore your new surroundings, you can make the most of your move from California to Pennsylvania.
Closing the Chapter: Essential Steps for Wrapping Up Your Move
After settling into your new home, there are a few important tasks to complete to officially wrap up your move. Here are some things to consider:
Updating Personal Information and Documents
One of the first things you should do is update your personal information and documents. This includes your driver's license, car registration, and voter registration. You'll also need to update your address with your bank, credit card companies, and any other organizations you have accounts with.
Returning Rental Properties or Selling Homes
If you rented a property or sold your home, make sure to return the property to the landlord or complete the sale process. This includes cleaning the property and settling any outstanding bills or fees.
Evaluating the Success of the Move
Take some time to evaluate the success of your move. Did everything go smoothly? Were there any challenges or problems that you encountered? Make notes about your experience to help you plan for future moves.
Celebrating the New Beginning
Finally, take some time to celebrate your new beginning. Host a housewarming party, explore your new community, and enjoy the new adventures and opportunities that await you in Pennsylvania. Congratulations on successfully completing your move!
Frequently Asked Questions
Q: How much does it cost to move from California to Pennsylvania?
A: The cost of moving from California to Pennsylvania can vary depending on factors such as the distance, the number of items being moved, and the specific services required. The best way to get an accurate estimate is to request a moving quote from a reputable moving company.
Q: How do I choose the right moving company?
A: When choosing a moving company, it's important to do your research and consider factors such as their reputation, experience, and services offered. Look for companies that are licensed and insured, and read reviews from previous customers. You should also compare quotes from multiple companies to find the best value for your money.
Q: How do I pack fragile items?
A: Packing fragile items requires extra care to ensure they are not damaged during the move. Use plenty of packing materials such as bubble wrap or packing paper, and consider using sturdy boxes specifically designed for fragile items. Label the boxes as "fragile" and pack them tightly to prevent movement during transport.
Q: Can I bring my pet with me on a plane?
A: It is possible to bring pets on a plane, but there are certain rules and regulations that must be followed. Each airline has its own policies regarding pets, so it's important to check with your specific airline before booking your flight. You may also need to obtain a health certificate for your pet from a veterinarian.
Q: How do I make new friends in a new city?
A: Making new friends in a new city can be challenging, but there are several ways to meet people. Consider joining local clubs or organizations that align with your interests, attending community events or classes, or volunteering for local causes. You can also connect with people through social media or online communities. Don't be afraid to put yourself out there and try new things!
Conclusion
Moving is a complicated procedure. This is why it is imperative to start researching as early as possible. The most important tip we can provide you is as follows: do your research!
There are a plethora of fantastic long-distance moving companies. To choose the right one, you will need to do plenty of research.
Buzzmoving has a network of movers in the moving industry. Our movers will help you with the moving solution. We provide services in varieties locations across the country. Additionally, if you have a few minutes, do consider filling out our form.
You can get moving quotes and compare prices between companies! 
Happy moving.