Long Distance Moving Companies in Texas
You may already know that Texas is the second-largest (after Alaska) and second-most populous (after California) state in the United States, located in the south. Texas is one of the most well-known states in the United States, known for its old cowboy and rural life culture, developed economy, beautiful landscapes, and unique dialect. Its capital city, Austin, San Antonio, and Houston, are the state's largest cities. If you're planning a move to Texas, you'll need to hire moving companies in Texas. This is also true if you are moving within the state! Professional movers can help make your move a breeze, whether local, intrastate or interstate. Latitude and longitude coordinates are 31.000000 and -100.000000.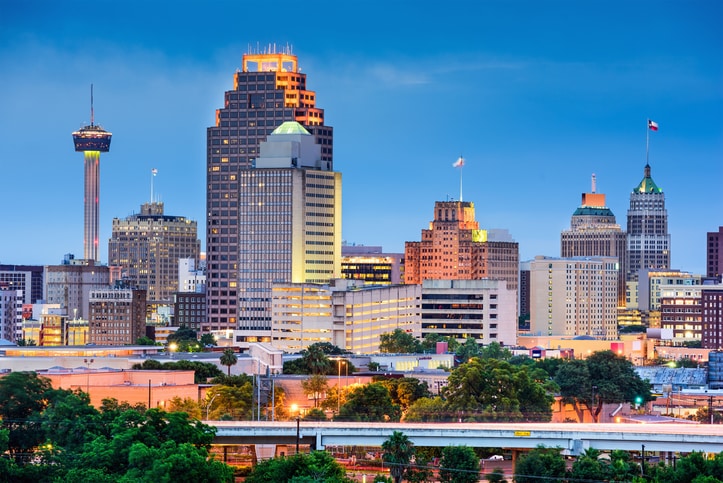 Top 5 Moving Companies In Texas
International Van Lines

American Van Lines

JK Moving

North American Van Lines

Allied Van Lines
International Van Lines
Since its inception in 2000, International Van Lines (IVL) has served as a global moving logistics provider, helping people relocate to more than 180 countries worldwide. In contrast to other international movers, IVL does not outsource its services when it comes to moves to or from Texas.
Award: Our pick for insurance plans
Service Model: Full service
Founded: 1933
Rating: 4.7/5
Address: 5830 Waltrip St, Houston, TX 77087
 American Van Lines
If you want to transport one-of-a-kind items and heirlooms to your new Texas home, American Van Lines (AVL) is a great option. The company prioritizes the hiring and retention of full-time, experienced moving crews.
Award: Our pick for long-distance moves
Service Model: Full service
Founded: 1967
Rating: 4.6/5
Address: 3156 Springfield Ave, Lancaster, TX 75134
Allied Van Lines
By using personal moving agents, helpful online resources, and comforting content protection options, Allied Van Lines has tried to improve the client experience of full-service moving. Allied, like NAVL, has a service and claims division specifically for intra-Texas movements.
Award: Editors' choice
Service Model: Full service
Founded: 1928
Rating: 4.7/5
Address: 14850 Grand River Road, Fort Worth, TX 76155
JK Moving
JK Moving offers complete- and partial-service moving services and various specialty services to help customize your moving package. Still, it is only available in Texas for long-distance and international moves.
Award: Our pick for a financing
Service Model: Full service
Founded: 1982 
Rating: 4/5
Address: Dallas, Fort Worth, TX
North American Van Lines
North American Van Lines can service local, long-distance, and international moving needs across the country and in 180 countries through its fleet and staff and those moving agents within the network.
Award: Our pick for the easy claims process
Service Model: Full service
Founded: 1933
Rating: 4/5
Address: 2242 Manana Dr. Suite 100, Dallas, TX 75220
Why do people move to Texas?
Many job opportunities, a Lower cost of living, great weather and food, various outdoor activities, good schools, and friendly people.
Texas's highest-paying job
Texas offers a wide range of career options for those looking for work.
As the world's fastest-growing economy, it has many job openings. Furthermore, in comparison, the income level is relatively high. Some of the highest-paying jobs in Texas are as follows:
Vice President, Field Operations

Consultant and Sales Representative

Primary Care Physician

Chief Operating Officer, Chief Technology Officer

Family Practitioner

Vice President, Product Management

President Chief Technology Officer

Emergency Medicine Specialist

Executive Vice President of Operations

Vice President of Global Operation
Source of Income
According to Wikipedia, Texas has the nation's second-largest GDP, after only the state of California. As of 2021, the state's gross domestic product was $2.0 trillion. In 2015, Texas was home to six of the Fortune 500's top 50 firms, making 51. (third most after New York and California). Texas exported $264.5 billion worth of goods in 2017, more significant than the combined exports of California and New York.
Habit and Nature
Texas was ranked fourth in the country as one of the friendliest states. According to Big 7, an international travel blog, "Texas' enthusiastic locals and greetings of 'Howdy!' everywhere you go has surely helped it secure its place among America's friendliest states."
Weather
Texas is primarily a warm state. Summers last longer than winters. The temperature ranges from 45°F to 90°F, and it is windy, wet, and cloudy at times. The hottest season lasts from May to September, and the overcast weather lasts from September mid to December. In Texas, January is the coldest month.
Rent a house
Rent in the most popular areas of Texas, such as Houston, Dallas, and Austin, ranges from $1000-$1500 on average. However, the price varies depending on the season and demand compared to other seasons. Nonetheless, the price is meager.
Food
According to MIT, a single person in Texas should budget $264.75 per month for groceries. Families with children will have significantly higher food costs and will need to budget at least $603.16 per month. Because cities like Austin and Dallas are known for their vibrant restaurant scenes, you'll most likely want to eat out on weekends. According to Business Insider, Texans spend an average of $221 per month on restaurant meals, on top of their regular grocery bill.
The cost of gasoline
Prices for octane-95 gasoline per liter: Prices for Texas are shown from 06-Dec-2021 to 14-Mar-2022. During that time, the average value for Texas was 0.93 US dollars, with a low of 0.86 US dollars on 27-Dec-2021 and a high of 1.16 US dollars on 14-Mar-2022. In comparison, the global average price of gasoline during this period is 1.74 US dollars. To see the prices in gallons, use the drop menu.
Natural Resources
Texas has historically had an abundance of natural resources, which shaped its growth and development and place in the country and the world. Texas's large mineral deposits under its soil, particularly petroleum and natural gas, are among its most important natural resources, but so are its lumber, solar energy, and its numerous and diverse water resources, including rivers and streams, bays, and bays, estuaries, and aquifers.
Demography
Texas has an overall life expectancy of 78.5 years. Women have an average life expectancy of 81.1 years, while men have an average life expectancy of 75.9 years.
Why Should You Hire Moving Companies in Texas?
There are two types of moving companies in Texas. A local mover is required if you are moving within the city or state. You may be moving into or out of the form if your move exceeds 100 miles. In that case, long-distance movers will be required. The primary reason for hiring Moving Companies in Texas is that they provide various beneficial services.
Hiring The Best Moving Companies in Texas
BuzzMoving.com Locate The Best moving companies in Texas – Save money by getting free moving quotes from pre-screened movers in Texas, TX.
Read More About Other Moving