Moving From Florida to Indiana Car and House movers
Get instant No Obligation moving quotes in less than 1 minute moving from Florida to Indiana ( moving from FL to IN) movers
If you are moving from Florida to Indiana, just submit the simple form, our system broadcasts your information to 6 of our best movers. They get back to you within 60 seconds (Approx) with your moving quote. Then you choose the best suitable movers for you.

How Much Does It Cost To Move To Indiana From Florida
The cost to move from Florida will vary depending on several factors. This includes the number of belongings you have, the distance of the move, and whether you hire professional movers. A basic estimate for a long-distance move of 1,000 miles or more with a medium-sized apartment's worth of furniture and boxes would be around $1,000-$6,000. This does not include the cost of renting a truck or small van, which would be additional. If you choose to hire a professional and full service moving company, the cost will be higher, but it will also save you time and effort.
| | | | |
| --- | --- | --- | --- |
| Distance | 1 Bedroom | 2-3 Bedroom | 4-5 Bedroom |
| <50 miles | $595-$1,020 | $1760-$3,190 | $1,920-$6,530 |
| 250 miles | $1,100-$2,250 | $2,300-$4,300 | $4,250-$5,700 |
| 1000 miles+ | $1,500-$3,000 | $3,140-$5,960 | $6,380-$10,010 |
| 2500 miles+ | $1,925-$4,275 | $4,240-$8,550 | $9,550-$14,100 |
Factors That May Increase Your Moving Cost
There are several factors that may increase movers costs. This includes the weight and mileage, move date and time, additional services, etc. The factors are described below:
Weight And Mileage
Different long distance moving companies have various rates. The amount you will be charged for your move depends on how far you are moving and how much stuff you are carrying with you. For example, relocating from Orlando to Texas is different from moving from Miami to Tampa. If you want to know the exact cost of your move to IN, you can call the moving company or use our moving cost calculator.
Season And Date
Other factors that affect your total cost are the time of year and the season you move. For example, if you move during summer, your cost will be higher than in winter because summer is the most popular moving time. Companies can therefore charge more. Moving on holidays will also increase your relocation cost as people are more likely to move then.
Additional Services
In Florida, there are a few extra moving services that come at an additional cost. This can include packing services, loading assistance, storage options, and more. Some companies in Florida also offer car shipping quotes as part of their services. Florida to Indiana movers typically provides great services for things, like moving one piece of furniture.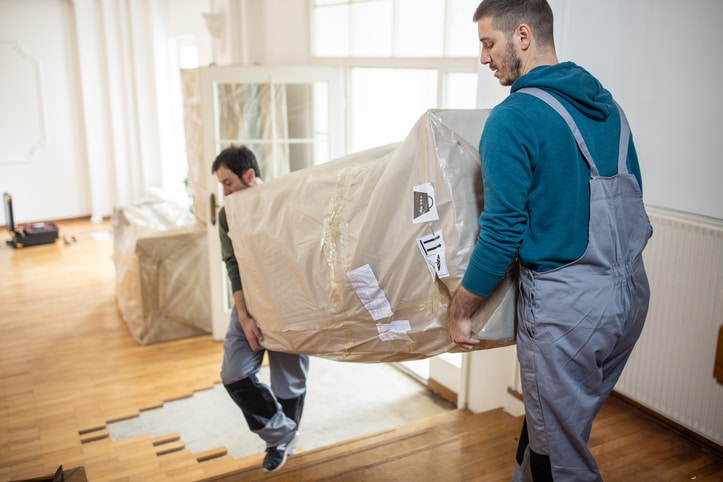 Can You Recommend Some Affordable Movers For moving from Florida to Indiana?
We understand that budget is one of the most important parts when moving from FL to IN. It is often difficult to find an affordable mover who is also extremely reliable. In order to help you get started with research, we have compiled a list of the top highly coveted, reliable, and best Florida to Indiana moving companies. We always like to remind our viewers that this is not a complete list, and we have lots of trustworthy movers. To get free moving quotes from the best movers in IN, simply fill out the form above. We will contact you in 60 seconds.
How you will be the winner!
Buzzmoving has the largest network of Insured, Licensed, and experienced movers Nationwide. You are just one click away from being the winner. Once you submit the form within 2 minutes, you will get a call from five of our best movers chosen for you.
Compare the quotes, negotiate with the relocators and get the best deal for you. Whether you move house, office, or car, we've covered you because when relocators compete, you will always be the winner!
And the best part of all, it saves you time and money and our service is absolutely free.
Things you need to consider
When movers call you, do NOT forget to negotiate the moving quote price. Remember the previous company's quote so far and negotiate the price accordingly.
What should you do before Moving From Florida to Indiana?
Pre-move preparations are key to a smooth transition. Packing up your belongings and transporting them to your new home can be a tough task, but if you plan ahead and take care of the necessary preparations, it can be a lot smoother sailing.
The earliest step is to create a packing list. This will help you ensure that you don't forget anything important, and will make packing a lot easier.
Begin by going through each room in your home and making a list of everything that you will need to pack up. Be sure to include clothes, furniture, appliances, dishes, electronics, and anything else that you can think of. Once you have your list, you can start packing up your stuff room by room.
If you have huge items of furniture, you may want to consider hiring a professional moving company to help you with the move. They will be able to safely transport your heavy furniture and appliances and will make the move a lot less stressful for you.
Another main step in the moving process is to change your address with the post office. This way, you will ensure that you continue to receive your mail at your new home.
You should also inform your utility companies of your move and arrange to transfer your services to your new address. This includes electricity, gas, water, trash, and cable/satellite TV.
Finally, pack a bag of essentials you will need during the first few days at your new home.
A Comparison when moving from Florida to Indiana
| | |
| --- | --- |
| Florida | Indiana |
| The average gross rent was $1700 | The average gross rent was $2100 |
| The cost of gasoline for Florida was 4.35 U.S. Dollars. | The cost of gasoline for Indiana was 4.91 U.S. Dollars |
| The average cost of food in Florida is $48 per day. | The average cost of food in Indiana is $17 per day. |
Some affordable places to move from Florida to Indiana
What is causing people to relocate to Indiana? Things can get difficult because there will be no job and no money at the start. That is why it is a good idea to relocate to a place where living expenses are low. There are a few places in IN where a person can live in a budget-friendly and affordable manner. Among them, some positions are listed below-
Main Cities in Indiana
Indianapolis

Fort Wayne

Evansville

South Bend

Fishers

Carmel

Bloomington
Why Live In Indiana?
Indiana's highest-paying job
For those looking for work, IN offers a wide range of career options.
As the world's fastest-growing economy, it has a large job market. Getting a job is essential when you're moving to a new city. Furthermore, in comparison, the income level is relatively high. Some of the highest-paying jobs in Indiana are as follows:
Consultant And Sales Representative
Pain Management Physician
Vice President, Field Operations
Executive Vice President Of Sales
Emergency Medicine Specialist
President Chief Technology Officer
President And General Manager
Chief Operating Officer, Chief Technology Officer
Public Health Physician
Vice President Of Operations And Engineering
Source of Income
Indiana's economy is reflected in its gross state product of $359 billion in 2017 and per capita income of $44,165. Manufacturing accounts for a sizable portion of its income. IN is the country's second-largest auto manufacturing state. Pharmaceuticals and medical devices, automobiles, electrical equipment, transportation equipment, chemical products, rubber, petroleum, and coal products, and factory machinery are among other manufacturing industries.
Income Tax
Income tax in Indiana is much lower than the national average. The state's individual tax rate is 3.3%, while the national average is 4.6%. This makes IN a more affordable place for people who are looking to relocate. The state's sales tax rate is also lower. This can save residents a significant amount of money when they are making large purchases.
Cost Of Living
The living cost in Indiana is very affordable. There are several ways to save cost on groceries and housing. Additionally, the state offers a variety of discounts and tax breaks for residents. The cost of living in IN is an excellent value for families and individuals.
Habit and Nature
Indiana's cultural makeup is more representative of the United States as a whole than most people realize. Farming activities like raising cattle are held in high esteem. As a result, fresh fruits, vegetables, and meats are among the best in the country.
Outdoor Activities
There are many outdoor recreations available in Indiana. You can go hiking in the beautiful Hoosier National Forest, canoeing down the scenic Tippecanoe River, or skiing at one of the state's several ski resorts. You can enjoy horseback riding, fishing, boat riding and camping at state parks. The state has many beautiful beaches like palm beaches. It has also some nature parks and amusement parks. Whatever your outdoor interests, you will find something to enjoy in the state.
Weather
The weather condition in IN is better than in FL. Summers are long, warm, humid, and wet; winters are short, very cold, snowy, and windy; and it is partly cloudy all year. Throughout the year, the temperature typically ranges from 22°F to 85°F, with temperatures rarely falling below 3°F or rising above 92°F.
Rent a house
The median home cost in Indiana begins as soon as $200 to $300 a week 2 bedroom apartment and can go up to $1,000 per month for larger properties. Several of the rental homes have views of the beach or the ocean and are in quiet areas. The peace and quiet are a big plus, and it is often most desired by vacationers.
Food
A single adult in IN spends an average of $2,872 on food each year, while a family of four spends $8,295 on average. To put this in context, the average annual food expenditure in the United States is $3,240 for a single adult and $9,354 for a family of four.
The cost of gasoline
Now, a gallon of regular gasoline in Mississippi costs around $4.191.
Natural Resources
Bluespring Caverns, Indiana Caverns, Marengo Cave, and Squire Boone Caverns are the four different cave systems covered by the Indiana Cave Trail. It has forestland in which you can find various species of birds.
Demography
IN has an overall life expectancy of 77.1 years. Women have an average life expectancy of 80.5 years, while men have an average life expectancy of 75.1 years.
Education
The education facilities in IN are good. There are some renowned colleges and universities to give you a better knowledge. Schools and colleges have extracurricular activities that students need to build their careers.
Conclusion
Learning the above before moving from FL to IN would be helpful. Fill out our simple form to get a quick free quote.
Buzzmoving has a large network of relocators. You can find movers from Florida to Indiana that are the best moving companies. We have long distance movers who are experienced and experts in moving.
FAQ's
Q: Is it cheaper to live in Indiana or Florida?
A: Yes! IN is about 11.8% cheaper than FL. However, it depends on you how much you are going to save while living in IN.
Q: What should I know before moving to Indiana?
A: You should know the average cost, living cost, lifestyle, job sectors, affordable cities, etc before moving to IN.
Q: What do I need to do to relocate to Indiana?
A: If you're considering a relocate to Indiana, there are a few things you'll need to take care of first. You'll need to obtain a driver's license and vehicle registration from the state of Indiana. You'll also need to get a new Indiana state ID. Once you have these things taken care of, you can start looking for housing and employment in Indiana. Keep in mind that Indiana has a lower living cost than many other states, so your budget may go further here. With a little planning, you can make a smooth transition to your new life in Indiana.
Q: Is Indiana worth living in?
A: There are several reasons why people choose to live in IN. The state has a low living cost, good schools, and a variety of cultural and recreational activities. Indianapolis, the state capital, is a thriving city with a strong economy. The state also has several smaller towns and rural areas that offer a more relaxed lifestyle. Whatever your reason for considering Indiana a good place to live, it is worth considering all that the state has to offer.
Q: What part of Indiana is best to live in?
A: Some popular areas to live in IN include Fort Wayne and South Bend. Each of these cities has its own unique charm and amenities that make it an attractive place to live. Fort Wayne is a smaller city with a more affordable living cost, while South Bend is home to the University of Notre Dame. Ultimately, the best part of Indiana to live in depends on your individual needs and preferences.