Long Distance Moving Companies in Florida
Are you considering moving to Florida? You must hire moving companies in Florida. The Sunshine State is a wonderful place to live. It has some of the most beautiful beaches in the country. Not to mention that it's a reasonably priced and diverse location. Florida has the upper hand in some situations! Latitude and longitude coordinates are 27.994402, and -81.760254.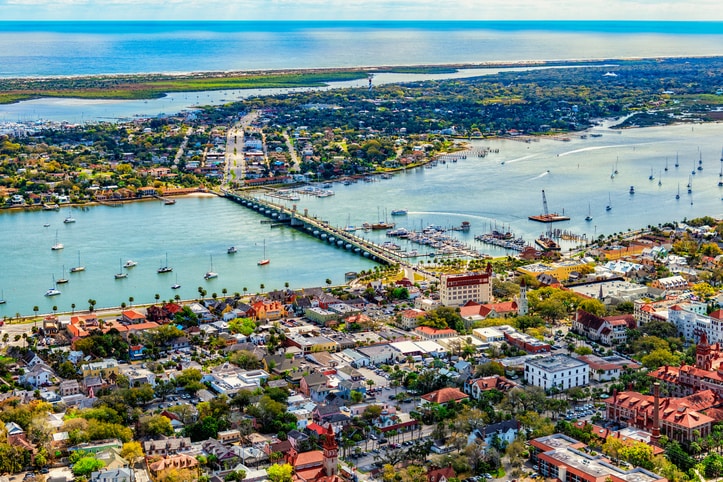 Top 5 Moving Companies In Florida
International Van Lines

American Van Lines

JK Moving

North American Van Lines

Allied Van Lines
International Van Lines
International Van Lines is a trusted moving company in Florida. Since 2000, International Van Lines (IVL) has helped people move to more than 180 countries around the world. If you're moving to or from Florida, IVL doesn't outsource its services.
Award: Our pick for insurance plans
Service Model: Full service
Founded: 1933
Rating: 4.7/5
Address: 3957 NW 126th Ave, Coral Springs, FL 33065, USA
American Van Lines
If you want to transport one-of-a-kind items and heirlooms to your new Florida home, American Van Lines (AVL) is a great option. The company prioritizes the hiring and retention of full-time, experienced moving crews.
Award: Our pick for long-distance moves
Service Model: Full service
Founded: 1967
Rating: 4.6/5
Address: 1351 NW 22nd St, Pompano Beach, FL 33069, USA
Allied Van Lines
By using personal moving agents, helpful online resources, and comforting content protection options, Allied Van Lines has tried to improve the client experience of full-service moving. Allied, like NAVL, has a service and claims department for moves inside Texas.
Award: Editors' choice
Service Model: Full service
Founded: 1928
Rating: 4.7/5
Address: 9143 Boggy Creek Rd a, Orlando, FL 32824, USA
JK Moving
JK Moving offers complete- and partial-service moving services and a variety of specialty services to help customize your moving package. It is only available in Florida for long-distance and international moves.
Award: Our pick for a financing
Service Model: Full service
Founded: 1982 
Rating: 4.5/5
Address: Orlando, Florida, USA
North American Van Lines
North American Van Lines can service local, long-distance, and international moving needs across the country and in 180 countries through its fleet and staff and those moving agents within the network.
Award: Our pick for the easy claims process
Service Model: Full service
Founded: 1933
Rating: 4.6/5
Address: 280 North Dr #280, Melbourne, FL 32934, USA
Why do people move to Florida?
Florida is a very affordable place to live. Jacksonville, Tampa, and Tallahassee all have lower living costs than the national average! This means you'll be able to lead a very comfortable life here.
Florida's highest-paying job
For those looking for work, Florida offers a wide range of career options.
As the world's fastest-growing economy, it has a large number of job openings. In comparison, the income level is relatively high. Some of the highest-paying jobs in Florida are as follows:
Loan Servicing Specialist

Internal Medicine Physician

Consultant And Sales Representative

Anesthesiologist, Pain Management Specialist

Pain Management Physician

Primary Care Physician

Associate Professor, Physician

Physician Extender

Chief Executive Officer

Chief Technology Officer

Resident Physician In Radiology
Source of Income
According to Wikipedia As of 2021, Florida's gross state product (GSP) is $1.2 trillion, making it the fourth-largest economy in the United States. After Mexico and ahead of Indonesia, Florida's economy, if it were a sovereign nation by 2021, would be the 16th largest in the world. Tourism, industry, construction, international banking, biomedical and life sciences, healthcare research, simulation training, aerospace and defense, and commercial space travel have all played a role in the state's economic growth in the twentieth century.
Habit and Nature
There are innumerable reasons why living in Florida is the finest possible option. It's simple to strike a work-life balance in the state. An ideal setting for outdoor activities, entertainment, and cultural experiences.
Weather
Summer weather in Florida is hot, winters are cold, and the weather is wet and partly cloudy all year. Throughout the year, the temperature typically ranges from 40°F to 88°F, with temperatures rarely falling below 28°F or rising above 98°F.
Rent a house
Florida rental homes start at $300-500 per week for 2 bedrooms and go up to $1,700 per month for larger properties. Several of the rental homes have views of the beach or the ocean and are in quiet areas. The peace and quiet are a big plus, and it is often most desired by vacationers.
Food
In Florida, a single adult spends an average of $3,411 on food annually, and a family of four spends $9,850 on average.
The cost of gasoline
Now, a gallon of regular gasoline in Florida costs around $4.35.
Natural Resources
Florida mines phosphate, limestone, dolomite, shells, and heavy minerals like fuller's earth and peat.
Demography
Florida has a 79.6-year life expectancy. As a rule of thumb, a woman lives an average of 81.1 years; a man lives an average of 76.1 years.
Why Should You Hire Moving Companies in Florida?
There are two types of moving companies in Florida. A local mover is required if you are moving within the city or state. You may be moving into or out of the form if your move exceeds 100 miles. The primary reason for hiring Moving Companies in Florida is that they provide various beneficial services.
Hiring The Best Moving Companies in Florida
BuzzMoving.com Locate The Best moving companies in Florida – Save money by getting free moving quotes from pre-screened movers in Florida, FL.
Read More About Other Moving