There are many great moving companies that help clients move from California to North Carolina. Yes, that's right, you are not alone! North Carolina is the fastest-growing state in the entire country! Every year, hundreds and thousands of Californians make the same move you are making right now, probably for the same reasons!
The living costs in California are too high. California also has high taxes and very hot and humid weather. On the other hand, North Carolina doesn't suffer from these problems. Living costs are exponentially lower in North Carolina. Additionally, the taxes are also lower. Since North Carolina isn't as populated as California, there is very little traffic.
North Carolina also has fantastic educational institutions and a rapidly growing job market. The most important factor to consider is when making a move hiring the right affordable moving company.
If you are looking for recommendations for the best affordable movers from California to North Carolina, we can help you out. We have suggested a few of the top movers. We have also given a cost breakdown and why costs can vary so much.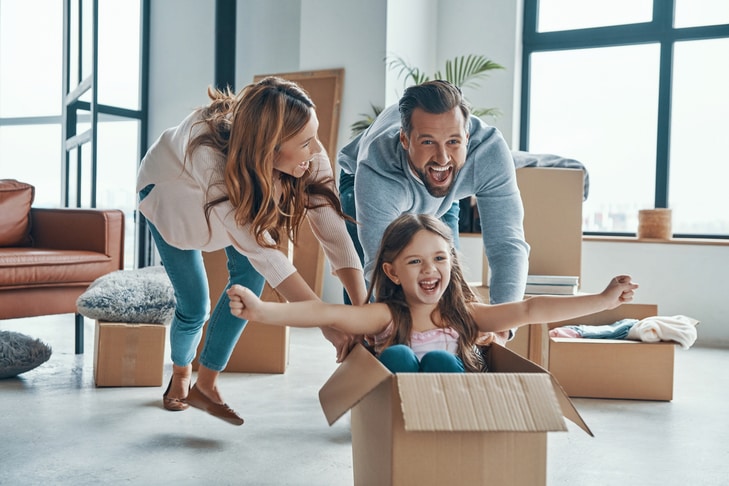 Why Hire Moving Companies When Moving From California?
Long-distance movers offer a lot of services to make your move easy. When moving between states, you need to juggle many responsibilities together. When moving from California to North Carolina, you will have a lot on your plate. Additionally, there are several steps associated with moving.
The first is packing the furniture you need and throwing the rest away. Long-distance movers can help you with that. They offer packing services according to your needs. Additionally, moving companies also have specialized packing equipment and material. They will use specific materials to wrap particular pieces of furniture. All of this will be tailored to your needs.
The furniture you don't need is also often utilized by the movers. There are specific moving companies that often collect furniture you are throwing away! Additionally, movers can give you a range of the same kind of service. If you require packing services, you may need either a partial service or a full service. Movers can provide both, depending on what you need.
Moving companies can also help you with your heavy appliances. Your washing machine, dishwasher, and drier will all need uninstalling and reinstalling. This may seem like a drag if you're doing it alone. However, long-distance movers can move your heavy appliances for you. They can also uninstall and reinstall those appliances in your new home.
If you own novelty pieces of furniture, you may need to move them separately. Moving companies will also give you the option of moving a single piece of furniture from California to North Carolina. If you have a pool table or a grand piano, you don't need to worry at all.
Furthermore, many clients don't have adequate storage space. This is particularly true if you live in an apartment building. Many such complexes don't have storage units. Your vehicle is too small to carry all your furniture in. If that's the case, you don't need to fret. Moving companies can provide storage and rental services. They will provide storage units so that you can put all your furniture in them. Additionally, movers will also drive those units to your new home in North Carolina!
How Much Do Cheap Moving Companies Charge?
On average, moving companies charge about $5000 to move from California to North Carolina. However, your total cost will be dependent upon a lot of factors.
Mileage
Moving companies charge based on mileage and the cubic weight of your furniture. They usually charge a flat rate per 100 miles moved. This means moving from Los Angeles to Charlotte will cost different than moving from Palo Alto to Raleigh. Furthermore, the flat rate itself differs based on which mover you chose.
Size of Apartment Moved
Movers also differentiate based on the total weight of your furniture. This means, the more furniture you have, the higher your total cost. Additionally, this means that the size of the apartment you are moving from will matter. One-bedroom apartments are cheaper to move from than two-bedroom apartments.
Seasons
Moving companies also hike their prices during the summer. This is because of the fact that demand for moving increases around July. This is because schools and colleges are closed during this time. Therefore, individuals find it more convenient to move during summer. Additionally, the roads aren't snowy. The weather is more amicable for moving. In conclusion, demand for moving rises exponentially during the hotter months.
Hence, to keep up with rising demand, they accommodate prices accordingly. Hence, your move will cost more if you move during that time.
Festivals and Events
There are plenty of summer festivals as well that can affect your move. Holidays, weekends, and such festivals will drive your prices up. Festivals such as the Los Angeles Film Festival and Comic-Con international will definitely hike your prices.
Inbound vs. Outbound Moves
Inbound vs. outbound moves also play a role in determining your total cost.
If more people are moving into a state than moving out of a state, the former will cost more. This is also because of demand. Since there is more demand for moving into the state, moving companies hike their prices accordingly. Hence, if more people are moving to North Carolina than moving out of North Carolina, your prices will go up.
Total Number and Types of Services
Furthermore, the total number of services you require will also drive your prices up. Please note that movers offer a plethora of services. However, these services also have different rates. This means the type of service you need will alter your total cost. The more services you need, the higher your final cost.
Additionally, it's customary to tip your movers. Usually, clients tip about 15-20%. Please factor that in when budgeting for your move.
How Do I Figure Out The Costs Of Affordable Moving Companies?
There are a number of ways to calculate the costs of the top moving companies that move from California to North Carolina. You can easily get in touch with them via their number. Since that information is listed on their website anyway, this shouldn't be hard. They will ask you a few questions about your move. Once they know what services you require, they can easily tell you how much you can expect to pay them.
You can also look at the rates listed on their websites. Some movers have these details on their websites, and many others don't. Hence, you may not find the information you are looking for on all those websites.
The fastest and most efficient way of knowing costs is to get instant quotes online. If you need a quote right now with no strings attached, feel free to fill in our form. It will take you only two minutes. Upon filling this form out, we can provide you with no-strings-attached instant moving quotes to help you compare rates between the best movers.
How Do I Get In Touch With Reliable Moving Companies?
The best way to get in touch with moving companies is to call them directly. As we have already mentioned, most reliable movers have their numbers available on their websites. You can use that to get in touch with them. This will help you have clear communication with said movers from the get-go. Additionally, moving companies also have helplines that are active 24/7.
You should ask your friends and family members who have hired moving companies when moving from California to North Carolina. They would know about the specific moving companies to hire.
Additionally, you can also pursue it through different websites. All the services provided by the movers are usually listed on such websites. Furthermore, those websites feature reviews from past clients, which can help you make a decision for yourself.
What To Keep In Mind When Hiring Moving Companies For Moving From California To North Carolina?
The first thing to look for is the rating the moving company holds. You should go for companies that have a 5-star rating based on their reviews. Anything less than five stars should be a red flag. This is because those averages are calculated very thoroughly. Hence, the top movers always have a 5-star rating!
When going through the websites of movers, you will see that many reviews will be on display on their websites. Those reviews will give you an idea about what to expect from said company. However, please note that companies may willfully choose to only display positive reviews. Therefore, reviews alone may not be the best judge.
Reliable moving companies have a specific license number that you can verify. If they don't have such credentials, it's best to move on. The most commonly followed numbers are the US-DOT and the ICC MC. You will be able to see these numbers on the websites of the moving company you are thinking of hiring. If those details are not mentioned anywhere on the website, you may want to look for a separate mover!
Another thing to note is ensuring the moving company has friendly customer service. Once you've gotten in touch with them, you should be able to understand whether or not the service is amicable. Since moving from California to North Carolina is a stressful process, best to avoid companies if you don't think their customer service is very amicable!
Can You Recommend Some Good Affordable Moving Companies?
Finding reliable cheap movers can often be difficult. You may not always know where to look. Additionally, the reviews you come across may not be very reliable. In order to help you fast-track your research, we are going to provide you with a small list of the best moving companies for moving from California to North Carolina.
Please note that this isn't a complete list. It's only meant to guide you for the time being. You should do your own research to ensure that you're making the best possible decision for yourself. We hope you find our list of top affordable moving companies from California to North Carolina helpful!
| | | | |
| --- | --- | --- | --- |
| Name | Rating | US DOT | ICC MC |
| California Movers | 5 | 2890482 | 96566 |
| Van Express | 5 | 2175375 | 755509 |
| Allied Van Lines | 5 | 076235 | 15735 |
| American Van Lines | 5 | 614506 | 294798 |
| Allstate Moving | 5 | 3200864 | 171991 |
Why Move From California To North Carolina?
Lower Living Costs
California is an extremely expensive state to live in. As a result of this, there are many individuals who move from California to North Carolina. The cost of living there is significantly lower. This includes utility bills, transportation costs, and the cost of groceries as well.
Additionally, real estate prices are also much lower in California. In North Carolina, a 3-bedroom house may cost you about $350,000. However, in California, that same house will cost you about $900,000.
Lower Taxes
California has some of the highest taxes in the country. The income tax in North Carolina is much lower compared to California. While the income tax in California is 7.25%, that in North Carolina is 5.25%.
Additionally, California also imposes higher property taxes, inheritance taxes, and sales taxes.
Temperate Weather
California may have warm sunny weather, but in North Carolina, the weather is less hot and humid and more moderate. This weather is suitable for a lot of Californians who can't take the heat of the Golden Gate State.
Growing Job Market
It's no secret that California has a fantastic job market. However, North Carolina is a rapidly growing economy. The job market isn't as cutthroat and competitive as in California. Hence, there's a much higher probability of you landing a very high-paying job in North Carolina.
Education
California does have fantastic educational institutes, but we mustn't forget that so does North Carolina. North Carolina is home to Duke, one of the most competitive and highly ranked universities in the world. Not to mention, there are a plethora of other fantastic universities in North Carolina, including UNC-Chapel Hill and North Carolina State University.
Less Traffic
Compared to California, North Carolina doesn't have as many congested roads. This means there is significantly less traffic in North Carolina compared to California. This is also helpful if you are looking for a quieter life. North Carolina does have bustling cities, don't get us wrong. However, it's also much more peaceful compared to North Carolina.
Moving Tips For Moving From California To North Carolina
The first thing you should do is research. There are some key factors you need to make sure you have figured out before hiring moving companies for moving.
Firstly, you need to look at insurance. If you are planning on buying a home, it may be mandatory for you to get insurance. This is because the company will want to make sure you can pay back your mortgage. Additionally, if you own a car, you need to look at car insurance. Health insurance is also something you will need to look at. Different states have different insurance prices. You should look up the price of insurance in North Carolina vs. that in California.
Additionally, you need to make sure you register your vehicle with the North Carolina DMV. There are many moving companies that can also ship your vehicle across state lines. However, that will cost you extra. You need to look into how to get your car across to North Carolina if you aren't driving it. You need to apply for your North Carolina license as well. When applying for this license, you may need to sit for a vision and road test.
Furthermore, it's best to have a job before making a move. Moving between states is stressful as it is. You don't want to make a move all the way from California to North Carolina and then get more stressed because you didn't confirm a job.
While we are on the subject of that, you should also ensure that you have an apartment ready if you aren't buying a home. Long-distance moving companies will also put your furniture in your home exactly the way you want them to. However, this will become a logistical nightmare if you haven't really rented an apartment yet.
You should also look at gas, electricity, and water providers. Knowing this information beforehand will also help you budget for your move. You will be able to compare the utility bills of California with North Carolina better as well. The last thing to note would be to make sure to research internet service providers.
How To Become A Citizen Of North Carolina?
In order to become a citizen of North Carolina, you need to make sure your paperwork is on track. You will need to show proof of employment in North Carolina, along with proof of residence. Hence, you need paperwork for your job and your lease or your mortgage.
Additionally, you will need your North Carolina license. Not to mention, you have to make sure you've changed your mail forwarding address to North Carolina.
Conclusion
Affordable moving companies are a gem when it comes to moving from California to North Carolina. There are many companies that aren't reliable or licensed. Hence, you will need to do a lot of research in order to find out the ones that are!
This is why we have compiled a list of the highest-rated affordable moving companies for you. While ours isn't a complete list, it should help you fast-track your research right now!
Cost calculation is a huge part of moving. Hence, if you are struggling, you should consider filling out our form to get your no-obligation quote right now!
Happy moving.