Long Distance Moving Companies in Rhode Island
If you are moving to Rhode Island, you must hire long-distance moving companies in Rhode Island. Rhode Island is known as the United States' smallest state. It is located in the eastern part of the United States, and its full name is the State of Rhode Island and Providence Plantations. It is bordered by the states of Massachusetts and Connecticut and faces the Atlantic Ocean. Despite having the smallest land area, Rhode Island is the country's second-most densely populated state.
Latitude and longitude coordinates are 41.742325, -71.742332.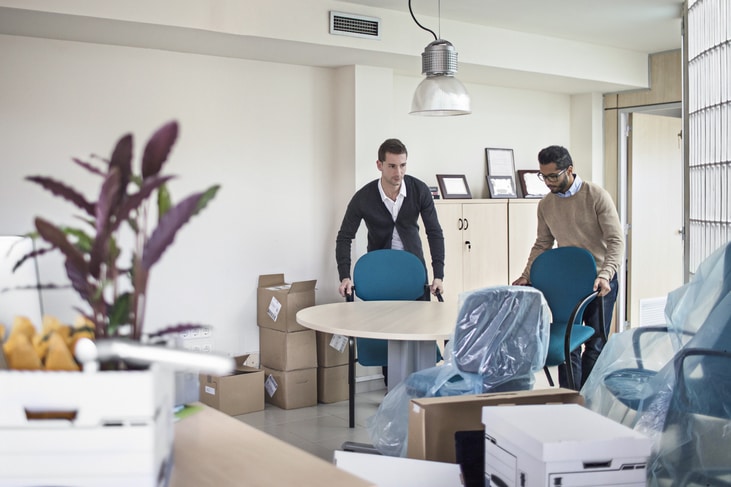 Top 5 Moving Companies In Rhode Island
Correira Brothers' Moving & Storage

Gentle Giant Moving Company

Coutu Bros. Moving & Storage

A Star Moving Company

Lawton Moving & Storage
Correira Brothers' Moving & Storage
Correira Brothers Moving and Storage Inc is a moving company based in Rhode Island. They are concerned about people's needs, and their goal is to make moving within Rhode Island as stress-free as possible. Correira Brothers is a reliable and skilled company to work with, with over ten years of experience and nothing but positive feedback from customers.
Service Model: Full service
Founded: 2009
Rating: 4.5/5
Address: 104 Anawan Street, Fall River, MA 02721, United States
Gentle Giant Moving Company
Gentle Giants is a well-known and highly rated long-distance moving company that serves all 48 states in the continental United States. Larry O'Toole founded this professional moving company in 1980 with the goal of assisting people with their business relocations and reducing as much of the stress of moving as possible. Gentle Giants is not only still in business today, but it is also one of the most popular residential and commercial movers in the entire country.
Service Model: Full service
Founded: 1980
Rating: 4.8/5
Address: 125 Amaral St, Riverside, RI 02915, United States
Coutu Bros. Moving & Storage
Coutu Brothers Moving and Storage is a family-owned and operated moving company. They've been in business since 1940. From 2013 to 2019, Providence Business News ranked the company among the Top 25 'fastest-growing private companies.' Their policy is to treat their customers as if they were family. This means a stress-free and quick-moving process, regardless of the services you require from them.
Service Model: Full service
Founded: 2000
Rating: 4.7/5
Address: 2 Greco Ln, Warwick, RI 02886, United States
A Star Moving Company
A Star Movers has offices in Massachusetts and Rhode Island. It is a family-owned and operated business that has been passed down through four generations. They have decades of combined experience. Their company was founded on the principles of safety, customer satisfaction, and ethical business practices.
Service Model: Full service
Founded: 2016
Rating: 4.5/5
Address: 329 Barton St, Pawtucket, RI 02860, United States
Lawton Moving & Storage
Lawton Moving and Storage is a reputable moving company that provides excellent customer service. The company takes pride in being founded by an experienced operator, so you can expect professional and experienced service. They are also well-equipped with cutting-edge technological materials and equipment to ensure the quality of the services provided.
Service Model: Full service
Founded: 1945
Rating: 5/5
Address: 110 Crescent Ave, Cranston, RI 02910, United States
Why do people move to Rhode Island?
The state knows as the "Ocean State," and it is a cultural, economic, educational, tourism, and social life center. The city of Providence serves as the state's capital. Rhode Island has its own dialect, cuisine, landmarks, places to visit, and excellent sports facilities. Ocean Drive Historic District, The Breakers, Castle Hill Lighthouse, and Rough Point in Newport, Fort Wetherill State Park in Jamestown, Roger Williams Park and RISD Museum in Providence, Lincoln Woods State Park in Lincoln, and many beaches such as Second Beach, Mackerel Cove Beach, Scarborough State Beach, Roger Wheeler State Beach, and others are popular tourist attractions in the state.
Rhode Island's highest-paying job
For those looking for work, Rhode Island offers a wide range of career options.
As the world's fastest-growing economy, it has a large number of job openings. Furthermore, in comparison, the income level is relatively high. Some of the highest-paying jobs in Rhode Island are as follows:
Loan Servicing Specialist

Consultant and Sales Representative

Revenue Officer

Vice President, Products Marketing

General Surgeon

Private Sector Executive

Chief Executive Officer/Chief Technology Officer

Vice President, Field Operations

President/Chief Executive Officer

President and General Manager
Source of Income
According to Wikipedia Rhode Island, The State in the Northeastern United States. It is in the New England region. With slightly fewer than 1.1 million residents as of 2020[9], it is the smallest U.S. state by area and the seventh-least populous, but it is second-most densely populated after New Jersey.
Habit and Nature
Rhode Island's natural maritime borders have kept it isolated, allowing it to develop its own culture. With a population of over a million, it is a melting pot of ethnicities.
Weather
Throughout the year, the temperature typically ranges from 21°F to 83°F, with temperatures rarely falling below 7°F or rising above 90°F.
Rent a house
Rental homes in Rhode Island begin as soon as $300 to $400 a week 2 bedroom homes and can go up to $1,500 per month for larger properties. Several of the rental homes have views of the beach or the ocean and are in quiet areas. The peace and quiet are a big plus, and it is often most desired by vacationers.
Food
The average cost of food in Providence is $38 per day. Based on previous travelers' spending habits, an average meal in Providence should cost around $15 per person when dining out.
The cost of gasoline
Now, a gallon of regular gasoline in Rhode Island costs around $4.17.
Natural Resources
Some say the beach at the base of the 200-foot-tall Mohegan Bluffs is the most beautiful on the island, with a secluded, if rocky, swimming and surfing spot. It is, however, a bit of a climb to get there, with 141 steps leading down to the sand.
Demography
Rhode Island has an overall life expectancy of 78.4 years. Women have an average life expectancy of 79.8 years, while men have an average life expectancy of 77.1 years.
Why Should You Hire Moving Companies in Rhode Island?
There are two types of moving companies in Rhode Island. A local mover requires if you are moving within the city or state. You may be moving into or out of the form if your move exceeds 100 miles. In that case, long-distance movers will be required. The primary reason for hiring Moving Companies in Rhode Island is that they provide various beneficial services.
Hiring The Best Moving Companies in Rhode Island
BuzzMoving.com Locate The Best moving companies in Rhode Island – Save money by getting free moving quotes from pre-screened movers in Rhode Island, RI.
Read More About Other Moving