Long Distance Moving Companies in Ohio
If you are moving to Ohio, you must hire moving companies in Ohio. Ohio is a northern state in the United States, bordering Michigan, Pennsylvania, West Virginia, Kentucky, and Indiana. The northern part of the state faces Lake Erie and is directly across the border from Canada. The state of Ohio has a total area of nearly 45 thousand square miles, and it also includes a few small islands in Lake Erie. Latitude and longitude coordinates are: 40.367474, -82.996216.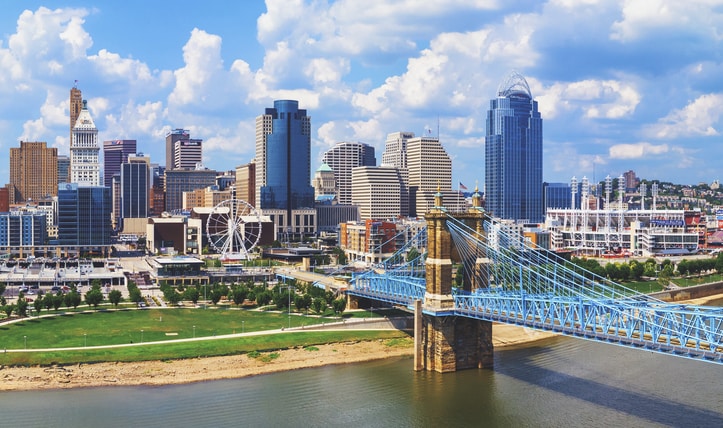 Top 5 Moving Companies In Ohio
Leaders Moving & Storage Co.

Moving Ahead Services

AIM Moving Services Columbus

TWO MEN AND A TRUCK

U-Pack
Leaders Moving & Storage Co.
Leaders Moving and Storage Co. excels in both speed and efficiency, which are two of the most important factors to consider when hiring a professional mover. When compared to other Columbus movers, Leaders can provide better service in a fraction of the time. Since its inception in 1994, they have completed over 100,000 projects.
Service Model: Full service
Founded: 1994
Rating: 5/5
Address: 7455 Alta View Blvd, Columbus, OH 43085, United States
Moving Ahead Services
Moving Ahead's slogan states that they will handle all of your moving needs, and they certainly do. Aside from transporting your belongings from point A to point B, they can also perform other moving-related services. They have all of the moving supplies you'll need, as well as short and long-term storage space for items you'll need to store for a while.
Service Model: Full service
Founded: 2007
Rating: 4.8/5
Address: 3883 Business Park Dr, Columbus, OH 43204, United States
AIM Moving Services Columbus
AIM Moving Services is without a doubt the best professional movers in Columbus, OH. It is a family-owned and operated business that has been serving the families and businesses of Columbus for over three decades. It was founded in 1990 by brothers Joe and Frank Garbuglio, both Columbus residents, as a family venture with the goal of treating each client as a member of the family.
Service Model: Full service
Founded: 1990
Rating: 4.7/5
Address: 2179 E Livingston Ave, Columbus, OH 43209, United States
TWO MEN AND A TRUCK
TWO MEN AND A TRUCK® is a large franchised moving company that serves clients from all over the United States. It began as a local mover more than 30 years ago and has since grown to become one of the top moving companies in the country. The goal from the beginning was to exceed customers' expectations. They were able to do so back then, and they continue to do so today.
Service Model: Full service
Founded: 1985
Rating: 5/5
Address: 5083 Westerville Rd, Columbus, OH 43231, United States
U-Pack
U-Pack is a moving company that specializes in self-service container moving. Unlike the other companies on this list, U-Pack is a hybrid moving service that charges you only for the services you actually require for your move. You can, for example, save money by packing, loading, and unloading yourself and leaving transportation to U-Pack. Alternatively, you can add moving labor and storage to tailor the move to your specific requirements.
Service Model: Full service
Founded: 1997
Rating: 4.5/5
Address: 1720 Joyce Ave, Columbus, OH 43219, United States
Why do people move to Ohio?
Columbus is the state's capital and the largest city. Other significant metropolitan areas in Ohio include Cincinnati, Cleveland, Toledo, and a few others. The majority of the hills and some forests are located in the state's eastern and southeastern regions, but the terrain of Ohio is characterized primarily by lowlands and low relief. Grand Lake St. Marys is the state's largest lake. The largest green zones in Ohio are Vinton Furnace State Forest, Wayne National Forest, Tar Hollow State Forest, and Pike Lake State Park.
Ohio's highest-paying job
For those looking for work, Ohio offers a wide range of career options.
As the world's fastest-growing economy, it has a large number of job openings. Furthermore, in comparison, the income level is relatively high. Some of the highest-paying jobs in Ohio are as follows:
Consultant and Sales Representative

Revenue Officer

Chief Executive Officer/Chief Technology Officer

Board Certified Orthodontist

Vice President, Field Operations

Executive Vice President of Sales

Pain Management Physician

President/Chief Executive Officer

Vice President, Corporate Development

Staff Physician
Source of Income
According to the 2017 International Monetary Fund GDP estimates, Ohio's economy would be the 21st largest in the world, trailing only Saudi Arabia and ahead of Argentina. According to the Bureau of Economic Analysis, the state's GDP was $656.19 billion in the third quarter of 2017, up from $517.1 billion in 2012 and $501.3 billion in 2011. Based on a business-activity database, Site Selection magazine put Ohio in the top ten states for the greatest business climate in 2013. Only Texas and Nebraska beat the state out for the magazine's 2013 Governor's Cup award, which is based on corporate growth and economic development.
Habit and Nature
German American migrants who began settling in Ohio in the mid-1800s shaped the state's culture. Ohio is frequently cited as the pinnacle of American suburban society. Ohioans are recognized for being kind and polite.
Weather
Throughout the year, the temperature normally ranges from 22°F to 81°F, with temperatures rarely falling below 7°F or rising over 89°F.
Rent a house
Rental homes in Ohio begin as soon as $500 to $600 a week 2 bedroom homes and can go up to $2,100 per month for larger properties. Several of the rental homes have views of the beach or the ocean and are in quiet areas. The peace and quiet are a big plus, and it is often most desired by vacationers.
Food
In Ohio, a single adult spends $2,985 on food per year, while a family of four spends $8,621. To put this in context, the average yearly food expenditure in the United States is $3,240 for a single adult and $9,354 for a family of four.
The cost of gasoline
Now, a gallon of regular gasoline in Mississippi costs around $4.011.
Natural Resources
Aside from its lush soil, Ohio is also notable for coal, natural gas, and a rock salt known as halite. The salt is mined from beneath Lake Erie, and the state produces around five million tons of it each year.
Demography
Ohio has an overall life expectancy of 76.9 years. Women have an average life expectancy of 79.5 years, while men have an average life expectancy of 74.3 years.
Why Should You Hire Moving Companies in Ohio?
There are two types of moving companies in Ohio. A local mover is required if you are moving within the city or state. You may be moving into or out of the form if your move exceeds 100 miles. In that case, long-distance movers will be required. The primary reason for hiring Moving Companies in Ohio is that they provide various beneficial services.
Hiring The Best Moving Companies in Ohio
BuzzMoving.com Locate The Best moving companies in Ohio. Save money by getting free moving quotes from pre-screened movers in Ohio, OH.
Read More About Other Moving