Long Distance Moving Companies in North Carolina
If you are moving to North Carolina, you must hire moving companies in North Carolina. North Carolina is a state in the United States that is located in the country's southeastern region. It covers an area of nearly 140 thousand square meters and is home to over a hundred counties. North Carolina is a popular tourist destination, with numerous large natural parks and other natural wonders to explore, as well as numerous recreation options such as resorts, bird watching facilities, various sports centers, aquariums, theme parks, historic sites, and cultural events. Latitude and longitude coordinates are 35.782169, -80.793457.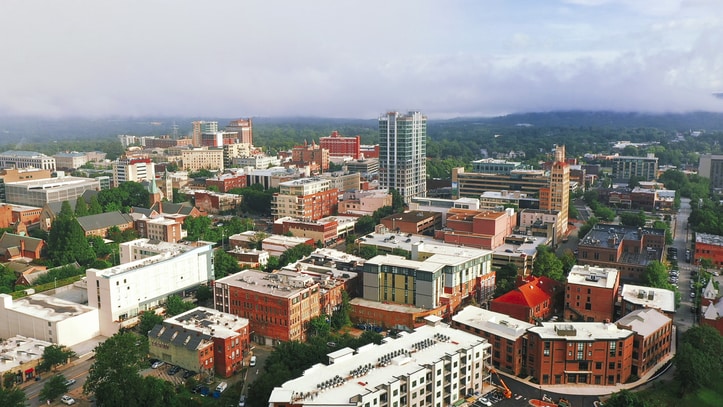 Top 5 Moving Companies In North Carolina
Little Guys Movers

Miracle Movers

Athens Moving Experts

College Hunks Hauling Junk and Moving

All My Sons Moving & Storage
Little Guys Movers
Little Guys Movers is the name of this professional moving company, but there is nothing small about it. On the contrary, they have been one of the largest movers in Raleigh, North Carolina for over 20 years. The company was founded in 1992, and the challenge has always been to keep improving and providing the best possible moving and relocation services to the community.
Service Model: Full service
Founded: 1993
Rating: 4.7/5
Address: 1301 Capital Blvd, Raleigh, NC 27603, United States
Miracle Movers
Any type of move has the potential to be a nightmare, but if you hire Miracle Movers to handle everything, your move will be nothing short of miraculous. As a family-owned business with deep roots in the community, you can be confident that its dedication to serving Raleigh residents and businesses is genuine and sincere.
Service Model: Full service
Founded: 2005
Rating: 5/5
Address: 2828 Industrial Dr, Raleigh, NC 27609, United States
Athens Moving Experts
No two moves are alike, and Athens Moving Experts understands this very well. From its inception in 2015 to the present, they have always made an effort to tailor the services they provide in order to fully meet the specific needs of each client. Their movers are all hardworking, friendly, and extremely efficient at their jobs.
Service Model: Full service
Founded: 2017
Rating: 5/5
Address: 6601 Hillsborough St #111, Raleigh, NC 27606, United States
College Hunks Hauling Junk and Moving
College Hunks was founded by two college friends who owned an old van. All they wanted was to provide in-demand hauling services in their community. They eventually formalized their partnership and established College HUNKS Hauling Junk & Moving in 2005. They quickly grew into a national moving company that specializes in transportation, logistics, and waste hauling through hard work and dedication.
Service Model: Full service
Founded: 2003
Rating: 5/5
Address: 6212 Westgate Rd suite c, Raleigh, NC 27617, United States
All My Sons Moving & Storage
All My Sons Moving and Storage is a reputable moving company with over 20 years of experience and a team of skilled movers. The coronary storage service has also been in operation during this time and has consistently provided the quality services that customers have come to expect. The company moves your belongings anywhere within and outside of the state, and it also offers international moves for customers who prefer to move internationally.
Service Model: Full service
Founded: 1998
Rating: 4.5/5
Address: 7417 ACC Blvd, Raleigh, NC 27617, United States
Why do people move to North Carolina?
Charlotte, the county seat of Mecklenburg County and a Piedmont city, is one of the most populous cities in the region. It is the state's commercial, transportation, social, and cultural hub. Durham, Fayetteville, Wilmington, Raleigh, Asheville, Greensboro, Winston-Salem, and a few other major cities can be found in North Carolina.
North Carolina's highest-paying job
For those looking for work, North Carolina offers a wide range of career options.
As the world's fastest-growing economy, it has a large number of job openings. Furthermore, in comparison, the income level is relatively high. Some of the highest-paying jobs in North Carolina are as follows:
Consultant and Sales Representative

Vice President, Products Marketing

Revenue Officer

President Chief Technology Officer

Executive Vice President of Sales

Senior Director, Product Management

Senior Director, Operations

President of Operations

Vice President, Product Management

Executive Vice President
Source of Income
The state's overall gross state product in 2010 was $424.9 billion, according to the Bureau of Economic Analysis, making it the ninth wealthiest state in terms of GDP. It was ranked 36th in the country in 2007 in terms of per capita personal income. Poultry and eggs, tobacco, hogs, milk, nursery stock, cattle, sweet potatoes, and soybeans are some of North Carolina's agricultural products.
Habit and Nature
There is a subculture in the United States known as North Carolina culture. Since North Carolina was one of the original Thirteen Colonies, it has a rich history of English, Scotch-Irish, Scotch, German and Swiss immigration.
Weather
The temperature normally ranges between 33°F and 89°F throughout the year and is rarely below 21°F or over 96°F.
Rent a house
North Carolina rental homes start at $250-300 per week for 2 bedrooms and go up to $1,200 per month for larger properties. Several of the rental homes have views of the beach or the ocean and are in quiet areas. The peace and quiet are a big plus, and it is often most desired by vacationers.
Food
In North Carolina, a single adult spends $3,103 on food annually, while a family of four spends $8,960. To put this in context, the average annual food expenditure in the United States is $3,240 for a single adult and $9,354 for a family of four.
The cost of gasoline
Now, a gallon of regular gasoline in North Carolina costs around $4.051.
Natural Resources
North Carolina has many beautiful places to visit, from its majestic mountains in the west to its pristine beaches in the east. Beautiful vistas, exquisite sunsets, and shorelines that seem to stretch for miles await you.
Demography
North Carolina has an overall life expectancy of 78.3 years. As a rule of thumb, a woman lives an average of 79.6 years; a man lives an average of 73.8 years.
Why Should You Hire Moving Companies in North Carolina?
There are two types of moving companies in North Carolina. A local mover is required if you are moving within the city or state. You may be moving into or out of the form if your move exceeds 100 miles. In that case, long-distance movers will be required. The primary reason for hiring Moving Companies in North Carolina is that they provide various beneficial services.
Hiring The Best Moving Companies in North Carolina
BuzzMoving.com Locate The Best moving companies in North Carolina – Save money by getting free moving quotes from pre-screened movers in North Carolina, NC.
Read More About Other Moving