Long Distance Moving Companies in Arkansas
If you are moving to Arkansas, you must hire moving companies in Arkansas. There are numerous reasons to move to Arkansas. Arkansas is a southern state in the United States, located in the country's south-central region. It is known as the Bear State, and its name is derived from an expression in an old local Quapaw dialect. Latitude and longitude coordinates are 34.799999, -92.199997.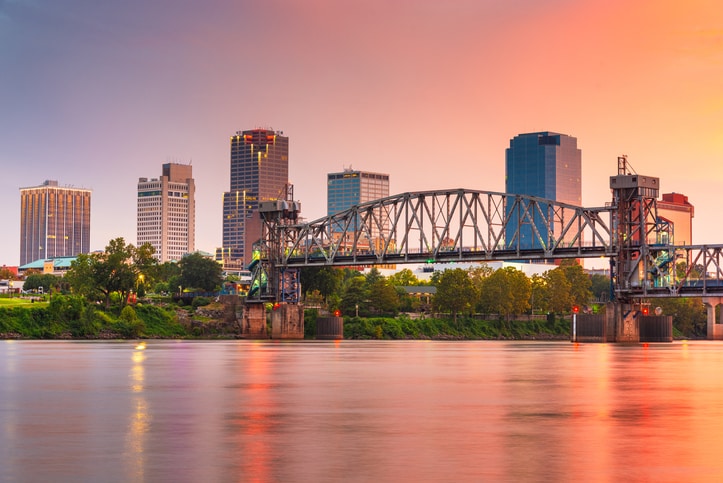 Top 5 Moving Companies In Arkansas
Gregory's Moving and Delivery

Fixed Rate Moving

Mustard Seed Moving Company

Two Men And A Truck

College Hunks Hauling Junk and Moving
Gregory's Moving and Delivery
Gregory's Moving & Delivery has been providing high-quality professional moving services to the people of Little Rock, Arkansas for over 16 years.
Service Model: Full service
Founded: 2004
Rating: 5/5
Address: Assembly Ct, Little Rock, AR 72209, USA
Fixed Rate Moving
Fixed Rate Moving's goal is to make each client's move enjoyable rather than stressful. With the high quality of moving services that they offer, they can certainly alleviate all of the stress associated with moving.
Service Model: Full service
Founded: 2006
Rating: 5/5
Address: 6415 Witt Ln Ste A North, Little Rock, AR 72118
Mustard Seed Moving Company
Mustard Seed Moving Company is known as the best moving company in Little Rock. This is not surprising given their unrivaled moving services, which cover a wide range of options. Their prices are among the most competitive in the area, and their moving crews are comprised of highly trained professionals and moving experts with years of experience in the industry.
Service Model: Full service
Founded: 2006
Rating: 5/5
Address: 11323 Arcade Dr c115, Little Rock, AR 72212, United States
Two Men And A Truck
TWO MEN AND A TRUCK® is a large franchised moving company that serves clients from all over the United States. It began as a local mover more than 30 years ago and has since grown to become one of the top moving companies in the country. The goal from the beginning was to exceed customers' expectations. They were able to do so back then, and they continue to do so today.
Service Model: Full service
Founded: 1985
Rating: 5/5
Address: 4125 Crystal Hill Rd Ste A, North Little Rock, AR 72118, United States
College Hunks Hauling Junk and Moving
College Hunks was founded by two college friends who owned an old van. All they wanted was to provide in-demand hauling services in their community. They eventually formalized their partnership and established College HUNKS Hauling Junk & Moving in 2005. They quickly grew into a national moving company that specializes in transportation, logistics, and waste hauling through hard work and dedication.
Service Model: Full service
Founded: 2003
Rating: 5/5
Address: 7601 Counts Massie Rd, North Little Rock, AR 72113, United States
Why do people move to Arkansas?
Industry, agriculture, natural resource mining, processing, and tourism are the mainstays of the state's economy.
Arkansas's highest-paying job
For those looking for work, Arkansas offers a wide range of career options.
As the world's fastest-growing economy, it has a large number of job openings. Furthermore, in comparison, the income level is relatively high. Some of the highest-paying jobs in Arkansas are as follows:
Owner/Operator

Family Practitioner

Clinical Physician Assistant

Industrial Truck Driver

Senior Director Of Business Development

Certified Registered Nurse Anesthetist

Public Health Dentist

Operator And Truck Driver

Nurse Anesthetist

Engineering And Operations Director
Source of Income
According to Wikipedia, Arkansas's economy generated US$119 billion in the gross domestic product in 2015. Arkansas is home to six Fortune 500 companies, including Walmart, the world's largest corporation by revenue. The per capita income in Arkansas in 2010 was $36,027. From 2009 to 2011, the three-year median household income was $39,806, placing it forty-ninth in the country.
Habit and Nature
Arkansas culture is a subculture of the Southern United States that evolved from the blending of various European settlers' cultures with the cultures of African slaves and Native Americans. The rural Arkansas delta and south Arkansas retain a strong presence of Southern culture.
Weather
Throughout the year, the temperature typically ranges from 36°F to 92°F, with temperatures rarely falling below 23°F or rising above 99°F.
Rent a house
Rental homes in Arkansas begin as soon as $200 to $300 a week 2 bedrooms homes and can go up to $1,000 per month for larger properties. Several of the rental homes have views of the beach or the ocean and are in quiet areas. The peace and quiet are a big plus, and it is often most desired by vacationers.
Food
In Arkansas, a single adult spends $2,988 on food each year, while a family of four spends $8,630. To put this in context, the average annual food expenditure in the United States is $3,240 for a single adult and $9,354 for a family of four.
The cost of gasoline
Now, a gallon of regular gasoline in Arkansas costs around $3.823.
Natural Resources
There's no end to the wonder you'll experience exploring Arkansas' natural attractions, from caverns beneath the earth to massive rock formations rising from it. Our state is known as the Natural State for a reason, and these eleven treasures prove it time and again.
Demography
The average life expectancy in Arkansas is 76.2 years. As a rule of thumb, a woman lives an average of 79 years; a man lives an average of 73.5 years.
Why Should You Hire Moving Companies in Arkansas?
There are two types of moving companies in Arkansas. A local mover is required if you are moving within the city or state. You may be moving into or out of the form if your move exceeds 100 miles. In that case, long-distance movers will be required. The primary reason for hiring Moving Companies in Arkansas is that they provide various beneficial services.
Hiring The Best Moving Companies in Arkansas
BuzzMoving.com Locate The Best moving companies in Arkansas – Save money by getting free moving quotes from pre-screened movers in Arkansas, AR.
Read More About Other Moving