There are plenty of Californians thinking of moving to Idaho from California. This is because there are multiple benefits of living there. While California is a fantastic state in and of itself, Idaho is second to none regarding its benefits.
Idaho has fantastic scenic beauty. The natural locations there are breathtakingly beautiful. Not to mention, the cost of living is much more affordable compared to California. It's also a nice break from the Californian weather and crowd. The best thing is, you will never notice the difference in terms of educational institutes or job opportunities because Idaho boasts fantastic universities and a booming economy!
If you are thinking of making the move, you will need to consider many things. We will take you through why you should make the move and things you should know before moving. Additionally, we will also highlight some potential cons of moving to Idaho from California. We will talk about long-distance movers and your potential moving costs! Buckle up, this is going to be a fun move!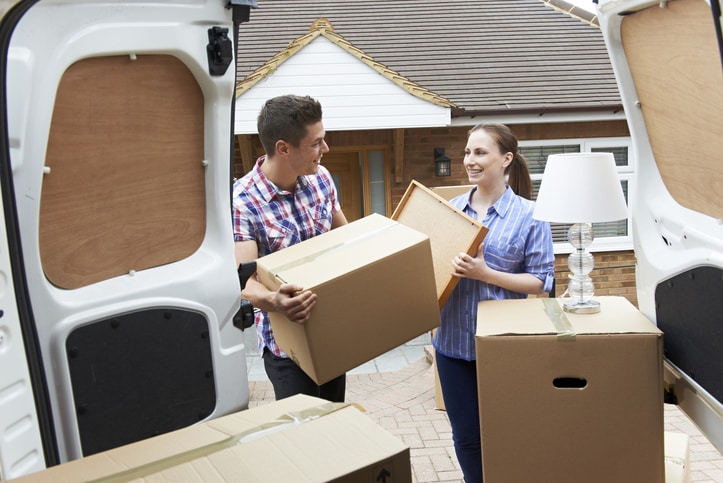 Why Move To Idaho From California?
Cost of Living
Idaho has some of the most affordable real estate and rent prices. In the western part of the country, it has the cheapest living costs among all the 11 states. Research shows that compared to most parts of the USA, Idaho has a 5% lower living cost. This is phenomenal considering that California is one of the most expensive states to live in. Renting, buying, and even day-to-day expenses like utility bills are much cheaper in Idaho.
Scenic Beauty
Idaho boasts fantastic landscapes and gives you the opportunity to explore plenty of outdoor sports. Whether you want to go skiing, snowboarding, hiking, or fishing, Idaho will open up opportunities for you. This means you will never be bored in this state, there will always be something new to explore. The fact that there is a multitude of music festivals that are present in Idaho just makes it that much more appealing to move there!
Education and Job Opportunities
Idaho has a college graduation rate of a whopping 85%. This leads to the conclusion that most individuals who finish high school in Idaho also go on to finish college! This is a fantastic statistic because this means there are plenty of amazing colleges and universities in the state. Regardless of what you are majoring in, you will find that there will be something for you here in Idaho. Additionally, the job market is also fantastic. Idaho boasts a booming economy and can provide plenty of job opportunities regardless of what you have a background in.
What Are The Cons Of Moving To Idaho?
There is research that shows that Idaho is generally good for raising families or for couples. According to statistics, it's not a very suitable place to live in for singles. That shouldn't deter you from moving because there are of course plenty of single people in Idaho, but there is a negative statistic attached to it!
If you are used to the warm Californian summer, the move to Idaho may be jarring. While Idaho also has very hot summers, its winters are extremely cold. This shift may be incredibly uncomfortable for individuals who are used to the same kind of weather or don't like extremely cold winters.
Idaho is covered with many different kinds of vegetation. While this makes for fantastic sightseeing or outdoor sports, there are certain dangers associated with it. There have been reports of multiple dangerous animals in Idaho. You should look out for poisonous insects, spiders, or snakes.
Additionally, this vegetation also means that moving to cities and towns within the state can be difficult. Bois is the only city that has an international airport, which can be inconvenient if you are a frequent flier who needs to move out of the country often.
Hiring Long-distance Movers When Moving To Idaho From California
Moving takes a long time to plan. Not to mention, relocating between states is very stressful. As a result of this, you should hire long-distance movers when moving to Idaho from California. Professional movers can make your move stress-free by offering a plethora of services.
The most commonly used service is packing services. There are two kinds of them. You can avail of a full-packing service. If you avail of this, the long-distance movers are going to inspect all of your furniture. Then, they will pack your belongings with their specialized packing equipment. Different furniture requires different materials to ensure their safety.
Partial packing services are used by consumers who know how to pack some of their furniture but need help with others. If you think you can pack most of your furniture on your own, you can go for this service! The outcome will still be the same. The movers will inspect your furniture and wrap them with utmost care.
There are many other services that you can avail of. For instance, when moving, you will need to move your heavy appliances as well. If you don't know how to move your washing machine or dishwasher, etc, don't worry. Long-distance movers can help you uninstall and move your heavy appliances.
There are additional services for individuals who own novelty pieces of furniture. If you have an expensive piece of art or a pool table, for instance, you may want to move them separately. As a result of this, long-distance movers offer you the chance to move a single piece of furniture.
When moving to Idaho from California, you may also need vehicular help. Maybe you don't have space for storage, or your vehicle can't contain all your furniture. Long-distance movers can provide you with storage units and rental services.
How Do I Get In Touch With Long-distance Movers?
The best way to get in touch with long-distance movers is by directly calling them up. When you are researching professional movers, you should ask your friends and family. Particularly look for people who have made the move to Idaho from California. If you know any of your future neighbors you can ask them about it too.
All the information regarding long-distance movers will be available on their websites as well. Most reputed movers have their rates, services, contact numbers, and ratings on display on their websites. Hence, you can directly call them up using the number they have listed.
Additionally, there is the option of contacting them through email or 24/7 live customer service chat. There are some movers who have that option available. You can also look at online reviews! Of course, these may not always be 100% honest, but they are a good place to start if you are confused.
Once you have called your moving company up, you should make sure that they have friendly customer service. This is one of the most important things to look out for. If you have any doubts with regards to this when you are talking to a company, you should look for a company that has amicable customer service.
How Much Will It Cost Me To Move To Idaho From California?
The average cost of moving to Idaho from California can be anywhere between $2500 to $5500.
Your final cost will depend on multiple factors. The first thing you should know is that most long-distance movers have fixed rates depending on mileage and the cubic weight of the furniture. Usually, they charge a fixed rate per 100 miles. Since this rate can vary between movers, the specific company you choose will alter your cost.
Additionally, this also means that the cities you are moving between will change your costs. Moving to Boise from Los Angeles will cost different than moving to Idaho Falls from Palo Alto. Not to mention, the amount of furniture you move will drive your prices up or down.
The size of your apartment is also a major factor in cost determination. Moving from a two-bedroom apartment will always be more expensive than moving from a one-bedroom one.
Since moving companies have different rates with regards to their services as well, the number of services you choose will drive your prices up. Hence, if you require multiple services, your move will be expensive. If you require one or two, your move will be more affordable. There are things to consider when it comes to the services themselves. A complete packing service will be more expensive than a partial packing one.
There are other miscellaneous factors that can drive your costs up. Are you thinking of moving to Idaho from California during the summer? Chances are, that will drive your costs up. Summer is the most popular season for moving, hence it makes companies drive their prices up. Additionally, the route you choose will also alter prices. Please remember to also tip your movers! It's customary to tip them about 15%.
There are multiple ways of calculating costs. The first is by directly getting in touch with your movers, as we mentioned in our previous sections. Most of their costs are listed on their website already, but you can call them up for further confirmation.
Additionally, you can look at online reviews and see if their services and prices are what you are looking for. There are plenty of trustworthy affordable movers out there, you just have to do some additional research.
One of the easiest ways of knowing costs is by availing of instant quotes online. We can provide you with instant quotes too. The process is very simple. All you have to do is take two minutes and fill out our form. Subsequently, you will receive no-strings-attached free moving quotes! BuzzMoving has a network of reliable moving companies. This means our quotes can help you easily compare prices between trustworthy movers. This will help you make the best decision for yourself.
Can You Recommend Some Affordable Movers?
We know that affordability is a major concern for anyone who is moving. As a result of this, we thought you would find it useful if we compiled a list of some affordable moving companies. Please note that this is not a complete list by any means.
There are of course multiple other factors to consider than just affordability. However, everyone needs to start research somewhere. We thought the following list will be a good stepping stone for you so that you can carry on your own research after reading through this list. Please make sure to do more reading up afterward to find the mover best suited for your specific needs!
| | | | |
| --- | --- | --- | --- |
| Name | Rating | US DOT | ICC MC |
| Whitaker and Sons | 5 | | |
| Alliance Movers Inc | 5 | 2398933 | 824939 |
| Infinity Van Lines | 5 | 1443732 | 545673 |
| Direct Relocation Services LLC | 5 | 3000931 | 24036 |
| Finest Movers Inc | 5 | 1896009 | 681911 |
How Do I Prepare For My Move?
Budgeting
The first step is to do plenty of research. There are different Idaho cities to move to, depending on what your requirements are. Are you looking to live there? Maybe you are looking to retire, or raise a family. Maybe you want to start college there. You should look into the factors that are relevant to your requirements.
For instance, if you are looking to go to Idaho for college, you should look into the specific colleges in Idaho that offer the subject you are looking to major in. Additionally, you should also look at job opportunities available. Depending on where you move to Idaho you will have an edge depending on what your specialty is. Idaho in general has a competitive economy and a booming job market, as we had discussed previously.

You should also budget very well. Look into real estate prices if you are looking to buy a home. Real estate in Idaho is far more affordable than in California. Renting is also much cheaper in Idaho compared to California. You should look into how much you will be spending on rent and other things like your utility bills. You should go apartment hunting months in advance before even moving because you don't want to move without having a specific place to stay.
There are other costs, such as public transportation costs, if you don't have a vehicle. Public transportation in Idaho is cheaper than in California, so that's always a plus side. Look into additional costs such as groceries, etc.

Insurance
There are three main insurance sections you should research. Firstly, if you are looking to buy a house you should have home insurance. Although getting home insurance isn't mandatory in a lot of places, you could be obligated to get insurance if you are paying through a lending company. Many companies oblige their clients to get insurance to make sure that they won't default on their mortgage.
The second kind of insurance you must get is health insurance. Getting health insurance in the country has been made very easy because you can simply access a website, create an account and select "Idaho" as your state. Then you will be able to access your health insurance options. You should look into how much health insurance in Idaho will cost you.

If you own a private vehicle, you should also make sure you get car insurance. This is of utmost importance, to ensure you don't have to pay exorbitant amounts of money in cases of accidental damage, etc.
Internet
Idaho boasts spectacular internet speeds. Usually, you can get plenty of good deals on bundles and internet packages. If you live further from cities you may need a satellite connection, other than that there are plenty of people who use internet packages from their cell phone providers as well.

DMV
You will need to inform the California DMV of your change of address within 30 days of your move, and you must let the Idaho DMV know of the same. You need to register your vehicle and get your Idaho license. Depending on circumstances, you may also need to take a vision and a road test, although this isn't compulsory for everyone. Additionally, you will need to pay a fee to get your license.

Don't forget to change your home address when you move! It will take some time to update your mail forwarding address, but it's best to change it as soon as possible when moving.
There are plenty of other factors to research because moving is a soul-consuming task. However, these are some of the major factors to consider while moving, so please do keep these in mind.
Conclusion
Moving to Idaho from California is a tall order and can be incredibly stressful. However, if you do plenty of research beforehand and have a reliable moving company that you can count on, it doesn't have to be either of those things. You must make sure that you have done plenty of research before you even start the moving process. Additionally, you should budget properly as well.

There are multiple ways of understanding how much your move may cost. None are as convenient as getting free moving quotes online. If you are in a pinch, we can help you to access free moving quotes. Do consider filling out our short form to have a free moving quote instantly!

Have a fantastic move.