Are you moving from Maryland to Florida? We can understand why! The "sunshine state" of the USA has a vast array of water bodies, beaches, and the perfect temperature for going swimming first thing in the morning. Florida also has affordable housing, low taxes, and a great economy comprising jobs in the agriculture, tourism, and entertainment industry. Compared to Maryland, Florida does have more affordable real estate. Not to mention, it ranks higher than Maryland in terms of its economy! However, you also need to realize that there are some drawbacks to moving to Florida as well. The humidity is much higher than in Maryland, not to mention the weather is a lot more unpredictable. Regardless, if you want to move from Maryland to Florida, you would need to hire long-distance moving companies. There are many different routes that you can take, depending on which city in Florida you are moving to. There are many factors which you should consider, before hiring a long-distance moving company that is correct for you.
Long-distance Moving From Maryland to Florida
Long-Distance movers are movers which can help you move distances that are over 100 miles long. The journey of Maryland to Florida is about 1100 miles long which is important as mileage plays a huge role in the total cost of your journey. intrastate move. Hence, long-distance moves are moves where you are moving between states. Long-distance movers need to have a license to provide interstate moving services, and they often have a large network of local agents set up in different states to help you facilitate your move. Many moving companies provide long-distance moving services! This ranges from full moving services to partial moving services, and many companies even provide services to help you move different pieces of furniture across state lines.
Service Provided by Long-distance Movers From Maryland to Florida
Packing Services Provided By Movers from Maryland to Florida:
If you require a full-service move from Maryland to Florida, the long-distance moving company you hire will take care of everything starting from packing your supplies to driving them to your new home, to unpacking everything and helping you get set up. However, there are many other kinds of services as well. Partial packing services mean that the professionals will only help you with packing and organizing specific belongings if you have decided that you can pack most of your other goods by yourself. You only have to pay for the belongings that they pack, but you are responsible for packing everything else! Other kinds of services provided
Heavy Appliance Movers From Maryland to Florida
When moving across state lines you would definitely need to move heavy appliances. What if you can pack and move everything by yourself but you need help moving your washing machine, dishwasher, and drier? Don't worry- because long-distance movers from Maryland to Florida provide heavy appliance moving services as well.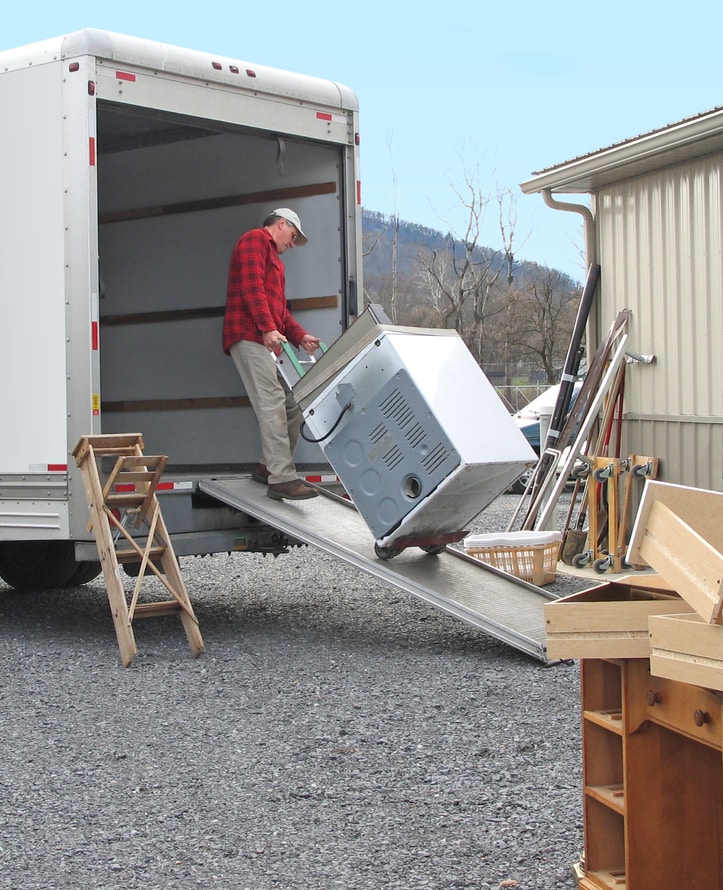 They will help uninstall all your appliances, drive them to your new home and reinstall them. Additionally, you can also avail services which require them to move a single piece of furniture. If you have a piano or an expensive painting you don't want to damage- then you can ask specifically for that piece of furniture to be moved to your new home, while you move everything else.
Rental and Storage Services Provided by Maryland to Florida Movers
If you can pack and unpack all your furniture but cannot fit them into your vehicle, then don't worry about that either, because long-distance movers from Maryland to Florida have a solution for that problem as well. After you have packed all your furniture and are ready to move, they will provide rental truck services where they will help load all your furniture into the vehicle and drive it to your new home! Additionally, they will provide storage units as well so that you can store your furniture until the day of the move arrives. This is extremely helpful if your apartment complex doesn't have space, or you don't have a garage to store all the furniture you will be moving.
How Much Will It Cost Moving From Maryland to Florida?
The total cost of moving from Maryland to Florida depends on a lot of things. Mileage is an important thing to consider since most long-distance moving companies charge a flat rate for every 100 miles moved. Additionally, the final cost will depend upon the services you availed of. If you need a full service move along with full packing and unpacking services your total cost will be much higher than if you just need one service, like moving heavy appliances. The average total cost of moving from Maryland to Florida costs between $1000 to $3300. The moving company you chose will weigh your furniture and charge by weight, cubic foot or by mileage. Additionally, it is customary to tip your movers as well! This is about 10-15% of the total cost, so please do keep that in mind. In order to cut costs, you can take care of packing and loading and unloading yourself if you are confident that you won't damage your furniture!
How Do I Choose The Right Moving Company When Moving From Maryland To Florida?
Choosing the correct moving company which will help you move from Maryland to Florida can be a tough job. This firstly depends on which Maryland City you are moving from, and which Florida city you are moving to. Some popular destinations include Miami, Tallahassee, Tampa, Jacksonville, St Petersburg, and Orlando. Where you are moving of course depends on a lot of factors, like job availability, real estate pricing, population, and other factors which you consider to be important!
Firstly you need to talk to your friends and family who have moved from Maryland or to Florida to see if they have any recommendations on long-distance movers. Additionally, there are a wide array of resources available on the internet. This is crucial specifically because you would need to browse through a lot of company websites before settling on the correct mover for you. When you start looking for long-distance moving companies, make sure that their customer service is amicable, and make sure you ask them the correct questions. If you are looking for a cost-effective moving company, then you need to make sure you ask them what the estimated total cost will be.
You will need to start a registration process with the company that you ultimately choose, and depending on the services you need they will come and survey both your current and future home to give you a final cost.
Another helpful tip is to avail moving quotes. The most direct way to get moving quotes is to call the long-distance Maryland-to-Florida mover you are thinking of hiring. The most accessible way to gather quotes is to get instant quotes online that are available. This specific option allows you to instantly compare different prices of companies so that you can know which moving service is the correct option for you.
BuzzMoving is here to help with that! Our network of licensed professional moving services is composed of reliable and kind movers who can help you out with your move from Maryland to Florida, and answer any questions you have about the whole process. Our clients have found it extremely easy to navigate comparing different prices, after availing of a free moving quote from us! Hence, filling up our form will grant you access to free long-distance moving quotes from a variety of established long-distance moving companies, to make your move smooth and stress-free!
CONCLUSION
Florida is a great state to live in because of the vast array of resources it provides and the low cost of living. This is why we completely understand wanting to move from Maryland to Florida. You just need to remember that there is no one-size-fits-all solution for moving, and everyone's process will be different. Your process will depend on which Maryland city you are moving from, which Florida city you are moving to, and what services you require from the movers you hired! There are numerous ways of getting long-distance moving quotes.
If the first option seems like it's the best option for you, then do consider filling out our easy to fill out form! Compared to other available options, our form won't be tedious and complicated, and you will get a no-strings-attached quote instantly. Hope your move from Maryland to Florida goes well!