Long Distance Moving Companies in Minnesota
If you are moving to Minnesota, you must hire moving companies in Minnesota. Minnesota is both a northern and a large state in the United States of America. It is located in the north-central part of the country and shares borders with Canada to the north, Michigan and Wisconsin to the east, Iowa to the south, and the two states of South Dakota and North Dakota to the west. Minnesota, also known as the Land of 10,000 Lakes, is one of the largest states in that region of the country. Latitude and longitude coordinates are: 46.392410, -94.636230.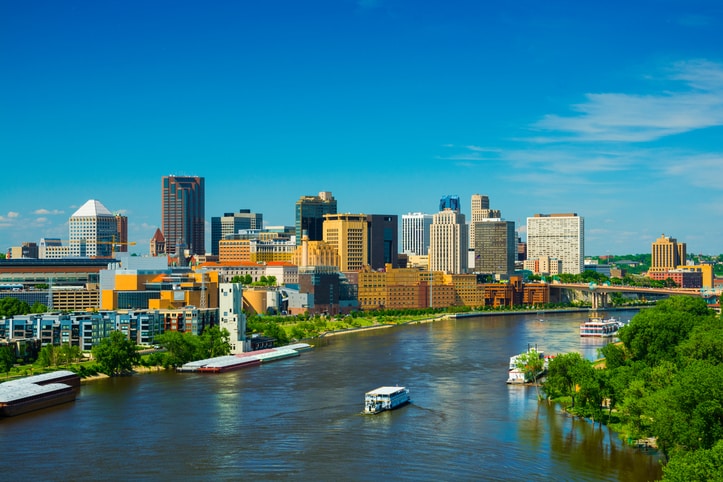 Top 5 Moving Companies In Minnesota
Matt's Moving – Minneapolis

College Muscle Movers

A Few Good Movers

AAA Movers, LLC

The Move Crew
Matt's Moving – Minneapolis
Matt's Moving is a high-quality but reasonably priced professional moving company in Minneapolis and Saint Paul that handles relocations for families and businesses. No matter where you intend to relocate within the Twin Cities Metro Area, Matt's Moving will get you and your belongings there without a hitch.
Service Model: Full service
Founded: 2009
Rating: 4.7/5
Address: 416 35th Ave NE, Minneapolis, MN 55418, United States
College Muscle Movers
College Muscle Movers, which was founded in 2008, is dedicated to providing the best service possible for each client, based on their specific needs and desires. They collaborate with you to determine the best plan for your move to ensure that everything goes as smoothly as possible.
Service Model: Full service
Founded: 2008
Rating: 4.6/5
Address: 720 Prior Ave N, St. Paul, MN 55104
A Few Good Movers
When it's time to make the right move, contact A Few Good Movers. This family-owned and operated professional mover has been assisting families and businesses in Minneapolis and the surrounding areas for over a half-century.
Service Model: Full service
Founded: 2007
Rating: 4.7/5
Address: 2721 E 33rd St, Minneapolis, MN 55406, United States
AAA Movers, LLC
AAA Movers is the professional moving company to call if you want a safe and stress-free move within Minneapolis, Minnesota. This mover can handle any type of residential move, whether you're moving to a new house or an apartment.
Service Model: Full service
Founded: 1964
Rating: 5/5
Address: 8201 Brooklyn Blvd #100, Minneapolis, MN 55445, United States
The Move Crew
Since The Move Crew's inception in 2015, moving to the Twin Cities has never been easier. The Move Crew, a locally owned and operated professional moving company, has quickly become a favorite mover among locals due to their focus on customer satisfaction and their meticulous attention to detail.
Service Model: Full service
Founded: 2016
Rating: 5/5
Address: 1700 Broadway St NE, Minneapolis, MN 55413, United States
Why do people move to Minnesota?
It is a sports and arts hub, with excellent cultural facilities and venues, as well as a state known for its numerous business centers, educational institutions, and research institutions. Because Minnesota has a large amount of excellent arable land, agriculture and farming play an important role in the state's economy.
Minnesota's highest-paying job
For those looking for work, Minnesota offers a wide range of career options.
As the world's fastest-growing economy, it has a large number of job openings. Furthermore, in comparison, the income level is relatively high. Some of the highest-paying jobs in Minnesota are as follows:
Vice President, Products Marketing

Consultant And Sales Representative

Senior Director, Product Management

Executive Vice President Of Sales

Chief Executive Officer/Chief Technology Officer

Vice President, Product Management

Resident Physician In Radiology

Medical Director

Vice President Of Global Operations

Chief Medical Officer
Source of Income
Minnesota's economy generated $312 billion in gross domestic product in 2014. In 2011, Minnesota had 31 publicly traded companies among the top 1,000 revenue-generating companies in the United States. This includes major corporations such as Target and UnitedHealth Group. In 2016, the per capita personal income was $51,990, placing it sixteenth in the country. In 2013, the median household income was $60,900, ranking eleventh in the country.
Habit and Nature
Minnesotan culture is heavily influenced by its German and Scandinavian populations, as well as recent immigrants from Mexico, Laos, Vietnam, and Somalia, who live in the Midwest of the United States. Minnesota is a fascinating place to live, work, and visit because of its mix of traditional and new cultures.
Weather
Throughout the year, the temperature typically ranges from 9°F to 83°F, with temperatures rarely falling below -11°F or rising above 92°F.
Rent a house
Rental homes in Minnesota begin as soon as $250 to $300 a week 2 bedrooms homes and can go up to $1,200 per month for larger properties. Several of the rental homes have views of the beach or the ocean and are in quiet areas. The peace and quiet are a big plus, and it is often most desired by vacationers.
Food
In Minnesota, a single adult spends $3,225 on food each year, while a family of four spends $9,314 on average. To put this in context, the average annual food expenditure in the United States is $3,240 for a single adult and $9,354 for a family of four.
The cost of gasoline
Now, a gallon of regular gasoline in Minnesota costs around $3.927.
Natural Resources
Minnesota has long been known for its above-ground beauty, with its acres of forests, glistening lakes, and vibrant wildflowers, but there is also beauty underground.
Demography
Minnesota has an overall life expectancy of 79.3 years. As a rule of thumb, a woman lives an average of 81years; a man lives an average of 80 years.
Why Should You Hire Moving Companies in Minnesota?
There are two types of moving companies in Minnesota. A local mover is required if you are moving within the city or state. You may be moving into or out of the form if your move exceeds 100 miles. In that case, long-distance movers will be required. The primary reason for hiring Moving Companies in Minnesota is that they provide various beneficial services.
Hiring The Best Moving Companies in Minnesota
BuzzMoving.com Locate The Best moving companies in Minnesota – Save money by getting free moving quotes from pre-screened movers in Minnesota, MN.
Read More About Other Moving