Long Distance Moving Companies in Maine
When relocating to Maine, You must hire moving companies in Maine. Maine is the only state that has only one border with another state. Maine's coastline is approximately 35 hundred miles long, making it one of the country's top ten longest coastlines. Latitude and longitude coordinates are 45.033410596372576, -69.09477027948554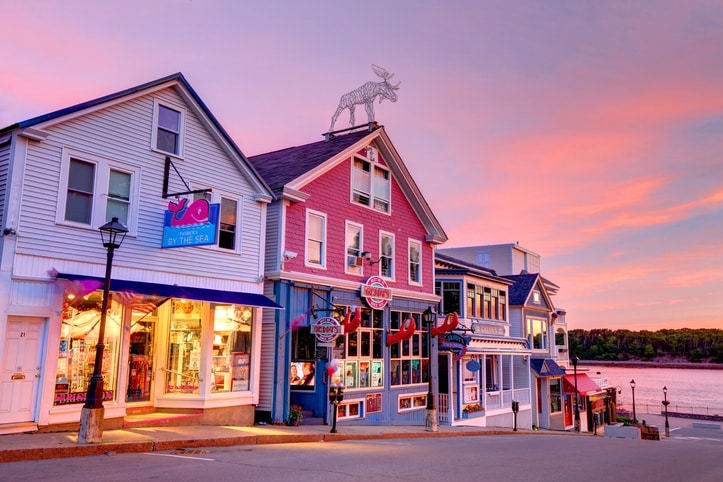 Top 5 Moving Companies In Maine
Local Muscle Movers
Wilson Moving Co
JC Moving
TWO MEN AND A TRUCK®
U-Pack
Local Muscle Movers
Local Muscle Movers is a decade-old moving company founded by Alex Sargent because he wanted to provide a better service than what he was hearing from dissatisfied New England residents at the time.
Service Model: Full service
Founded: 2010
Rating: 5/5
Address: Maine, USA
 Wilson Moving Co
Wilson Moving Company has been a leading provider of residential and commercial moving services in Portland, Maine for over three decades. They are one of the best service providers in that place.
Service Model: Full service
Founded: 1989
Rating: 5/5
Address: 55 Fessenden St # 3, Portland, ME 04103, United States
JC Moving
JC Moving is a highly dependable local moving company that serves the relocation needs of Portland, Maine residents, and business owners. They are properly licensed and insured, so you won't have to be concerned about the safety and security of your belongings.
Service Model: Full service
Founded: 2018
Rating: 5/5
Address: Maine, USA
TWO MEN AND A TRUCK®
TWO MEN AND A TRUCK® is a large franchised moving company that serves clients from all over the United States. It began as a local mover more than 30 years ago and has since grown to become one of the top moving companies in the country.
Service Model: Full service
Founded: 1985
Rating: 5/5
Address: 24 Bridgton Rd, Westbrook, ME 04092, United States
U-Pack
U-Pack is a moving company that specializes in self-service container moving. Unlike the other companies on this list, U-Pack is a hybrid moving service that charges you only for the services you actually require for your move.
Service Model: Full service
Founded: 1997
Rating: 5/5
Address: 356 Riverside Industrial Pkwy, Portland, ME 04103, United States
Why do people move to Maine?
Maine was the location where many European immigrants arrived on the newly discovered continent, so the local culture is a distinct blend of strong indigenous traditions and a variety of European cultural tendencies.
Maine's highest-paying job
For those looking for work, Maine offers a wide range of career options.
As the world's fastest-growing economy, it has a large number of job openings. Furthermore, in comparison, the income level is relatively high. Some of the highest-paying jobs in Maine are as follows:
Clinical Physician Assistant

Emergency Medicine Specialist

Public Health Dentist

Family Practitioner

Psychiatric Nurse Practitioner

Nurse Case Manager

Nurse Practitioner

Family Nurse Practitioner

Registered Nurse In The ICU
Source of Income
Manufacturing remains the state's most important industry. Maine is a major producer of paper and wood products, which are the most valuable of the state's manufacturing industries. Food and transportation equipment are also important, but leather goods (particularly shoes) production has declined.
Habit and Nature
Maine's cultural history dates back thousands of years and contains millions of memories. Maine's culture evolved from its first native peoples to include people and practices from Europe, Africa, and Asia. Today, you can experience Maine's collective heritage in museums, cultural centers, and festivals across the state.
Weather
Maine's climate is distinguished by cold, snowy winters and warm summers. Winter average temperatures range from 25°F in the far south to less than 15°F in the state's northern and interior. Summer temperatures range from around 60°F in the far north to around 70°F in the south.
Rent a house
Rental homes in Maine begin as soon as $250 to $300 a week 2 bedrooms homes and can go up to $1,200 per month for larger properties. Several of the rental homes have views of the beach or the ocean and are in quiet areas. The peace and quiet are a big plus, and it is often most desired by vacationers.
Food
The average single Maine resident spends approximately $3,690 per year on food or approximately $307.50 per month. These costs nearly triple to $10,806 per year, or $900.50 per month, for a family of four with two working adults and two children.
The cost of gasoline
Now, a gallon of regular gasoline in Maine costs around $4.194.
Natural Resources
Maine not only has some of the most beautiful coastlines in America (with thousands of jagged islands offshore, bringing the total mileage of pebbly beach to over 3,000 miles), but it also has the stunning Acadia National Park, Mount Katahdin.
Demography
Maine has an overall life expectancy of 79.0 years. Women have an average life expectancy of 81.4 years, while men have an average life expectancy of 76.0 years.
Why Should You Hire Moving Companies in Maine?
There are two types of moving companies in Maine. A local mover is required if you are moving within the city or state. You may be moving into or out of the form if your move exceeds 100 miles. In that case, long-distance movers will be required. The primary reason for hiring Moving Companies in Maine is that they provide various beneficial services.
Hiring The Best Moving Companies in Maine
BuzzMoving.com Locate The Best moving companies in Maine – Save money by getting free moving quotes from pre-screened movers in Maine, ME.
Read More About Other Moving