Long Distance Moving Companies in Indiana
If you are moving to Indiana, you must hire moving companies in Indiana. Indiana, also known as the "Hoosier State," is a component state in the Great Lakes region of the United States. The states of Ohio, Kentucky, Illinois, and Michigan border the state of Michigan. It was home to a wide range of indigenous tribes and populations.  Latitude and longitude coordinates are 40.273502, -86.126976.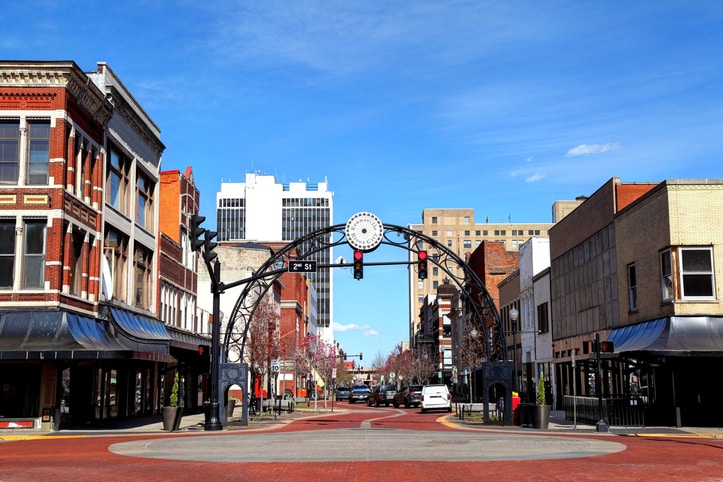 Top 5 Moving Companies In Indiana
Jay's Moving Company

Sherman Moving & Storage Co

My Movers Inc

Two Men And A Truck

College Hunks Hauling Junk and Moving
Jay's Moving Company
Jay's Moving Company has been alleviating Indiana residents of the stress of moving for over 70 years. Since its inception in 1951, this family-owned local moving company has lived by its basic values of compassion and efficiency, which have served as the key drivers of its continuous success. 
Service Model: Full service
Founded: 1951
Rating: 4.7/5
Address: 8320 Brookville Rd e, Indianapolis, IN 46239, United States
Sherman Moving & Storage Co
Sherman Moving and Storage is the only firm you need to call if you need moving services in Indianapolis or the surrounding areas. These expert movers are local Indianapolis movers who are dedicated to their work and appreciate the significance of a move for any client. They have been serving clients in Indianapolis and the surrounding areas for over 80 years.
Service Model: Full service
Founded: 1932
Rating: 4.6/5
Address: 990 National Ave, Indianapolis, IN 46227, United States
My Movers Inc
My Movers Inc. is without a doubt one of the best movers in Indianapolis and the surrounding areas. This expert mover specializes in full-service moves, particularly residential relocations. They can handle everything related to your move, from packing your stuff to reassembling your furniture at your new address.
Service Model: Full service
Founded: 1975
Rating: 4.75/5
Address: 8070 Castleton Rd, Indianapolis, IN 46250, United States
Two Men And A Truck
TWO MEN AND A TRUCK is a huge franchised moving company that serves clients from all across the United States. They began as a local mover more than 30 years ago and have since grown to become one of the best moving firms in the country. The goal from the beginning was to exceed customers' expectations. They were able to do so back then, and they continue to do so today.
Service Model: Full service
Founded: 1985
Rating: 4.8/5
Address: 1365 Sadlier Cir S Dr, Indianapolis, IN 46239, United States
College Hunks Hauling Junk and Moving
College Hunks was founded by two college pals who had an old van. All they wanted was to provide in-demand trucking services in their town. They eventually formalized their partnership and established College HUNKS Hauling Junk & Moving in 2005. 
Service Model: Full service
Founded: 2003
Rating: 4.8/5
Address: 5538 W Raymond St, Indianapolis, IN 46241, United States
Why do people move to Indiana?
The state is an industrial and agricultural area, with many industries and enterprises producing chemicals, vehicles, coal, petroleum, steel, and other products. It also serves as a center for education and research. Its capital is Indianapolis, the state's most populated city.
Indiana's highest-paying job
For those looking for work, Indiana offers a wide range of career options.
As the world's fastest-growing economy, it has a large number of job openings. Furthermore, in comparison, the income level is relatively high. Some of the highest-paying jobs in Indiana are as follows:
Consultant And Sales Representative

Pain Management Physician

Vice President, Field Operations

Executive Vice President Of Sales

Emergency Medicine Specialist

President Chief Technology Officer

President And General Manager

Chief Operating Officer, Chief Technology Officer

Public Health Physician

Vice President Of Operations And Engineering
Source of Income
Indiana's economy is reflected in its gross state product of $359 billion in 2017 and per capita income of $44,165. Manufacturing accounts for a sizable portion of Indiana's income. Indiana is the country's second-largest auto manufacturing state. Pharmaceuticals and medical devices, automobiles, electrical equipment, transportation equipment, chemical products, rubber, petroleum, and coal products, and factory machinery are among Indiana's other manufacturing industries.
Habit and Nature
Indiana's cultural makeup is more representative of the United States as a whole than most people realize. Farming activities like raising cattle are held in high esteem. As a result, Indiana's fresh fruits, vegetables, and meats are among the best in the country.
Weather
Summers in Indianapolis are long, warm, humid, and wet; winters are short, very cold, snowy, and windy; and it is partly cloudy all year. Throughout the year, the temperature typically ranges from 22°F to 85°F, with temperatures rarely falling below 3°F or rising above 92°F.
Rent a house
Rental homes in Indiana begin as soon as $200 to $300 a week 2 bedroom homes and can go up to $1,000 per month for larger properties. Several of the rental homes have views of the beach or the ocean and are in quiet areas. The peace and quiet are a big plus, and it is often most desired by vacationers.
Food
A single adult in Indiana spends an average of $2,872 on food each year, while a family of four spends $8,295 on average. To put this in context, the average annual food expenditure in the United States is $3,240 for a single adult and $9,354 for a family of four.
The cost of gasoline
Now, a gallon of regular gasoline in Indiana costs around $4.191.
Natural Resources
Bluespring Caverns, Indiana Caverns, Marengo Cave, and Squire Boone Caverns are the four distinct cave systems covered by the Indiana Cave Trail.
Demography
Indiana has an overall life expectancy of 77.1 years. As a rule of thumb, a woman lives an average of 80.5 years; a man lives an average of 75.1 years.
Why Should You Hire Moving Companies in Indiana?
There are two types of moving companies in Indiana. A local mover is required if you are moving within the city or state. You may be moving into or out of the form if your move exceeds 100 miles. In that case, long-distance movers will be required. The primary reason for hiring Moving Companies in Indiana is that they provide various beneficial services.
Hiring The Best Moving Companies in Indiana
BuzzMoving.com Locate The Best moving companies in Indiana. We make your move easy and save money by getting free moving quotes from pre-screened movers in Indiana, IN.
Read More About Other Moving