Getting ready to move is both exciting and challenging. Whether you're moving into or out of Maryland, the best interstate movers in Maryland can help make your move easy.
Our Top Pick Best Interstate Movers In Maryland
But in this Mid-Atlantic state, finding the right workers is challenging. That's why we've compiled this list of the best interstate movers in Maryland to help you decide. There's a mover for everyone, whether you're moving across the street or the country. Here are the best Maryland moving companies to think about.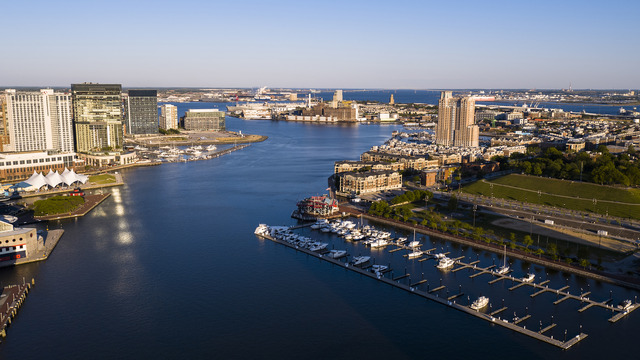 International Van Lines (IVL) gives a full range of services, such as packing, loading, transporting, unloading, unpacking, and taking apart and putting together furniture. IVL has the best services for moving things like pianos and old furniture.
The company offers full- and partial-service moving deals and customers can mix and match services based on their needs. Because IVL is so big, it works better for long-distance moves that go through Maryland than for local activities.
Service:
Unpacking and packing services

Loading and unloading services

Furniture disassembly and reassembly

Crating

Specialty services for recreational and sports equipment, fragile items, large appliances, pianos, antiques, and more

Transportation and delivery

Auto shipping

Contents protection plan options

International moves

Commercial moves

Packing and moving supplies

Air freight services

Corporate and military relocation

Moving Checklist

Moving calculator
IVL helps people move within the same state, but you must have at least a two-bedroom flat or house to use this service.
Pros
Offers both all-inclusive and partial-service packages
Provides adjustable full-value safety plans
Offers specialized services for antiques, pianos, artwork, and more
Cons
Local moves can be more expensive than moving on your own
J.K. Moving
J.K. Moving offers full-service moving options that can be changed to meet your needs. The company will not only make your plan fit your budget, but it will also let you pay for it through Enhance.
Because of this, J.K. Moving is an excellent choice for people who want full-service options but are on a tight budget. They have the best interstate movers in Maryland for moves within the state.
Service:
Packing and unpacking services

Loading and unloading services

Furniture disassembly and reassembly

Crating

Specialty services for problematic items such as antiques, artwork, and pianos

Transportation

Freighting

Storage solutions

Commercial moving services

Government moves

Contents protection plans

Moving blog

Archive services
You can't get a price from J.K. Moving online, but you can fill out a short form, and an agent will call you. Your total cost with J.K. Moving will depend on the services you choose, how far you are moving, how much stuff you have, and where you are moving from.
Pros
It helps people move locally to Maryland
Offers a mobile app to help with making an inventory and getting a price
Enhancify can help you get money
Cons
Prices for full-service choices may be higher than those of competitors.
North American Van Lines
North American Van Lines is the best interstate mover in Maryland. Since 1933 and has been in the moving business. It works with more than 500 area movers in all 50 states. North America can handle all sizes of local, long-distance, and foreign moves because of its extensive network.
Customers of North American Van Lines can make domestic or international claims quickly and easily right from the homepage of the company's website. North America also has extraordinary claims support lines for people who need more help or would instead make claims over the phone.
Service:
Packing and unpacking

Custom crating for electronics

Furniture disassembly and reassembly

Loading and unloading

Vehicle relocation

Self-packing advice and assistance

Online library of moving tips and checklists
North American Van Lines will price you based on the size and distance of your move, the date of your activity, and any special needs you have.
Pros
Has an online calculator that helps customers figure out how much moving goods will cost and how much they will need
Without a loading dock, they use crane vans to move big pieces of equipment
Members of the American Legion and unions, as well as their families, can get savings
Cons
Prices for full-service choices may be higher than those of competitors
Charm City Movers
It was started in 1997. Charm City Movers has been a local moving company in the Baltimore area since 1997. A single person is the owner of this business, which he operates.
They have a full-service moving business that guarantees you a rate. Charm City Movers are there to get out and work less than an hourly business. By charging you for the item, they can tailor your move to your needs and be ready for it. It also lets you stick to a budget and decide how much your move will cost. This method works because over 70% of their business comes from repeat buyers and word of mouth.
Service:
Packing, unpacking, and crating

Furniture moving

Large and heavy items moving

Long distance moving

Commercial services

Storage services

Local moving

Furniture assembly
Charm City Movers makes it easy for people in and around Baltimore and the Tri-State area to use their services. They stand out from other moving companies because they offer rates based on what you are moving, how your buildings are set up, and the distance traveled. Their clients don't pay for the hours stuck in traffic or taking breaks while on the clock. You only pay Charm City Movers for the job you hire us to do.
Pros
Your project with this business is eligible for coverage up to $2,500 when you hire through Request a Quote
Punctual and fast delivery within a short time
Honest, affordable, and provides quality moving
Cons
Have some communication issues
A Few Good College Men Moving
AFGCM specializes in local and long-distance moves, giving customers throughout the Eastern Seaboard the best moving experience possible. Their jobs range from delivering a single item to moving an entire house. They do everything from packing to wrapping and taking apart to putting together. AFGCM tailors their service to your needs based on how big your move is, and their expert movers are sure they can safely move any item you own.
Service:
Packing, unpacking, and crating

Furniture moving

Large and heavy items moving

Furniture assembly

Furniture removal

Cleanouts

Full packing services

Virtual consultations

Storage services

Local moving

Long distance moving

Senior moving

Appliance Removal

Mattress removal

Partial packing services
A Few Good College Men Moving companies have great hourly rates, and if you want, they can also give you a flat rate that fits your job. From getting rid of junk to moving, they are committed to providing you with the best move at a price you can afford.
Pros
They don't move together when they go far away. You don't have to worry about your things getting mixed up with those of other people
The day before your move, they put everything on our truck and leave at midnight to avoid as much traffic and delays as possible
They are one of the few moving companies that can handle long-distance moves with short notice
Cons
Things to think about before moving to Maryland
It makes sense to want to move to Maryland because it has excellent food, many job opportunities, many outdoor activities, a beautiful coast, and a lot of history. Here are some things to keep in mind to make your move to the Old Line State go smoothly:
Weather:
Maryland has a wide range of temperatures because of differences in elevation, distance from water, and downslope winds that keep colder weather at bay. The towns of Ocean City, Salisbury, Annapolis, and the southern and eastern suburbs of Washington, D.C., and Baltimore are all on the east half of Maryland. This part of the state is on the Atlantic Coastal Plain, which is flat and has sandy or muddy soil. This place has a humid subtropical climate, meaning the summers are hot and muggy. And the winters are short and mild to cool.
HOA Rules:
Many locals and communities have rules about moving. If you check beforehand, you can ensure your move to your new home goes smoothly.
If you're moving into a building with a lift, there may be things you need to know beforehand, like how to use a service lift, if there are time limits, or if you need to make an appointment.
Permits to park:
Some places have rules about where big cars can be parked. Check with your new city beforehand to ensure you have everything you need.
State licenses:
You don't need a local permit in Maryland, but you should ensure the moving company you hire is registered with the USDOT. You can ask a mover for their USDOT registration number to ensure they are legal and licensed. Every mover on our list has a valid license.
State Regulator:
On the official website of the state regulator, you can check the progress of a Maryland moving license.
Change of Address:
You should give USPS your form to change your address at least a week before you move. You can write an official moving date on the paper. This way, all of your mail will be sent correctly to Maryland.
Mover's insurance:
When it comes to insurance, each state has its own rules. The least expensive choice is Release Value Protection, which costs nothing. Although movers give it away for free, it only provides a little protection—workers who choose this option pay at most 60 cents per pound per item. For example, if your mover lost or broke a 25-pound, 50-inch TV, you would only get $15 (60 cents times 25 pounds). Talk to the moving company you hire or a third-party insurance company about other options if you need the total value of your things to be protected.
Conclusion
Choose the best interstate movers in Maryland to move your items safely between states in the U.S. and get free moving quotes. Please read our reviews of the best interstate movers in Maryland to find a list of interstate movers, local movers, or even self-service movers.
You may read our reviews and check out the best interstate movers in Maryland from our list.