Are you thinking of moving out of the Big Apple? In recent years, many people have started moving to Atlanta from NYC. The shift has been due to a variety of factors. The cost of living in NYC has increased dramatically in recent times. Additionally, rent is exorbitantly expensive in NYC, but it's also unpredictable! There are lots of shifts in living costs.
Atlanta is a much more stable place compared to NYC. Not to mention, both taxes and living costs are much lower! Atlanta can provide similar levels of advantages and amenities at less than half the price. This attracts a lot of people to Atlanta.
If you are one of those people, we can help you with your queries. We will take you through the pros and cons of moving to Atlanta from NYC. We will also give you advice on hiring long-distance movers and how to calculate costs.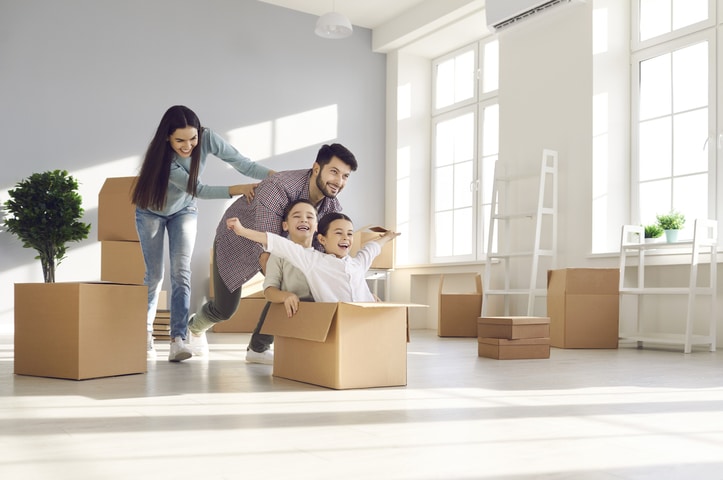 Pros And Cons Of Moving To Atlanta From Nyc
One of the major complaints individuals have about the Big Apple is that it's very expensive. Atlanta has a lower cost of living compared to NYC. Whether you want to buy or rent a house, you will be able to do it much easier in Atlanta.
Additionally, all other added costs are also less compared to NYC. Atlanta is overall a much more affordable place to live in.
NYC is known to be the city that never sleeps. This can be very intimidating and frustrating for a lot of people. Atlanta provides a balance between the glamorous city life and the quiet suburban life. If you want a cozy home that's close to skyscrapers and provides Southern comfort, Atlanta is the place for you.
There are fantastic schools and universities in Atlanta as well. In the city, there are about 30 institutions and universities, most of which are highly coveted. There are also numerous job opportunities. Since there are so many fresh graduates every year in the city, employers offer lucrative salaries to entice workers. Hence, you won't have to fret too much about finding a job.
There may be some downsides to moving to Atlanta from NYC. Firstly, the weather is very unpredictable. Most residents of Atlanta complain that they can't get used to the weather no matter how long they've lived there.
Additionally, Atlanta has terrible congestion sometimes, especially during peak hours. Although we do think NYC has similar levels of traffic. Another con is that Atlanta is a growing city with long-term infrastructural projects in place. Most of these developments are being made, keeping 2030 as the goal. This means specific neighborhoods are developing in different ways. Hence, if you have a specific goal in mind, you will need to settle down in a particular neighborhood if you want a complimentary lifestyle!
Hiring Long-Distance Movers
Since Atlanta is in another state, it's best that you hire long-distance movers to help you with the heavy lifting. Moving is an incredibly stressful process. However, if you divide work amongst professionals and focus on researching, you should be good!
Long-distance movers can help make your move an incredibly smooth experience. They do this by offering their clients a plethora of services. From packing services to rental and storage services, they offer everything you can think of.
There are sub-categories within their services as well. For instance, you can either opt for a full packing service or a partial packing service. The different services will be tailored to your specific needs.
If you have a single piece of furniture that needs moving, movers can help you with that too. There are services that allow you to move a single piece of furniture across state lines.
There are a plethora of different services to choose from. When moving to Atlanta from NYC, you will need to do a lot of research to find the right mover. You can read online reviews or pursue through websites. This will give you an idea of what to expect from the movers. A pro tip would be to ensure that the mover has amicable customer service, which is available at all times. The opposite would be a major red flag!
How Much Will Moving To Atlanta From Nyc Cost Me?
The average cost of moving to Atlanta from NYC can be anywhere between $3500 and $6000. Your final cost will be dependent on a lot of external factors.
Long-distance movers calculate their costs based on many factors. The first is mileage. This means they charge a flat rate for every 100 miles moved. Since the distance between NYC and Atlanta is fixed, this means other factors will ultimately determine your cost.
Another factor is the cubic weight of your furniture. This means the more furniture you have, the higher your cost. Note that the corollary is the size of your apartment will push your prices up. Hence, moving into a four-bedroom apartment will always be more expensive than a one-bedroom apartment.
We've already mentioned that movers offer different services. The number of services you require will also push prices up. The more services you use, the higher your total cost. Additionally, the kind of service you need will also alter your cost. For instance, a full-packing service is more expensive than a partial one. Moving a pool table will cost different than moving a grand piano.
There are also miscellaneous factors that play into cost determination. For instance, if you are moving during summertime, your prices will be high. This is because summer is a popular time to move. This makes companies drive up their cost. The specific route you are using may also alter your cost. Not to mention, it's customary to tip your movers as well!
If you want an exact cost estimate, you should directly call up your mover. Once you let them know your requirements, they can give you a cost breakdown. Additionally, you can also look through their websites, as we have mentioned previously. Most movers have their rates written on their websites.
Another way of getting estimates fast is by obtaining instant online quotes. If you are looking for those, we can help you. If you fill out this form, you can get access to free instant moving quotes with no strings attached! This will help you make the best possible decision for yourself since you will be able to easily compare rates between reliable movers.
Recommend Some Affordable Long-Distance Movers
We have gone over how different factors can affect your total cost. It may be daunting to start looking for professionals if you have never moved before. There is a multitude of reliable movers, but there are also many unreliable ones. In order to help you filter through, we have compiled a list of a few reliable, affordable movers. Please note this list is only meant to be a stepping stone for you. You will need to do further research!
| | | | |
| --- | --- | --- | --- |
| NAME OF MOVER | RATING | US DOT | ICC MC |
| Allied Van Lines | 5 | 076235 | 15735 |
| American Van Lines | 5 | 614506 | 294798 |
| Dumbo Moving & Storage | 5 | 1543241 | |
| Gentle Moving | 5 | | |
| Van Express | 5 | 2175375 | 755509 |
Make sure you also do further research on other factors. These include insurance and miscellaneous costs such as utility providers, etc. You should also look up factors like how you plan on commuting between home and work. If you haven't started looking for apartments yet, now would be a good time to start! The same goes for job applications. It's ideal to already have a job when you are moving to a new state.
Conclusion
To put it rather bluntly, moving is a difficult task. However, when you have reliable professionals by your side, the mountain becomes easier to scale. This is why it's imperative to research as thoroughly as possible.
If you are still confused about cost calculation, we would recommend obtaining a no-obligation FREE quote from us! Since there are no strings attached to the quote, you will have nothing to worry about!
Hope you have a fantastic move.