Long Distance Moving Companies in Wyoming
When it comes to moving to Wyoming, You must hire moving companies in Wyoming. Wyoming is a large state in the central region of the United States of America, primarily in the Rocky Mountain highlands. It is known for having one of the lowest population densities in the country, as well as numerous natural parks, preserves, and other areas. Latitude and longitude coordinates are 43.075970, -107.290283.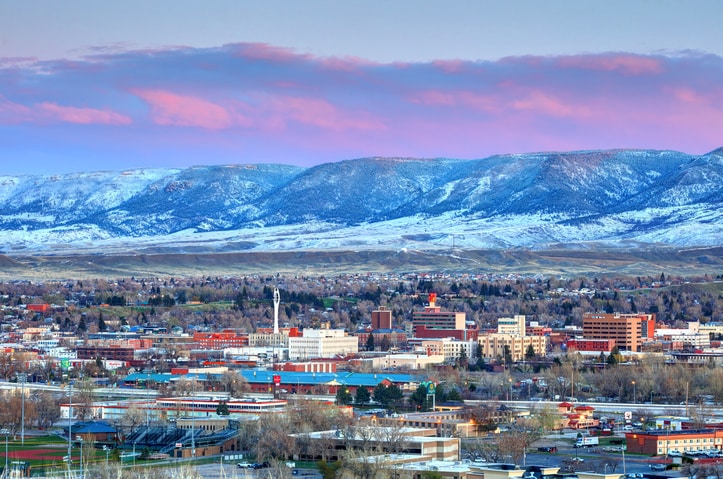 Top 5 Moving Companies In Wyoming
International Van Lines

American Van Lines

JK Moving

North American Van Lines

Allied Van Lines
International Van Lines
Since its inception in 2000, International Van Lines (IVL) has served as a global moving logistics provider, helping people relocate to more than 180 countries worldwide. In contrast to other international movers, IVL does not outsource its services when it comes to moves to or from Wyoming.
Award: Our pick for insurance plans
Service Model: Full service
Founded: 2011
Rating: 4.7/5
Address: Wyoming, USA
American Van Lines
If you want to transport one-of-a-kind items and heirlooms to your new Wyoming home, American Van Lines (AVL) is a great option. The company prioritizes the hiring and retention of full-time, experienced moving crews.
Award: Our pick for long-distance moves
Service Model: Full service
Founded: 1933
Rating: 4.6/5
Address: Wyoming, USA
Allied Van Lines
By using personal moving agents, helpful online resources, and comforting content protection options, Allied Van Lines has tried to improve the client experience of full-service moving. Allied, like NAVL, has a service and claims division specifically for intra-Wyoming movements.
Award: Editors' choice
Service Model: Full service
Founded: 1928
Rating: 4.7/5
Address: Wyoming, USA
JK Moving
JK Moving offers complete- and partial-service moving services and a variety of specialty services to help customize your moving package. Still, it is only available in Wyoming for long-distance and international moves.
Award: Our pick for a financing
Service Model: Full service
Founded: 1982 
Rating: 4.5/5
Address: Wyoming, USA
North American Van Lines
North American Van Lines can service local, long-distance, and international moving needs across the country and in 180 countries through its fleet and staff and those moving agents within the network.
Award: Our pick for the easy claims process
Service Model: Full service
Founded: 1933
Rating: 4.6/5
Address: Wyoming, USA
Why do people move to Wyoming?
Wyoming is traversed by a number of interstate highways, including Interstate 80, Interstate 90, Interstate 25, and others. Some large nature preserves and national forests, particularly in Wyoming's northwestern region, are estimated to cover approximately 35% of the state's land area.
Wyoming's highest-paying job
For those looking for work, Wyoming offers a wide range of career options.
As the world's fastest-growing economy, it has a large number of job openings. Furthermore, in comparison, the income level is relatively high. Some of the highest-paying jobs in Wyoming are as follows:
Vice President, Field Operations

Consultant and Sales Representative

Emergency Medicine Specialist

Vice President of Global Operations

Industrial Truck Driver

Public Health Physician

Medical Safety Director

Executive Vice President of Operations
Source of Income
The economy of Wyoming is heavily reliant on mining and agriculture (primarily the marketing of beef cattle and sheep). The state also has a significant and growing tourism industry, which serves millions of visitors to its parks and historic sites. Manufacturing is only marginally important.
Habit and Nature
Its nickname, the Equality State, derives from the state's early advancement of women's rights, some of which were established before the state's establishment. Wyoming was the first state to grant women the right to vote and elect a female governor. Much of Wyoming's culture today stems from the state's early frontier days.
Weather
Wyoming's summers are hot, muggy, and wet; its winters are bitterly cold, snowy, and windy; and it is partly cloudy all year. Throughout the year, the temperature typically ranges from 27°F to 86°F, with temperatures rarely falling below 14°F or rising above 94°F.
Rent a house
Rental homes in Wyoming begin as soon as $250 to $350 a week for 2 bedrooms homes and can go up to $1,000 per month for larger properties. Several of the rental homes have views of the beach or the ocean and are in quiet areas. The peace and quiet are a big plus, and it is often most desired by vacationers.
Food
In Wyoming, a single adult spends $3,288 on food each year, while a family of four spends $9,496. To put this in context, the average annual food expenditure in the United States is $3,240 for a single adult and $9,354 for a family of four.
The cost of gasoline
Now, a gallon of regular gasoline in Utah costs around $4.111.
Natural Resources
Wyoming is a national leader in coal, uranium, natural gas, and crude oil production. Wyoming also has the potential to develop alternative energy sources such as wind, solar, and geothermal.
Demography
Wyoming has an overall life expectancy of 78.5 years. As a rule of thumb, a woman lives an average of 80.1 years; a man lives an average of 76.5 years.
Why Should You Hire Moving Companies in Wyoming?
In Wyoming, there are two kinds of moving companies. If you are moving within the city or state, you will need to hire a local mover. If your move exceeds 100 miles, you may be moving into or out of the state. Long-distance movers will be required in that case. The main reason for hiring Moving Companies in Wyoming is that they offer a wide range of beneficial services.
Hiring The Best Moving Companies in Wyoming
BuzzMoving.com Locate The Best moving companies in Wyoming – Save money by getting free moving quotes from pre-screened movers in Wyoming, WY.
Read More About Other Moving