Long Distance Moving Companies in Wisconsin
If you are moving to Wisconsin, you must hire moving companies in Wisconsin. Wisconsin is one of the northernmost states in the United States, bordering Canada. It is surrounded by Minnesota, Michigan, Illinois, Iowa, and some of the Great Lakes. Wisconsin, also known as "The Dairyland of America," is a small manufacturing, agriculture, natural resource, and tourism center. Latitude and longitude coordinates are 44.500000, -89.500000.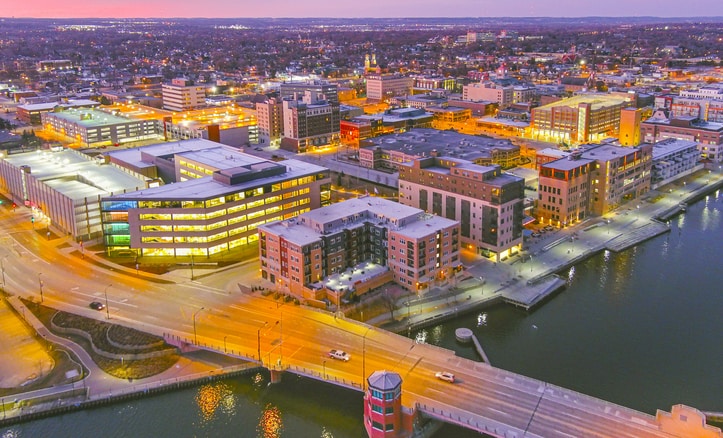 Top 5 Moving Companies In Wisconsin 
Reynolds Transfer and Storage

Badger Brothers Moving, LLC

Mad City Moving

Above Average Moving LLC

TWO MEN AND A TRUCK
Reynolds Transfer and Storage
Reynolds Transfer and Storage has been in business in Madison since 1888. They are definitely worth a look, as they have over a hundred years of experience. They have acquired the skills required to provide quality services to all of their customers through their years of experience. Quality services, according to them, necessitate dependability, efficiency, and helpful movers, all of which they always provide to their customers.
Service Model: Full service
Founded: 1888
Rating: 5/5
Address: 725 E Mifflin St Madison, WI 53703
Badger Brothers Moving, LLC
Badger Brothers Moving LLC is a versatile moving company that specializes in nearly every type of moving need that customers may have. They have been serving Wisconsin and its surrounding areas for over ten years and have a thorough understanding of how traffic, regulations, and other aspects of the areas work. As a result, the company offers time-sensitive services if you want your belongings moved at one point and delivered at another.
Service Model: Full service
Founded: 2010
Rating: 5/5
Address: 313 W Beltline Hwy STE 157A, Madison, WI 53713, United States
Mad City Moving
Mad City Moving Company is a locally owned and operated moving company that was established in 1983. The company promises to provide customers with efficient moving services that eliminate any and all forms of anxiety that may arise during relocation and moving. The company provides a wide range of services that address the most common moving needs of customers.
Service Model: Full service
Founded: 1983
Rating: 4.7/5
Address: 2825 Perry St, Madison, WI 53713, United States
Above Average Moving LLC
The services provided by the Above Average Moving Company are indeed above average. The company provides all service options and guarantees a safe package guarantee for any belongings that are being moved. Since the company's inception years ago, they have been managed and operated by the owner, and as a result, they has grown to become a trustworthy brand that customers can always rely on for their moving needs.
Service Model: Full service
Founded: 2015
Rating: 5/5
Address: 1416 Parkside Dr, Madison, WI 53704, United States
TWO MEN AND A TRUCK
TWO MEN AND A TRUCK® is a large franchised moving company that serves clients from all over the United States. They began as a local mover more than 30 years ago and have since grown to become one of the top moving companies in the country. The goal from the beginning was to exceed customers' expectations. They were able to do so back then, and they continue to do so today.
Service Model: Full service
Founded: 1985
Rating: 5/5
Address: 3817 Kipp St, Madison, WI 53718, United States
Why do people move to Wisconsin?
Wisconsin is a popular tourist destination for those who enjoy nature and outdoor activities. It is well-known as a fantastic recreation destination, with a few excellent resorts located on the lakes' shores. Wisconsin has a number of excellent facilities for sports such as baseball, American football, and golf. The Dells of the Wisconsin River, the House on the Rock, the Circus World Museum, the Milwaukee Art Museum, Monona Terrace, Lambeau Field, Miller Park, Five-Mile Bluff Prairie State Natural Area, Black River State Forest, and many other attractions can be found in the state.
Wisconsin's highest-paying job
For those looking for work, Wisconsin offers a wide range of career options.
As the world's fastest-growing economy, it has a large number of job openings. Furthermore, in comparison, the income level is relatively high. Some of the highest-paying jobs in Wisconsin are as follows:
Vice President, Field Operations

Consultant and Sales Representative

Emergency Medicine Specialist

Vice President of Global Operations

Industrial Truck Driver

Public Health Physician

Medical Safety Director

Executive Vice President of Operations
Source of Income
According to Wikipedia, Wisconsin's terrain is diversified, having been heavily influenced by glaciers during the Ice Age with the exception of the Driftless Area. The Northern Highland and Western Upland, as well as a portion of the Central Plain, occupies the western section of the state, with lowlands running all the way to the shores of Lake Michigan. Wisconsin has the third-longest Great Lakes coastline after Ontario and Michigan. The Chequamegon-Nicolet National Forest is located in the state's northernmost region.
Habit and Nature
WISCONSIN – According to recent research, Wisconsin is the sixth greatest state to live in in 2019. The WalletHub analysis evaluated all 50 states on 51 important factors of livability, such as housing costs, income growth, and hospital quality.
Weather
Throughout the year, the temperature normally ranges from 13°F to 82°F, with temperatures rarely falling below -7°F or rising over 90°F.
Rent a house
Rental homes in Wisconsin begin as soon as $200 to $300 a week 2 bedroom homes and can go up to $1,150 per month for larger properties. Several of the rental homes have views of the beach or the ocean and are in quiet areas. The peace and quiet are a big plus, and it is often most desired by vacationers.
Food
A single adult in Wisconsin spends an average of $2,977 on food each year, while a family of four spends an average of $8,596. To put this in context, the average yearly food expenditure in the United States is $3,240 for a single adult and $9,354 for a family of four.
The cost of gasoline
Now, a gallon of regular gasoline in Wisconsin costs around $3.954.
Natural Resources
Wisconsin is well-known for its dairy, lumber, and beer production. In addition to its work, Wisconsin is well-known for its recreation: fishing, hunting, snowmobiling, and vacationing in the Dells are just a few of the things available in the state. Wisconsin's Native American culture is also well-known.
Demography
Wisconsin has an overall life expectancy of 79.5 years. Women have an average life expectancy of 81.8 years, while men have an average life expectancy of 77.2 years.
Why Should You Hire Moving Companies in Wisconsin?
There are two types of moving companies in Wisconsin. A local mover is required if you are moving within the city or state. You may be moving into or out of the form if your move exceeds 100 miles. In that case, long-distance movers will be required. The primary reason for hiring Moving Companies in Wisconsin is that they provide various beneficial services.
Hiring The Best Moving Companies in Wisconsin 
BuzzMoving.com Locate The Best moving companies in Wisconsin  – Save money by getting free moving quotes from pre-screened movers in Wisconsin, WI.
Read More About Other Moving