Long Distance Moving Companies in Virginia
When it comes to moving to Virginia, You must hire moving companies in Virginia. The state contains a number of small islands near the coast, and Virginia's coastline is extremely long (estimated to be close to 33 hundred miles) due to the abundance of islands and bays. Latitude and longitude coordinates are 37.926868, -78.024902.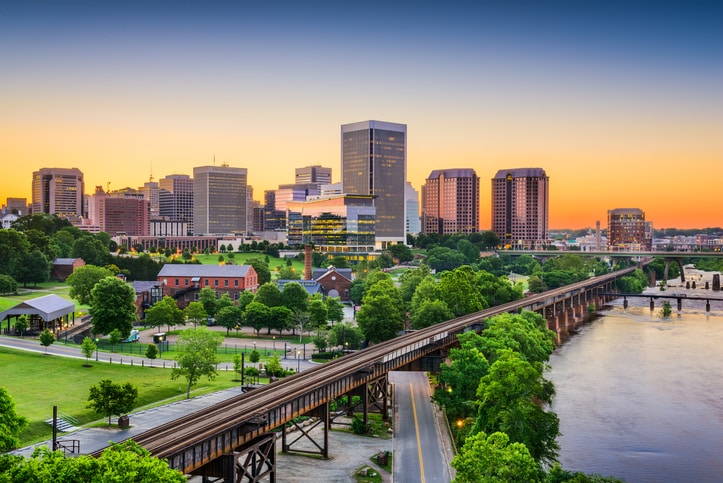 Top 5 Moving Companies In Virginia
International Van Lines
PODS
Allied Van Lines
North American Van Lines
1-800-PACK-RAT
International Van Lines
International Van Lines (IVL) is a full-service moving company that specializes in cross-country moves. The company offers a variety of full-service moving options in-house, including packing, loading, transportation, unloading, and unpacking. Customers can combine their IVL services to create partial-service or self-service moves.
Award: Our pick for insurance plans
Service Model: Full service
Founded: 1933
Rating: 4.7/5
Address: Virginia, USA
Get Free Moving Quote
PODS
PODS, like 1-800-PACK-RAT, is a self-service moving company. The company is an excellent choice for long-distance or local moves in Virginia. PODS provides convenience by offering top-tier storage solutions that include 24-hour security and climate-controlled units.
Service Model: Full service
Founded: 1967
Rating: 4.6/5
Address: 4816 Pods Way, Chesapeake, VA 23320, United States
Get Free Moving Quote
Allied Van Lines
If you want to easily transport your boat to Virginia Beach or make sure you have your RV ready for a trip to Shenandoah National Park, Allied Van Lines may be the best option for you because it provides some of the best vehicle relocation services.
Award: Editors' choice
Service Model: Full service
Founded: 1928
Rating: 4.7/5
Address: 950 S Pickett St #200, Alexandria, VA 22304, United States
Get Free Moving Quote
North American Van Lines
North American Van Lines is a full-service moving company that offers custom full-value release coverage based on the value declared by the customer on their shipment. This provides comprehensive content protection based on the actual value of your belongings rather than a set amount based on weight.
Award: Our pick for a financing
Service Model: Full service
Founded: 1982
Rating: 4.5/5
Address: 4375 George Washington Memorial Hwy Suite 100, Hayes, VA 23072, United States
Get Free Moving Quote
1-800-PACK-RAT
Our top recommendation for a self-service Virginia mover is 1-800-PACK-RAT. The company is excellent for both local and long-distance moves. PACK-RAT provides competitive pricing, an easy-to-use website with a wide range of tools and resources, and high-quality steel-body containers. The firm has offices in Norfolk, Richmond, and Sterling.
Service Model: Full service
Founded: 1933
Rating: 4.6/5
Address: 46213 Transdulles Plaza, Sterling, VA 20164, United State
Get Free Moving Quote
Why do people move to Virginia?
Talladega National Forest, Bankhead National Forest, and other spectacular natural preserves are well-known in the state.
Virginia's highest-paying job
For those looking for work, Virginia offers a wide range of career options. As the world's fastest-growing economy, it has a large number of job openings. Furthermore, in comparison, the income level is relatively high. Some of the highest-paying jobs in Virginia are as follows:
Consultant and Sales Representative
Vice President, Products Marketing
Executive Vice President of Sales
Senior Vice President, Sales
Vice President, Product Management
President Chief Technology Officer
Chief Executive Officer/Chief Finance Officer
Vice President of National Accounts
Source of Income
According to Wikipedia Virginia's state GDP was $383 billion in 2007, which was more than the larger state of Michigan and comparable to Saudi Arabia. In 2004, the per capita personal income was $35,477. Virginia had the most counties and independent cities, fifteen, in the top one hundred wealthiest jurisdictions in the United States based on the median income in 2000. Furthermore, Virginia and Colorado matched for the most counties,10, in the top one hundred based on per capita income.
Habit and Nature
Virginia is not only a good place to live, but it is also conveniently placed on the East Coast. There is something for everyone, including history fans and nature lovers. Living in Virginia is the ideal destination for any adventurer, with beaches to the east and mountains to the west.
Weather
Throughout the year, the temperature normally ranges from -1°F to 77°F, with temperatures rarely falling below -24°F or rising over 85°F.
Rent a house
Rental homes in Virginia begin as soon as $400 to $500 a week 2 bedrooms homes and can go up to $1,700 per month for larger properties. Several of the rental homes have views of the beach or the ocean and are in quiet areas. The peace and quiet are a big plus, and it is often most desired by vacationers.
Food
The survey rated the monthly cost of basic goods in each state's most populous metropolis and discovered that Americans spend $355.50 per person on average. The average monthly food cost per person in Virginia is $298.01, ranking it ninth among the ten states with the lowest food prices.
The cost of gasoline
Now, a gallon of regular gasoline in Virginia costs around $4.118.
Natural Resources
There are numerous wonderful attractions in Virginia. We may be biased, but we believe it is the most gorgeous state in the entire country. Natural beauty may be found in every area of the state, from the Blue Ridge Mountains to the Eastern Shore.
Demography
The average life expectancy in Virginia is 79.6 years. As a rule of thumb, a woman lives an average of 81.8 years; a man lives an average of 77 years.
Why Should You Hire Moving Companies in Virginia?
In Virginia, there are two kinds of moving companies. If you are moving within the city or state, you will need to hire a local mover. If your move exceeds 100 miles, you may be moving into or out of the state. Long-distance movers will be required in that case. The main reason for hiring Moving Companies in Virginia is that they offer a wide range of beneficial services.
Hiring The Best Moving Companies in Virginia
BuzzMoving.com Locate The Best moving companies in Virginia – Save money by getting free moving quotes from pre-screened movers in Virginia, VA.
Read More About Other Moving