Long Distance Moving Companies in South Carolina
If you are moving to South Carolina, you must hire moving companies in South Carolina. South Carolina is a state in the southeastern United States of America, bordered to the north by the states of North Carolina and Tennessee, to the east by the state of Georgia, and to the south by the waters of the North Atlantic Ocean. The state's total area is close to 32 thousand square miles, with a coastline that is approximately 170 miles long. South Carolina is divided into 46 counties, with Columbia serving as the state capital.
Latitude and longitude coordinates are 33.836082, -81.163727.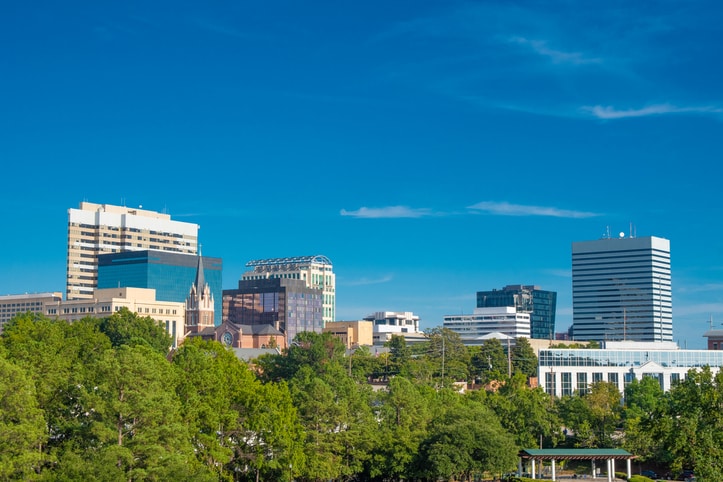 Top 5 Moving Companies In South Carolina
Smooth Move Charleston

Professional Movers of Charleston

A-1 Pioneer Moving and Storage

U-Pack

Mesa Moving and Storage
Smooth Move Charleston
Flowing Movement Charleston is a South Carolina-based company dedicated to providing high-quality services. The company provides competitive pricing as well as a low-price guarantee. Smooth Move, which serves the Charleston and Rocky Hill areas, makes it a priority to see that all of its customers' moving needs are met. Whether the need is for packing, loading, or just labor, residential or commercial. They always provide a safe, courteous, and dependable service.
Service Model: Full service
Founded: 2013
Rating: 5/5
Address: 4767 Rivers Ave, North Charleston, SC 29405, United States
Professional Movers of Charleston
Professional Movers of Charleston's staff and crew are comprised of experienced Citadel Alumni and Cadets. Every employee is a professional mover. Professional Movers of Charleston distinguishes itself from its competitors due to its one-of-a-kind nature. Their primary mission is to provide service, whether to the families in their community or to the realtors. They are dedicated to making the residents of their Charleston community's moving experiences more bearable.
Service Model: Full service
Founded: 2018
Rating: 5/5
Address: South Carolina
Allegiance Moving Company Inc
Allegiance Moving Company was established in 1997 and has been dedicated to providing some of the best moving and storage services in the Charleston area ever since. They are a locally owned business that provides clients with the highest level of hospitality and special attention to their needs. The company makes it a priority to keep its insurance, licensing, and employee training up to date. This ensures that they provide their customers with the best service possible.
Service Model: Full service
Founded: 1990
Rating: 4.7/5
Address: 2805 Jobee Dr, Charleston, SC 29414, United States
TWO MEN AND A TRUCK
TWO MEN AND A TRUCK is a large franchised moving company serving clients throughout the United States. It began as a local mover more than 30 years ago and has grown to become one of the largest moving companies in the country. The objective from the start has been to exceed customers' expectations. They were able to accomplish this in the past and continue to do so today.
Service Model: Full service
Founded: 1985
Rating: 4.6/5
Address: 2410 Air Park Rd, North Charleston, SC 29406, United States
U-Pack
U-Pack is a self-service container moving company. It unlike the other companies on this list, is a hybrid moving service that only charges you for the services you actually require for your move. You can save money by packing, loading, and unloading your belongings yourself and leaving transportation to U-Pack. You can also customize your move by adding moving labor and storage.
Service Model: Full service
Founded: 1997
Rating: 4.5/5
Address: 1720 Joyce Ave, Columbus, OH 43219, United States
Why do people move to South Carolina?
South Carolina is well-known for its advanced infrastructure and numerous points of interest, including new modern highways and bridges, a plethora of parks and gardens, and much more. South Carolina is divided into three regions based on its location. Small hills and plains line the coast. The Piedmont region of North Carolina has hills and dense forests.
South Carolina's highest-paying job
For those looking for work, South Carolina offers a wide range of career options.
As the world's fastest-growing economy, it has a large number of job openings. Furthermore, in comparison, the income level is relatively high. Some of the highest-paying jobs in South Carolina are as follows:
Consultant and Sales Representative

Senior Director of Information Technology

President/Chief Executive Officer

Chief Technology Officer

Vice President General Manager

Industrial Truck Driver

Public Health Dentist

Family Practitioner

Director, Global Business Development

Senior Director, Product
Source of Income
According to Wikipedia, South Carolina's economy was ranked 25th in the United States in terms of gross domestic product in 2020. In Myrtle Beach, Charleston, and Hilton Head Island, tourism is the biggest industry. Advanced manufacturing is also a big business in the Upstate and the Lowcountry.
Habit and Nature
You'll appreciate the warm and friendly southern hospitality. Gas taxes are low, so transportation costs are low. Hiking, going to the beach, boating, and fishing are all popular outdoor activities. When you live in South Carolina, history comes to life for you.
Weather
Throughout the year, the temperature typically ranges from 34°F to 90°F, with temperatures rarely falling below 22°F or rising above 97°F.
Rent a house
Rental homes in South Carolina begin as soon as $300 to $400 a week 3 bedrooms homes and can go up to $1,500 per month for larger properties. Several of the rental homes have views of the beach or the ocean and are in quiet areas. The peace and quiet are a big plus, and it is often most desired by vacationers.
Food
Researchers discovered that the average South Carolinian spends $411.29 per month on groceries, while the national average is $355.50.
The cost of gasoline
Now, a gallon of regular gasoline in South Carolina costs around $3.947.
Natural Resources
South Carolina's soils, minerals, and forests are known for their abundance of kaolin clays (like limestone), talc, topaz, and vermiculite.
Demography
South Carolina has an overall life expectancy of 76.5 years. Women have an average life expectancy of 80.5 years, while men have an average life expectancy of 74 years.
Why Should You Hire Moving Companies in South Carolina?
There are two types of moving companies in South Carolina. You may be moving into or out of the form if your move exceeds 100 miles. In that case, long-distance movers will be required. The primary reason for hiring Moving Companies in South Carolina is that they provide various beneficial services.
Hiring The Best Moving Companies in South Carolina
BuzzMoving.com Locate The Best moving companies in South Carolina – Save money by getting free moving quotes from pre-screened movers in South Carolina, SC.
Read More About Other Moving