Long Distance Moving Companies in Idaho
When it comes to moving to Idaho, You must hire moving companies in Idaho. Its capital is Boise, which is the county seat of Ada County and is located in the state's southwestern corner. Idaho is bounded on the east by Wyoming, on the east and northeast by Montana, on the north by British Columbia, on the west by Washington and Oregon, and on the south by Nevada and Utah. Latitude and longitude coordinates are 44.068203, -114.742043.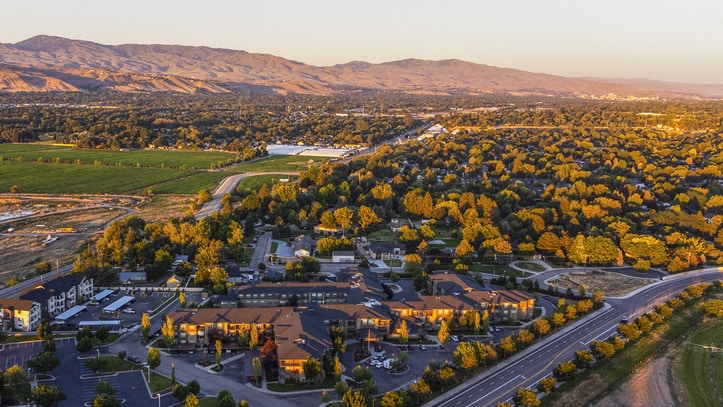 Top 5 Moving Companies In Idaho
208 Moving Company

Trustworthy Movers

Boise Local Boys Moving Company

TWO MEN AND A TRUCK®

College Hunks Hauling Junk and Moving
208 Moving Company
208 Moving is a professional moving company in Boise that is locally owned and operated. Its headquarters are in Treasure Valley. This company is run by professionals from various backgrounds who are all committed to providing the best service possible to each client.
Award: Our pick for insurance plans
Service Model: Full service
Founded: 2013
Rating: 4.7/5
Address: Idaho, USA
Trustworthy Movers
The trustworthiness of the company is one of the most important criteria to consider when looking for a professional mover. It would be difficult to find someone better than Trustworthy Movers in this regard.
Award: Our pick for long-distance moves
Service Model: Full service
Founded: 1982
Rating: 4.6/5
Address: Idaho, USA
Boise Local Boys Moving Company
This professional mover, founded only in 2018 by two Boise local boys, is still relatively new in the business, but that hasn't stopped them from quickly becoming a favorite moving company in Boise and surrounding areas.
Award: Editors' choice
Service Model: Full service
Founded: 2006
Rating: 4.7/5
Address: 4299 W Chinden Blvd, Boise, ID 83714, United States
TWO MEN AND A TRUCK®
TWO MEN AND A TRUCK® is a large franchised moving company that serves clients from all over the United States. It began as a local mover more than 30 years ago and has since grown to become one of the top moving companies in the country.
Award: Our pick for a financing
Service Model: Full service
Founded: 1985 
Rating: 4.5/5
Address: 5414 W Franklin Rd, Meridian, ID 83642, United States
College Hunks Hauling Junk and Moving
College Hunks was founded by two college friends who owned an old van. All they wanted was to provide in-demand hauling services in their community. They eventually formalized their partnership and established College HUNKS Hauling Junk & Moving in 2005.
Award: Our pick for the easy claims process
Service Model: Full service
Founded: 2003
Rating: 4.6/5
Address: 2163 Centurion Pl, Boise, ID 83709, United States
Why do people move to Idaho?
This article will highlight 5 major moving companies in Boise, ID that can make moving easier. This article will provide you with the information you need to choose the best moving company for your needs.
Idaho's highest-paying job
For those looking for work, Idaho offers a wide range of career options.
As the world's fastest-growing economy, it has a large number of job openings. Furthermore, in comparison, the income level is relatively high. Some of the highest-paying jobs in Idaho are as follows:
Owner/Operator

Director Of User Experience

Operator And Truck Driver

Driver/Owner Operator

Entrepreneur

Advanced Practice Registered Nurse

Truck Driver-Over-The-Road

Engineer

Clinic Registered Nurse
Source of Income
The $3 billion tourism industry is important to Idaho's economy, and the state's major industries include advanced manufacturing, aerospace, computer technology, innovation, energy, food production, and recreation technology.
Habit and Nature
Most Idahoans are friendly and conservative in general. Only Utah has a larger Mormon population, but Boise is known for its openly gay community. Visitors who come to Idaho to experience its majestic natural beauty are rarely disappointed by the diverse scenery or people.
Weather
Throughout the year, the temperature typically ranges from 14°F to 87°F, with temperatures rarely falling below -3°F or rising above 94°F.
Rent a house
Rental homes in Idaho begin as soon as $500 to $600 a week 2 bedroom homes and can go up to $2,100 per month for larger properties. Several of the rental homes have views of the beach or the ocean and are in quiet areas. The peace and quiet are a big plus, and it is often most desired by vacationers.
Food
In Idaho, the average single person spends $3,792 per year on food, which works out to around $316 each month. There is a nearly threefold increase in the yearly cost to $11,106 for a family of four with two working adults and two children, or about $925,50 each month.
The cost of gasoline
Now, a gallon of regular gasoline in Idaho costs around $4.409.
Natural Resources
The Palouse region of northern Idaho has not only one of the most spectacular landscapes in the state but also one of the most distinct. The Palouse is a 4,000-square-mile region with beautiful rolling hills.
Demography
The average life expectancy in Idaho is 79.4 years. As a rule of thumb, a woman lives an average of 81.7 years; a man lives an average of 77.3 years.
Why Should You Hire Moving Companies in Idaho?
In Idaho, there are two kinds of moving companies. If you are moving within the city or state, you will need to hire a local mover. If your move exceeds 100 miles, you may be moving into or out of the state. Long-distance movers will be required in that case. The main reason for hiring Moving Companies in Idaho is that they offer a wide range of beneficial services.
Hiring The Best Moving Companies in Idaho
BuzzMoving.com Locate The Best moving companies in Idaho – Save money by getting free moving quotes from pre-screened movers in Idaho, ID.
Read More About Other Moving