New York City is a great place to live and visit, but moving to or from the Big Apple from a long distance can be horrifying. But there is a way to make the process easy and not stressful! Live in New York City and are looking for Interstate Movers In New York. BuzMoving can put you in touch with reputable companies that offer excellent services at reasonable prices.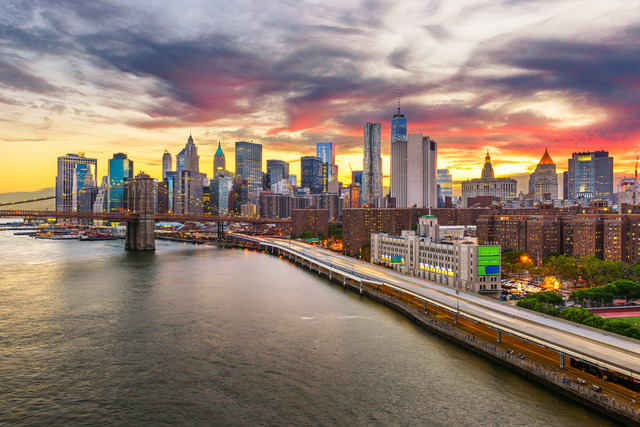 Our Top Pick Interstate Movers In New York
We looked into the best moving companies in New York City and sorted them by their services. Whether you're moving to New York, out of New York, or just a few blocks away, these moving companies will help make the process as easy as possible.
Atlas Van Lines (AVL)
Atlas Van Lines has an extensive network in all 50 states and 17 countries, so they can help you move to or from New York City from far away. AVL works with 13 different movers in the city, which is one of the most significant numbers on this list. This makes sure that the company can tailor the move to your needs.
Service:
Long distance

Local

Full-service moving

Packing Unpacking

Vehicle relocation

Specialty packing of fragile items

Storage

Valuation coverage

Eco-friendly packaging
Cost
Quotes can be binding or non-binding. A nice bonus; you don't have to pay anything upfront. Atlas also gets points for its app, which makes moving more accessible by letting you video chat with a natural person to get an exact quote, track your move, and make a list of all your things.
Pros
Provides tools for tracking
Both locally and across the country
No initial deposit is required
Cons
Mayflower is the right mover if you need to move unique things, fragile furniture, or antiques. The company has special crating that can pack even the oddest-shaped items. Also, Mayflower's Full Value Protection Plan ensures you'll get a fair amount of money back if an item gets broken during shipping. Every moving price also comes with the plan. Complete Value Protection differs from insurance because you don't have to show that Mayflower caused the damage to get your money back.
Service:
Long distance

short distance

Local Moving

International Relocation

Crating service

Full- and partial-service

Packing, 

debris removal

vehicle relocation
Cost
Mayflower only gives exact pricing information online or over the phone, making it harder to start planning. Quotes are only provided after your household things are looked at in your home. This policy ensures you get an exact estimate, but it could be better if you shop around and want a quick answer.
Pros
Provides custom packaging for unique things
Storage service available
Give a protection plan in every first move
Cons
United Van Lines
United Van Lines has you covered whether you are moving into, out of, or within New York City. The company gets high marks for having an extensive network in all 50 states and adapting to your packing and moving needs. United Van Lines will take care of the move if you move a long way. The Federal Motor Carrier Safety Administration also licenses the company, ensuring long-distance moves are made with the most excellent care and safety.
Service:
Long distance moving

Short distance moving

Offers personal packing

Car moving

Specialty items moving

Packing Unpacking

Loading unloading
Cost
United has meager prices. United charges between $2,100 and $6,200 for flat moves, based on how much stuff you have and what services you use. House moves can cost anywhere from $4,300 to $11,400. After thoroughly examining your items and wants, they will give you a binding quote.

Pros
Available for both local and across the country
Provides tools for tracking/li>
Offer personal car moving
Cons
Charge extra for car parking
Piece Of Cake Moving & Storage
Piece Of Cake Moving & Storage is the best-loved and highest-rated moving company in New York City. They are fully protected and have a good rating with the Better Business Bureau. Piece Of Cake Moving & Storage is also the only moving company in NYC that works 24/7, 365 days a year. They will safely move whatever you need from point A to point B. Also, they can move you across all five boroughs of New York City and from one US state to another.
Service:
Residential & office moves

Small moves & special events

Complete packing & unpacking 

White glove service

Fragile handling

Box and packing material delivery

Short & long-term storage
Cost
With Piece of Cake Moving & Storage, any journey costs, like road tolls, that come up during your move are included in the price, so there are no surprises on a moving day. Fees like tolls, gas, and moving labor are all included in the price.

Pros
Insured and secured
Offer fragile items move/li>
No hidden charge
Cons
Charge extra for extra items
The Roadway Moving
The Roadway Moving is a better way to get all over, just like that. They know how hard it can be to move, but it doesn't have to be that way. Everyone who works there has a lot of training and cares about their customers' happiness. They have the best people in the moving and storage business, from their movers to their operations team to their sales staff. This makes them one of the best companies for neighborhood, long-distance, and moving industries. Experience the difference that years of service and perfecting the human touch can make for you and your family.
Service:
Loading unloading

Packing Unpacking

Local moving

Long distance moving

Furniture assembly

Storage services

Virtual consultations

Commercial services

Large and heavy items moving

Piano moving
Cost
There are no specific costs included on their website. They offer virtual estimates and free online quotes.

Pros
Best interstate movers in New York
Free online quote/li>
Free virtual estimates
Cons
How to Choose interstate movers in New York
When moving, one of the first things on your list is to find and hire a mover who meets your needs. But because so many moving companies are trying to get your business, choosing one can take a lot of work. Here are some of the most important things you should consider when choosing a moving company in New York.
The Services Offered
After you decide how much of your move you want to do yourself, you'll need to ensure the moving company can handle the rest. If you plan to do most of the moving, you may only need a company that drops off and picks up containers, or you may need to rent a moving truck. If you want to do less work, you should find a company that offers all the full-service options you need.
Locations of Service
Some interstate moving companies only work in certain states or areas, but most will take you almost anywhere in New York, even if they don't have agents nearby. Find the interstate movers in New York that can help you the whole of New York where you are now and where you are going.
Availability
Most moving companies book up early, so make sure you find one that will be open when needed. Also, check to see if there is storage space if you need it. If you want to move, ensure the hiring company has the tools you need on the day of your move.
Goodwill
Talk to your neighbors, friends, and family to help narrow your list of moving companies. Find out what they think about the moving companies they've used. Check out both good and bad customer stories on online review sites. The Better Business Bureau (BBB), which has excellent information about customer complaints and how to solve them, is another good resource.
Price
No matter how big or small your move is, you likely have a budget you want to stick to. Get online price quotes from several reputable businesses in your area. Even though quick quotes are rarely the final price, they can help you narrow your list to companies in your price range.
Our Final Thought
With all the things you have to do for your cross-country move, keep yourself energized. Instead, do what's smart and hire the best interstate movers in New York. These included being available all over the country, having storage options, giving valuation coverage, and having ways for customers to get help.