Moving is always a big job, from packing the most essential things to loading and rearranging. But you can let someone else do the heavy lifting if you hire a professional local moving company. Whether you're moving to, from, or within New Jersey, our guide has an in-depth look at the Best Interstate Movers In New Jersey.
Our Top Pick Best Interstate Movers In New Jersey
We looked into the best moving companies in the country and made the list below. Several things, like pricing, services, and customer service, were looked at for each provider in the study.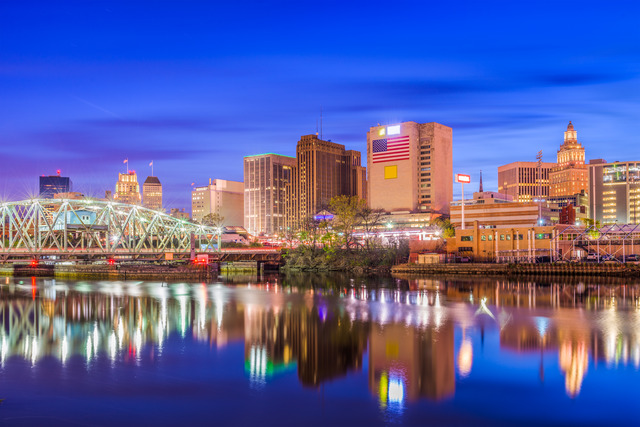 Allied Van Lines
Allied Van Lines is for people who want to ship their cars as part of a big move. AVL offers in-house vehicle shipping, which means it uses its trucks to move cars, RVs, boats, and other vehicles.
This service alone sets AVL apart from most moving companies since most hire other companies to move cars. That can make you wonder about the quality of the service.
Service:
Auto and boat transportation

Furniture disassembly and reassembly

Packing and unpacking

DIY moving container service

Storage for in-transit items

Loading and unloading

Specialty packing for delicate items

Extended insurance coverage

Vehicle guarantees

Long-term storage arrangement
Cost
The cost of your move depends on several things, like how far you are moving, when you plan to move, how big your move is, and how your home is set up, including any problems with entry or exit spots. Before deciding on a price, Allied also needs to do a virtual or in-person assessment of your home and make a list of your furniture and other household things.
Even though Allied's quote process is long and detailed, its figures are binding. This means that there won't be any hidden fees or other costs added to your move. Allied Van Lines customers can pay with cash, a credit card, or a signed cheque. There is no need to pay a fee upfront.
Pros
There is a moving container service that is affordable and includes lifting and unloading.
GPS will track all moves
Auto shipping and promise done in-house/li>
Cons
Long process for getting quotes on long-distance moves
The team of movers at North American Van Lines (NAVL) has more than 85 years of experience, so they can handle almost any move or service you need in New Jersey. NAVL offers a wide range of services, from full-service to partial-pack to its BlueExpress program, which is great for local moves.
Service:
NAVL is a full-service moving company that offers many moving services and some of the best moving insurance choices.
Basic liability coverage 

Packing and unpacking 

Full-valuation coverage 

Fragile item packing 

Auto transport Loading and unloading 

Junk removal 

Crane van for oversized items 

Storage services 

Furniture disassembly and reassembly 

Packing materials 

Appliance disconnection and reconnection
Cost
Depending on how far you are moving and how heavy your things are, NAVL can ask for a lot of money upfront. Many moving companies need a deposit to hold a moving date. Most of these deposits are between 10% and 25% of the total cost of the move. Deposits for NAVL can range from 10% to as much as 50% of the total cost of your move. The company takes cash, credit cards, and guaranteed good checks.
Pros
Its variable price is excellent for clients who are on a tight budget
The Better Business Bureau gave us an A+
A personal move planner handles all moves./li>
Cons
Services for special needs rely on the availability of local partners
Moving APT
Using a moving agency like Moving APT is helpful because its team works to find you the best deal possible by matching prices within its network. Moving APT will shop around to find the best price for your services. This way, you will feel free from what one company offers.
As a broker, Moving APT works with a network of more than 2,500 independent third-party movers from all over the United States to arrange moves. Moving APT ensures that all workers in its network are licensed, insured, and have a good reputation before joining the network.
Service:
Packing

Moving supplies

Piano moving

Appliance connection

Auto shipping

Furniture disassembly and reassembly (limited)

Storage

Custom crating

Junk removal

Home staging
Cost
After a virtual home review, Moving APT gives prices that can't be changed. The company has a "moving calculator" on its website, but remember that this is meant to provide you with a range of prices, not an exact price.
When you book your moving date with Moving APT, you must pay a deposit upfront. The amount of the deposit depends on where and when you are moving, how big your move is, and which moving company you choose.
Pros
Complete profiles of its most-used moving partners are available on its website.
An extensive moving affiliate network offers a wide range of services
The most open ways to pay/li>
Cons
If you cancel, you must give us seven days' notice to get your deposit back.
Piece of Cake Moving & Storage
Piece of Cake Moving & Storage was started in December 2017 with one truck and the goal of making moving fun. In 2023, five years later, they had more than 200 cars and a team of more than 500 people. They are the biggest and most trusted moving company in New York City. They help people move all over NYC and the US. However, they serve NYC, which is a place that is constantly changing.
Service:
Full packing services

Piano moving

Art packing services

Virtual consultations

Partial packing services

Long distance moving

Commercial services

Storage services

Local moving

Moving container rentals

International relocations

Packing supplies

Unpacking services
Cost
With Piece of Cake Moving & Storage, any journey costs, like road tolls, that come up during your move are included in the price, so there are no surprises on a moving day. Fees like tolls, gas, and moving labor are all included in the price.
Pros
The price is fair, and the move will take less time.
Pay special attention to your walls, floors, and doors
Extra protect and wrap your furniture/li>
Cons
Some customers reviewed by Yelp that they take much time on packaging
Vector Movers NJ
Vector Movers NJ is a trusted and cheap moving company in New Jersey! Their moving company has reasonable prices, a wide range of moving services, and an excellent safety record. No matter how big or small the move is, they are the moving experts with the knowledge and experience to give you the tools you need to make it go smoothly and without stress.
Service:
Packing, unpacking, & crating

Local moving

Furniture moving

Commercial services

Full packing services

Senior moving

Partial packing services

Furniture assembly

Virtual consultations

Storage services

Large and heavy items moving

Long distance moving

Art packing services

Piano moving

Interstate moving

Piano moving
Others
Vector Movers NJ's business and long-distance movers will make a moving plan to make moving from one place to another more accessible and pleasant.
Pros
They work very hard to get things done quickly and without stress
All movers of Vector Movers NJ are very professional
Online free estimates/li>
Cons
You have to deposit to move
What should you consider when picking the best Interstate Movers In New Jersey?
Several things affect how you choose the best Interstate Movers In New Jersey for your move, such as:
Your budget: Think about how much you can pay to move. If your budget is tight, consider a do-it-yourself service or look into companies offering many ways to pay.
Your schedule: How much time do you have until you move? You can look around and talk to different movers if you have at least eight weeks to move. If you're moving in less than six weeks, you'll have to be less picky because more movers will already be booked. 
How far you're moving: Are you moving close by or far away? Some moving companies only make moves from faraway places to New Jersey. The type of move and the distance will help you eliminate some of the companies on your list immediately.
Your things: Do you have any hot tubs, cars, artwork, grandfather clocks, or antiques that need special care? If you need special services, choose a full-service company offering specialty services to help you plan your move.
Your choices: What parts of moving stress you out the most? Think about which moving services provide full service, like choices for packing or shipping your car, which will help you feel less stressed and save you the most time.
What to Look for in a New Jersey Moving Company
Even though New Jersey is only 8,700 square miles, moving there can be challenging because of all the details. Ultimately, your needs will tell you which moving company is best for you. This includes your income, the distance you are moving, the size of your household, and other things like whether or not you need to ship your car or store items while you drive.
If you look at companies not on this list, check their service record, license status, and insurance policies. It can be helpful to get personal suggestions from people in the area or to find out if someone had a bad experience with a business that you should avoid.
Our Final Thought
BuzzMoving tries to give you the most precise and accurate information about the best Interstate Movers In New Jersey. Our moving company reviews focus on what's most important to you: reliable, affordable companies that can do a wide range of packing and moving chores.
Our ratings are based on information about each company that is open to the public, secret shopping online and over the phone, analyzing customer reviews, and talking to current and former professional movers.
You may read our reviews and check out the best interstate movers in New Jersey from our list.