If you want to move to New Hampshire, you should do a few things to prepare. First, you should do the research you need to hire the best interstate movers in New Hampshire. After all, an excellent moving company is the most essential part of a smooth move in New Hampshire. Second, you should do everything possible to discover as much as possible about life in New Hampshire. This will help you make your final choice about whether or not to move there.
Our Top Pick Best Moving Companies In New Hampshire
We suggest looking at companies with a lot of experience and an excellent reputation in the industry. So, we've made a list of the best interstate movers in New Hampshire for residents leaving the state.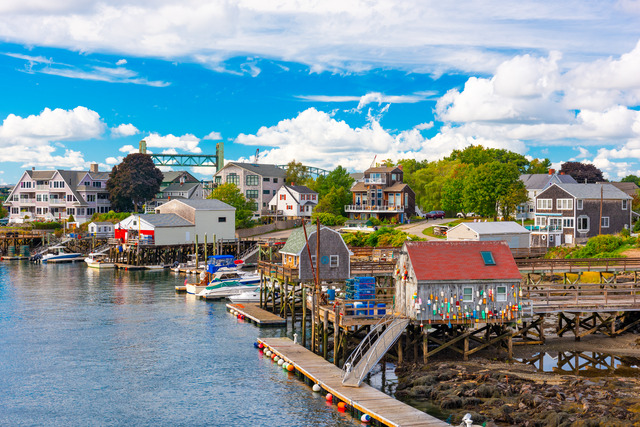 Interstate Moving & Relocation Group (IMRG) is a moving company proud of its work. IMRG doesn't handle your move on its own. Instead, it works with a network of carefully selected partners. The company carefully manages its workload to ensure activities are completed on time and tries to go above and beyond what is expected.
Since it started in 2017, it has grown and now works with moving companies in all 50 states. It has many online moving tips and resources.
Services:
The moving teams at IMRG make both short- and long-distance moves. Some partners even help people in other countries, but this depends on the businesses in your area. The following are IMRG's primary services:
Crating

Transporting cars

Some places have GPS tracking

Storage

Packing

Unpacking
Cost
After you complete an accurate list of the things you'll be moving, IMRG will give you a detailed quote online.
When you book your move with IMRG, you have to pay a deposit of up to 33%, and you can only get your money back if you cancel within 72 hours of booking. The company may take 4%–10% of your return for merchant fees. If IMRG can't give you back your deposit, they'll put it towards the next move you make with them. You can use your credit for up to 24 months.
Pros
Partner businesses in all 50 states
Offers local and long-distance moving services
Features a cost calculator tool online
Cons
Offers non-binding estimates
American Van Lines
The moving team at American Van Lines (AVL) stands out. All of its movers are full-time workers who have had their backgrounds checked. On average, they have been moving for ten years. The company also hires people who are trained to move antiques and pianos. With locations throughout the contiguous United States and weekly shuttles to essential cities, AVL has everything it needs to help you move locally or long distances.
As a bonus, all moving deals are priced flatly, so there are no surprises on moving days.
American Van Lines helps people in New Hampshire move their homes and businesses long distances. On the other hand, the company's experienced employees make it an excellent choice for local and long-distance moves in the other 48 states.
Service:
Corporate relocation

Military Relocation

Access to secure storage facilities

Packing services

Military moving

Unpacking

Packing materials
Cost
Most of what goes into AVL's flat-rate price is the shipping weight and the distance of the move. Costs will also increase if you get extra services, like full-service packing. The moving price process with American Van Lines was more detailed than what we had seen with many other professional movers. Before discussing prices, our move planner wrote down our entire inventory room by room and asked pointed questions about how easy it would be to get in and out of our home.
Pros
Uses experts for fragile things
Offers complete and partial packing services
Offers prices with a flat rate
Cons
Alaska and Hawaii can't get it
International Van Lines
The best international and the best interstate movers in New Hampshire is International Van Lines (IVL). It helps people move to all 50 states and 180 countries worldwide. People like that it has a full range of services and a lot of online moving tools and guides. Since it began in 2000, IVL has helped more than half a million people.
Service:
Loading unloading

Crating

Packing Unpacking

Heavy-item moving

Debris removal

Packing

Local

Long distance

Vehicle shipping

Storage

Piano moving

Unpacking
Cost
When you book a move with IVL, you'll pay for it in three separate payments. First, you'll have to pay a 25% payment right away. The following payment is due when you pick up the item, and the last payment is due when the item is delivered. Remember that you can get your deposit back in full if you cancel at least 48 hours before your planned pickup.
People can immediately use IVL's online moving calculator to get a rough price. You must talk to the company directly to get a more accurate quote. You can also ask for discounts for older adults moving and those in the military.
Pros
Offers affordable full-coverage insurance
Offers transparent prices with no hidden charges
Has licenses for ocean and air freight for foreign moves
Cons
A 25% payment is needed to book
Trend Moving & Storage
Trend Moving & Storage is considered the best interstate movers in New Hampshire. They are committed to making the moving process more manageable, less stressful, and more fun. They have helped people and businesses move locally and long distances for years, so they know that moving can be upsetting, but it doesn't have to be. You can count on them to make your move a pleasant experience, whether you need them to move an oversized item across the hall or to help you pack up and move into a new home.
Service:
Furniture moving

Packing, unpacking, & crating

Furniture assembly

Long distance moving

Partial packing services

Full packing services

Storage services

Piano moving

Commercial services

Local moving

Packing supplies

Large and heavy items moving

Senior moving

Virtual consultations
Cost
Moving is easy with Trend Moving & Storage. They don't tell you to give extra or deposit any money before moving. You have to call them to book, and then one of their friendly sales consultants will provide you with a free moving quote. And make sure your moving day is set. On a moving day, they will show up on time, ready to work hard, and ensure you don't have to worry about anything.
Pros
Available free quote
Professional and friendly
Damage cover
Cons
G Grant Movers
G Grant Movers LLC has been helping people and businesses move in and around Manchester, New Hampshire, for over 50 years. Their company tries to give you fast service, pay attention to the details, and charge you a fair price. They aim to give their customers the most skilled, polite, high-quality service and work. They help people who are moving to a new home in the same city or town and can also help people who are moving across the state.
Service:
Loading & unloading of rental trucks

Home staging

Piano moving services

Local & statewide moving

Inner house moves

Small office moves

Junk removal services

Insured loads
Cost
For booking, you do not need to pay in advance and do not require a deposit. You can take a free quote online or by phone call. They also offer to pay in cash or accept credit cards.
Pros
Provide prompt, professional services
Offer a free estimate
Over 50 years of business
Cons
How to avoid scams when traveling long distances?
Not a good sign if the company you hired is listed on the rental truck and uses the rental company's US DOT number. Ensure they will come in their vehicle unless it's a busy time. Currently, businesses rent cars, but they still need to use their US DOT number.
The most important thing to do before you sign the papers is to find out which company will make the move. It has to stay out of sight. Please find out the name of the company and the rules for doing business with it. It's important to know that the information you agreed to over the phone will be the same as the contract you will sign.
We know this is a small moving tip, but this is how you find the best interstate movers in New Hampshire.
Please remember that long-distance moving companies can work up to 11 hours daily. Don't trust this company if they give you arrival times that are too long or too short. All cars in the US are only allowed to drive for 11 hours a day, which includes a 30-minute break.
Even if the price is lower, go with a company that says it will deliver after a short time, like two months. They are traders and may sell your personal information and information about your employees to someone else. In this case, nobody will be to blame if something breaks or gets destroyed.
Things that affect how much a moving company charges
Some of the things that affect the total cost are:
Particulars
If you have pianos, art, antiques, or heavy machines that need special care or equipment to move, this could add to the cost of your move.
Seasonality
Last, moving prices can change based on the time of year. Most people move between May and September, which is peak driving season. Moving services may cost more during this time because more people are moving.
Services on top of that
Costs for other services are generally added to the base moving rate. Packing services can add several hundred dollars to your moving budget, and storage fees depend on how much space you need and how long.
How far the move is
One of the most important factors is the distance between where the trip starts and ends. Long-distance moves often cost more because they take more gas, time, and planning.
Complexity Move
Things like many flights of stairs, long distances to carry, narrow streets or halls, or taking things apart and putting them back together can make a move harder and cost more.
Our Final Thought
We reviewed the best interstate movers in New Hampshire. So choose anyone from our list if you want to move without stress. These all provide the best service in New Hampshire and the USA.
You may read our reviews and check out the best interstate movers in New Hampshire from our list.