Moving is a big job with many things that need to be done. But if you prepare well, you will set yourself up for success. A good pre-plan will help your move stay on track, reduce your stress, and keep you focused on the job at hand. BuzzMoving can help you find the best interstate movers in Nebraska if that's what you need. Our list includes professional movers with full licenses, insurance, and bonds.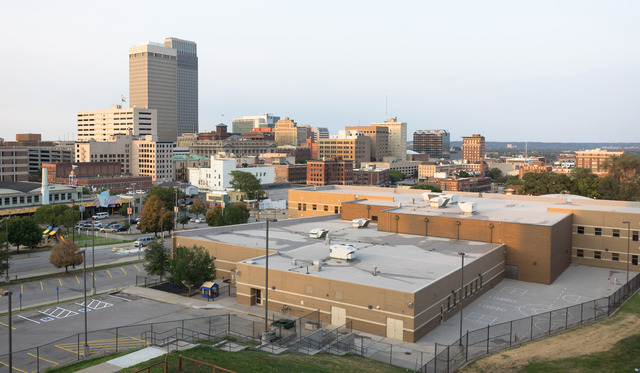 Our Top Pick Best Interstate Movers In Nebraska
Please read our review and follow our tips to find the best interstate movers in Nebraska who are experienced, reliable, and can pack, move, and store your things.
Mayflower's website is the best place to plan and track your move. Mayflower lets you set up a price, book your activity, plan the loading day and check on the status of your shipment. It saves your moving contacts and gives you weekly checklists.
The FMCSA licenses Mayflower as an interstate carrier. It has more than 1,200 drivers and drives more than 30 million miles every year. The BBB gives it an A+ grade.
Service:
Long distance move

Local move 

Car shipping

Small moves

Full-service packing

Corporate relocation
The company also offers a way to get a price online. Walk through your home while an estimator guides you through Mayflower's safe iOS or Android app. Your home check is done in just a few minutes. After that, you'll get your price soon.
Pros
Modern online moving sites can give you virtual prices
Binding estimates
No deposit is required
Cons
Use third-party companies
United Van Lines
United Van Lines (UVL) is a good choice if you need to move expensive items or want less trouble if something breaks. When you hire a mover or drive yourself, there is a chance that something will get hurt. To avoid this risk, UVL offers Full Value Protection instead of insurance to fix or replace damaged things they are moving for you.
But it lets you list things by filling out a High-Value Inventory Form.
Service:
Long distance move

Local move

Vehicle shipping

Storage

Small moves

Military moves

Corporate move

Full-service movers

Packing and unpacking
In some areas, United van lines work with third-party moving companies. If you are worried about working with other companies, ask UVL if they will make your move as a carrier (using their cars and movers) or as a broker (contracting with other companies).
Pros
Tracking custom crates online
Better safety for property
Offer complete value protection
Cons
Ratings from customers vary
North American Van Lines
North American Van Lines (NAVL) is a licensed carrier that will cover more than 30 million miles in 2021 with the help of more than 1,400 of its drivers. It also works as a broker with more than 500 service providers nationwide. Those who want to work with the same company throughout the process may not like this.
North American Van Lines (NAVL) tries to fix this problem with its quote choices. "Binding estimates" give you sure prices, and this company allows you to get them. NAVL offers bottom-line pricing, not-to-exceed pricing, and custom pricing. Moreover, they are well-known interstate movers in Nebraska.
Service:
Vehicle shipping

Storage

Corporate services

Home Moving

Furniture moving

Packing and unpacking

Moving calculators and checklists

Loading and unloading
NAVL has yet to figure out how to coordinate storage services in every market, so if you need to store your things before they get to their end destination, check with your operator early on.
The way NAVL handles cases also makes it stand out. Some moving companies need to be more explicit about how their claims process works, but NAVL tells you everything you need to know about it online and lets you send in forms electronically so that they can be processed quickly if your things get lost or damaged.
Pros
Binding estimates
Offer customized price
Easy to file a claim
Cons
Short store space available
U-Pack
U-Pack has affordable options for your unique move because you only pay for the room your belongings take up. Also, fuel costs are always included. Since you only pay for the equipment room you use, U-Pack is an affordable option for your unique move. Also, the cost of petrol is always included, which helps you stick to your budget to stay within what you can afford.
Service:
Cross country

Moving job relocation

Student moving

Military moving

Senior moving 

Smaller moves

Truck rental comparison compare

Full-service portable storage containers
With choices like door-to-door delivery, storage, and guaranteed transit, you can get a move that fits your wants and budget. And online, you can do as much or as little as you want.
Pros
Step-by-step tools and materials
Access to outstanding customer service
Quick and easy service just the way you want it
Cons
Firefighters On The Move
Firefighters On the Move serves Omaha, Lincoln, and nearby areas with pride, a work ethic, and a commitment to their customers that can't be beaten. You can trust this group of firemen to get your move done safely. You can trust them to help you move if you trust them in an emergency.
Service:
Furniture moving

Long distance moving

Packing, unpacking, and crating

Senior moving

Full packing services

Local moving

Commercial services

Large and heavy items moving

Piano moving
Firefighters On the Move worked hard as public workers in dangerous and tense situations. They became friends and worked together in a way that was based on conversation, teamwork, and getting things done quickly. They used this fundamental business strategy to move people's belongings. Moving is a physically demanding job, and they like that they can help a wide range of people in both their homes and businesses.
Pros
Emergency move
Free online quote
Affordable price
Cons
How to Choose the Best Interstate Movers in Nebraska
Make sure you know everything you can about a moving company before hiring them to help you move. These tips will help you decide if you should trust this company with your things.
Do they have a U.S. DOT number: Interstate movers must be listed with the Federal government and have a U.S. DOT number.
What kind of safety does the company offer: The law says that moving companies only have to pay $0.60 per pound for insurance. Some will offer complete coverage, such as the total cost of replacement or the car's value after losing it.
How long has this company been in business: Choosing a company with many years of experience lets you know that they are reputable and trustworthy.
Check the Internet for reviews: The Internet is a great place to discover a moving company's image. Have other customers had good things to say about this company?
What other services are available: Some companies may offer packing and shipping services, car shipping, or other services to help you move. It would help if you looked at what each company offers and how much it will cost to get more.
Our Final Thought
Before you book your move to Nebraska, you should always get quotes from at least three local or long-distance movers. Remember that binding quotes will give you the best idea of how much each company will charge. Once you have the quotes, you can compare the prices and choose the best interstate movers in Nebraska.
We suggest listing everything in your home and getting free quotes from several companies.
You may read our reviews and check out the best interstate movers in Nebraska from our list.