The BuzzMoving Reviews Team is here to help you find the best interstate movers in Indiana for your planned move. The best Indiana movers can help make a home move easy and stress-free, whether you need a mover in Indianapolis to help you find your way around the city or help you move from Fort Lauderdale to Fort Wayne.
Our Top Pick 5 Best Interstate Movers In Indiana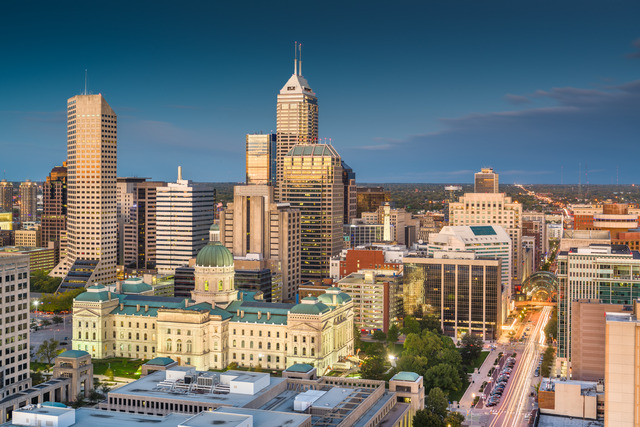 We spent a lot of time figuring out the best ways to move to Indiana, which we will discuss below.
International Van Lines
International Van Lines (IVL) helps people move all over the country and the world, regardless of their needs. Since 2004, this mover has helped people move within the United States. It now works with movers in all 50 states. Its trained agents offer services like packing, crating, and more. 
IVL has an easy-to-use cost calculator that gives quick prices and a simple quote method that provides more accurate estimates. 
Service:
Local Moving

Long-distance Moving

Interstate Moving

Auto Transport

International Moving

B2B shipping

Packing supplies

Air freight services

Corporate and military relocation

Packing, loading, and unloading

Transportation of fragile items
Your move with them will start when you fill out a message form on IVL's website. A worker from the moving company will call you to make a detailed list of everything in your home. This will be broken down room by room to determine an exact price. You'll also provide any add-on services you require. 
If International Van Lines can't move you with a truck and crew it owns and runs, it will hire one of its partner companies to help. No matter what, you must put down a 25% deposit to book.
Pros
Offers all kinds of moving services, such as packing and dumping
Usually takes care of about 10,000 moves a year
Can handle pickups in nearly every state
Cons
Many rivals have lower prices
American Van Lines
Since 1995, American Van Lines (AVL) has been helping people move between the 48 states. AVL says that its movers have been working on average for ten years, meaning they can give you good service and care for everything. 
All of the moves that AVL makes are priced at a flat rate. No matter where in Indiana you are moving, you will be given a price that won't change once you've moved in.
Service:
Local Moving

Long-distance Moving

Corporate relocation services

Military Moving

International Moving

Commercial Moving

Antique and piano Moving

Storage solutions
Flat rates from AVL will only change if you change your inventory or service needs between the day you get a price and the day you move. Because its costs are precise, it makes moving less stressful.
AVL needs to provide quick quotes on its website. However, it gives examples of prices for moves between big U.S. cities. Prices are shown for activities of different sizes along each path. Call AVL's phone number or fill out a contact form on its website for a quote. Soon after, someone will call to schedule a time and a price.
Pros
It has moving experts who can help with every step of the process
Gives a detailed list of the items
Certified antique and piano movers
Cons
Requires an upfront deposit
North American Van Lines
North American Van Lines (NAVL), started in 1933, is a carrier and broker working in all 50 states. It has more than 500 sites and local agents who can help customers. Services include packing, removing, and reassembling appliances, cleaning up after the move, and more.
NAVL is a good choice for people who need to move many extra services or valuable things because of its pricing structure and valuation coverage options.
Service:
Vehicle relocation

Mobile storage containers

Packing and unpacking

Loading and unloading

Debris removal

Online library of moving tips and checklists

Crane vans for large items
NAVL gives different pricing plans to potential customers, such as "not-to-exceed" and "bottom-line" pricing. This is helpful if you want to know how much your move will cost without hidden fees. Call NAVL or fill out a quote request form on its website to start the process.
NAVL doesn't give quotes over the phone for homes with four bedrooms or more, but it offers virtual talks through its mobile app. This moving company differs from most big ones because it doesn't require booking fees.
Pros
Packages can be tracked by satellite
Members of the American Legion and unions, as well as their families, can get savings
Has an online calculator that helps customers figure out how much and how much moving goods will cost
Cons
Has a more protracted process for setting up home estimates than its competitors
Stuart's Moving and Storage
We listed Stuart's Moving and Storage as the best interstate movers in Indiana. Since 1937, Stuart's Moving and Storage has helped people in Indiana. A family owns and runs the company. Every person on the team is a trained professional who works full-time. They are proud of how reliable they are, how consistent they are, and how good their work is. Stuart's Moving and Storage takes some of the worry out of moving your business or home. It has always been a locally owned and run business with the highest service levels, and that hasn't changed.
Service:
Commercial services

Storage services

Local moving

Car Storage

Art packing services

Packing supplies

RV storage

Packing, unpacking, and Crating

Furniture moving

Boat Storage

Long distance moving

Full packing services

Partial packing services
The pricing is competitive. There were no shocks or fees that needed to be clarified. Before giving a price, they sent someone to look at everything to ensure it was as accurate as possible.
Pros
100% response rate
No hidden fees
Available online quote
Cons
But the response time is 11 hours
My Movers Inc. is the best local moving company near you in Indianapolis. They offer fast and cheap moving services. Their skilled movers know that moving can be difficult and cause stress. My Movers Inc. helps you move into a new home and makes it as easy as possible. They provide the best Interstate moves.You're moving your whole house. Indianapolis is one of the places they serve. Fishers, Carmel Noblesville Westfield Brownsburg Zionsville Avon Fortville Mishawaka, Greenwood Whiteland, and Southport. In Indiana, moving companies like My Movers are considered the best interstate Movers in Indiana.
Service:
Commercial services

Furniture moving

Large and heavy items moving

Long distance moving

Interstate moving

Virtual consultations

Piano Moving

Furniture Assembly

International Relocations

Local Moving

Full Packing Services

Partial Packing Services

Packing, Unpacking, and Crating

Senior Moving
Pros
Offers free virtual estimates
Free Consultation
Response rate 100%
Cons
How to Choose Best Interstate Movers in Indiana
When looking for the best interstate movers in Indiana, it's essential to do a lot of research before choosing one. You are giving them all your belongings, so you need to ensure they can be counted on. Before you do business with them, you should check these things.How long has this company been in business: It's best to hire movers who have been in business for years. A company that has been around longer can better deal with problems.
Will I be covered if something gets broken: Some moving companies insure your things for their total replacement or reduced value, but the law only requires them to insure for $0.60 per pound.
Check online for reviews: If you want to do business with a company, you should look them up online first. Websites like Yelp are helpful.
U.S. DOT: Interstate movers must have a U.S. DOT number and be licensed with the Federal government. If you're going out of state, make sure yours is.
Available services: Many moving companies may offer extra services, such as packing, unpacking, or transporting your car. It is a good idea to find out what services are offered and how much they will cost.
Can you get in touch with the company quickly: Things take place. You'll want to know how to contact the company if they do. Choosing a business with a foothold in your area can be helpful.
BuzzMoving can help you to find the best interstate movers in Indiana and anywhere in the United States to move your things. Contact us for a free price quote on Interstate moving services without any pressure to buy.
How to get your home in Indiana ready for movers
Moving can be both exciting and stressful. Here's a 7-step plan to help you get your Indiana home ready for moving services:
Gather packing materials:

You will need boxes, bubble wrap, and tissue paper, among other things, to ensure your items are packed and moved safely.

Start early:

If you start packing early, your move will be more planned and quick. Start by reviewing your stuff and removing anything you don't need anymore.

Clean up your home:

Moving is a great time to clean up your home and get rid of things you don't use or don't need. This will make it easier to pack and save you money on moving costs by reducing the number of something you have to move.

Check out local and long-distance movers:

If you want to hire professional movers in Indianapolis, consider your choices to find one that fits your budget and needs. Compare the reviews of skilled moving companies and the prices they charge.

Pack Unpack:

Pack one room at a time, and name all your boxes so they are easy to unpack. Start with the rooms that get used sparingly, like spare rooms and garages.

Prepare more significant items for moving:

If you're hiring movers, take apart large furniture like beds and desks to move them more quickly.

Ensure everything is ready for the move:

Once you're done packing, check again to ensure everything is safe and prepared for the moving truck. Now is an excellent time to make an inventory list of all your things to keep track of what has been moved and where it is.
If you do these things, your move will go quickly and smoothly.
Our Final Thought
We tried to provide you with the best interstate movers in Indiana. We looked into and compared dozens of full-service and self-service Interstate moving companies. Based on several factors, like package options, price, and reputation, we came up with a moving review method. Based on customer reviews, our surveys of customers, and interviews with past and current moving professionals, we also found the pain points for customers.
You may read our reviews and check out the best interstate movers in Indiana from our list.