The best interstate movers in Georgia can help you move without as much worry, whether you want to avoid the traffic in Atlanta or the Blue Ridge Mountain roads. There are plenty of skilled moving services in the Peach State. So many that it might be hard for you and your family to choose the best Mover. 
The BuzzMoving Team studied the best moving companies in the country. We put together this guide to the best interstate movers in Georgia. We rank the best moving and storage companies based on essential factors like service choices, coverage plans, customer service scores, pricing, and more.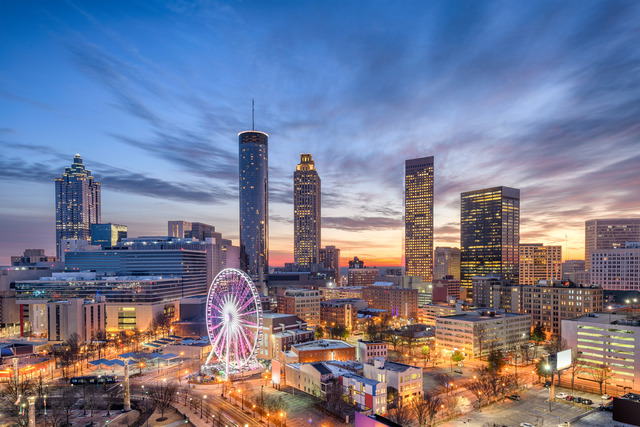 The 5 Best Interstate Movers In Georgia
Choosing the best moving company for your needs will help ensure you don't have to worry about your move. We studied and analyzed to find the best local and interstate moving companies in the Peach State that offer good service. The companies below have everything they need to ensure their customers are happy and give them peace of mind when moving to, from, or within Georgia.
International Van Lines
The best interstate movers in Georgia that we know of is International Van Lines. International Van Lines can help you with every part of moving, from packing to cleaning. Even though it might cost more than a container shipping service, professional movers will take care of every part of your move, and valuable items will be better protected.
The moving services offered by International Van Lines are:
Local moving

Long-distance moving 

Vehicle Transportation

Foreign moving 

Packing supplies

Air freight services 

Corporate and military relocation

Packing, loading, and unloading

Moving fragile items
Pros
Packing and unpacking are part of a full-service move
Covers all of the U.S. and more than 180 other countries
Usually takes care of about 10,000 moves a year
Cons
Online, it's hard to find correct quote information
Interstate Moving & Relocation Group (IMRG) is the largest moving agency in the United States, and it works with many moving companies in Georgia. While this Mover doesn't directly provide moving services, it offers speedy prices for full-service and self-service moving needs at low rates.
The moving companies that IMRG works with offer excellent essential services and extras for moves of all sizes in Georgia. If you book with one of these IMRG companies, you can use the following services:
Loading and unloading

Packing and unpacking

Crating

Storing

Sending cars 

Moving containers
Pros
Local and long-distance service is available in all 50 states
Its website has moving tips and other helpful information
It also gives quick quotes for last-minute service
Cons
Offers limited customer help on the weekends
The American Van Lines
Since 1995, many people have chosen American Van Lines when they need a full-service moving. Its website has a live chat function where customer service representatives can help you get a quote and answer any questions. American Van Lines can help you with every part of your move, and its team of well-trained movers can handle even your most fragile belongings.
The moving services offered by American Van Lines are:
Local moving

Long-distance moving

Corporate relocation services

Military moving

International Moving

Commercial Moving

Antique and piano moving

Storage options
Pros
Its website has a live chat tool
Its movers know how to move valuables and different kinds of pianos
Has people on hand to help with the details of moving
Cons
Does not provide online quotes
Mark The Mover
Mark the Mover was started in 1978. They have been helping people and companies in Atlanta for more than 30 years from a midtown location in the middle of everything. With a company-owned warehouse that is 20,000 square feet, has alarms and closed circuit monitors that work around the clock, and is right across the street from the fire department. 
Mark the Mover has always promised to protect their customers' belongings. They have more than a dozen moving trucks and the latest moving tools in their fleet. Mark the Mover has moved customers more than 25,000 times in the Atlanta metropolitan area, including Roswell, Marietta, Doraville, Lawrenceville, Alpharetta, Norcross, Duluth, Snellville, Decatur, Chamblee, Tucker, and more, as well as the entire Southeastern United States and the 48 states that are connected to it.
The moving services offered by Mark The Mover  are:
Packing, unpacking, and crating

Storage services

Furniture assembly

Long-distance moving

Senior moving

Piano moving

Furniture moving

Commercial services

Oversized and heavy items moving

Local moving

Virtual consultations
Pros
They provide service to 48 contiguous United States
Plenty of moving truck
Well experienced and offers quote
Cons
Take too much time for packaging
Georgia's Premier is moving
Georgia's Premier Moving Companies are the best interstate movers in Georgia, providing junk clearance in Georgia. They offers their clients in Metro Atlanta and the rest of the state a reliable team of skilled movers to meet their needs. They offer a service with no hidden costs, including junk clearance and residential, commercial, and corporate moving services. Georgia's movers are proud to help you move and get rid of junk carefully and professionally.
The moving services offered by Georgia's Premier Moving are:
Packing, unpacking, & crating

Storage services

Furniture assembly

Long-distance moving

Senior moving

Piano moving

Furniture moving

Commercial services
Pros
Customer response within 10 mins
Budget-friendly, no hidden charge
Easy to get a quote policy
Cons
How to Get Ready for a Georgia Move
There are many things to keep track of when you move, which can cause stress. Planning can make the process easier, and knowing how to plan is essential. As you start thinking about moving, there are a few things to remember.
Make notes
Most companies will list the things they are moving, but taking photos of furniture and other things that could get broken during the move is a good idea. Even if items are packed well, they tend to move around in a truck while it's moving. If there is damage, you will have an excellent record to make a claim.
Check out Movers
Cost is a big part of choosing a mover, but it's also essential to look at their customer service record and how they hire their workers. Look for licensed, bonded, and insured carriers that check their workers' backgrounds before hiring them. Smaller companies might not have these things and need help providing the same service level.
Protect Valuables
You'll want to ensure you properly pack small valuable items, but you'll also want to locate them quickly after you begin unpacking. Lamps and other fragile items like glass must be filled uniquely to keep them from breaking.
Declutter
Moving is a great time to eliminate everything you no longer need or want. You want the move to go as smoothly as possible, and there's only so much room in a truck, so you'll have to choose what to keep. Most of the time, you will redecorate your new home and won't need the same things.
Get Packing Supplies
If you get your moving tools, you can save money on your move. Rubber containers are great for moving and storing things after you move. You can also buy moving blankets or keep some old blankets around that you can use to protect your items during the move.
Choose "full-service packing."
Most moving companies offer full-service Packing, which costs extra. You can save money if you pack the moving truck, or at least some of it, and if you unpack it yourself. Those savings can add up, depending on the size of the move and how far it is.
Conclusion
We looked into and compared dozens of full-service and local moving companies. Based on several factors, such as package choices, pricing, and reputation, we came up with a moving review method. Based on customer reviews, our surveys of customers, and interviews with past and current moving professionals, we also found the pain points for customers. We made a list of the best interstate movers in Georgia.
Our team talked to a representative at each company to find out how many package choices they had, what kind of coverage they offered if they made long-distance, local, or international moves, and if they had any extras like mobile apps, moving checklists, or 24/7 customer service.
We also got price information from each company and found out if they gave us ballpark estimates or firm quotes. We looked at a company's rating with the Better Business Bureau and its total score on Yelp to figure out how well-known it was.
You may read our reviews and check out the best interstate movers in Georgia from our list.