Prepare for a worry-free moving adventure with the best Interstate Movers in Delaware. We've thoroughly vetted each moving company to ensure they meet the highest standards in the industry. From expert packing to timely delivery, these movers take pride in their work, providing a seamless relocation experience for you. Easily find the right fit for your move, whether a small apartment in Wilmington or a large house in Dover. Leave the heavy lifting to the experts and start your journey with confidence.
Our Top 5 Best Interstate Movers In Delaware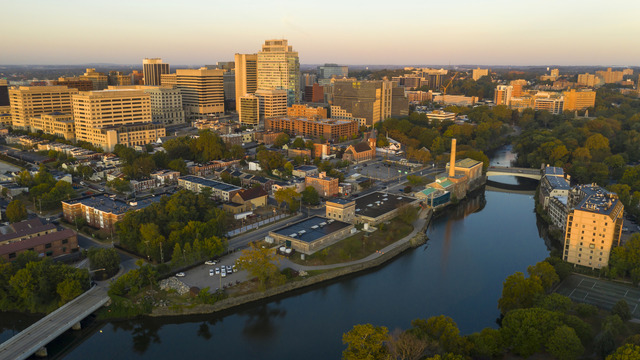 Choose a reliable American moving company to safely move your items from one state to another within the United States. Here, we've compiled a list of the best moving companies in Delaware. Each can do an excellent job with domestic moves to, from, or within the same state.
International Van Lines
International Van Lines (IVL) is a moving provider and moving company that helps people move locally and across the country. It allows people to move to more than 180 countries, including Delaware. No matter what you need for your move, IVL has a provider who can help. That's why International Van Lines is considered the best interstate movers in Delaware.
What services International Van Lines can give you depends on which moving companies are in your area. Its partners provide packing, crating, storage, and junk removal services. On its page about local moving, you can find prices for moving a piano and other extras.
Your free price considers where you live, how far you are moving, how big your move is, and what extra services you want. IVL doesn't give binding figures, so the price of your move may change on a moving day. You must pay a 25% fee to book with this mover.
Pros
International Van Lines is a full-service mover and career
They offer specialty service
50 states of moving availability
Cons
You have to pay 25% advance to book, which will be deducted from your total cost
A moving company called American Van Lines (AVL) is based in Florida. We like that AVL takes care of all the moves it books itself. American Van Lines has moving teams with an average of 10 years of experience in the business. This mover guarantees dates for long-distance moves and charges a flat rate for every move it makes.
The experienced teams at American Van Lines offer essential services as well as specialty and high-end moving services. When you book a move with this company, you can access climate-controlled storage, custom crating, packing antiques, and more.
AVL gives binding figures. These estimates will only change between the day you get them and the day you move if your inventory or service needs change. Before you get your flat-rate quote, you and a representative from the moving company do a virtual survey of your home. 
Pros
Experienced crews offer both essential services and specialty
Climate-controlled storage facilities
48 states are available except Alaska and Hawaii
Cons
AVL requires a deposit amount of up to 50% to book, and it will be adjusted to the total cost
Moving APT
Moving APT has the best interstate movers in Delaware and has been an excellent moving service provider since 1999. It has more than 2,500 partners in all 50 states, which makes it one of the most extensive networks of any moving company. It works with family-owned local movers and national companies to give each client the necessary care.
The quote process at Moving APT is quick and easy. When we did secret shopping, this happened to us, and we noticed that many customer reviews said the same thing. They will give you a price after you fill out an online form. Representatives from the company will call you to provide a more detailed quote. Most moving companies will require a deposit, but the amount will depend on who you hire.
Partners of Moving APT provide a wide range of services. You can book a moving container for a DIY or full-service move, including packing, unloading, and labor. This broker has a partner in its network who can help you, whether you need help close to home or far away.
Pros
2,500 individual partners across all 50 states
Moving APT's quote process is quick and simple
Satisfying customer service
Cons
Deposit amount varies based on your moves
Two Men and a Truck®
Two Men and a Truck® is the first and biggest local franchised moving company in the United States. It has made over five million moves and aims to exceed customers' expectations daily. More than 8,300 people work for the brand across the country. You'd never know it because the brand has a small-town, friendly feel while setting the bar for professional and personalized service. 
Move teams can take care of any move, whether for a business or a home, a whole company headquarters, or just one piece of furniture. There are flexible hours to meet customers' needs, available at night and on weekends. The professional moving teams are licensed, trained, and protected. Their best movers work hard to live up to their image as "Movers Who Care®," and 96% of their customers refer them to friends and family. 
Millions of happy customers prove that Two Men and a Truck®'s secret sauce works! Two Men and a Truck® is the only moving business in America that does everything from packing to unpacking and sells boxes and other packing supplies. And much more to make your move as happy and stress-free as possible!
Pros
It is a Very reputed moving company worldwide and also the best interstate movers in Delaware
More than 8,300 people work for the brand across the country
All workers are experienced
Cons
Late response to the customer
Next Destination Moving
Next Destination Moving starts in the year 2020. Two brothers who had served in the military and wanted to keep helping people started 2020 Next Destination Moving. They did this to honor their father, who used to own a moving company. They quickly became known as one of the best local moving companies in the Dover, Delaware, area because of how hard they worked and how much time they put in. Their main goal is to listen to their customers, determine their needs, and give them the best moving services possible.
Next Destination Moving offers a wide range of services, including business services, furniture moving, moving large and heavy items, long-distance moving, furniture assembly, international relocations, local moving, and art packing services.
Pros
They respond to their customers 30 min
They worked as a team and moved efficiently
Easy to get a quote
Cons
How to live in Delaware: What you need to know
Population
Delaware is home to more than a million people. Of those people, 68.4% are white, 23.6% are black, 10% are Hispanic or Latino, and 4.2% are Asian. Delaware is diverse for the U.S., with a diversity score of 59.6% and a 16 out of 51 state ranking.
The number of poor people in Delaware is 11.6%. White Delawareans are more than twice as likely as Black Delawareans to live in poverty, with a five-year poverty rate of 9.0% compared to 18.6% for Black Delawareans. With a poverty rate of 17.5% over five years, children have the highest poverty rate of any age group.
Other interesting things about Delaware's people
Almost 10% of people were born somewhere else

91% of the people have graduated from high school or better

About 14% of households speak a language other than English
Employment
About 60% of the people who live in Delaware work, and the jobless rate in the state is 4.4%.4. Credit card issuing, business banking, and selling drugs, cosmetics, and toiletries in bulk bring in the most money. ChristianaCare, JP Morgan Chase, and Amazon are the top three employers by number of jobs. Also, more than 190,042 people work for small businesses. This is 46.8% of all the people who work in Delaware. The average annual income is $69,064, or $33 an hour.
Living expenses
Delaware has a 7% higher cost of living than the rest of the country. Where you live changes how much the average rent is. For example, a typical 870-square-foot flat in Wilmington, Delaware, costs about $1,484. On average, nine people in Delaware pay $401.95 monthly for water, energy, natural gas, streaming services, phone, internet, and electricity. The average price of a home for sale in Delaware is $308,400.
Politics 
In the last eight presidential elections, Delaware has always chosen the Democrat. Chris Coons and Tom Carper are its state senators, and John Carney is the state's governor. Some of the most critical problems for Delaware's policymakers are:
Plans for new tech and health centers at Delaware State University, Delaware Tech, and the University of Delaware will be built with money from the federal government

Spending more on schooling for young children

Construction of charging stations for electric vehicles

The Group Crime Intervention Programme is being made more prominent to reduce gun crime
Conclusion
Starting early is the best way to plan a move of any size without worrying. It would help if you started making plans eight weeks before moving day. This should involve finding the best interstate movers in Delaware and making appointments for quotes. At the same time, look around your home and make an inventory and list of services you can use with any quotes you get.
Around the six-week mark, you should start regularly getting bids. Once you have a few price quotes, plan your move for at least a month.
You may read our reviews and check out the best interstate movers in Delaware from our list.