If you're moving to the Centennial State and going to Denver, Colorado Springs, or a ski town to be closer to the slopes, you may need help from a professional moving company. If the best interstate movers in Colorado on our list can help make your next move easy, you should hire one.
The BuzzMoving Team has compiled a list of Colorado's best-moving companies to help you plan a move without worry. We put together the list below by taking our suggestions for the best moving companies in the country and doing a lot of research on each company's prices, services, customer reviews, and other essential factors.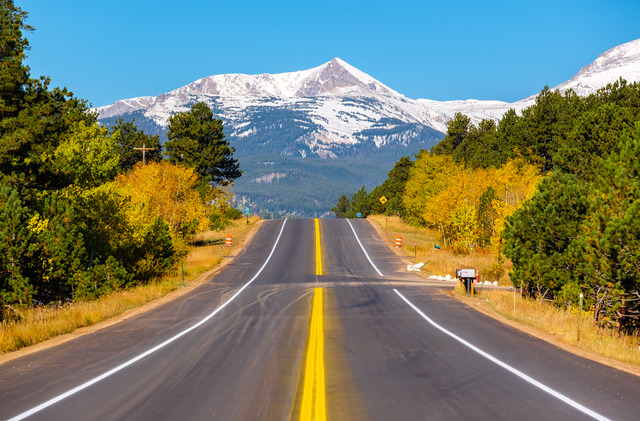 Our Top Pick: 5 Best Interstate Movers In Colorado
We've looked at the best moving companies in Colorado and named the five best ones here, so you can choose which one to hire. When we make choices, we look at several factors, such as service options, customer satisfaction, coverage areas, and ease of use.
International Van Lines
International Van Lines is a full-service mover that can pack, load, unload, and unpack. IVL can also do partial services, like packing only fragile items, and offers several extra services, like sending a car or storing things temporarily. International Van Lines also provides the following:
Custom-made boxes

Taking apart and putting together furniture

GPS tracking of shipments

Moving Checklist

Online moving cost estimate

Getting ready to pack and move

Pianos, workout equipment, and other big things must be handled uniquely
Like most full-service moving companies, International Van Lines bases its prices on your mover's distance, date, and total weight. Even though IVL doesn't provide legally binding figures, the company's website is upfront about the costs, so there won't be any unpleasant surprises. IVL needs a deposit of 25% of your rough estimate upfront. You can use cash or a credit card to pay for your move. If you are in the military or have left the military, IVL will take 10% to 15% off your move.
Pros
Shipments can be tracked using GPS
Provides adjustable contents safety plans
Provides specialized moving services for antiques, pianos, artwork, and more
Cons
Prices are more than choices for moving on your own
American Van Lines
American Van Lines is an excellent choice for the best interstate movers in Colorado. The company hires full-time movers who have been trained and are licensed to do things like take apart pianos and move antiques. American Van Lines offers full-service and partial-packing options for local and foreign moves in the 48 contiguous U.S. states and more than 180 other countries, in addition to long-distance moves. International Van Lines also provides the following:
Automobile shipping

Climate-controlled storage units

Full-value items coverage

Taking apart and putting together furniture

How to load and unload

Checklist for moving and online moving tips

Online tracking of shipments

Packing and unpacking

Putting things away
After a full virtual assessment of your home's size and layout and reviewing an inventory of your things, American Van Lines gives you a binding estimate. Your total cost will also depend on how far you move and when. AVL does not offer quick quotes for moving online or by phone.
American Van Lines asks for a deposit of 10% to 50% of the total cost of your move upfront.
Pros
Full-service moves have set prices
Provides private storage and storage boxes on-site
Offers skilled workers whose backgrounds have been checked
Cons
Does not offer moving choices within the same state
North American Van Lines offers full-service, fragile-only, and do-it-yourself packing. You can adjust each with NAVL's a la carte menu of add-on services, including house cleaning, trash removal, and more. The company can help with local, long-distance, and international moves in all 50 U.S. states and more than 130 other countries. It also offers good service to customers who are making domestic or international claims. 
NAVL's website has all the forms and information you need to claim so that you can do it there. You can also call a specialized claims support line to get help from a customer service representative. International Van Lines also provides the following:
Tips and help for people who pack their stuff

Mobile game 

Moving calculator

Moving checklists

Tracking a shipment

Short and long storage is available

Transferring cars
Your moving costs with North American Van Lines depend on how far you're moving and how big your move is, measured by how much your things weigh. As well as other benefits, NAVL gives members of the American Legion up to a 50% discount and up to $100,000 in free goods coverage. Members of labor unions and their families also get a free $50,000 content security plan and discounts on packing.
You must pay 10% to 50% of your moving costs upfront to book a move with North American Van Lines. You can pay with cash, a signed check, or a credit card.
Pros
Offers a Not-to-Exceed Pricing package
They have a loading dock, so they use crane cars to move oversized items
Has a lot of moving-related information online, like whitepapers, videos, blogs, etc.
Cons
Moving experience varies depending on your location
Moving U
Moving U is the other best interstate moving company in Colorado & a small business run by a family and was made to meet each customer's wants. They are a professional, full-service moving company serving Colorado since 2011. They can help with neighborhood and long-distance moves for homes and businesses. Moving U know that the things you are moving are essential to you, whether moving from one place to another, finding your first home, or making room for a growing family. Moving U also provides the following:
Packing, unpacking, and crating

Commercial services

Large and heavy items moving

Virtual consultations

Piano moving

Moving U's goal is to help people move in a skilled, careful, and reliable way while giving them excellent customer service.
Pros
They do pre-moving communications
Friendly, experienced, knowledgeable
Satisfying customer service
Cons
Movemasters
You can consider Moversmasters the best interstate movers in Colorado because they have had an excellent name for over 35 years. One hundred seventy reviews in a row on Angie's List, 4.7 stars on Google, and an A+ grade from the BBB. Next Door gave it an excellent rating. Movemasters has won the "Gold Star Award" from the Better Business Bureau 10 times. A "Gold Star Award" is only given to a company that hasn't had a complaint for three years in a row. The Super Service Award from Angie's List has been shown to Movemasters for the last eight years. 
Packing, moving, and storing for homes and businesses. Deliveries to the Antiques, Fine Art, and Interior Design groups. It also provides the following:
Packing, unpacking, & crating

Furniture moving

Storage services

Large storage units

Boxes & moving supplies

Furniture assembly
Pros
Virtual estimates and free estimates are available
Count hourly price
Give pre-planned options
Cons
What to look for when hiring the best interstate movers in Colorado
Before choosing a professional moving company or the best interstate movers in Colorado to help you move across the country, find out how each is known. You should consider the type of service, how customers feel about it, and how prices are set when choosing.
It gives you the services you want
There should be a list of service needs for each move. Before you get moving quotes, inventory your home and list the services you will need for your move. Your needs can range from easy packing for everyday things to more specialized options. Some moving services include:
Antique box
Only pack fragile items in crates

Putting together and taking apart furniture

Guaranteed dates for delivery

Packing

Pianos and pool tables have to be moved uniquely

Storage (in units outside or with temperature control)

Unpacking

White-glove or custom choices cost more but will make moving day less stressful. 

During the price process, you should ask if there are any extra services.
Quotes are given quickly and easily.
To speed up the quote process, it's a good idea to make a thorough list of the furniture and belongings you want to take with you and the ones you want to give away, sell, or throw away. A detailed list will help you plan your move and will be helpful for companies.
Check to see how careful the company is when they come to your home. If the representative rushes through the inventory survey or skips over certain things or parts of your home, it could lead to cost disputes on a moving day.
Offers supplemental insurance
Standard moving insurance is something that all moving companies offer. Every move comes with free insurance coverage, but it only pays $0.60 per pound per item if something gets lost or broken.
Most moving companies offer an extra fee for valuation coverage (also called "full-value coverage"). This isn't insurance because moving companies aren't allowed to sell it. Still, it works the same way.
Before you move, you should also check your homeowner's or renter's insurance policy. Some insurance companies offer short-term moving insurance that can be used in addition to or instead of standard coverage.
Is ready for your move dates and places
To find the best interstate movers in Colorado for your needs, start the moving process eight weeks before your move date. Some moving companies can help you move at the last minute, so ask if they can if you only have a few weeks or days until your move.
For a move to a different state, you should also check a mover's state availability to make sure they can help you. Several of these movers can be found in all 50 states.
Has the proper licenses and a good name among customers
The Federal Motor Carrier Safety Administration (FMCSA) ensures that all companies moving people from one state to another are legal. With the U.S. Department of Transportation (USDOT) and Motor Carrier (MC) numbers of a mover, you can use this FMCSA portal to look up details about the mover's registration.
Interstate movers must have licenses that are specific to each state. Most states have independent regulatory bodies that ensure movers have the needed insurance and meet minimum safety standards. In some cases, these ruling bodies also control the price of moving. Without a governing body, movers must have state DOT numbers and essential business licenses.
Also, hire a mover who has good reviews from past customers. Google, Yelp, and social media are great places to find reviews, and they can tell you more about how a mover acts than what their policies say.
Conclusion
Moving anywhere, whether across town or the country, can be challenging. Depending on what part of the state you're moving into or out of and what season is upon you, moving to Colorado might be the most challenging of all the States. To ensure your moving day goes as smoothly as possible, follow our list of the best interstate movers in Colorado and the tips we discussed above.
You may read our reviews and check out the best interstate movers in Colorado from our list.