How do you figure out the best interstate movers in Arkansas when there is so much information to look through? Whether moving from Conway to Little Rock or across the country to Arkansas, a quick online search will show you many carrying options. Many full-service and self-service companies offer a long list of choices and extras, like storing your things while they are in transit, moving your car, and packing.
The BuzzMoving Team compiled a list of Arkansas's best-moving companies to simplify the process. We looked at many different types of moving companies and compared their services, insurance, payment methods, and reputations.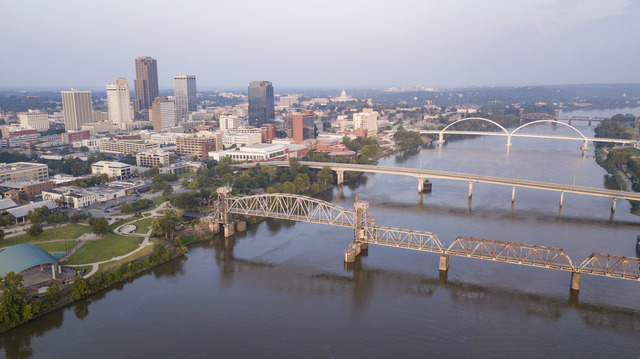 Top Pick: The 5 Best Interstate Movers In Arkansas
Learn more about the best Arkansas moving companies for local, long-distance, and foreign moves. 
International Van Lines (IVL) is a one-stop shop for Arkansas residents moving locally, across the country, or abroad. IVL offers a full range of moving services, including loading and unloading, simple furniture disassembly and reassembly, and packing and unpacking. Its website also has valuable tools and resources, like a moving calculator, a tracking center, and a blog that answers frequently asked questions about moving. You can also get help moving a piano or a motorcycle.
IVL sends people from one state to another across the country. Because it is both a mover and a dealer, it can hire a third party to help with your move. Customers must pay a 25% fee to hold their moving date. If you cancel at least 48 hours before your pick-up date, you can get your deposit back in full.
Pros
There are services for moving internationally, including plane and ocean freight
Included in the service were loading, unloading, and essential furniture removal and assembly
Free liability insurance and the opportunity to buy full-value insurance
Cons
To book your move, you must pay a 25% fee upfront
American Van Lines (AVL)
American Van Lines (AVL) helps people move locally and across states. This family-run business suits people who want to ship fragile things like family keepsakes and fine art. It has qualified piano movers and people who know how to move antiques. It's the best interstate movers in Arkansas with full-time professional movers whose backgrounds are checked, have, on average, ten years of experience, and get a lot of training in the latest techniques.
Customers can pack their things or pay extra for a full-service packing option. AVL will handle lifting and unloading no matter what. There are also packaging services. You must pay a fee when you book with American Van Lines. This payment can be between 10% and 50% of the total price and must be made with a credit card. The rest of the cost is due when the order is delivered. You can use cash, a credit card, a money order, or a cashier's check to pay.
Pros
Large network of movers that have been checked out
There are discounts and price matches
24/7 customer help
Cons
Only a week's notice is needed to get your deposit back
Allied Van Lines
The best-moving company to ship cars with is Allied Van Lines. The company moves cars, boats, jet skis, snowmobiles, and almost every other vehicle. They are different from other moving companies because they ship cars instead of using a third-party service. Allied has its own open or closed carriers to move your vehicles, whether you're moving within Arkansas or to a different state. 
Allied is the best interstate mover in Arkansas, but it also moves people locally. In addition to driving cars, it moves pets, stores things, helps unpack, takes apart, and puts furniture together. Allied gives estimates that are either not binding, based on weight and miles, or a free in-home or virtual consultation. When you book your move with Allied, you don't have to pay a fee, but all charges must be paid before the truck is unloaded.
Pros
Full services for moving vehicles
Choices for how to pack
Clear prices and an easy way to get a quote
Cons
Few hours for customer help
Gregory's Moving
Matt Gregory and Greg Davidson started Gregory's Moving to provide the best interstate movers in Arkansas with a professional moving service with a friendly staff that cares about their customers. Since 2004, Gregory's Moving has helped many happy people move, so they have a lot of references. Greg and Matt are committed to giving the neighborhood excellent service. They think being known as a business that people can trust is the key to success. Greg and Matt believe that a good image and consistent service will bring in more money in the long run than cutting corners or telling customers they need assistance they don't need.
Gregory's Moving offers a wide range of services in Arkansas, including furniture moving, long-distance, assembly, packing, unpacking, and crating. Gregory's Moving provides extensive, heavy item moving with commercial, local, and senior moving services.
Pros
They are professional and took great care of moving my belongings
Delivery on the same day
Very affordable price
Cons
Does not have own trucks, uses rental truck
Elite Movers
People who had previously worked for other moving companies that cared less than they did about ensuring every customer was happy founded Elite Movers in 2004. Over the past six years, Elite Movers has hired several skilled movers who share the same desire. Their buyers come from all over the state of Arkansas, and there are thousands of them. Over half of their jobs come from customers who were happy with their work and told others about them. The top designers in the state use Elite Movers because they are confident that their customers' homes and new furniture will be in good hands.
With Elite Movers, you can move locally or long distances and get excellent service at a great price. They can even tell you how to set up your things when they get there. Go above and beyond to ensure your move goes smoothly and is made on time without any problems.
Pros
Full-service mover
Provides best customer service
Highly reputed moving company
Cons
Arkansas: Things You Should Know
Before deciding to move to Arkansas, you should learn as much as possible about the state. Our BuzzMoving teams know the area well and would like to tell you more about what it's like to live in Arkansas. If you've been thinking about starting a new life in "The Natural State," where more than 3 million Americans have put down roots, there are a few things you should know about the area to help you decide.

If you've been thinking about moving to "The Natural State," there are many reasons why you might be making the right choice. For one thing, Arkansas has a much lower cost of living than the rest of the country. This gives you more money to spend on fun things like going to the movies or trying new foods. Here also has a high quality of life, with many outdoor activities, a prominent art scene, and many jobs for people to choose from.

Arkansas is one of the best places to live if you like being outside and want to live in a state where the seasons are clear. Arkansas is where you can have a white Christmas and enjoy long summer days with excellent weather for all outdoor activities. In other states, the weather and temps remain the same from one season to the next. However, people can enjoy all four seasons every year.

In Arkansas, housing is also very cheap. With low property taxes and a typical home value of around $114,000, Arkansas is an excellent place to live if you want to improve your quality of life without spending much money. In Arkansas, you can move into your dream home without considering costs, which is why so many people move there every year.
Choosing Your Best Interstate Movers In Arkansas
It is essential to choose the right mover for your house or flat:
You are giving them all your belongings, so you must ask questions to ensure you work with a reliable company. By studying, you can narrow your choices and be sure you choose the best interstate movers in Arkansas.
How long have they been in business:
Working with a business that has been around for a long time is good. They are better at avoiding problems; they know how to deal with them if they do happen.
Check their registration system:
Interstate movers must have a S. DOT number and be registered with the Federal government. If they don't give this information, it's a red flag.
Check out what other people are saying or reviewing:
Most of this information can be found in online reviews, but be wary of too-good or too-negative studies.
Does the company have insurance for the total value of your things:
The law only needs insurance to cover $0.60 per pound. The best companies will offer insurance for the total value of what it would cost to fix any damage or what it is worth now. It's important to know what kind of services the company you're working with offers. Accidents happen, but you want to make sure you're safe if they do.
Do they offer cleaning and storage services:
These are not required, but they can make moving less stressful.
Is the moving company easy to get in touch with:
It's best to hire a nearby company so you can always reach them for any problems.
Conclusion
So, Arkansas has towns that will please you no matter what kind of place you like. Depending on your chosen location, the best interstate movers in Arkansas can help you get there on time and without a lot of trouble.
Arkansas moving companies know how to move a family or a single person to the state if they want to.
You may read our reviews and check out the best interstate movers in Arkansas from our list.