When moving to Alabama, you need to know who the best interstate movers in Alabama are that you can trust. Crossing state lines quickly throws curveballs, especially during a long-distance move, such as licensing requirements for movers, federal regulations, and other standards that moving companies need to meet to make your interstate move smooth and stress-free.
Our team has reviewed the best Alabama movers to make your move easier. We've compiled a list of the five best interstate moving companies based on our specific review criteria, many hours of research, and years of experience in the moving business. This list will help you choose the best company for your needs.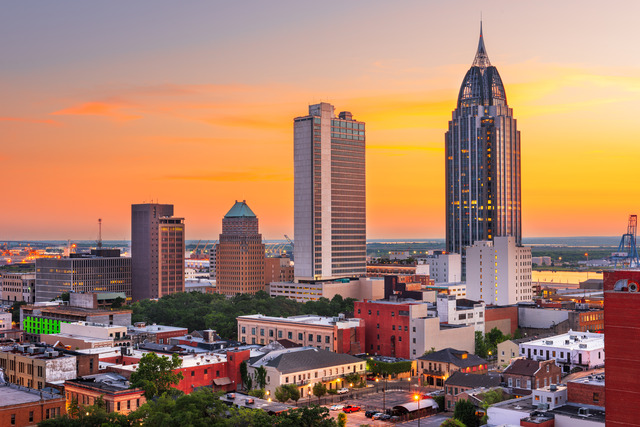 Our top pick 5 of the best interstate movers in Alabama
Read on to find out what you should think about when choosing the company that will take care of your most valuable items.
JK Moving Services can help you move anywhere in the United States. It also works with foreign companies to help people move anywhere.
JK Moving Services is also the best-rated interstate moving company on many buyer review websites. It always gets more than four out of five stars, which is high for any business, not just a moving company. Having one of the best customer service records takes work in a field where customer happiness takes time to come by.
Pros
Customer reviews are great
Help with moving around the world
Full packing service
Cons
International Van Lines (IVL)
International Van Lines (IVL) is a highly-rated moving company that has been in business for over 20 years and can help you move locally, nationally, or abroad. It can move cars both on land and across oceans.
International Van Lines stands out because it is clear how much things cost. Its website has a lot of information about how much each extra service costs. It gives clear information about how they price even particular items, like moving pianos of different sizes or if your house is far from the moving truck. The fee is also relatively high at 25%, much more than other companies charge, around 10% or a low flat rate.
Pros
If you cancel up to 48 hours before a domestic move, you'll get your money back
The website has detailed pricing details
Free storage for one month at the place of origin
Cons
25% of the total price is a pretty big down payment
National Van Lines
National Van Lines is another full-service moving business that helps people move locally, internationally, and everywhere.
The company has different packages for different kinds of moves, like small flats, senior citizen moves (This could mean lowering before moving or going to a place where they can get help), and specialized activities for things like cars, pianos, antiques, and whole art collections. It also offers business relocation services tailored to specific industries, such as moving medical equipment, booths for out-of-state shows, and store fixtures with installation services.
Pros
Highly ranked for how happy customers are
Packages and services for moving that are very specific
Transport of medical goods that are tailored to their needs
Cons
U-Pack
With U-Pack, you can move across a long distance quickly and easily. You only pay for the space you use, so you know exactly how much it will cost as you load. There are no surprises, and there are no secret fees. Get a quote from U-Pack today to see how they compare to full-service movers, rental truck companies, and other portable storage services.
Pros
Best interstate movers in Alabama
No hidden charge
Quote system available
Offers Military discount
Cons
Next Destination Moving
Next Destination Moving was established in 2020 and was started to make moving less stressful by finishing every move on time, keeping to the price given, and taking care of any special requests. This company is doing well, and they are proud to say that their customers helped them figure out how to do well. When you move with Next Destination Moving, you can always be sure that All our workers have been hand-picked for their experience, skill, and politeness. 
Next Destination Moving will always add extra fees you learned about. They give you the price you'll pay at the start. They will do things right the first time and meet any special needs. Next Destination Moving also offers professional packing services for your valuable items. They are fully licensed, guaranteed, bonded, and dedicated to making you happy.
Pros
Offers professional packing services
They are fully licensed, guaranteed, and bonded
Taking care of any special requests
Cons
Binding estimate vs. non-binding estimate
Estimates can be hard to change. Providers may only get a good idea of your move's size if they see it in person. If you ask for a quote online or over the phone, you can get a rough idea of how much it will cost.
If you get a quote that is not binding, it means that the price can and will change in real time if the weight or circumstances change.
On the other hand, a bound estimate, the most common type for moving across state lines, sets a fixed price for the shipping costs, even if the weight of the items changes after they are packed. Getting a firm quote is a good idea if you don't want the price to increase once the move starts. The estimate will be higher at first. Remember that the movers will charge you more if you ask for extra services or add things that should have been mentioned.
There are also binding "guaranteed not to exceed" predictions, which won't raise the price if there's more weight but can lower it if there's less. This only includes things that have been accounted for, so adding something at the last minute will increase your price.
How we choose the best interstate movers in Alabama
We looked into and compared dozens of full-service and do-it-yourself moving companies. We developed a moving review technique based on numerous aspects, including package options, cost, and reputation. Based on customer reviews, our surveys of customers, and interviews with past and current moving professionals, we also found the pain points for customers.
Our highly skilled team talked to a representative at each company to find out how many package choices they had, what kind of coverage they offered if you made long-distance, local, or international moves, and if they had any extras like mobile apps, moving checklists, or 24/7 customer service.
We also got price information from each company and found out if they gave us ballpark estimates or firm quotes. We looked at a company's rating with the Better Business Bureau and its total score on Yelp to figure out how well-known it was.
Conclusion
Choose a reliable American moving company to safely move your items from one state to another in the US, and get free moving quotes. Read reviews of Alabama moving companies to find a list of the best interstate movers in Alabama, neighborhood movers, or even self-service movers. Get a free quote for the cost of moving.
You may read our reviews and check out the best interstate movers in Alabama from our list.