Hiring a professional mover can make the process more manageable if you're moving to Texas or want to escape all the people. BuzzMoving has studied, analyzed, and written reviews of some of the best interstate movers in Texas to help show how each Company works and what you can expect from them.
In this guide, we'll talk about the best moving companies in Texas and compare the services, pros, and cons of each one.
Our top choices for the best Texas moving companies
We've compiled a list of the 5 best moving companies in Texas to help you choose. These companies have a history of providing exemplary service and are ready to help you move quickly and safely.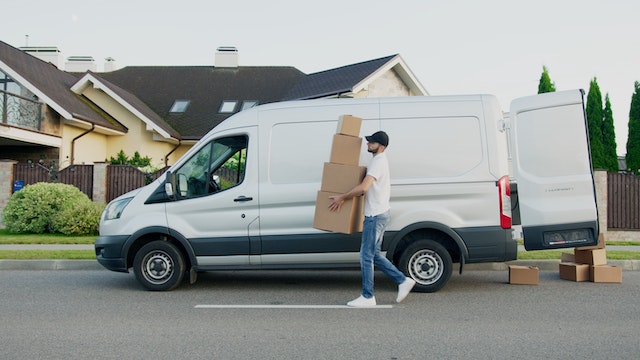 North American Van Lines
The best interstate movers in Texas and national movers offer short-term and long-term storage options and services for packing and cleaning.
North American Van Lines is one of the most well-known moving companies in the country. They have more than 500 sites all over the country. This means that there are Texas movers near you, no matter where you're moving from or where you're going, who can help you with your cross-country move.
North American Van Lines has many sites open 24/7 for customer service. So, if you have any questions or worries about your move, you can call them anytime for help.
Pros
24/7 service to customers
Most customers give positive review
Over 500 places across the country
Cons
American Van Lines
American Van Lines (AVL) is an excellent choice for anyone who wants top-notch movers who can handle difficult things and requests. Since AVL hires its moving teams full-time, customers get consistent and reliable service for choices like packing, crating, loading, and specialty services for expensive and hard-to-move items like artwork and antiques. On average, each AVL mover has been in the business for 10 years, and the Company is an excellent choice for cross-country moves to or from Texas. American Van Lines also counts as the best interstate movers in Texas.
Pros
Fixed price on estimates
Workers with an average of 10 years of experience and a lot of skills
Offers a price-matching strategy
Cons
Prices can be higher than some competitors
Allied Van Lines
Allied Van Lines is one of the companies on our list with the most experience moving people from one state to another. It has been in business for over 90 years and can help you move to any state, even Alaska and Hawaii.
Allied Van Lines has essential services for local, long-distance, cross-country, interstate, international, residential, and business moves.
Allied Van Lines also has specialty services, including:
Storage (both in a warehouse and a portable unit)

Packing

Loading and unloading

Moving cars and boats

Packing materials

Shuttle services

Moving members of the military
Pros
Offers short-term and long-term storage services
Includes tracking via GPS
Offers top-notch car transportation services inside the Company
Cons
Does not provide sample pricing online
AM Moving Company
Get a free, instant quote and set up a time to move locally or long distance at a low cost. Moving with AM Moving Company is easy from start to finish. When it's time for a new beginning, the AM Moving Company team is happy to do the hard work for you. They started their business in 2011, and they knew how hard moving can be. So, if you are looking for the best interstate movers in Texas to relocate your dream home, buy a business property, or need help moving across the country, the experienced pros at AM Moving Company are ready to make your move stress-free. Do you need help packing and unpacking? We can also handle that. Feel free to get in touch. Service that is careful and dependable is on the way.
Pros
Free quote
Low price
Experienced staff
Cons
The first name of King Moving Company was "The Antique Movers." This was in 1995. They were experts at moving antiques and other art pieces for the many antique shops and interior designers in the Dallas area. After years of hard work and fair prices, they have all the tools to move homes, apartments, businesses, and even antiques. The state of Texas has given King Moving a license, and they are fully protected. They are also part of the Southwest Movers Association.
Pros
Full-time professionals move homes, apartments, and offices
Company is licensed by the State of Texas and fully insured
28 years of service experience
Cons
Price is high for antique and fragile items
How to find the best interstate movers in Texas
First, look for a company that gives figures that can't be changed. If a company's estimates aren't guaranteed, the price can go up anytime, even on the day you move. When a moving company gives you a written quote, it should say "binding estimate" on it.
Second, you should also look at the types of security a company offers. Great coverage costs extra, but every reliable moving company gives you essential liability coverage for free. Basic safety will only help you if your stuff breaks or goes missing, but it's an excellent way to determine how good a company is. Do not use a company that doesn't have basic liability insurance.
Last, looking online for reviews from happy customers would be best. Please pay close attention to what customers say about how much a company charges and how on time it is. Any company will have a few bad reviews, but if most of the reviews are good, that's a good sign that you can trust that Company.
Why you should hire experts to help you move next
People who want to move with a professional often want to:
Save money: Sometimes hiring a professional mover costs the same or less than doing it yourself.
Save Time: Packing, figuring out how to move your things, and putting and taking boxes in and out of a rented car all take time. Most of the work is done by a professional moving company, so you can keep going about your everyday life.
Move without physical stress: Customers who are easily hurt, can't lift heavy furniture, or drive long distances may need help from pros.
Get Help with Red Tape: When customers move their things out of the state, especially when they move out of the country, they have to think about many law and customs issues. Professional movers can give you help that has worked for years to get rid of the red tape.
Other things to think about if you're moving to Texas
If you are moving into, out of, or within Texas, you may need several different services or want to consider them. You'll need homeowners or renters insurance, and you might want a home guarantee to protect your HVAC system from the Texas heat. You should also contact a bug control company and a lawn care service because of the wildlife and weather in Texas.
Texas has a special law about moving
Texas law says companies that move people must give them a written estimate and a binding or "not-to-exceed" price deal. With a binding deal, the price you're told is the price you'll pay. A not-to-exceed deal says that the price listed is the most you'll pay, but it could be less. Before it starts work, the Company must also give you a paper called "Rights and Responsibilities." As the name suggests, this paper tells you what your rights are as a customer.
Lastly, all registered moving companies must permanently put their business name and license number on their moving trucks. If you don't see this information, it could be a sign that the moving Company is a scam or not real.
TIP: You can email the Texas Department of Motor Vehicles at TruckStop@TxDMV.gov if you have any questions or worries about your move.
Conclusion
Each moving Company is different, so it's essential to take some time to figure out what you value most in a moving company and what your biggest worry is with your Texas move. You should get several quotes to narrow your options and compare each service provider fairly. After these considerations, you will be able to find the best interstate movers in Texas.