The best interstate movers in Louisiana can make it easy and cheap for you to move across state lines in Louisiana. But there are so many companies; how do you choose the right one?
We looked at hundreds of customer reviews, compare quotes, and did a study on each company to rate them and make your move easier. We also looked for services that made each company stand out and could help with your activity if you had special needs.
Our Top Pick the Best Interstate Movers In Louisiana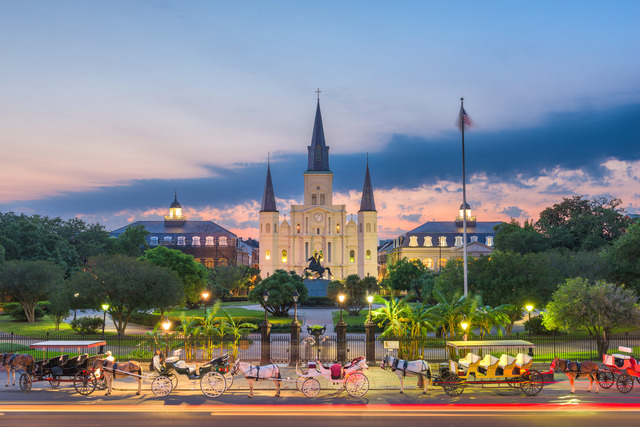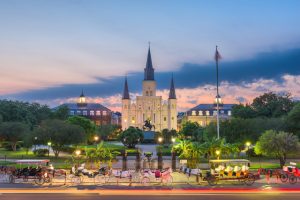 Hiring the best interstate movers in Louisiana will make it easy for you to move into your new home in Louisiana. They will make sure that everything gets there in one piece.
International Van Lines (IVL) helps people move from one state to another in all 50. IVL is a full-service moving business with more than 500,000 moves in the U.S. since it opened in 2000. It also offers several extra services that help with moving across state lines. We noted IVL's extensive list of online tools, which gave us much information about the full-service moving process. It also has tips on packing and moving to help you prepare for the days before you move.
With a third-party insurer, IVL gives full coverage for all risks. At 4% of the declared value, this Insurance will pay you back for the total value of any damaged or lost items you claim. This can be a good choice for people moving expensive things.
Service:
Packing and unpacking 

Loading and unloading

Custom crating

Vehicle shipping

Short- and long-term storage

Commercial relocation
All long-distance and national moves done by IVL come with 30 days of free storage. But most of the time, storage is only available at the site. Whether or not climate-controlled units are available depends on where you are.
With a third-party insurer, IVL gives full coverage for all risks. For 4% of the declared value, this Insurance will pay you back for the total value of any damaged or lost items you claim. This can be a good choice for people moving expensive things.
Pros
Specializes in long-distance moves between states
Offers security for high-value goods and special services
Provides a quick quote process
Cons
Poor contact after booking has been said to happen
Interstate Moving & Relocation Group
Interstate Moving & Relocation Group (IMRG) focuses on moving people from one state to another. IMRG is a broker that contacts professional movers who have been checked out and get jobs through the company. Some companies offer full-service moves, while others use bins that customers load themselves.
IMRG works to keep its customers up-to-date by giving them access to many online tools. It has complete guides for moving to all of the major cities in the United States. These guides tell you about the cost of living and famous locals you might want to meet. IMRG also gives an outline of the moving companies that serve each city.
Service:
Full-service or self-service move

Packing-unpacking

Loading, unloading

Disassemble and reassemble

Portable shipping container

Residential, commercial, and military moves
The independent companies that IMRG works with offer many different kinds of Insurance. Your choices for valuation coverage depend on which mover you hire.
When you ask for a price from IMRG, a representative will give you a rough idea based on the information on an inventory sheet you will fill out and send back. The final cost will be different for each provider in IMRG's network. It would help to ask for a binding estimate to get the most accurate price. To cover its middleman fee, IMRG will ask for a deposit upfront. Before you book your move, you should ask about the exact deposit requirements.
Pros
Partners with moving companies in all 50 states
Checks out the moving companies in its network first
Offers price matching
Cons
All of its moves through a broker
Moving APT
Moving APT is a company that helps people move from one state to another in all 50 of them. Good choice for people who need help deciding which professional mover to choose. It works with more than 2,500 private movers through a network. Before they join the web, all partner agents are checked.
Once the company finds you a provider, Moving APT will be your point of contact for any questions and will usually oversee your move to make sure everything goes as planned.
Moving APT can get your move plan going quickly because it has an extensive network of moving companies nationwide. Companies interested in picking up your contract will contact you soon so that you can plan moving services rapidly.
Service:
Full packing and unpacking

Furniture disassembly and reassembly

Junk removal

Debris removal

Vehicle shipping

Antique relocation

Storage

Appliance installation

Other essential services designed to make your move more convenient
More than 2,500 moving companies that Moving APT works with offer value coverage. Depending on who handles your move, you'll pay between 1% and 5% of your covered goods.
After taking a virtual tour of your home and reviewing your household inventory, Moving APT can give you a binding quote, the exact amount you will pay on a moving day.
You must pay a fee to book your move with Moving APT. The amount of that up-front deposit depends on many things, such as how far you are moving, when you are moving, and what time of year it is. You can pay in cash, by cheque, or with a credit card. Moving APT has loan choices for people who would rather pay for their move themselves.
Pros
Partners with more than 2,500 movers to provide the national moving services that are needed
Partners to check that everyone is insured and has a legal license
Its website has moving tips and other tools
Cons
It only works as a moving agency
Abba Movers
At Abba Movers, they promise a quick and easy move where the customer comes first, and your happiness is the most crucial thing with more than 20 years of professional moving experience between them and thousands of happy customers. Abba Movers is the most reliable and safest moving company in the area. 
Abba Mover pads and locks each piece of furniture in our truck to ensure your things stay safe. All of their movers are trained pros who know how to move. Abba Movers only hires other companies to move or transport your items. Instead, one of their skilled moving teams will plan and carry out your whole move. It's easy and takes less than 5 minutes to book your next move with Abba.
Service:
Packing, unpacking, and crating

Furniture moving

Commercial services

Large and heavy items moving

Partial packing services

Virtual consultations

Senior moving

Furniture assembly

Local moving

Long distance moving

Full packing services

Piano moving
On the day of your move, you'll be given a moving crew and told when they're on their way to you. Once the action is done, you can pay the remaining cash or charge your credit card.
They offer free quotes for binding estimates.
Pros
99% accurate FREE online estimates
No inventory list is required
No hidden fees or costs
Cons
Movers Nola
Are you trying to find the best moving companies in Louisiana? It would help if you went with Movers Nola. Movers in Nola have moved apartments, houses, businesses, and pianos for a long time. Movers Nola takes care of your things and has the right tools to assemble and take apart your furniture. They also pack and unpack for you.
Movers Nola has over two years of experience moving houses, flats, and offices. Since January 2019, they've been running their business. They've had a lot of happy customers who want to use them again.
Service:
Furniture moving

Commercial services

Local moving

Art packing services

Cabinet assembly

Couch assembly

Full packing services

Office furniture assembly

Patio furniture assembly

TV stand and media console assembly

Virtual Consultations

Packing, unpacking, and crating

Furniture assembly

Long distance moving

Bed frame assembly

Chair and stool assembly

Dresser assembly

Furniture disassembly

Partial packing services
Moving Nola has Insurance that has been certified and passed by the LPSC. This makes sure that their clients are safe when they move. Get in touch with them to find out more about their moving Insurance.

Pros
Insurance for your essential items
Guaranteed professionals
Positive customer review
Cons
How Much Does An Interstate Move Cost?
The price of moving across state lines can vary a lot based on the details of your move.
Here are some of the main things that affect the cost of moving:
Timing: Some moving companies charge less if you move during the week instead of on weekends. You can also save money by moving outside of the busy months of April through September.
Distance: The cost of your international move will also depend on how far you are moving. Companies must charge enough to cover extra costs for fuel and pay for drivers, especially for cross-country trips that take more than one day.
Size and weight: The cost of your move will depend significantly on how much you have to move. Most companies determine your move's size by how much stuff you have to move. Other companies look at how much space your things take up. This will help you determine how many people, trucks, and storage units you need for your move.
Services: You can save money on your move by doing some of it yourself, like packing your things, or by choosing a partially do-it-yourself option, like moving bins. Your prices increase by adding services like driving cars and making custom boxes for fragile or expensive things.
Protection: The cost of your move can also be affected by how much protection you get for your things. Basic liability insurance costs less than full-value Insurance.
We suggest getting quick quotes from many companies online. These aren't only sometimes valid, though. Set up two or three virtual walk-through rates to ensure you get the best deal. This takes more work, but you might be surprised by how much different companies charge for your move.
You could also use an intermediary to shop around for carriers.
How to Choose The Best Interstate Movers In Louisiana
To find the best interstate movers in Louisiana, keep these things in mind:
Services: Choosing a moving company with everything it needs to move you is essential. If you want to move independently, a company like International Van Lines can meet your needs. But if you need help packing, unpacking, moving, or unloading your things, you should hire a full-service mover.
Costs: Determine how much you can spend on a move, and don't exceed that amount. Get a binding quote to ensure the company won't raise the price later. If you need to save money, you could pack yourself or use a company that rents containers.
Availability: Some moving companies may need help to help you move depending on where you live. Do some study to find out the best interstate movers in Louisiana if there are any movers in your area. Most brokers and shippers are clear about how they can be reached.
Reputation: Don't get ripped off by a moving company with a bad name. You can easily find out how reputable a moving company is by looking at its BBB rating, third-party customer reviews, and FMCSA license.
Our Final Thought
First, you'll have to decide if you need a national or a neighborhood mover. As was said above, different types of moves need different sets of skills. You will also have to decide if you need a full-service moving company or a self-service one. If you hate packing boxes, you might use a full-service company offering packing services. If you are okay with packing your things, you might be happy with a self-service mover. Our list of the best interstate movers in Louisiana keeps options for you to choose self-service or complete service move. This type of mover will give you a truck and a driver, but they won't help you pack.
Once you've narrowed your list to a few companies, you can start getting quotes from them. We suggest you talk to at least one or two companies on our list. When you speak to a company you might hire, tell them about all the services you'll need. Also, ensure the company gives you a "binding estimate" since it may change if it doesn't.
We suggest listing everything in your home and getting free quotes from several companies.
You may read our reviews and check out the best interstate movers in Kansas from our list.